How And Why To Track Your Social Media Follower's Growth?
Name ONE thing essential for marketers and businesses to establish a strong social online presence.
Followers!
Without followers, you have no audience. And without an audience, you have no business or profits! Just as performers and athletes thrive amidst fans, social media follower growth is imperative for social media presence.
The more followers you nurture on social media, the more eyes there are to see your content, propel its reach, boost awareness, and eventually convert customers.
In this blog, we will walk you through the complete basics and the importance of social media follower growth, and then hand you the tools that will help you track it effectively for your marketing performance and business growth. 
Tip: Guide to increase your Followers on Instagram.
So, What Is Followers Growth In Social Media?
Social media followers' Growth accounts for the volume of new social media followers over a period of time. Track follower growth as a KPI aids you in comprehending whether your target audience resonates with your brand and is engaging with your content or not.
In simple words, tracking followers growth rate serves as a health check on the efforts and performance of your campaigns.
Having said that, you must know: the percentage of social media follower growth rate is more important than the actual number of fans. Why? because it directly reflects growth proportional to your existing audience size.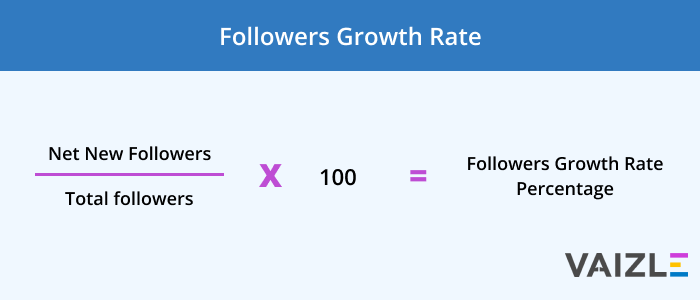 Wondering what should be your ideal followers' rate? Here is an overview:
The average Instagram follower growth rate is between 1.5 to 2.5 percent every month.
The average Twitter follower growth rate is 4 percent per month, though it keeps on fluctuating.
The average Facebook follower growth rate is between 0.64 to 2.2 percent every month.
Importance of Tracking Social Media Followers' Growth – And How To Track It?
Now that you have a grasp of the definition and average social media follower growth rate, the following paragraphs will help you know the importance of tracking follower growth on social media and how you can do it with Vaizle's analytical tool.
Frankly, your followers are like your loyal audiences, and to track follower growth in social media offers unlimited advantages. However, it's easier said than done.
Noted below are the advantages of measuring followers' growth across social media platforms:
1. More Followers Means More Potential Customers
Keeping tabs on your followers' growth means you have the potential to convert this fanbase to your customers. Well, the question is how!
If you have ever heard of the term chain reaction – this is precisely what happens with followers' growth. Just the way one atom initiates the whole mess of response, in the same way, if your followers are satisfied with your service, they will act as your marketer.
But this can only be to your advantage if you have accurate data on your fans' growth rate – and know when it's changing and on which platforms.
Unless you have an eidetic memory, Vaizle's social media analytical tool can be really handy for getting precise and up-to-date followers' growth rate information across all social media channels, including Facebook, Instagram, and Twitter.
Vaizle's social media analytics dashboard gives you a complete overview of your followers' growth rate by week, month and even by day – across all social platforms. For easily navigating the data for the fans' growth rate, we have a dedicated metric, "Fans Growth", where you will get all the information you need to grasp the trend of your fans' engagement – without you needing to spend any additional time or resources for scouting information from different sources.
Choose to measure your brand fans' growth rate and compare it to your competitors – you have the option for all (for that, you need to choose the right landscape mentioned on the top right-hand corner of the dashboard). You can also select dates (in case you want to check the growth of your fan over a particular period) and then get detailed data by date.
With Vaizle's social media tool, you will understand on which dates your fans are engaging the most with your content, on which platform, and on which dates it's declining. Based on these findings, you will understand what is working for your followers and what's not. Use this invaluable data to craft a robust content strategy and hike your followers' growth on your social platform.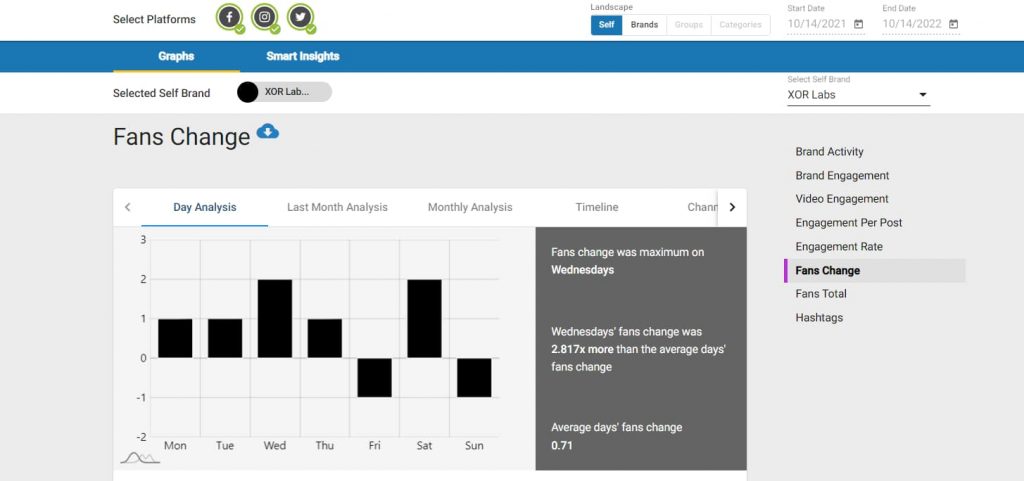 Now you have the data to conduct an in-depth analysis on a daily and monthly basis. The Channel Share option also allows you to track your social media follower growth rate across different social channels.
For instance, if you want to track Instagram follower growth rate  – all you need to do is:
Check Channel Share, and the diagram will help visualize your Fans' Change across Instagram. This will help you understand what's working and what's not. And accordingly, you can tweak your social media strategy if you witness a sudden drop in followers in any of the channels.
In a similar way, you can track the Twitter follower's growth rate. Also, read our guide on "How to manage your Twitter Followers?"
2. Tracking Followers' Growth Gives You A Sense Of Power Over Your Competitors
Social media is a highly competitive landscape. To master this social game, you have to be good at knowing your competitors and their activity and performance – and benchmarking your competitors against yours will help you see where you stand compared to your competitors and how audiences are engaging with your competitor's brand, compared to yours.
In the same context, tracking your competitor's Fans' Growth is equally essential as monitoring your own social media follower growth. And the easiest way to do it – is with Vaizle's social media analytical tool.
From one single intuitive dashboard, you will be able to track your and your competitor's Fans' Growth Rate – on a daily, weekly, and monthly basis. To track your followers' growth against your competition, you have to select your Landscape as Brands and then enter your top competitors, against whom you want to measure and benchmark your performance.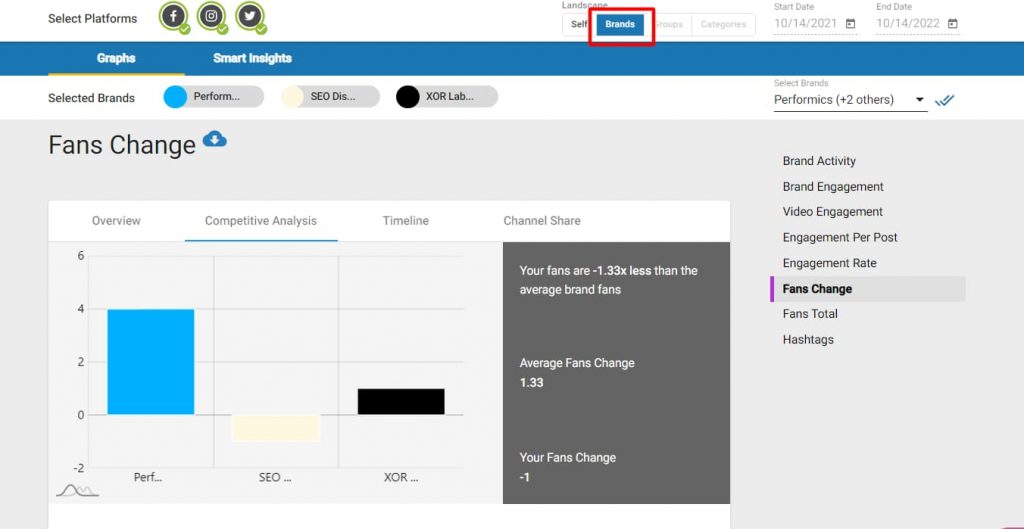 Another fantastic feature that Vaizle's social media analytical tool offers- it allows you to compare your Fans' Growth against your competitors The dashboard will provide you with a complete analysis of your competitors' Fans' Growth rate compared to your business and benchmark it to see how your business is performing compared to your contenders in social media. 
3. Helps You Know Which Social Media Channel Is Contributing To Your Followers' Growth
With over 200 social media platforms available at your fingertips (Facebook, Instagram, and Twitter being the dominant ones), you cannot expect these channels to perform equally and have the same growth rate.
Some channels will perform better and have a higher social media follower growth rate than others. And tracking followers' Growth on these platforms will help you know which channel is getting better engagement in terms of Fans Growth and which social media platforms are not getting the growth rate you desire to achieve.
You will get this information on Vaizle's Channel Share. Once you select the channels, you'll have detailed data on your average Growth of fans across various social channels. This will help you understand which social platforms your fans are engaging on the most – and which platforms cannot capture your followers' attention.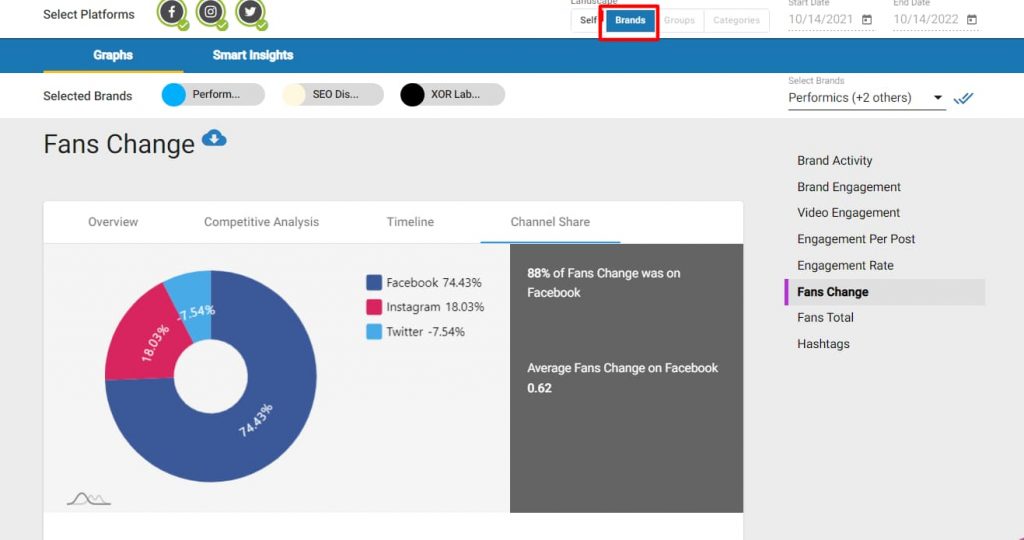 Whether you want to know about  Instagram follower growth, Twitter follower growth rate, or Facebook follower growth – you will get the most accurate data. The tool also has an option for checking Total Fans in case you want the information for your marketing strategy.
Tip: A complete guide to know which social media channel is best for you using Vaizle.
Now that you know how our platform works and the significance of tracking the followers' growth, the next step is to incorporate this into your social media strategy and improve your social media ROI.
And That's A Wrap!
Your social media follower growth is an important metric in your marketing strategy. Tracking your audience growth signifies whether your audience loves your content or not. When tracking your followers, ensure to look at both your followers' and net followers' growth. Additionally, social media fans' growth is highly exponential – meaning once you get going, tracking, and adjusting – things will grow rapidly, just like a snowball rolling down a hill and getting bigger as it goes. But consistency and patience are key!
Hope you find this write-up helpful! Thanks for reading!