How to Manage Instagram Followers more effectively
With over one billion active users and counting, Instagram has become a powerhouse of connection, creativity, and brand-building opportunities. But as your follower count grows, so does the need for a thoughtful approach to nurturing and maintaining your Instagram community.
In this digital world, managing your Instagram followers goes beyond merely accumulating numbers. It's about cultivating meaningful relationships, fostering engagement, and curating an authentic online presence. Whether you're an influencer, a business owner, or an aspiring content creator, understanding how to effectively manage your followers is an essential skill that can elevate your Instagram game to new heights.
Whether you're a seasoned Instagrammer looking to improve your strategy, or a beginner taking your first steps into the world of social media, join us on this journey to unlock the secrets of Instagram follower management. Get ready to unlock the true potential of your Instagram presence and build a passionate community to help you reach your goals. Let's jump in!
How to Manage Your Instagram Followers
10 Tips to manage your Instagram Followers more effectively
1. Be aware of the audience you are trying to reach
Understanding your audience is one of the cornerstones of success when managing your Instagram followers. To customize your approach and build a vibrant community, you need to know who your followers are, what they want, and how they interact with your content.
Start by delving into the insights provided by Vaizle Instagram analytics tool. You can find valuable information about your followers' age, gender, location, and even the times they are most active on the platform. This data will give you a clear picture of who makes up your audience and enable you to customize your content accordingly.
2. Reply to Instagram comments and Dm's
Reply to and engage with comments and direct messages to actively engage with your followers. This two-way communication not only strengthens your relationship with your audience but also provides valuable insight into your audience's preferences, interests, and needs.
Here is an example, how nykaafashion responds to their follower's comments.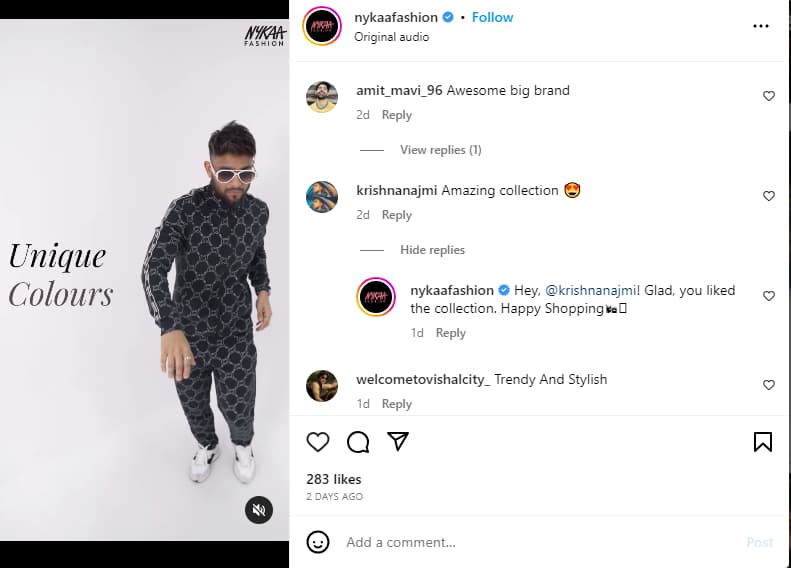 3. Take action against trolls and spam
Dealing with trolls and spam on Instagram can be really frustrating, but there are ways to handle them effectively. Trolls are people who purposely cause trouble online, while spam accounts flood your feed with unwanted content.
Instagram gives you the option to automatically hide annoying comments. To do this you need to:
Update your settings in Settings > Privacy > Hidden Words to take a proactive stance against spam. There you can moderate comments and messages based on custom words and phrases.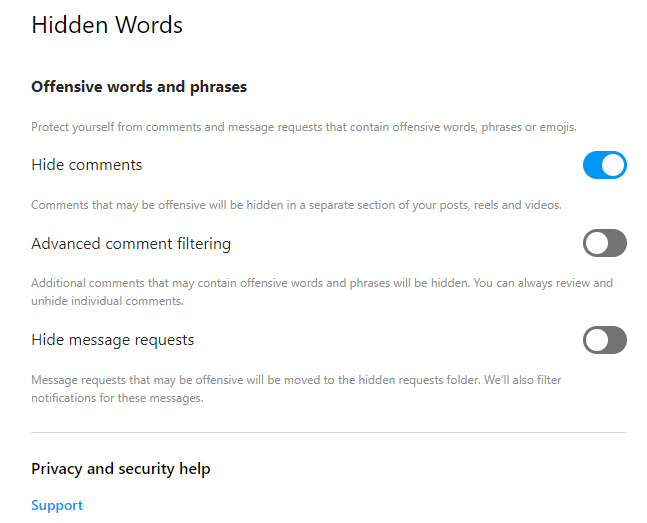 4. Publish compelling content
Creating engaging content is key to building a thriving Instagram community. When your posts capture the attention and interest of your followers, it not only boosts your visibility but also encourages meaningful interactions.
To manage Instagram followers you have to create content that adds value to your followers' lives. This could be through informative tutorials, helpful tips, inspirational quotes, or entertaining content. When people feel they gain something from following you, they're more likely to stay engaged.
5. Stay updated on industry trends
Keeping up with the latest trends and developments in your industry will help you align your content with your audience's changing interests. Follow relevant hashtags and industry influencers, and engage in conversations to stay in touch with the pulse of your community. That way, you can tailor your content strategy to meet your subscribers' ever-changing needs and expectations.
6. Use Saved Responses
If you find yourself receiving repetitive questions in your Instagram DMs, you can use a helpful feature called Saved Replies. It's a tool that lets you create pre-written responses to quickly answer common or simple inquiries. With Saved Replies, you can save time and respond efficiently to frequently asked questions.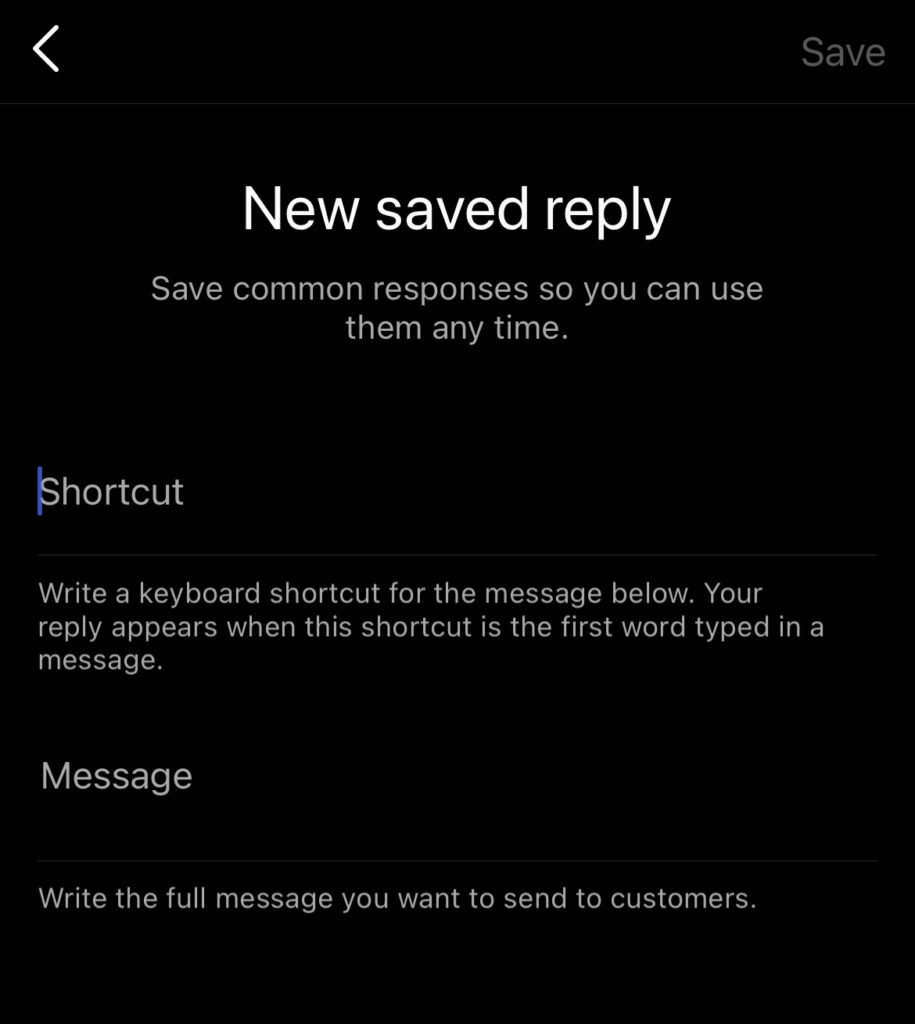 7. Monitor engagement metrics
Pay attention to engagement metrics such as likes, comments, shares, and saves. These metrics can give you a clear indication of which posts generate the most interest and resonate with your audience. Analyze the comments section to understand the type of conversations and discussions your content sparks, as this will provide insight into the mindset and preferences of your followers.
8. Optimize your account for customer service
When it comes to using your Instagram account for business, delivering excellent customer service is crucial. No one likes being ignored, whether it's by someone they're interested in or a brand. Make sure to respond promptly to inquiries, offer helpful resources, and address frequently asked questions. By providing a smooth and hassle-free experience for your followers, you'll make a positive impression and build trust.
A brand can show that it utilizes Instagram for customer service in various ways:
The brand responds to consumer questions, both publicly and privately.
Contact options, such as CTA buttons, are provided for reaching out to the brand.
Service hours are clearly stated in the account's bio.
When someone initiates a direct message, they receive an Instant Reply or see a messaging status indicating that the brand is available.
9. Pin your best comments
Frequently, the primary comment visible on an Instagram post varies for each user. It could be the comment with the most likes or a comment made by one of their friends. By pinning a comment, you permanently position it as the first comment that everyone in your audience sees.
Let's see how to Pin comments
To pin comments on Instagram, start by tapping the comment icon on your post. Then scroll to the specific comment you want to pin and swipe left on it. Finally, tap the thumbtack icon to pin the comment to the top of your post.
10. Collaborate and Cross-Promote
Collaborating with other Instagram accounts in your niche can help you expand your reach and attract new followers. Partner with influencers or complementary brands to create content together or engage in cross-promotion. This mutually beneficial strategy can enhance your follower management efforts and expose your account to new audiences.
Conclusion
Effectively managing your Instagram followers requires a combination of understanding your audience, engaging with them authentically, and consistently delivering valuable content. By implementing the strategies outlined in this blog, you'll be well-equipped to build a vibrant and engaged Instagram community. Remember, managing your followers is an ongoing process that requires dedication and adaptation to the ever-evolving Instagram landscape.
Related Post – How to manage your Twitter followers.