12 Sources to Look for Social Media Content Inspiration
The need for creating new, high-quality content can be challenging for marketers. And today, creating content is not just limited to social media takeover but to writing blogs also.
You need content for social media platforms as well.
The first few ideas are easy to whip out. But sooner or later you are bound to hit a creative block. There are also times when you are just not feeling inspired. No ideas are popping up in your head. This is the time to look around for inspiration.
You can consider these 12 ideas when you've hit a block to get the creative juices flowing back.
1. Competitors
Businesses have been scrutinizing their competitors for insight, strategy, and ideas since the beginning of time. So why not for content inspiration?
Spend time reading their blogs, and analyzing their social media content. See how they are reaching out to a potential customer through online and  social marketing strategy.
Find out their most engaging content, and see what is keeping the users connected to their content. You can also use social media competitive analysis tool to keep a track of how your competitors are using social media.The smart insights feature of Vaizle shows you the most engaging posts of a brand — you can analyze what type of content – photos, videos, or links are getting the highest engagement. Get inspiration from their content and create your own with a twist.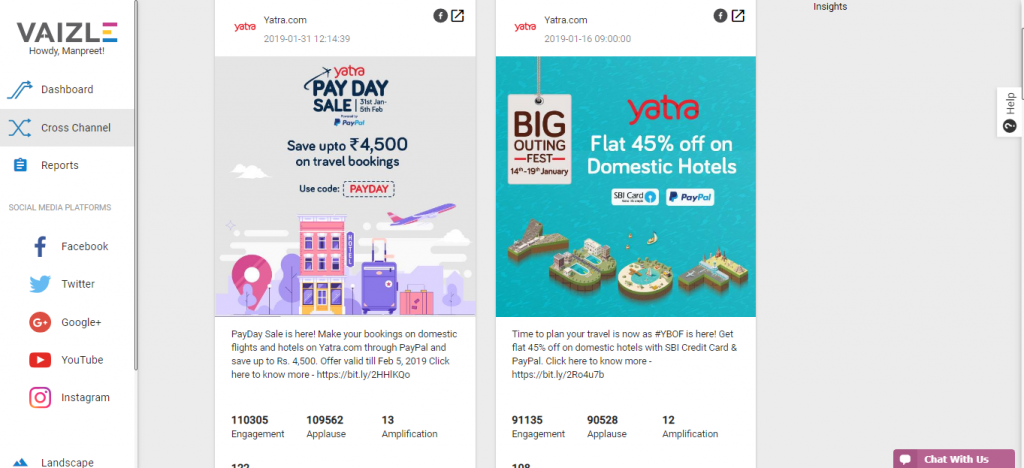 You can also use these free social media tools to perform a quick competitor analysis.

Read our blog on steps for conducting competitive analysis if you are new to social media marketing.
2. Reddit
As billed as "the front page of the internet," Reddit is a great community of active users. If you're struggling to find a starting point for content, let others help you. Post a question in the relevant subreddit, come back after 15 minutes, you'll definitely have some weird, random, and interesting answers.
Here's an example of how someone who needed ideas for player content on social media got 18 replies. All of them included unique ideas that are easy to create and add to the  social media content ideas.

Here are some of the live examples I just took from Reddit: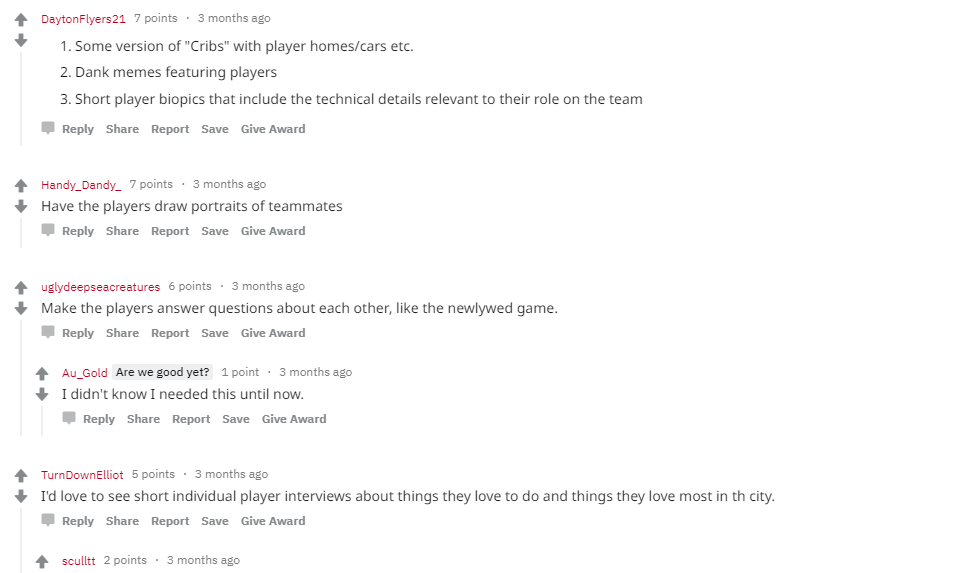 Reddit is also popular among marketers because of its intolerance for spammers. If Reddit finds someone promoting their brand/business on its platform, it bans you right away from publishing in that subreddit.
3. TED Talks
Ted Talks for content inspiration work in a slightly different way. While it may provide you with a couple of raw ideas for the starting point of your next post ideas or content piece, it will give you a boost of inspiration and encourage you to take that extra step.
Andrew Stanton's Ted Talk – The clues to a great story is on every content marketer's to watch list. This 19-minute long talk viewed more than 3 million times has two key getaways about storytelling and marketing.
One: Stimulate the audience's curiosity
Two: Good marketers let the customer feel like the hero.
The next time you hit a creative block, tune into any one of the most popular Ted Talks of all time.
4. Podcasts
Listening to podcasts can help you tackle writing, social media strategy, and more. They are also a great source of inspiration for writing LinkedIn posts.
While to some people, it may come naturally but for others writing a LinkedIn post is an intimidating task. Listening to podcasts can help you with ideas for your next LinkedIn post.
Tip: Include listening to podcasts in your daily routine by listening to them during your commute to the office. This way by the time you reach work, you'll already have an idea about what to post on your LinkedIn profile.
5. Medium
While Medium is a great place for promoting your content, it is an even better place to learn and get inspired by amazing social media content ideas.
Just sign in to your Medium account — choose from the various categories available — from tech, culture to design and health. If you can't decide – just explore the home page a bit, you will definitely find an interesting piece of content featured on the page.
You can start with the article 'Simple Is Bad' recently found when I was going through Medium's home page. It is about how advertising's simplicity bias is undermining diversity and killing creativity.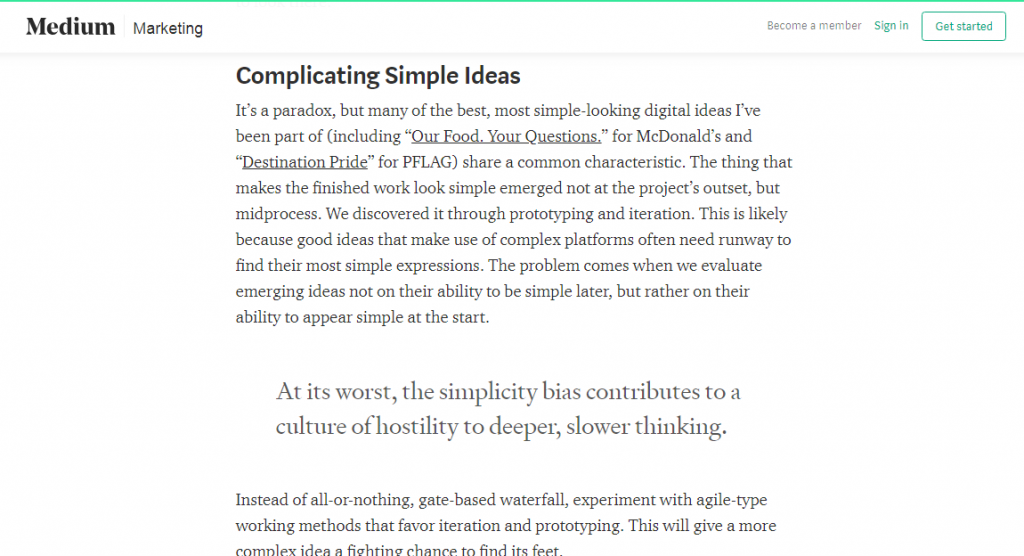 6. Feedly
How many times does this happen that you read a blog, you find some valuable tips to polish your skills but damn! You forget to bookmark it or save it somewhere. This is where Feedly comes handy. Its a great tool for content discovery and also makes sure you don't lose any of it.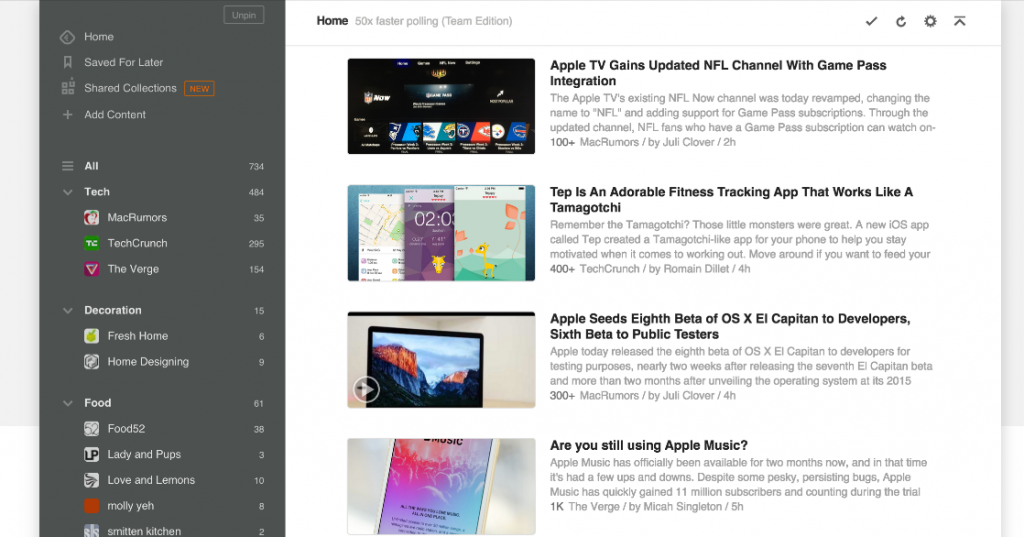 But how Feedly works?
If any site provides content in RSS (Real Simple Syndication), you can add it to Feedly and then read that blog's content on Feedly on your desktop or mobile, instead of going to the source site.
You don't have to check whether a blog has updated or not, you just go to Feedly and all the new posts are in one place.
Isn't it amazing?

7. Read Constantly
Reading books when you're feeling uninspired or dull has been a tactic to beat the content rut since the beginning of time. Plus, you'll be thrilled to know that one of the habits of ultra-successful people is reading.
Pick up a book. Anything that interests you – Fiction, Non-Fiction, Poetry, Biographies. Experiment with something new. If you still can't decide, pick up something from this list of 12 best books or content marketing & writing better copy.
Tip: Repurpose your content on social media for better engagement and traffic.
8. BuzzSumo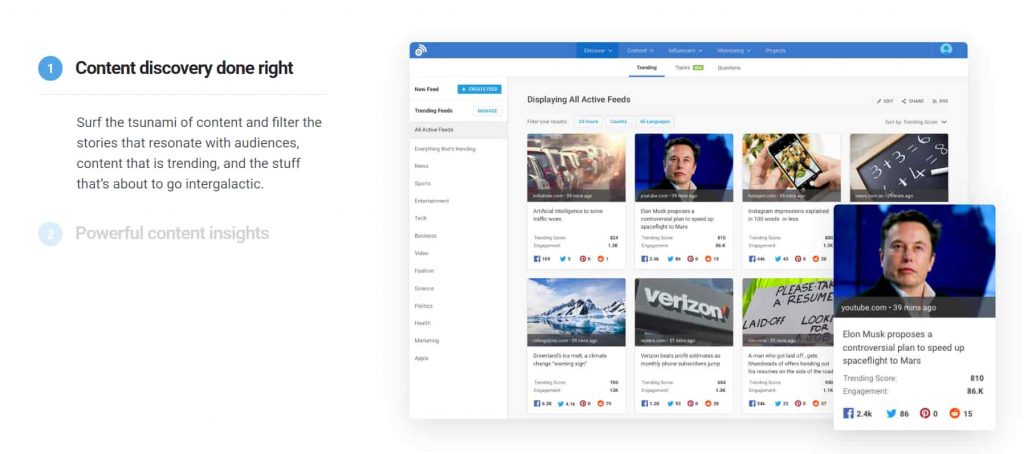 BuzzSumo is Google for articles and social posts. It scans through billions of articles and endless social engagements. It offers powerful Content ideas and create high-performing content to increase productivity and content success. 
Buzzsumo is indeed the best friend of a social media marketer when it comes to finding content to share with your audience. With Buzzsumo, you can find the most popular social media content based on categories such as date, keywords, or even type.
Also, Buzzsumo is a great tool for finding influencers that are relevant to your industry. You can always scrutinize content by these influencers for content inspiration.
9. Pinterest Search
Even while they can make excellent content depending on your topic, impossible-to-replicate recipes are not the only thing that people pin on Pinterest.
On this social networking platform, you may find everything from pictures and memes to how-to guides and educational blog pieces. Use the search bar, then lose yourself in the visual content. Follow your favorites to keep your feed updated with worthwhile social media content to share.
Pinterest is a wealth of content ideas and inspiration. Create boards, continue curating timeless stuff, and create backup content you may use on particularly uninspiring days to keep your creative juices going. On Pinterest, you may also find excellent lists, quotations, movies, and blog entries with the sources listed (so you can give due credit). These types of content inspirations are both shareable and enlightening.
10. Email Newsletters
The most trendy topics in your industry can be discovered by subscribing to email newsletters. Weekly or monthly curated lists of fascinating content are common in email newsletters.
Join those that are relevant to your area of expertise or simply offer engaging content to share. It can save you some time because someone else has already gone through the hassle of selecting high-quality stuff.
The problem with newsletters is that you have to proactively choose to subscribe to them. You won't ever run out of social media content ideas once you choose the perfect collection of newsletters to subscribe to, though.
11. Giphy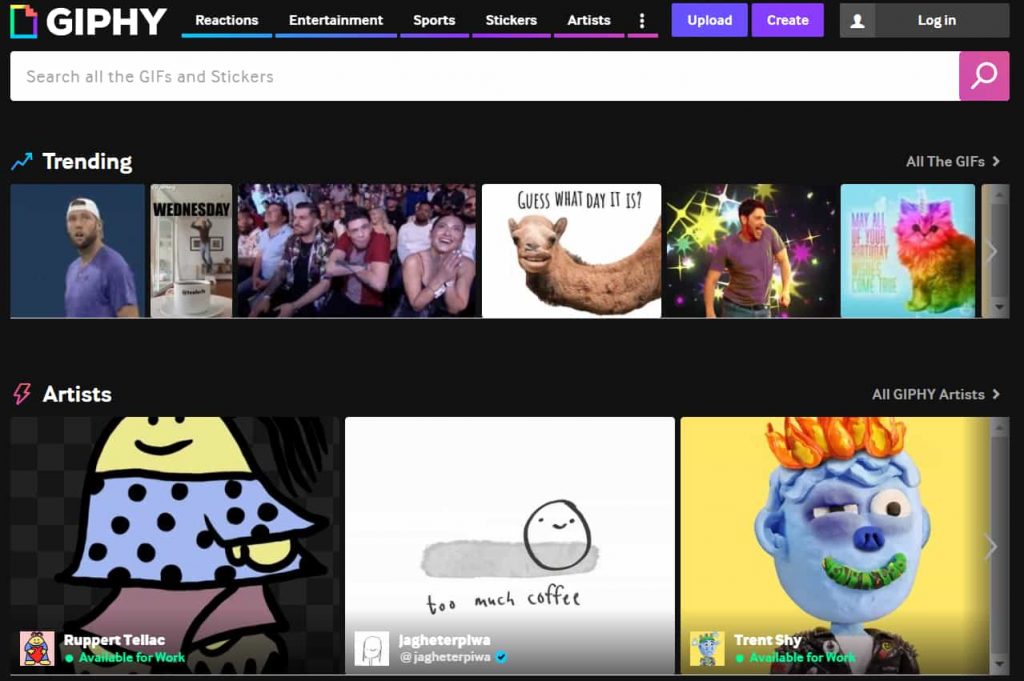 Giphy recently debuted a section for trending GIFs and Artists. This is perfect if your content strategy includes meme marketing. You may access the most popular GIFs in this section, which you can caption using an application like Kapwing or simply write your own caption to the content.
You can decide what kind of content to work on by using the day-wise storylines. All of the well-known GIFs that can be used with various captions are available on Giphy. The GIF can be customized with your own context before being used in your post.
Your creativity will soar with the aid of these GIFs as you create some truly original content!
12. Quora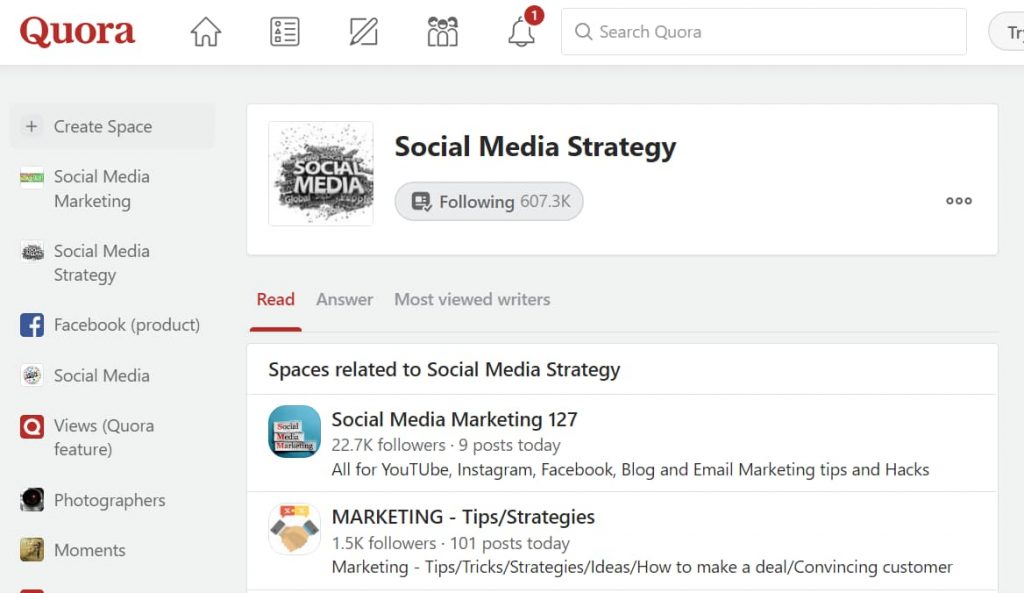 Quora is a vital tool for many digital content creation managers. If you try it, you'll probably resort to it on more than one occasion.
The questions and topics on Quora are available to you to discuss with your own social media audience. Browse through frequently asked questions, and check out the newest blogs and reviews.
Another approach is to ask your questions directly on Quora while referencing your established Facebook and Twitter fanbases. It's simple to create a free profile. Follows topics relevant to you and your business, which will ultimately spark your imagination and motivate you.
Quora is a content curator's dream because it is crammed with direct questions that address the pain points of the users. You can always find links to fascinating articles and other content for inspiration.
I am sure that now you have an idea about the content, then you should know the type of social media content that works for you and at what time you should post on social media.
For this, you can choose a tool like Vaizle's content planner to ease your work and save time.
13. Forekast
Forekast is an online platform that provides users with information about upcoming events and trends in various fields, including technology, entertainment, politics, and more. Users can browse through a variety of categories and discover events and trends that interest them.
One of the unique features of Forekast is that it allows users to submit their own predictions about upcoming events or trends, and then allows other users to vote on the likelihood of those predictions coming true. This creates an engaging and interactive community where people can discuss and debate various topics. Forekast also provides a timeline of upcoming events, which can be filtered by category or searched for specific keywords. This allows users to easily stay up-to-date on upcoming events that are relevant to their interests.
Overall, Forekast is a useful tool for anyone who wants to stay informed about upcoming events and trends, or who enjoys making predictions and engaging with others in a community setting.
Conclusion:
Don't forget that content can be digested in several ways. It makes sense to occasionally depart from the conventional blog post format to post a video instead.
Try expanding your toolkit with extra resources like infographics or a YouTube channel with "how-to" or testimonial films. These can be fantastic resources or addition to strengthening the credibility of your brand.
Don't forget to include in your content calendar how you plan to promote each item. Consider some Facebook or Twitter posts that could link to your website. This will also assist you in determining the key points of your content and the most effective approaches to engage your audience.
Let us know where do you turn to for content inspiration?
Write it in the comments below!