5 Free Facebook Audit Tools To Do A Quick Audit
Even with TikTok, Snapchat, and LinkedIn the world, Facebook is still the number one tool. I do marketing audits for brands all the time. When I ask them what's the most important social channel for you, over 90% say Facebook.
Millions of businesses have used and are still using Facebook to transform their business.
You're a local business? You can use your Facebook page to book appointments with you directly.
You're a brand? You can connect with your audience all the time.
You're a personality? You can build your loyal followers at one place.
To make a greater impact, that's why brands prefer periodic Facebook page audit. You need to revise your marketing strategy time and again and that involves your social media audits too.
Auditing a Facebook page is often the first step. As simple as that term may sound, the answer to how to audit a Facebook page involves craft, skill, and science.
An easy way to do it is by creating a Facebook audit checklist. Although the checklist may vary according to your business needs, the idea is that it should be able to help you improve your social media KPIs.
Here are some questions that you can try answering with an audit:
Is my Facebook page generating enough social traffic?
How does engagement on my Facebook page compares against my competitors?
What were the most popular content in the last, let's say, six months?
What type of posts received the maximum engagement?
Just so you are clear, by Facebook audit I DO NOT mean Facebook Ads audit. It's a completely different game which I shall try to answer some other day.
Here, I will focus on showing you how you quickly analyze your Facebook page. I have curated 5 free Facebook tools you can use anytime to perform quick Facebook page audit.
These tools are especially helpful when you are just in the initial phase of social media conversation with your boss or your client.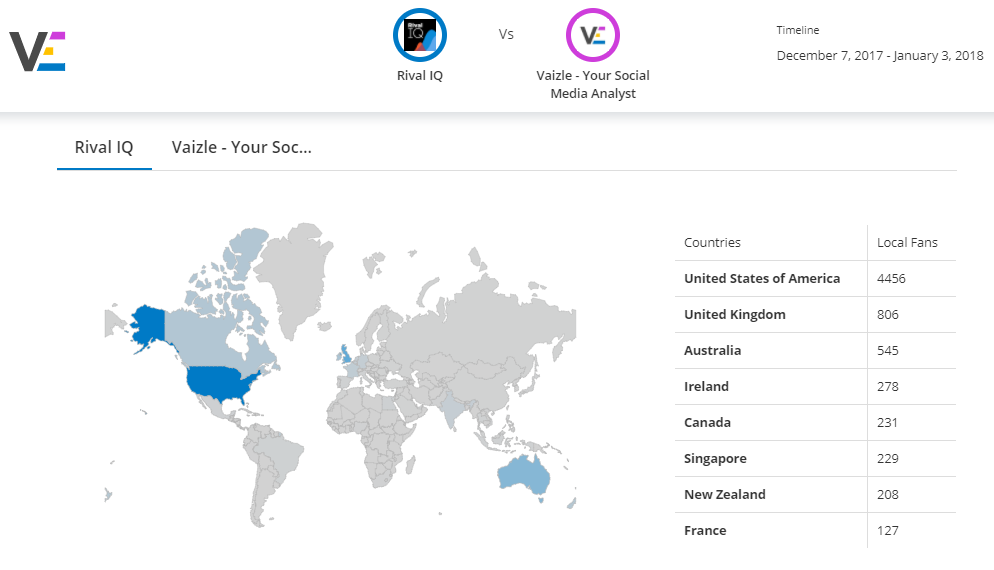 Well, you can say it's self-promotion. And in a sense, it certainly is. 🙂 But follow the list and you will find some even more amazing tools.
With Vaizle's free Facebook audit tool, you can do quick competitive analysis with any one of your competitor. Enter your and your competitor's Facebook page URL. And you will get a comparison of your performance versus your competitor's Facebook page performance.
It covers last 28 days of data. It shows how many fans were added in the last 28 days and their country breakdown. Then it shows data of brand activity, brand engagement, and top performing posts in the last 28 days. It also gives engagement breakdown into likes, comments, shares, and reactions.
With Vaizle's free Facebook analysis tool, you can audit any Facebook page.
You can think of this tool as a Facebook page analysis tool. On the plus side, you can do analysis for any page.
If your social media audit also involves Instagram, there's also a free Instagram audit tool.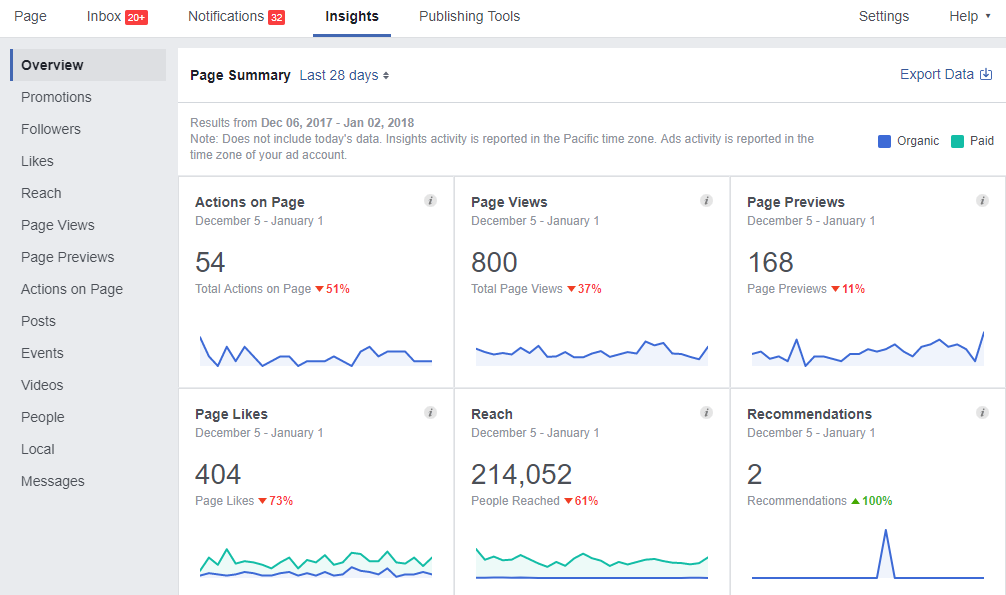 Nothing beats Facebook insights. Direct from Facebook, fast, and complete.
Facebook Insights is more detailed than all the other free Facebook audit tools combined. And rightly so. It's Facebook's own data. Plus it shows everything from fan analysis to content analysis.
You can check the total reach, total page views, video views, and how people interacted with you content. And there's no limit on the time-period of data. You can view your data since the day you had started and export it in Excel format.
Unfortunately, there's one major drawback. Facebook Insights does not help you perform competitive audit. You can only check your data and not your competitor's. Also, I personally feel Facebook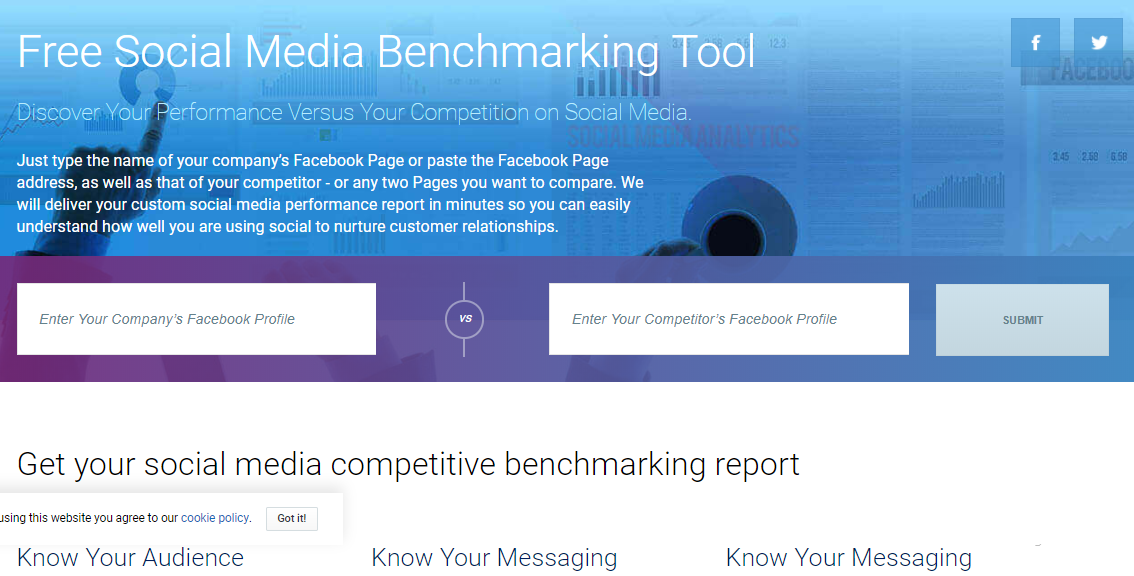 SocialBakers' free Facebook audit tool is more suited for competitive analysis. You enter your own Facebook URL and your competitor's Facebook URL. Or you can enter your brand name and select one from the suggestions. Then they ask you for your personal details before sending you the final report via email in a designed PDF format.
The report is more detailed than others. It covers everything from audience analysis, audience growth percentage in last month, engagement analysis, and content analysis.

First of all, Cyfe is not a free tool. Not even a marketing tool, in fact. It makes to the list because offers a completely free plan and has a dedicated dashboard for social media. You can use Cyfe to create a quick dashboard of your Facebook data.
In its free plan, you get two dashboards, one user, and 30-days of data history.
Once you sign up on the tool, it asks you to connect your Facebook page. It then fetches all the data from your page of the last 30-days and shows you in the dashboard. It shows all the third-party as well as the user-owned data from reach, impressions, and engagement to top posts, demographics, and new page likes.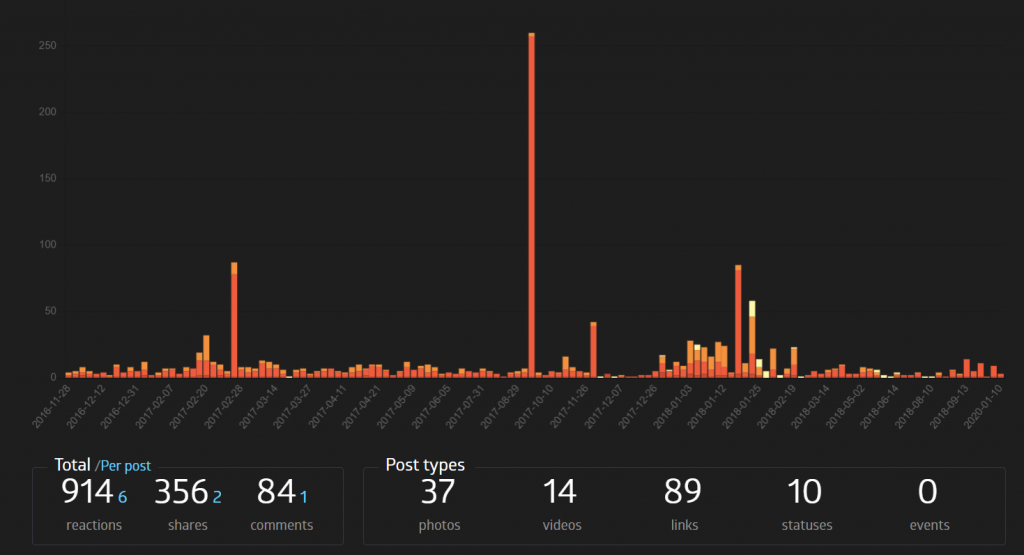 As luck would have it, I found this tool as I was trying to update this blog post. You probably won't find Sociograph's free Facebook audit tool on the internet until you types it name.
Anyways, it's a powerful free tool for a quick analysis of your Facebook page.
In just one graph, it shows you all the posts you have shared on the page, reactions to it, shares, and comments. Innovative, isn't it?
You will also see other derived metrics like total reactions, shares, and comments per post. This data is accompanied by post types which are categorized into photos, videos, links, status, and events.
This is followed by analytics of all the posts that you have shared in the past few months. For every post, Sociograph shows you reactions, shares, and comments along with the data on which it was posted. Interestingly, you can also sort the posts in descending or ascending order for each metric.
Conclusion
Just five you say? Well, there aren't many free Facebook audit tools in the world anymore. If you know any, please share it in the comments below and I would love to add it in this list.
Anyways, whether you're a business owner, social media manager, or account manager at an agency, I am confident these tools will be enough to give you an edge over someone else who's not using it.