Best Times to Post on Social Media in 2022: Industry-wise
There is no one universal rule to predict the "best time to post on social media".
But all hope is not lost.
First, let me explain what it all hinges on and how you may get more specific answers — they're there, we've got them, don't worry.
So what is the right time to post on social media for maximum reach?
The answer lies in considering multiple factors like:
Your Industry/ business vertical
Whether you are B2B or B2C
Time Zone
Geographical location
Preferred device for your audience
Type of content you post
There is research that shows the ideal times to publish on various social media platforms. Consider the following scenario:
People take a break from their workday at certain times.
They read through their social media feeds while drinking their morning coffee.
When they've finished their work for the day and are about to leave their desk
Or when they pick up their phones/laptops after dinner for a brief evening scroll or email check.
On a Sunday night, for example, while your customers are preparing for the upcoming work week.
Depending on the type of audience, we might get an average here. For example, if you sell products or services to healthcare workers, you should target them in the early morning hours before they start their shift because they may not be able to read Facebook or Instagram during the day. Or mom entrepreneurs who work late at night after their children have gone to bed.
All this information is effectively turned into numbers to simplify things. Using this you can post on each of the leading social media platforms to generate high engagement. You can use Vaizle to check the prime time for social media post.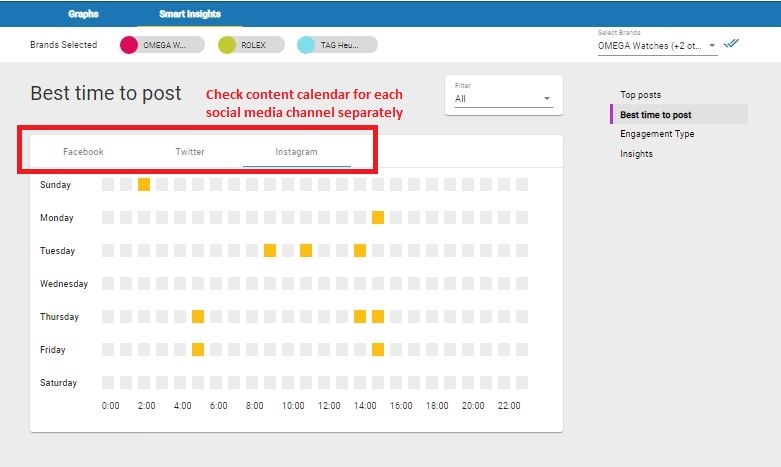 However, it is evident that it is only a part of the truth.
The truth is…
Your best time to publish on social media platforms is… "yours"
Of course, you'll most likely fit into a bigger industry context, and it's a good idea to look for industry benchmarks for your industry, but no one knows when the optimal time is to post for your individual audience better than you.
Did that catch you off guard?
The following industries were studied to determine the ideal time to post on Instagram: retail, media, technology, non-profit, education, healthcare, professional services, food & beverage, and travel & tourism.
Best time to post on social media by industry
B2C
For B2C firms, the optimum time to post on Facebook is 9-10 a.m., 11 a.m. to 12 p.m., and 4-5 p.m. This makes sense because these intervals are likely to coincide with work breaks or the end of the day.
Retail
For people in the retail industry, posting on social media is critical. People are using Facebook and Instagram to shop more than ever before. If you want to target a retail-oriented audience, pay attention to the best and worst social media posting hours.
Overall, DTC firms have realized that weekdays from 10 a.m. to 5 p.m. provide the most stable engagement.
Best time: Wednesday afternoon 1 p.m and Friday at 11 a.m
Worst day: Sunday, people are checked out and doing their own thing in the real world.
Lowest Engagement: Late nights and early mornings. During these hours most people are asleep and not on social media.
B2B
B2B businesses show similar trends. The optimal times for these firms to post is around 9 a.m and then again around 3-4 p.m.
Overall, they have found to get consistent on weekdays from 10 a.m to 5 p.m.
Media and Entertainment
Because social media has become such a popular platform for the media and entertainment industries, it's more important than ever to figure out the optimum time to post on social media in order to stand out and appear in users' feeds.
According to Vaizle data, media companies varied from the rest of the pack in some ways. Indeed, their best popular media posts were timed to overlap with TV news broadcasts — 7 a.m, 11 a.m, and 6 p.m.
Best Time: Friday morning (9 a.m)
Best Engagement: During work hours (8 a.m to 5 p.m)
Lowest Engagement: Saturdays and Sundays. People are not as active on social media.
Tech
Because global peak hours on Social Media for this industry highly fluctuate, posting for Tech might be difficult to predict. Focus on the time frames below to ensure social media interaction on tech posts.
Evening and night posting is not recommended, which is surprising given the reputation of techies.
Ultimate Best Time: Wednesday morning (6 a.m or 9 a.m)
Best Engagement: Wednesday mid-morning 10-11 a.m, Friday 7-10 a.m, Saturday 7-11 a.m
Worst day: Sunday, as again most people do not check social media extensively on weekends
Non-Profit
Facebook is an excellent site for promoting events, while Instagram is the finest platform for completing your strategy. Twitter is a fantastic supplement to your nonprofit's overall social media strategy.
According to Vaizle, the greatest time for non-profits to engage with their supporters on Facebook is Wednesday from 8–9 a.m. Nonprofits are likely to receive consistent involvement between the hours of 8 a.m. and 5 p.m. during the week. Weekends and nights, on the other hand, are rather quiet, and it's usually better to avoid those hours.
Education
Although students are known for being night owls, it does not appear that they spend that time on Facebook. Indeed, higher education businesses appear to have the most success before class or during the pauses between classes. The hours of 8 a.m., noon, and 3 p.m. are the busiest for higher education.
Our research takes a holistic approach to education. Wednesday at 9 a.m. and Saturday at 5 p.m. were the greatest times to post on Facebook. Weekdays between 9 a.m. and 3 p.m. are the most constant times for interaction (when people are at school). Saturdays between noon and 9 p.m., on the other hand, produce acceptable outcomes.
Best time: Friday 10 am
Worst day: Sunday due to the lack of activity on the day
Highest Engagement: Saturday night (6 p.m to 8 p.m)
Healthcare
The Healthcare Industry has seen a revolutionary change in social media usage during the COVID-19 pandemic.
Healthcare brand followers are mostly early risers. The majority of their posts were consumed in the morning. If you schedule your healthcare posts at 6–7 a.m, 9 a.m, or 11 a.m–noon, you should do fine.
Because of the platform's vast user base, publishing on Instagram is still relevant and worth enhancing for individuals in the healthcare industry. According to Vaizle study, the prime time for social media post for healthcare is as follows.
Optimal time: Morning publishing Wednesday 9–10 a.m.
Consistent Engagement: Weekdays 10 a.m. to 3 p.m.
Professional Services
Professional social networking services frequently share educational content that includes links to videos, blogs, and other platforms. The initial post piques the interest of the followers, leading them to additional types of material.
During the Monday – Friday work week, the industries we serve (banking, legal, and financial services) see significantly greater activity on Instagram than outside of it. People in those industries appear to pay the most attention to work-related messages during the week and aren't as engaged on weekends.
Best Time: Anyday 9 a.m. and 10 a.m.
Best Days: Tuesday, Wednesday, and Friday
Worst Engagement: Saturday and Sunday
Food and Beverages
Social media users clearly enjoy viewing photos of delectable meals. It doesn't take sophisticated analytics software to figure out that people are more inclined to engage with food photos during lunchtime. Because most professionals take a break in the middle of the day, it's likely that engagement will increase during this time. Keep scrolling if you're in the food and beverage industry to learn "What time is best to post on social media".
Best time: Weekdays 12 p.m.
Most Engaging day: Friday, as the onset of the weekend spikes dine-out reservations
Worst days: Weekends, as people opt for leisure home-cooked meals
Travel and Tourism
Not everyone has the funds or desire to travel, but that doesn't mean they won't engage with the Instagram content you're sharing about it. According to studies, the best time to engage with this specialty is between 11 a.m. and 1 p.m. on weekends. The optimum time to post on Instagram, according to travel and tourism firms, is:
Best days: Fridays, Tuesdays, and Wednesdays
Best time: Between 11 a.m. and 1 p.m., as well as between 9 a.m. and 10 a.m.
It all depends on your Instagram audience, the countries from where your followers hail, and the time difference. If the majority of your followers are asleep, you don't want to be posting content.
Identifying the optimum times for your competitors to post
Are you curious how your competitors handle this? After all, your target audience is the same (or extremely similar) as your competitors.
You may evaluate their post timings in Vaizle in the same way that you would for your own social media content.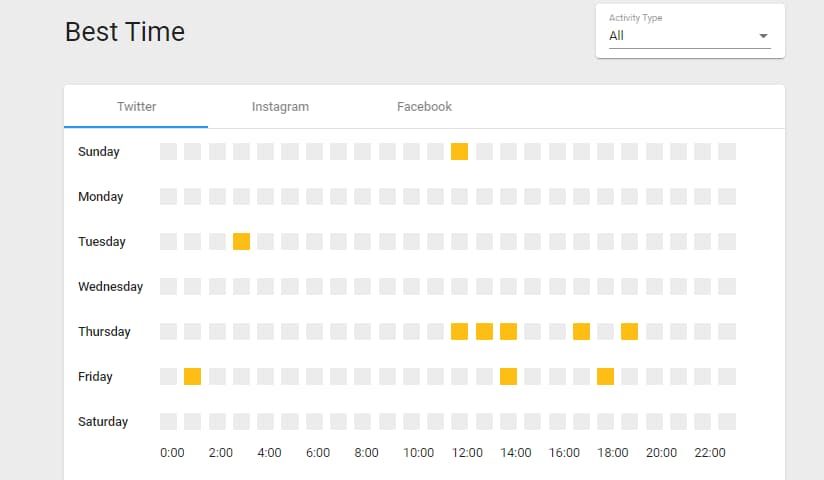 Instead of focusing solely on a single profile, you can assess numerous competitors jointly by generating a dataset using the Smart Insights feature of Vaizle, allowing you to develop more credible industry benchmarks and view the wider picture. Book a demo to get the smart insights.
Don't worry about How to Book a demo. You can watch our video on step-by-step guide on account setup. You can use this social media analytic tool to compare your social media profile with your competitors or to get insights about your profile.
With the Smart insight feature of Vaizle, you can also optimize your content strategy by analysing your competitor.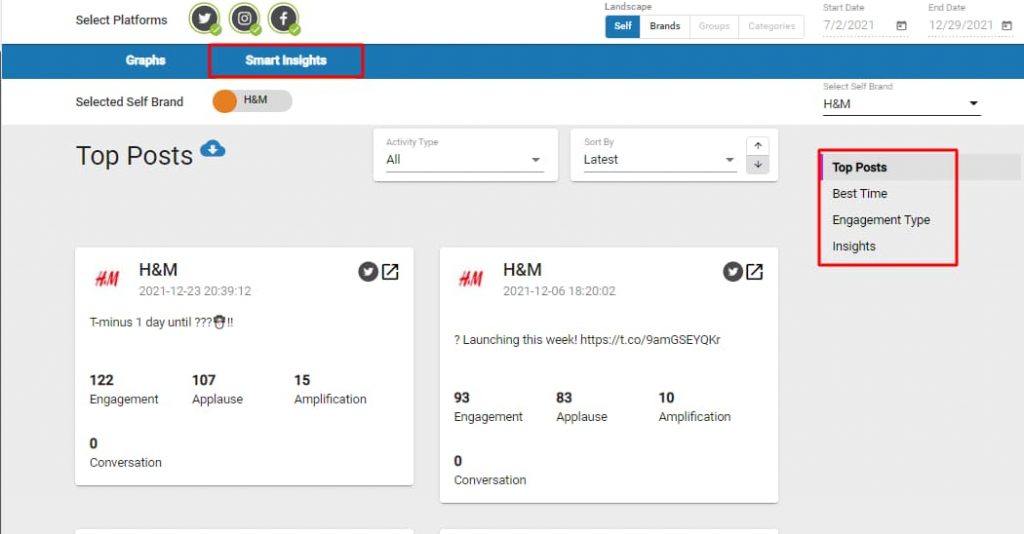 Figuring out what to do next (Content Calendar)
You may design a content calendar that is more likely to be productive than posting whenever you have time now that you know how people react to your (and your competitors') postings.
Here are a few pointers on how to go about it:
Establish a blogging schedule.
This may involve some trial and error, but at the very least, you now have data to work with. Other factors to think about include:
The resources you have to create and distribute content. Obviously, longer-form content, such as videos, will take longer to produce, so keep that in mind. It's crucial to create your content in bulk and schedule them to go live automatically.
The tools you have at your disposal to regulate comments on your posts (which, of course, you want to be having to increase engagement rates). Here, content-calendar is your best buddy.
Your industry and product/service, as well as the kinds of content you desire and can provide.
The idea is to keep an eye on things and make modifications as necessary. And to maintain writing on a regular basis to feed the algorithm and keep your audience engaged.
When brands are inconsistent, social networks dislike it and may penalize you by reducing your reach.
Define the topic you want to discuss.
The post-engagement statistics will also assist you in determining when people are more inclined to engage in talks about various topics. So take a look at it and make a schedule based on major categories on specific days.
Creating repeating content forms that emerge on the same day of the week is a good idea. People will become accustomed to your posts and, if they are engaging, will expect them and pay more attention to them.
Prepare your content ahead of time.
Both to save you time and to improve the efficiency of your posting times. You can make global alterations and tweaks, as well as know what to expect and when, when you have a bird's eye view of your material.
Upwards and Beyond
Here are a few significant lessons from the ideal time to publish on social media:
Although most brands post or tweet between 10 a.m. and 4 p.m., this does not necessarily indicate that this is the only optimum time to post on social media.
On weekdays, try posting on Instagram during supper or before bedtime.
Early mornings on Twitter are an unexplored goldmine.
If you haven't done so previously, try posting on weekends, especially at night. It may not be appropriate for every brand, but it is an excellent opportunity to reach out to your internet following.
Using native analytics or a social media analytics platform like Vaizle, experiment, and research to determine the optimum times to publish on social for you and your competition.