30 Pinterest Statistics Marketers need to know in 2023
Compared to other platforms, Pinterest is the place for curious and creative minds to float in. It has videos, images, gifs, and more to inspire users. Whether you are into art, fashion, or marketing, Pinterest has you covered with loads of creative content.
In this blog, you will find 30 facts and figures about Pinterest that can help you to use this platform in a better way for marketing. Through this platform, you can create creative content and build brand awareness among the audience.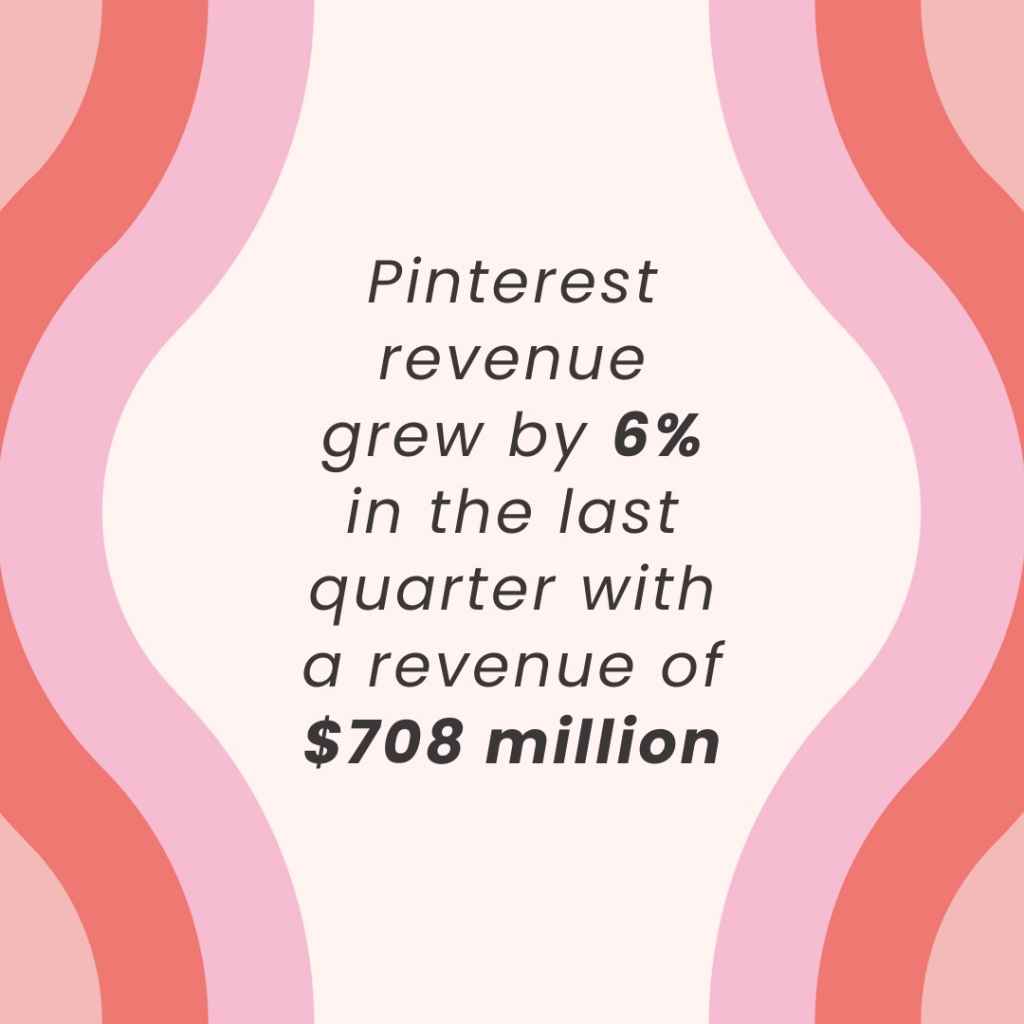 Financial Stats:
1. In Q2, Pinterest achieved a revenue of $708 million, reflecting a 6% growth.

2. During the same quarter in 2022, Pinterest recorded $665 million in revenue.

3. The estimated GAAP net loss for Q2 was $35 million.
4. Pinterest incurred total costs and expenses amounting to $781 million.

5. The company successfully completed a $500 million stock repurchase program.

6. Compared to the previous year, Pinterest experienced a 19% increase in its net loss. However, there was an impressive 84% rise in NON-GAAP Net income. 

7. Globally, Pinterest averaged $1.53 in revenue per user during Q2.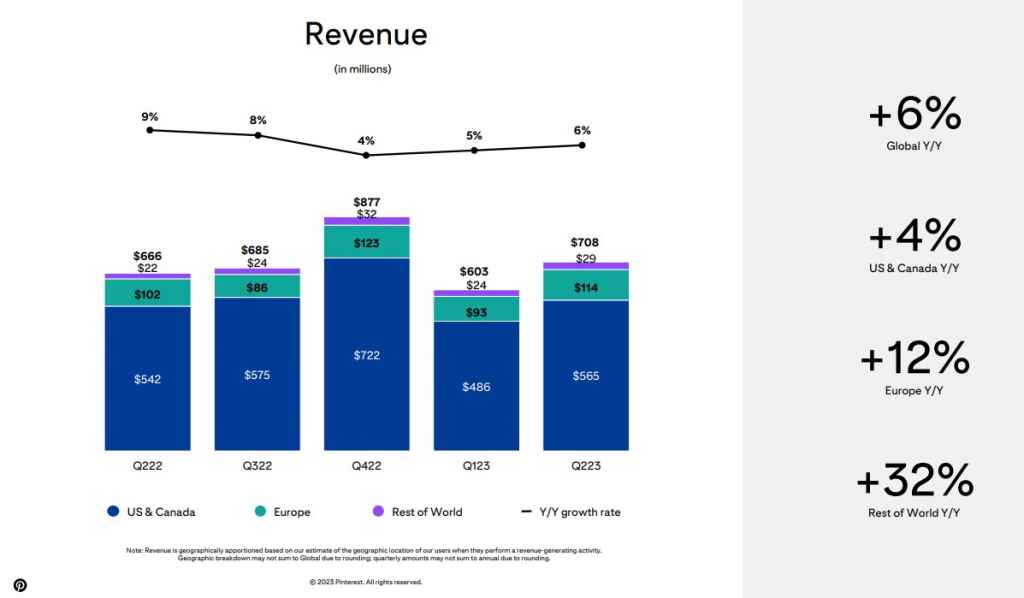 Source – Earning Report
Users & demographics stats:
Pinterest's revenue is on a roll, and here's why:
New users are hopping on board every day. This image-based platform serves as a wellspring of inspiration. Pinners not only create visually appealing pins but also influence others to do the same.
8. In the latest report for the last quarter, Pinterest experienced an 8% increase in global monthly active users (MAUs), with Gen Z contributing the most to this growth.

9. Pinterest has a total of 465 million global MAUs, showcasing its widespread popularity.

10. The majority of Pinterest's revenue, $565 million, comes from the US and Canada.

11. Interestingly, from 465 million MAUs, there are only 95 million users from the US and Canada.

12. In Europe, Pinterest attracts 124 million MAUs, but the revenue generated from this region is comparatively lower at $114 million.

13. Interestingly, most MAUs come from the rest of the world, but the revenue from this segment is modest, at $24 million.

14. Pinterest is not limited to desktop usage. There's been a notable 16% year-over-year increase in Global Mobile app MAUs.
 
15. Specifically, there's been a 9% year-over-year increase in U.S. and Canada mobile app MAUs.
Bill Ready (CEO of Pinterest) said, "Over the past year, we've been laser-focused on our key differentiators and we're seeing results. Users are coming back more often and engaging more deeply".
Source – Pinterest Second Quarter Report 2023
16. Pinterest has also introduced a new "Browsing module" to help users discover fresh content and encourage them to return to the platform regularly.

17. Engagement with shoppable pins has grown impressively by 50% year-over-year compared to quarter 1, highlighting Pinterest's role as an e-commerce hub.
Recent reports show that Pinterest is taking inspiration from Gen Z due to their increased engagement on the platform. It is the growing cohort for the platform.
However, Pinterest is not just used by Gen Z to share their creative stuff but, it is also used by businessmen to promote their products. 
Business Stats:
18. This year, Pinterest launched a travel catalog, a valuable tool for advertisers looking to connect with users who are planning or organizing their trips.

19. Additionally, Pinterest has made improvements in its Graphic Processing Units (GPUs), encouraging advertisers to leverage 100x larger models for both advertisements and organic content.

20. According to the latest quarterly report, these improvements have resulted in a 5% reduction in cost per action and a 10% increase in click-through rates on the platform.

21. In an effort to boost conversion rates for home decor and fashion pins, Pinterest introduced an automated "shop the look" module.

22. The "Shop the Look" module seamlessly showcases similar products from merchant catalogs and has proven to increase conversion rates by 9% in the last quarter.

23. In July, Pinterest introduced the "Mobile Deep Linking Product," offering marketers a tool to directly guide users to specific pages for swift product or service purchases.

24. Furthermore, in June, Pinterest extended access to the Premiere Spotlight ad format to all advertisers, enabling them to reach a wider audience and create impactful brand awareness campaigns.

25. Notably, during the first quarter, Pinterest observed increased engagement from monthly active users in categories such as men's fashion, automobiles, health, and travel, making it an ideal platform for business owners to focus their advertising efforts.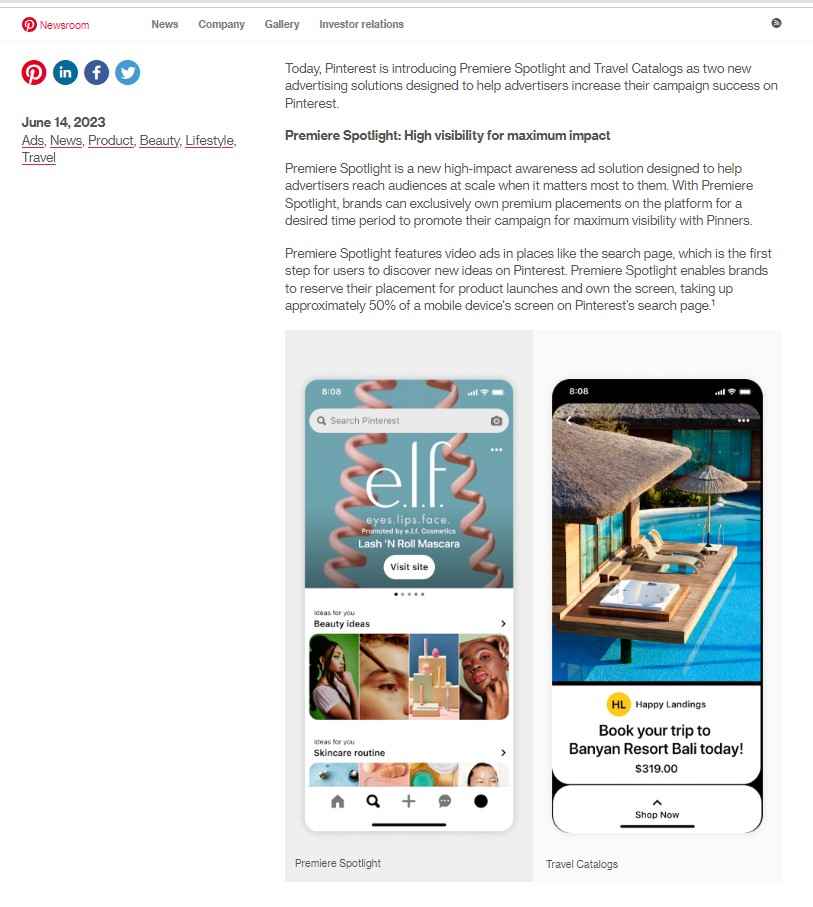 Source – newsroom.pinterest
26. In April, Pinterest shared some big news about its advertising plans. They're opening their platform to third-party ads, and their first partner in this venture is Amazon.

27. The partnership is going to take several months to roll out, and it's expected to begin later in 2023.
Companies like the iPhone stay popular by constantly adding new features that match the changing needs of users. Similarly, Pinterest keeps things fresh by introducing new features to users every quarter.
Pinterest has millions of users, and it's working hard to make the platform safer. This safety helps users feel more comfortable, which, in turn, attracts even more people to use it.
Recent Stats:
28. According to the news, in August, users aged 16 and above will be able to opt for private and public profiles. Even though, the profile is private users will still be able to connect with their friends and family with the help of a unique profile link.

29. Now user will be able to review their followers. For users below 16 years old, there will be an option to remove followers and only keep those followers whom they trust.
 
30. Parents and caregivers will be able to easily opt in and opt out of the parental passcode. They can easily update the settings of their teen's account.