Which Social Media Channels Are Best For Your Business & How To Select One?
In today's digital age, every marketer understands the importance of social media to reach new audiences and connect with existing customers.
According to Hootsuite's 2022 Social Trends Report, 80% of marketers rely on social media to gain valuable customer insights, improve search rankings, drive website traffic, and boost other marketing activities.
In fact, social media is the #1 channel marketers use to showcase their brand values, passions, and personality!
But with all that Liking, Posting, Tweeting, and scrolling, it's overwhelming to know which social media channel is ideal for your business or which one will give the most bang for your buck.
It's indeed a confusing and cluttered journey!
To get to the bottom of this, you need to make informed decisions driven by data. Using a social media analytical tool like Vaizle can help you better analyse your current social media performance across different channels, identify patterns and trends. Accordingly, you can decide which social media platforms are the most effective for your business and which are not.
Leveraging these insights (backed by data), you will be able to create or amend a powerful social media marketing strategy – which in turn will amplify your brand visibility, grow a personalized connection with your target audience and take your business to the next level.
Now, whether your strategy needs an update or you are a newbie to the social media game, we've outlined a simple step-by-step process to guide you in choosing the right social media channel and making the best decision for your business.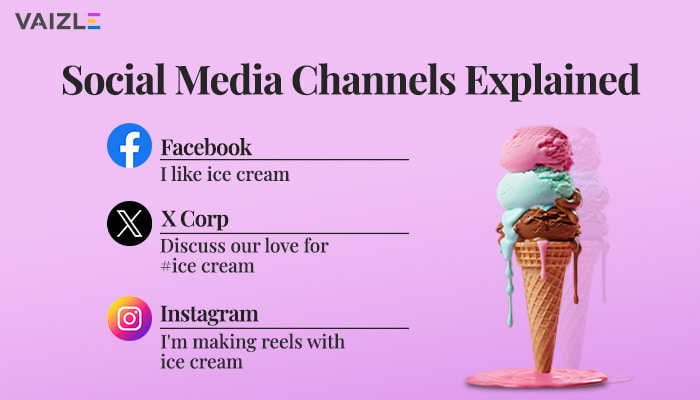 How To Decide Or Find The Right Social Media Channel For You?
Before hopping onto any social media channel, first, take your time to reflect on the following questions:
Once you have the answers, move on to selecting the best channel for your business:
Which Social Media Platforms Are Your Competitors Using?
After aligning your goals with your social media strategy, the next step is to identify the channels that your competitors are using to garner attention and reach their audience.
With that said, first, you must know who your competitors are. Obviously, you have a general idea of who your main competitors are. But it goes beyond that!
You need to focus on brands that are actively using social media to grow their business – brands that are socially active. Look for brands in your niche that use social as a major marketing pillar.
The quickest way to track your competitor's social media presence and performance is with Vaizle's social media tool. You can view the channel share for your or your competitors brand to find out the most popular social media channel using Vaizle.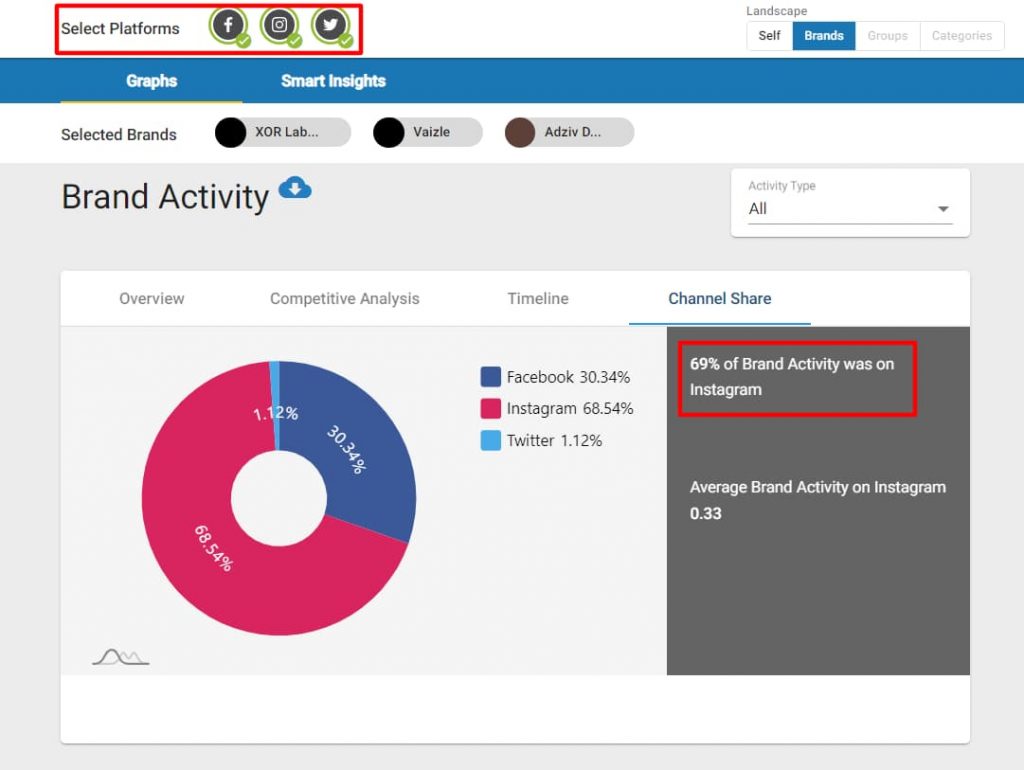 And based on the data, choose the ideal social media channel – and accordingly, you can optimise your social media strategy. Analysing various industry competitors will help you find which social media platforms are the most effective and why.
Vaizle's social media analytical tool, you will get complete insights of:
What types of posts are working for them.
How people are reacting to their posts
When your competitors are on a certain channel – and are performing well, it's a good sign that this channel will work for your business too. Start focusing on these platforms that help your competitors – and then gradually spread your presence across other platforms. Additionally, you will also learn a lot of valuable insights – which you directly apply to your own social media presence.
Which Social Media Channel Is Getting The Most Engagement?
Without engagement, social media is just media.
Social media engagement has become crucial to a successful marketing strategy as platforms reward authentic social interactions. It assesses how customers interact with your business's social media account and content. The term can cover a broad range of actions across multiple social platforms, including:
Likes
Engagement
Shares
Comments
People don't use social networks for a one-way process. Instead, they are seeking connections – with people and with brands. What started as a place for people to hang out with friends online has become one of the places where brands can engage in meaningful conversations with their customers. This enables them to turn those conversations into potential customers and followers.
Vaizle's social media tool is handy for knowing which platform you are getting the most engagement from – in your industry.
Using this tool, you can monitor social media channels that attract the most brand engagement in your industry. Based on the channel share data, it becomes easier for users to select social media channels that give the maximum returns.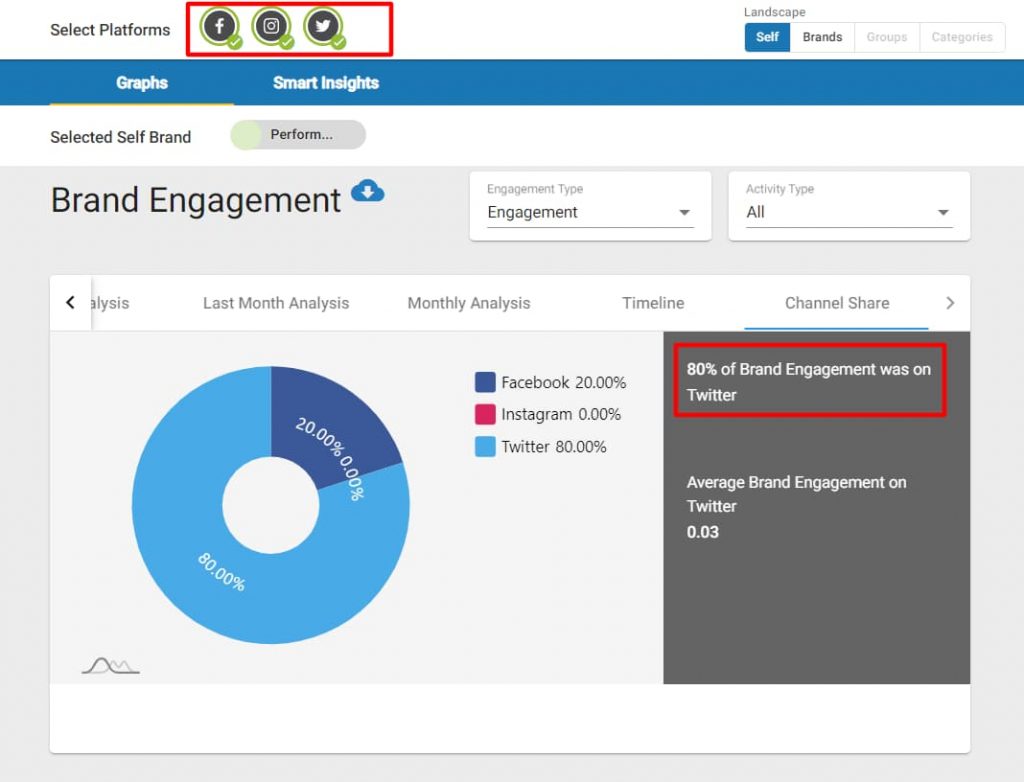 Here you will get a complete overview of which social media platform is getting the most engagement. Whether it's Instagram, Facebook, Twitter or any other social media platform – you will find out which channels are getting the most attention from your audience and the main activities on these social channels. Know where your audiences are more active.
Added to that, you also have the option to know engagement per post and engagement rate – based on the findings, you can create a social media strategy that will help build relationships, develop empathy and improve overall customer experience.
Which Type Of Content Is Performing The Best On Each Social Media Channel?
Content is the heart of every social media strategy. It's how brands make their first and last impression on social media. It is that secret ingredient for how brands communicate and connect with new and loyal customers.
With that said, when it comes to social media, we are spoiled with a number of choices. But we cannot take it with a one-size-fits-all approach. Each social media platform serves a different purpose – and understanding them is one of the key factors in choosing the right social media platforms for businesses.
Vaizle's social media tool is an easy way to know which type of content is performing the most effectively for your competitors – and getting the most engagement. From one single dashboard, discover invaluable insights about social media platforms and the type of audience that is prevalent on these respective platforms. Know which type of social content works for these platforms and what content your competitors are posting to get the most engagement from these platforms.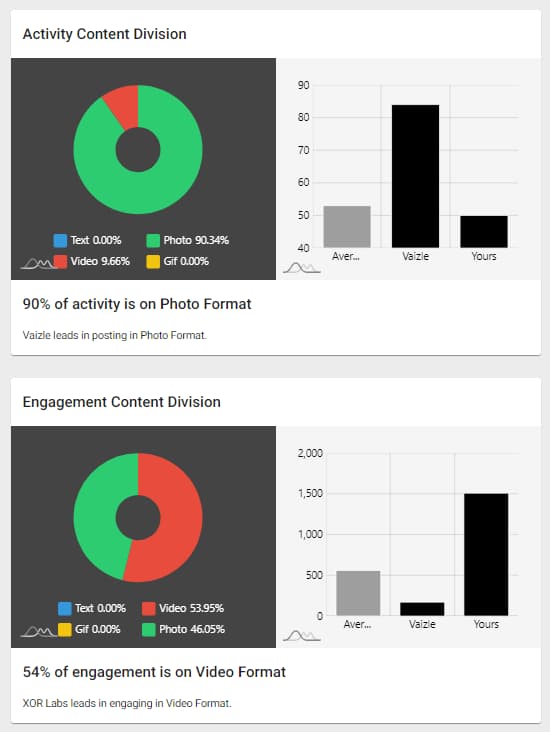 Does their content mainly consist of videos, images, GIFs, stories, posts, texts, or live videos? Learn how users interact with different types of posts; accordingly, you can curate your business content strategy.
Remember, the human attention span only lasts for 8 seconds. Your content must be perfectly aligned with your customer needs, that will grab attention and help convert potential customers to happy customers.
Now that you know which platforms your competitors are using, what content they are posting, and how they garner the most engagement – the final step is to incorporate this knowledge to find the right social media platforms to grow your business.
Tip: Plan your social media content ahead of time. It helps you maintain a consistent cadence.
And Over To You!
Whether you're a marketer, business owner, or executive director of an association, when it comes to choosing the right social media channel, don't be afraid to experiment. It may feel overwhelming – but you can't let this decision slip casually. Just remember, social media will greedily soak up all the time you have – but still, you will feel you're not putting enough energy into it. Adopting a strategic approach to it can make all the difference.
Know which social media platforms are the most effective and why, and tailor your content to each channel's communication behaviour and audience expectations – while refining and sharpening your business's social media presence.
Hope you find this answer helpful! Thanks for reading!