Enhance Performance Through Social Media Benchmarks
One fine day, your client asks you: "Is our social media performance good enough?" At that very moment, how do you answer them?
A simple yes or no? Show them raw data. Or, maybe you hand them the statistics and expect them to figure it out!
How do you measure and present your social media success?
Social media benchmarking is the way! It gauges the non-monetary return you gain from your social media engagement. More so, it adds context to your engagement numbers – without which deriving a concrete conclusion of your social media performance is not reasonably possible.
Assuming you're new to social media benchmarks and are hungry to take your social media game to the next level, you have this in-depth guide handy. Bookmark it and refer back to it anytime you have any social media benchmarking questions!
What is Social Media Benchmarking?
Social media benchmarking is the process of showing the success or progress of your efforts by comparing your numbers and performance metrics against the industry's best practices.
Different metrics like the number of posts published, followers growth rate, engagement on your content, speed of replies and more – are compared against those of your competitors.
This helps you get rich insights that tell you a story about your social media strategy, its successes, challenges and areas of improvement. It is what drives goals and shows you the way to DREAM BIGGER!
Create Social Media Benchmarks Using Your Top Performing Competitor's Activity And Engagement
You have the basics covered! Now you need to identify who you are competing with to compare the data accurately.
This is the step where most marketers fail because they don't understand who their competitors are. As a result, they target the biggest sharks in the industry, only to fall flat on their face.
Identifying your competitors and benchmarking them will benefit you and your team in many ways, including:
Pinpointing the critical benchmarks that need improvement.
Help find out your limitations and drawbacks in your social media strategy. This way, you can shape your strategy and build a sustainable business for the future.
In addition to tracking competitors' moves and strategies, you can use them to your advantage, too.
How Do You Identify Your Competitors?
The best way to do it is – to divide your "competitors" into three main categories:
1. Direct Competitor
2. Indirect Competitor
3. Replacement Competitors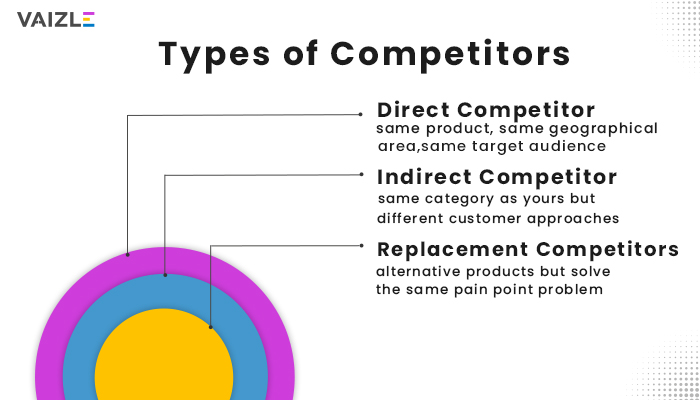 Direct competition refers to a company or service that offers the same product as yours, operates in the same geographical area, and has the same target audience. These are the ones that come to your mind when you think of competition.
For instance: Apple and Android, McDonald's and Burger King, Netflix and Hulu.
Indirect competitors are businesses that sell products in the same category as yours but offer different customer approaches.
For instance: McDonald's and Subway.
Replacement competitors (or phantom competitors) are businesses that offer alternative products or services that are different from your business in terms of type and category. But you both seek to solve the same pain point problem – but the means are entirely different.
For instance: McDonald's and Stouffer's frozen meals.
If you're not sure "who" your competitors are, there are various tools that can aid you in this process. One such excellent social media engagement benchmarks tool is Vaizle's social media analytics tool which can help you find and benchmark the right and the top performing competitors based on their social media activity and engagement.
Essential Social Media Marketing Benchmarks
After you have a list of the top four to five competitors in your industry, the next step is to determine "what" to benchmark or your benchmarking metrics. This is the most crucial piece of the puzzle!
If you start randomly, a sea of metrics is available for you to analyze and benchmark. But you cannot benchmark every metric under the sun. Instead, be strategic and focus on the metrics relevant to your specific business goal and social media strategy.
Here are some of the key social media benchmarks metrics for a competitive analysis
Total Engagement Rate
Total engagement measures the number of times your audience actively engages with your content. It includes interactions like comments, likes, shares, retweets, or mentions. The social media engagement rate benchmark is a high-quality audience analysis metric and helps identify content that resonates with your audience the best.
Using this data, you become more intentional about your social media strategy on an individual post level and locate the factors that compel your audience to interact with your content. It is all about "see and be seen."
Thanks to the advances in technology, you now have various dedicated social media benchmarking tools like Vaizle's social media analytics that help you consistently monitor your brand engagement, engagement per post, and engagement rate, across various channels – from a single dashboard. This way, you can stay one step ahead in determining your customer's level of satisfaction and identifying potential flops.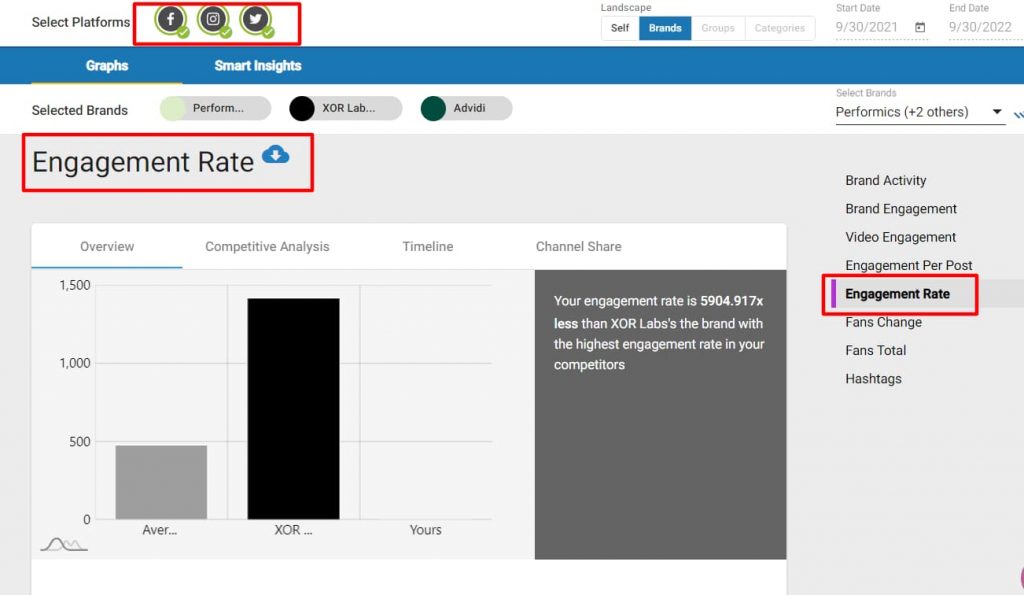 To compete more effectively with your social media strategy, you need to run a thorough competitive analysis on what type of content your competitors are producing on social media to engage their audience.
Find out what recent topics they are posting on; which content is ranking supreme. Are they prioritizing reels over posts? The frequency they are posting. Find it all out!
Though it may seem simple, often, these social media benchmarks are the foundation to pave the way to a successful social media strategy. Narrowing down posts helps upgrade your publishing volume to reach certain impressions, engagement and engagement rates. Vaizle's social media analytics tool can be extremely handy for finding this information. It helps you check the content type and engagement per post across various social media platforms.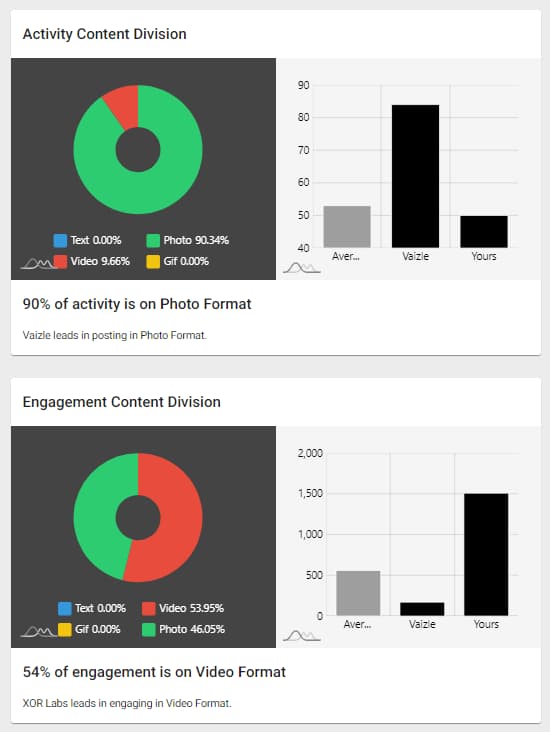 Followers Growth
According to the 2021 Sprout Social Index, it is estimated nine out of ten followers buy from the brand they follow on social media.
Judging by the data, you can figure out how crucial this performance metric is for your social media benchmarking. Also known as vanity metrics, it measures the percentage at which your brand grows and changes over a period of time. This helps you understand your own performance and make decisions to help your brand grow and reach its goals.
Tip: Know the important social media KPIs to track your social media performance.
To help you understand follower growth better, use Valizle's social media analytical tool to stay updated with your fans' growth and change rate over time compared to your competitors across different social media channels.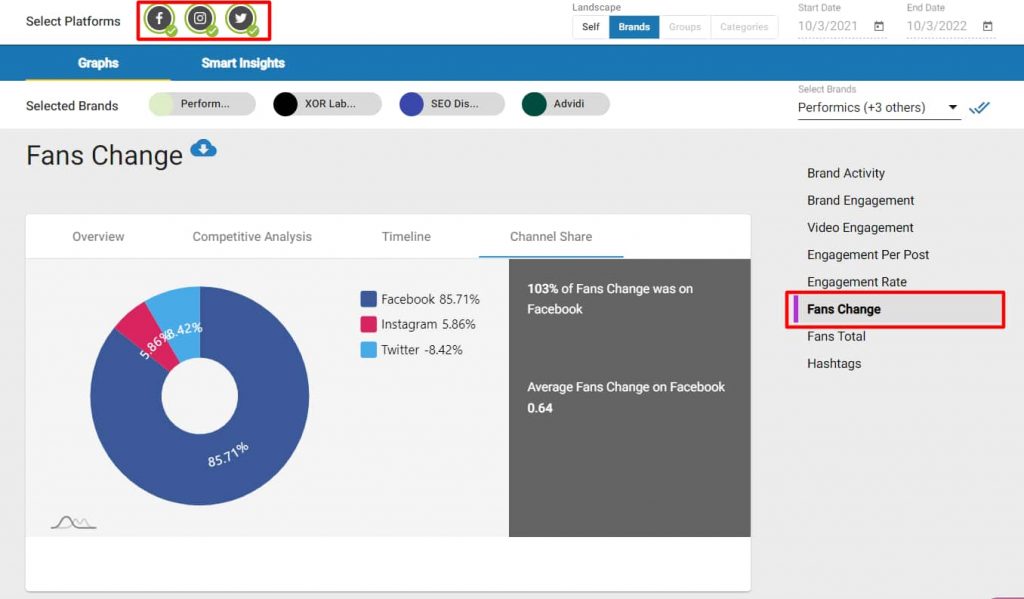 Can Social Benchmarks Help Improve Social Media Performance?
YES! YES! YES!
Social media success starts with crunching the numbers and figuring out what works best for your brand. It gives you an understanding of where you stand as a business in terms of their respective niches.
A competitive analysis of social benchmarks uncovers your competitor's strategy, improves your content strategy, identifies key areas of improvement, frames your budget planning and keeps you up to date with the latest industry trends. Incorporating this data into your social media strategy enhances your performance and gives you an added advantage over your industry rivals.
Before You Go….
Raw numbers from your social media analytics are useless – if you don't add any context to them, especially if you have to analyze social media data on different platforms. And without social media benchmarks, it is almost impossible to draw any valuable insights for optimizing your strategy, growing your social media store and improving your performance for maximum success. Remember, a bit of insight can go a long way when it comes to results!
Having said that, you must know, it all starts with accurate benchmarking!