How To Craft An Effective Social Media Content Plan?
In today's marketing environment, social media goes way beyond just sharing business updates and news. It has become one of the most dominating marketing channels for brands and businesses to engage with their audience – and to approach this competitive sphere without a strategically curated social media content plan is simply dorky.
Ask any marketer about the importance of a compact social media content plan, and they will write a book for you!
Social media content plan serves as a framework for what your business plans to share and promote across social marketing channels. A well-thought-out and organised social content plan helps define your content themes, focuses on long-term strategy, identifies the type of content that aligns with each social platform's audience and objective.
Simply put, without a concrete social media content strategy or plan, your social efforts will lack direction, and you won't get the desired results. 
If you're on the same page and want to know how to create a content plan for social media, keep reading…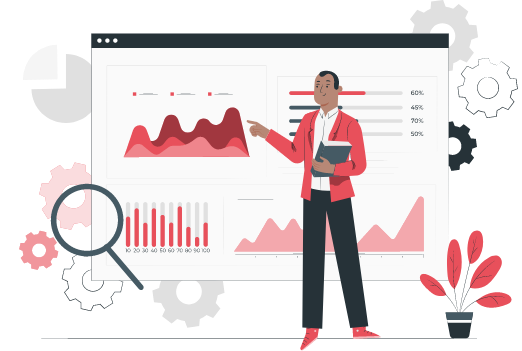 Steps To Create An Action-Packed Social Media Content Plan
Before we dive into it right away, let's get this straight off the bat: Building a social media content strategy or plan takes time. So you may not see the results immediately, which may discourage you from moving forward. But stick to it (no matter what), and you will surely see the results over time.
With that being said, now let's start the steps of creating a social media content plan.
Step 1: Finding Content Inspiration
The first step to kickstarting a robust content plan for social media is finding the right content inspiration for your social feed – and this is where most marketers struggle to keep up. Left alone new social marketers, even the most skilled content creators sometimes find themselves hunting, scrolling and searching for content inspiration.
But you're SAFE from such situations because you'll have this content plan handy.
To create a strong, long-term, powerful content plan for social media, dig deep and set your content goals first. Having a goal in mind will help you plan the right content that aligns with your overall marketing strategy and brand value.
Once you're clear on your goals, the next step is to watch the content you've created so far. Look at the posts that performed well and didn't, and also check the platform on which they get the most engagement. Take social media content inspiration from these posts, and make better content for your audience.
Also, you'll find content inspiration from your favorite brands on social media and the content they are posting. This will help you tap into your creative side and come up with amazing content ideas.
The next area to look for content inspiration for your social media content strategy is analysing competitors' social media pages. Find out what kind of content they are posting, the tone they are using, and the platform they are getting the most engagement from. Then identify the gaps and brainstorm new content trends that will keep your audiences hooked to your social media page.
It's not possible manually to conduct such deep social media inspection into your competitors' content strategy. The best and ideal way to spy on your competitors is by using a social media tool like Vaizle's. Vaizle's Social Media Content Planner tool gives you complete insights into your competitors' social media content, their best-performing content, and the platform on which they are performing the best – and based on these findings, you can recreate your ideas while putting your own unique spin on them.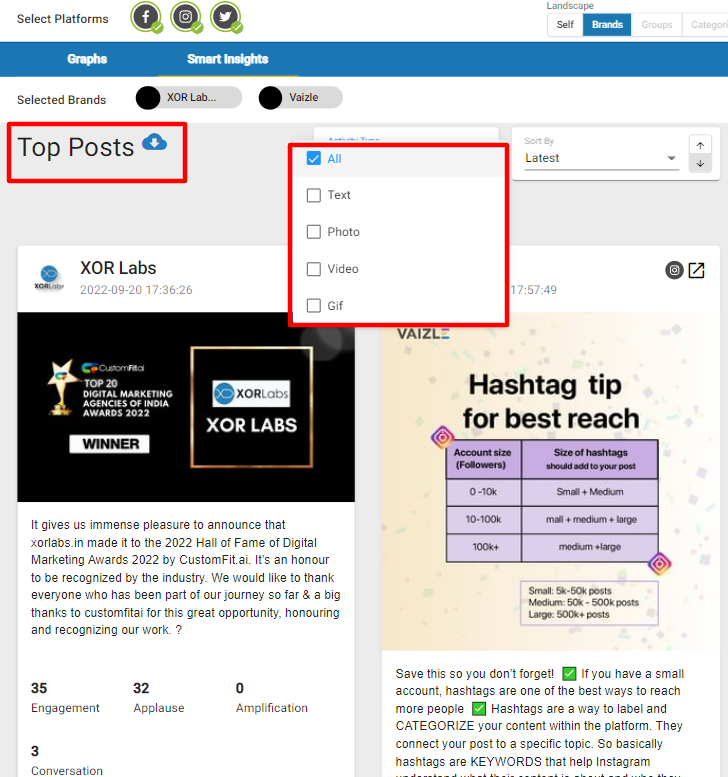 Tip – Repurpose your content on Social Media for maximum engagement.
Step 2: Decide On Hashtags & Copies
The next step to creating a successful content plan for social media is deciding on the hashtags to use on your social media posts.
In case you're wondering: "Are hashtags that important?" Yes, it is – yet businesses don't quite comprehend its importance.
Think of hashtags as labels for your content. It is the most effective way to tag and categorise your content in the digital sphere. Using hashtags in your social media posts will increase engagement, improve user experience and visibility of your posts, attract followers to certain niches, strengthen brand image and obviously will help reach your target audience.
In fact, using hashtags can quickly secure 21% more engagement on social media.
Here are a few tricks to using hashtags for your social media plan:
Utilise trending hashtags
Simplicity is key! Keep your hashtags simple, relevant and specific.
Use unique branded hashtags for your content.
Don't populate your posts with unnecessary hashtags.
To find the best hashtag in your niche, look at your competitors, the hashtags they are using, the campaigns they are promoting under the hashtags, and the copies they are using in their posts. Use Vaizle's social media analysis tool to curate the best hashtags for your business. It will give you a complete overview of the optimal no. of hashtags to be used, hashtags used by your competitors, competitors campaign around hashtags and all information you need to use a good hashtag to expand the visibility of your business.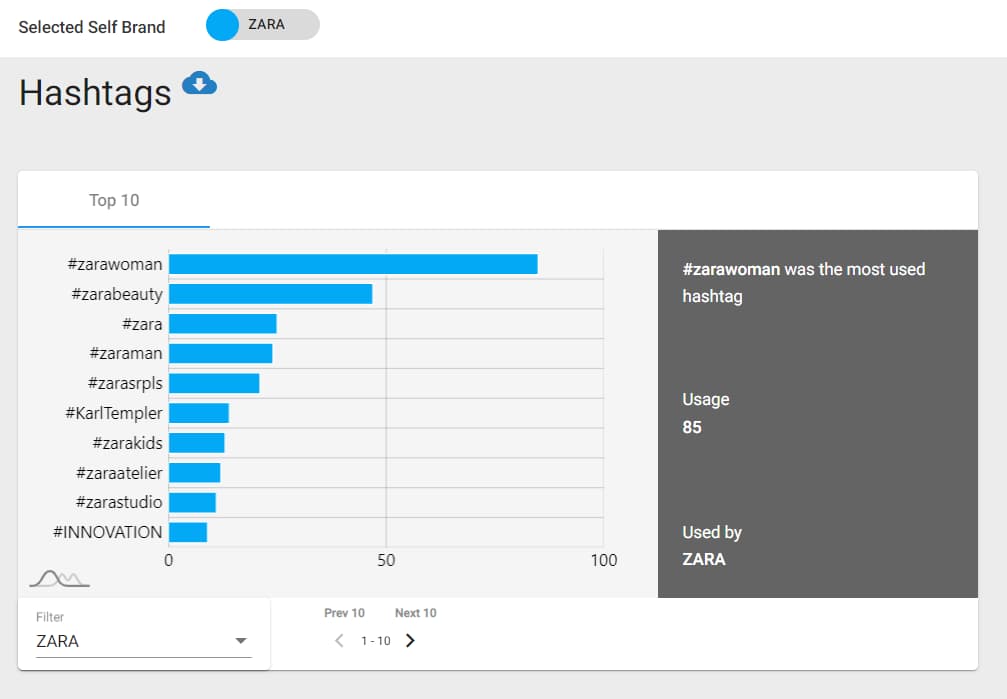 Tip – Know how hashtags works on instagram?
Step 3: Decide The Platform
Now that you know the type of content to post, the hashtags to use and the copies to use it for – the next step is to determine which social media platforms are best to post your content.
Remember, there is no need to use every social media platform under the sun, thinking it is the best social media strategy. Trust us, it's not! It's good to have a compact and solid social content plan for one platform rather than a scattered and loose content plan for every platform.
An excellent way to approach this is to find the platform where your audiences are most active. Take help from Vaizle's social media analytics tool. Here you can find which social media platform gets the most applause, the most conversation and the most amplification. Based on these intricate findings, strategically curate social media content planning for the respective platform to gain the most engagement and boost visibility.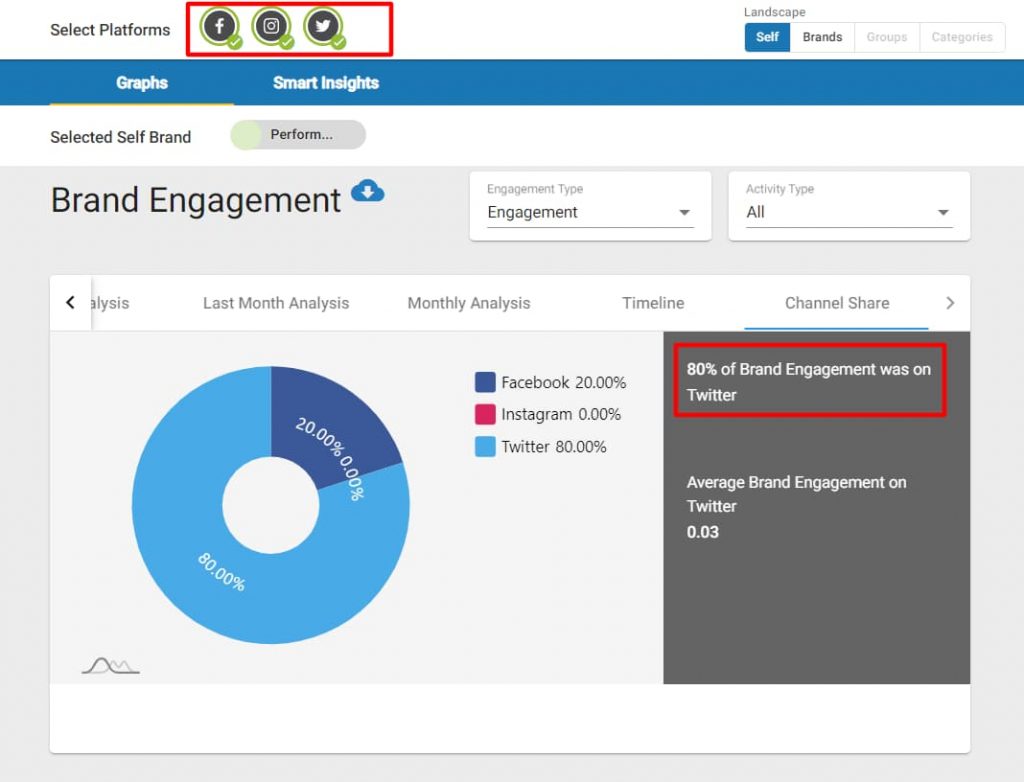 Step 4: Best Time To Post
After determining which platform to post on, the next step to a stellar social media content plan is determining the best time to publish your content on social media – and sticking to it. Also, take into consideration the frequency of posting. Too much posting can annoy your followers, or too little posting may look like you're not worth following.
Vaizle's social media actionable insights give you comprehensive information on the best time to post based on the various social media platforms. Based on this, you can schedule your content, be prepared and get the most engagement from the respective platform.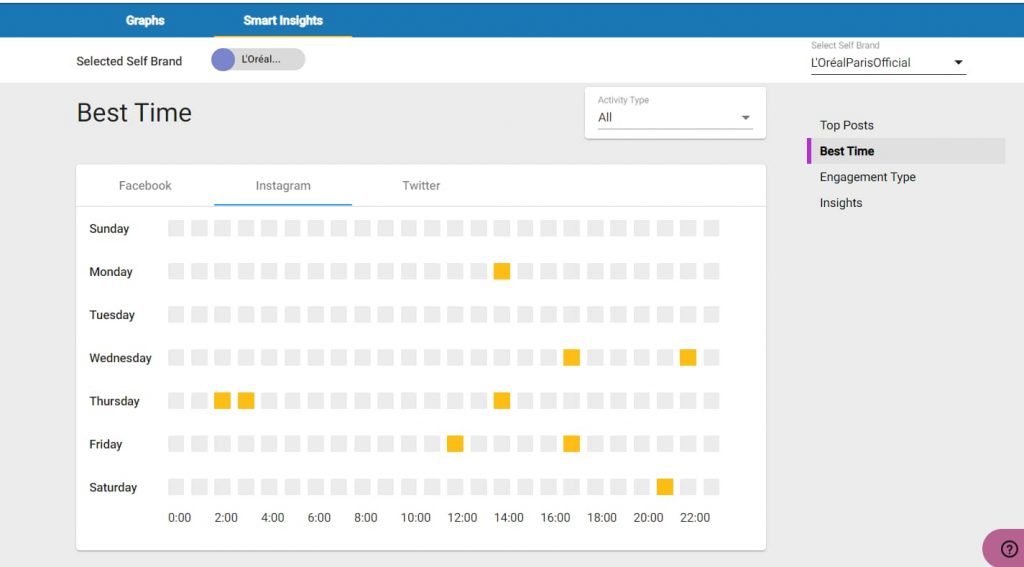 Final Thoughts
Now that you know the steps of creating a compact social media content plan get down to work right away. Honestly, social media content planning is not as challenging as people make it. If you follow the steps mentioned above and understand your target audience and social media goals – we are sure your social media content plan will be as strong as one created by a social media marketer who has been in this game for ages.
Remember, no one said social media content planning is not going to happen overnight. But consistency is key here!
Related – Read our guide to create a successful social media content calendar.