Key Takeaway from the Successful Social Media Strategies of 2021
For everyone, this year has been a roller coaster.
Smart brands, on the other hand, have risen to the occasion, providing us with valuable insights into social media trends that are here to stay.
Which social media strategies were the most successful in 2021? What can we learn from these for our social media approach in 2022?
We'll show you the top five ideas you can use, as well as marketing tactics that will ensure your success all year.
As of July 2021, there were 4.48 billion active social media users, according to the most recent figures.
With social media showing a consistently increasing trend for several years, it's easy to see why brands devote so much time and attention to developing an effective social media strategy.
A good social media strategy is made up of a collection of actions that reflect your objectives and what you want to accomplish on the platform.
You'll be able to assess your progress and identify areas for growth if you write down your goals together in a complete social media strategy.
Naturally, to be effective, a social media plan must consider the most recent social media trends… which is where we come in.
We'll go over a few social media tips that will help you conduct more effective marketing campaigns in the section below.
Additionally, as a side effect, you will strengthen consumer relationships and ensure that your social media initiatives in 2022 are as effective as possible.
Contests might help you get on the radar and stay there
Video can help you build stronger bonds with your customers
Social commerce should be a part of your social media strategy
Embrace the Micro-Influencer Marketing Trend
Contests might help you get on the radar and stay there
You've almost certainly come across a social media contest before, or perhaps even organized one yourself. There's a reason why so many businesses use them as part of their social media strategy.
Social media contests are a tried and true way to spread the news, get people interested in what you have to offer, and increase your following.
Social media contests have shown to be particularly beneficial in recent years when conducted in partnership with an influencer.
More companies are emphasizing customer service and two-way communication.
It's understandable; contests and giveaways will continue to be popular, but their primary objective will no longer be to increase the number of likes and followers.
Instead, corporations are increasingly turning to contests as a means of providing something of value to their customers. They'll be able to not only get on the radar of potential customers but also stay on it.
See how Nyka implemented a fun contest as part of their new product launch social media campaign to engage thousands of potential consumers and join in on the conversation.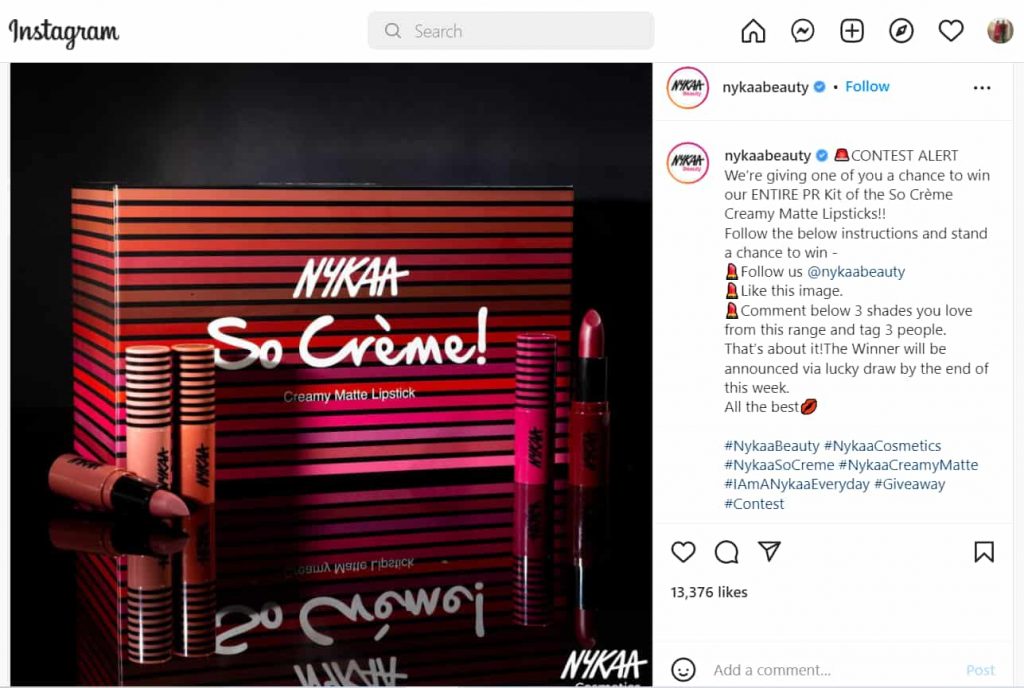 The following are some of the advantages of including a contest in your social media strategy:
Increase brand recognition and recall
Expand your email list
Increase the number of visitors to your website, blog, or social media platform
Get to know your target market.
Educate Potential clients
Boost your sales
Encourage them to try out your stuff
Reward your long-term clients
Most crucially, organizing a contest does not necessitate the sale of tangible goods.
Do you work with people who wish to establish their own business as growth specialists? You may provide a free 30-minute consultation call or free access to your mini-course as an incentive.
Maybe you're a public speaking coach who helps people use speaking to improve their businesses. Why not hold a contest and give away some of your resources to the winner?
Follow to enter, tag a friend to enter, like to enter, comment to enter, share to enter, vote to enter, take a photo to enter, or any combination of this call-to-action can be used.
Not only does it promote but you may get more relatable user-generated content.
Video can help you build stronger bonds with your customers
TikTok is huge right now, Instagram Reels have opened up an entirely new space for marketing. It encourages users to share fun trending videos and longer-form content with IGTV, and of course, there's the incontestable power of YouTube.
Check out how Dove always hits the market with fresh powerful video messages that go Viral and amass huge social media attention with these video content.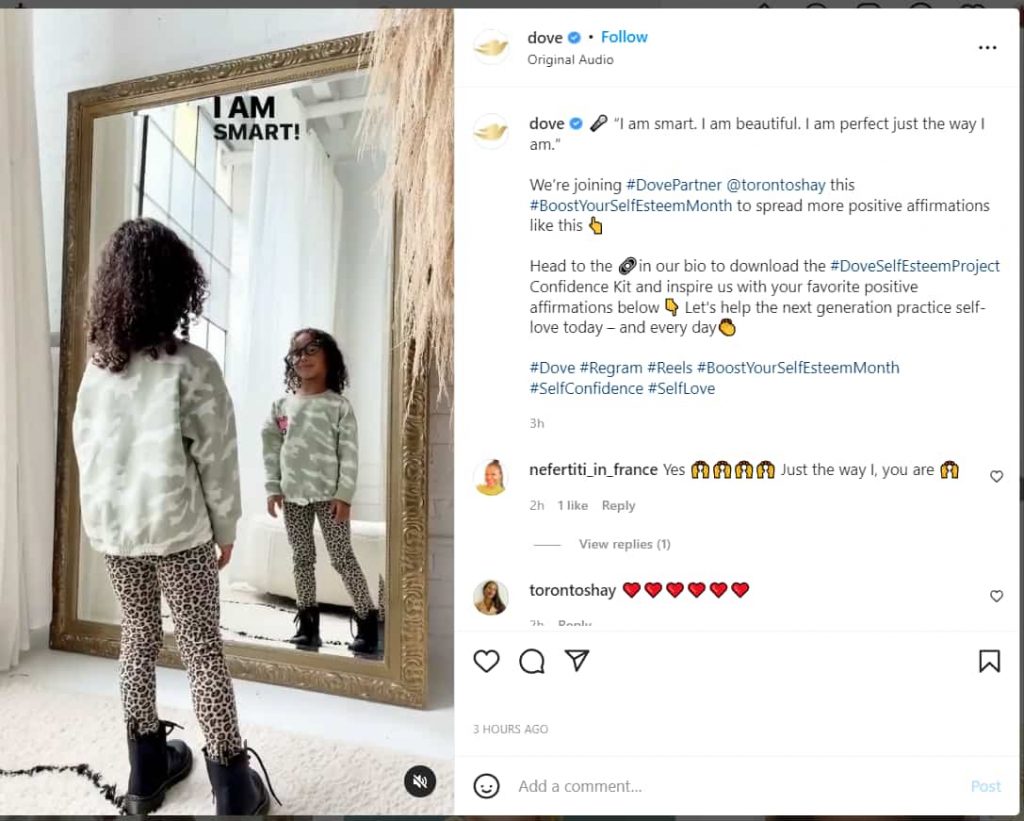 You've probably seen that several social media platforms have incorporated new tools that allow you to send video updates to your followers.
We've seen how visuals increase engagement, and video allows you to speak directly to your users, creating a stronger connection.
Live broadcasting on social media is one of the most effective ways to increase engagement rate and obtain fast reactions/feedback. Live broadcasts, for example, can be used to cover events in real-time, pick or announce contest winners in real-time, or generate excitement around a product during its launch phase.
The "raw" quality and "realness" of social media videos are valued by users.
To put it another way, anyone can become a content creator, even if they don't have access to a team of experts.
Of course, many marketers targeting a younger demographic have already begun to use TikTok.
Don't forget to track your progress. Take a look at how hashtag analytics can be used to track the success of the campaigns.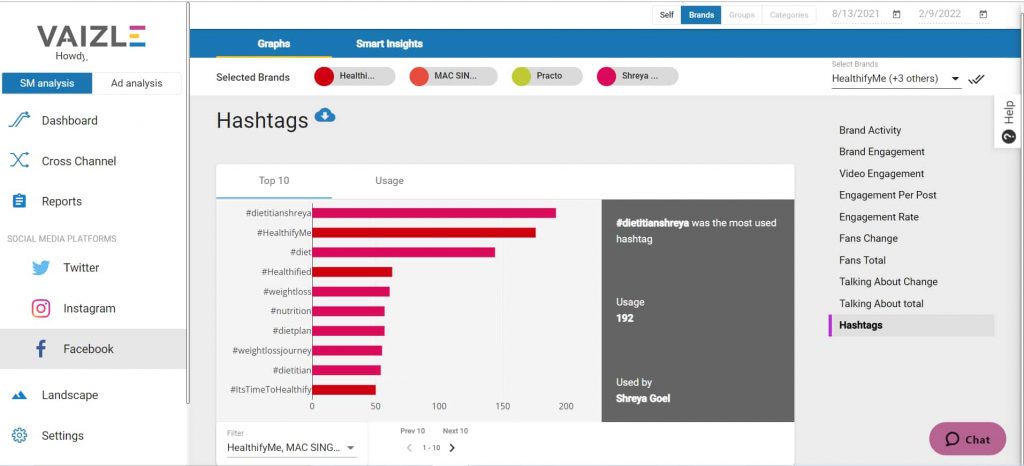 Social commerce should be a part of your social media strategy
People used to utilize social media platforms to stay in touch with friends and family. Users nowadays use social media to keep up with the newest advances, get inspired, and discover new items.
We're all aware that social media has an impact on what consumers buy online. Using social media platforms, for example, shoppers may simply compare products, read user testimonials, and browse new items.
However, in recent years, social media platforms have begun to offer new capabilities that allow users to shop while on the platform. In other words, the way you use social media can have a significant impact on your bottom line.
The Shop the Look function on Pinterest allows visitors to be directly routed to the checkout page, allowing them to convert their inspiration into a purchase.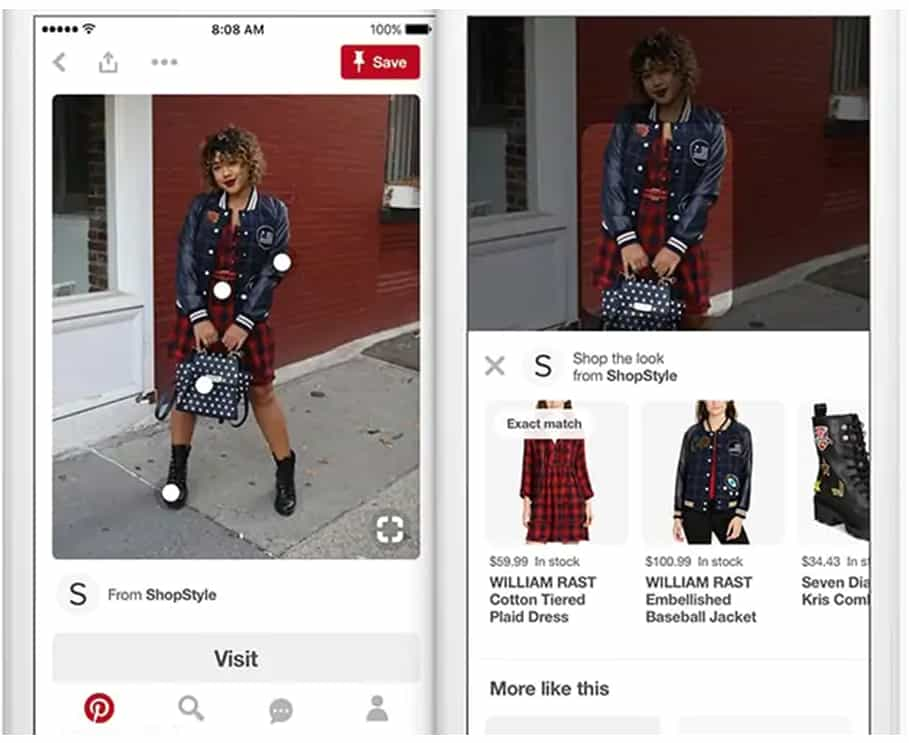 In a similar vein, Instagram is paving the way for firms to not only sell on social media but also to combine social shopping with influencer marketing.
Isn't this enough to persuade you to include social commerce in your social media strategy?
Make sure to track your shopping posts with hashtag analytics and understand how to make them more enticing to your business, which will lead to more sales.
Augmented Reality (AR) Can Help You Sell More
I'm sure you've heard everyone raving about augmented reality and how it will change the way people shop in the future.
Until now, many individuals would go to stores to see, touch, and try on things before returning home and ordering them online. Opening an online business and establishing a social media presence have become more critical than ever.
As a result, a complicated path to buy emerged, with multiple touchpoints in both physical and online retailers.
Brands that take an omnichannel approach, on the other hand, should expect to expand. Retailers no longer have the only option of offering online purchasing.
We may expect a lot more retailers to convert their physical locations into virtual showrooms in the future. A digital area where individuals may view and try on things before purchasing them online.
In addition, recent advancements in AR are allowing clients to have the same experience – online.
Facebook and Instagram have previously introduced AR filters that allow consumers to try on things from selected advertisers to see how they fit before making a purchase decision.
The platforms' early partners in the cosmetics and eyewear industries, including NARS, Mac, Warbly Parker, and Ray-Ban, have had access to these AR technologies.
Magicplan, for example, provides consumers with an AR-enabled residential property design planner that allows them to preview how their properties will look when all improvements are completed.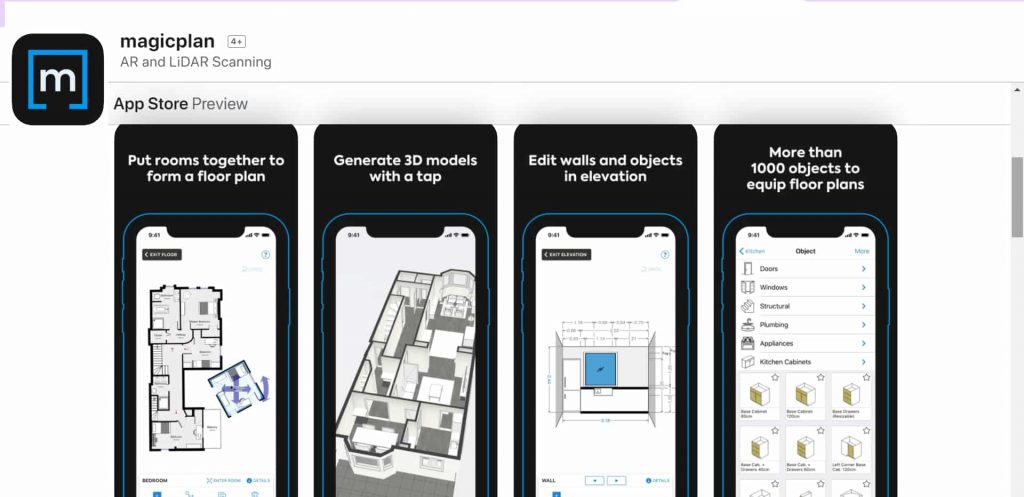 You may look into using augmented reality (AR) in your social media plan to make your customers' online experience more engaging and enjoyable.
Embrace the Micro-Influencer Marketing Trend
Influencer marketing is on the increase, despite skeptics' claims, and is predicted to grow even more in 2022.
Small businesses, on the other hand, may be worried about being able to afford to compensate influencers.
Businesses that still associate influencer marketing with celebrity endorsements frequently express this problem.
Solution: Even someone with 1000 followers might be considered an influencer.
Many brands have recently begun to distance themselves from major influencers. Instead, they've begun to work with smaller creators with a following of between 10,000 and 100,000 people.
Micro-influencers have a more genuine relationship with their audience, as a result of which they have a large number of true admirers who trust their judgment.
Coca-Cola collaborated with Miette Dierckx, a travel and food influencer, and 11 other Belgian influencers to develop content for the legacy soda brand. Dierckx's content is not only congruent with Coke's brand, but also with her own. While still representing the business well, this assures authenticity and a strong appeal to her niche.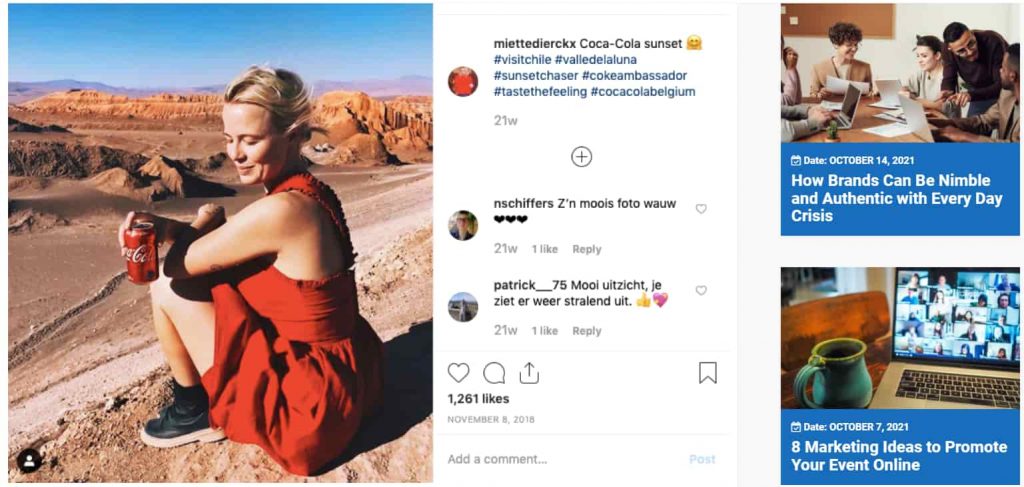 Bonus Tip: It's Not Just Twitter, Facebook, and Instagram When It Comes to Social Media Strategy
Keeping up with your audience's interests and habits is crucial to remaining relevant. Your social media approach should be based on this.
One thing you should keep an eye on is the social media sites where your target demographic spends the most time.
There are so many new social media networks popping up that it's tough to stay on top of them all. As a result, based on your type of business and target demographic, you must choose which platform has the most potential.
Many brands, for example, concentrate on the most well-known social media platforms, such as Twitter, Facebook, and Instagram, while neglecting other platforms such as LinkedIn, Pinterest, and, more recently, TikTok.
Depending on your brand and the products you sell, you might want to try out some different platforms. While certain platforms may not be as well-known in terms of advertising, they may be useful to you and help you reach new, interested audiences.
TikTok, on the other hand, offers a system that lets you reach a large organic audience even if you're just getting started.
LinkedIn has also included several new features, like banners and call-to-action buttons.
As a result, it's a fantastic area for brands trying to add value to their customers. This is especially true given that LinkedIn's algorithm favors extended, educational posts.
As a result, we've seen a number of B2B and SaaS companies use LinkedIn as the centerpiece of their social media strategy.
Regardless of which social media platform you use, you must engage with your audience and move toward two-way communication.
You can accomplish this, for example, by creating videos, holding contests, hosting events, or simply slipping into your customers' DMs.
Last Thoughts
Every day, the social media world shifts.
It can be difficult to build social media strategies when new features emerge and new social media platforms gain popularity.
However, if we take a closer look, we can see that all of these updates and additions are designed to help marketers increase engagement, create discussions, and deliver more value to their customers.
So, if we had to summarize everything and give you a single piece of advice for 2022, it would be this:
"Be innovative, and invest in items that are consistent with your brand and well-liked by your target audience."