What is the best way to analyze your Instagram competitor's strategy for free?
As an Instagram user, you may have noticed that some businesses have very successful pages while others seem to struggle. However, many people don't realize that a lot of hard work and analysis goes into making a successful Instagram business page. Without taking the time to do a competitive analysis, making your page stand out from the rest is difficult. Competitive analysis involves research and planning to identify your competition, understand its strategies, and devise ways to beat them. This process can be time-consuming, but it's essential if you want your page to be successful.
You'll need to look at a few key things when conducting a free Instagram competitor analysis using online tools. First, look at the number of followers and all the Instagram KPIs each of your competitors has. This will give you an idea of how popular they are and how much reach they have. Next, take a look at the quality of their content. Are their photos high-quality and well-framed? Do they have informative captions? Is their overall aesthetic pleasing? If not, this is something you can improve upon. Finally,  check out their engagement rates and Instagram KPIs. Are people commenting on and liking their posts? If not, again, this is something you can work on improving. 
What you'll discover in this article is:
In order to analyze your Instagram competitors' strategy, how should you do it?
There are several ways to analyze your competitor's performance with an Instagram audience analyzer. The most important thing is to understand their strategy and how it works for them. There are several free tools that you can use to help with this. 
One way to get an idea of your competitor's strategy is to look at their post frequency and engagement rate. This will give you an idea of how often they post and how much interaction they get from their followers. You can also check out their hashtag usage and see what kind of content they are creating.
Another way to free Instagram competitor analysis on your competitor's performance is to look at follower growth. This will give you an idea of how quickly they are growing and if they are sustaining that growth over time. You can also look at their follower demographics to determine their target audience.
Overall, there are several free ways that you can use to analyze your competitor's performance on Instagram. However, it is important to understand their strategy and how it works for them so that you can learn from it and improve your own.
Which free tools will help you with the competitive analysis for your Instagram business page?
There are a number of free Ig analyzer tools free out there that can help you with this task. Simply enter your competitor's username into one of these platforms, and you'll be able to see their most popular posts, engagement rates, follower growth, and more. Here are a few tools that can be of great help.
Vaizle is one of the most sought-after free ig analyzer online tools that helps with free Instagram competitor analysis, including how often they post, what type of content they post, how many likes and comments they receive, and all the Instagram KPIs. All you need to do is feed the URLs of yours and your competitor, and you can see how many followers your competitor has, what their most popular posts and how engaging each one is.
The key features of Vaizle's Instagram competitor analysis free are –
An outline of the activities on Instagram
When you analyze the Instagram page of your competitor from the Vaizle free Instagram audience analyzer, you get a complete overview of their activities. It would include posts in the past month, the number of photographs posted, the number of text content put up and a lot more. Then, when you compare the same with yours, you get an idea of the gaps that need to be filled and whether you are performing better.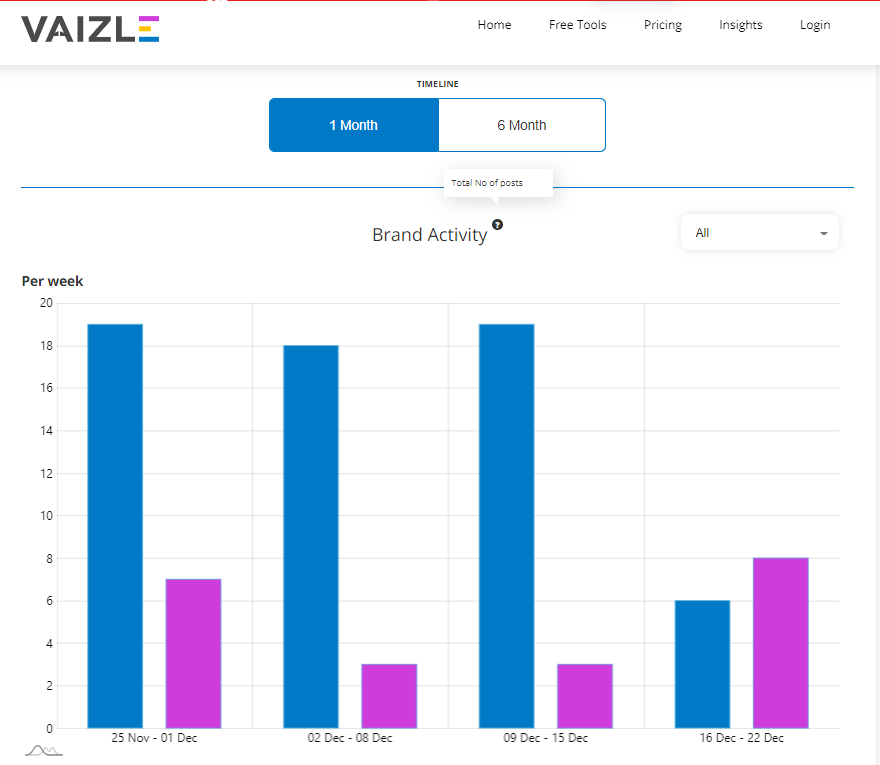 Helps you to know the Engagements
It is essential to know about the engagements that your competitor's posts have received. It would include the likes, comments, or shares it has received. It helps you assess how far you have gone, and whether your engagements are better than theirs or need improvement. The breakdown allows you to plan for the days ahead.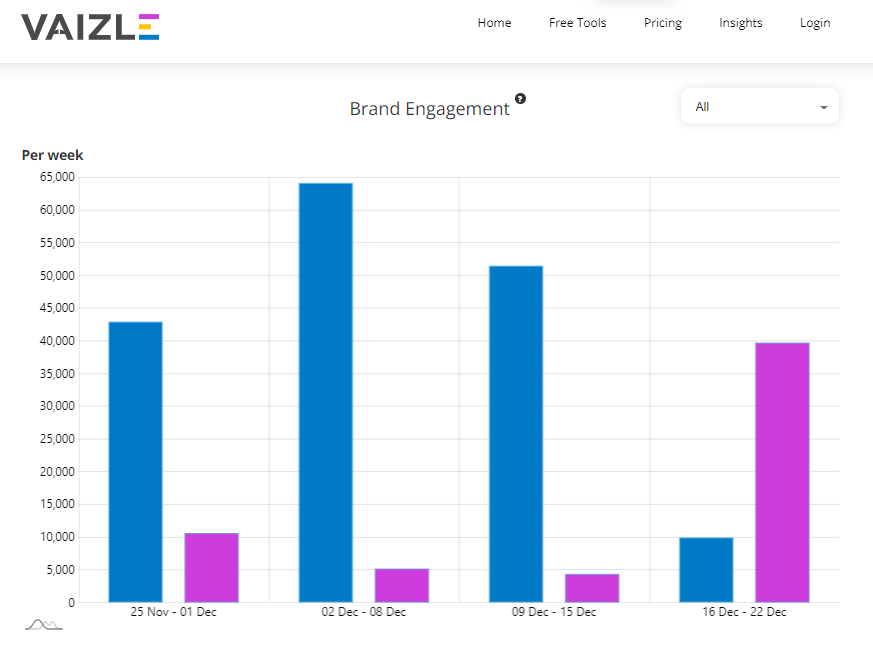 You know of the top-performing content
Vaizle's free Instagram competitor analysis tool helps you to know the top-performing content on your competitor's Instagram account as well as yours. You then get a chance to compare both. Then, if there is a need for improvement from your end, get inspired by their posts and accordingly make plans for your future posts.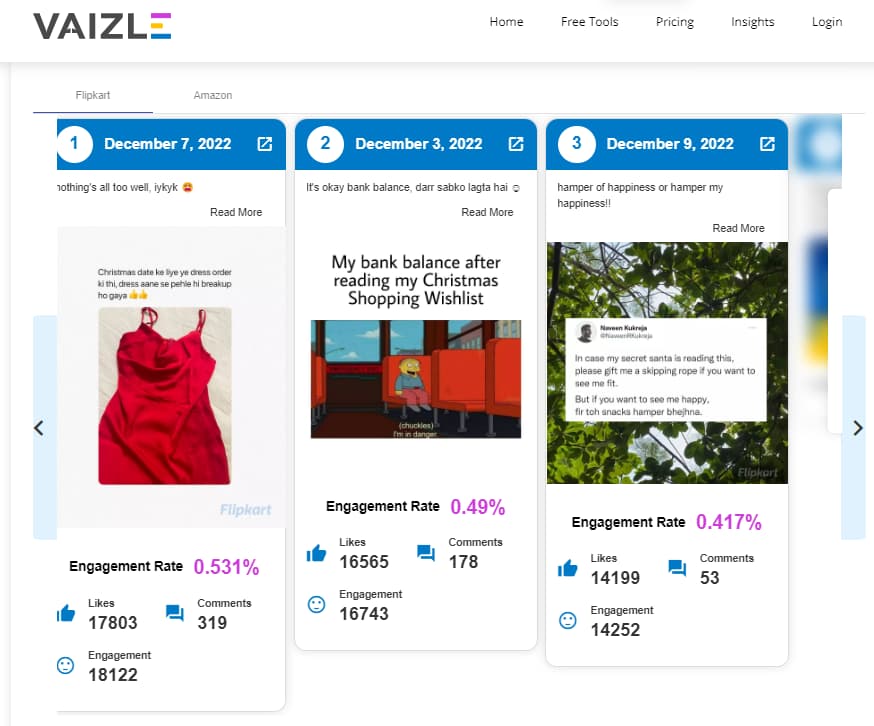 It helps you plan for the days to come
When you get an insight into the activities, your competitor is indulging in. If they have better engagement than yours, you get an idea of how to plan and how to change things to divert the attention of your target audience.
2. Sked Social
Sked Social is an Instagram comparison tool that allows you to compare your follower growth with that of your competitors and assist you with knowing the engagement rate, which measures how often people interact with your posts. In addition, you get detailed Instagram competitor analysis free about their followers, including demographics and interests.
Key Features Include –
· It gives you detailed information about your competitor's recent posts
· Insights including engagement rates and followers graph
· Details on what kind of content is being accepted by the audience
3. Phlanx
This  Instagram competitor analysis free platform gives insights into your competitor's followers and popular posts. Their tool provides detailed insights into your competitor's followers, including their location, age, and gender. You get to see posts and accordingly compare the same to yours. You then get to know how far you have gone into the sea.
Key Features include –
· Their analytics tool will help you measure your progress with the posts that you put out
· Assistance with robust insights, including detailed posts analysis and hashtag usage
· Helps with valuable information with a single click, all under one roof
Conclusion
Analyzing your competitor's performance on Instagram can be a helpful way to inform your marketing strategy. To do this, start by looking at their follower count and engagement rate using the Instagram competitor analysis tool. Then, take a closer look at the content they are posting and see what connects with their audience. Finally, monitor any changes in their behavior over time so you can adjust your strategy accordingly. By doing all of this, you will be able to understand better what is working for them and how you can utilize that information to improve your performance on the platform.

Once you have used the free tools from Vaizle, there is a lot to explore with the paid versions. One of them is a tool that helps you with hashtag analysis allowing you precise details on what is trending and how your post will receive engagement.