Design Better Social Media Strategy with Hashtag Analysis using Vaizle
Analyzing hashtags is key to planning and executing an effective social media campaign. You can effectively increase the reach and engagement of your social media posts by including hashtags in your content. Why use hashtags?
Because hashtags are used by social media users to find relevant content. This lets you build your content strategy around what your audience is most interested in.
Since we now know why hashtags are important, let's get to the Hashtag Analysis. 
Whether you're a seasoned hashtag specialist or completely new to social media marketing, one thing is certain: you must be able to analyse it. Knowing which hashtags are popular and how to use them to get people to reach your content and respond to it is critical to any social media strategy.
From finding the hashtag usage by your competitors to tracking their cross platform performance, a hashtag analysis tool will help you plan your strategy effectively.
Use hashtag analytics to identify the trends and posts that are resonating with your target audience
Identify which hashtags your competitors are using the most, and those that are generating high engagement
Find out which channels see most engagement with the hashtag
In this post we will see how Hashtag Analysis using Vaizle can help you achieve all this. Before we learn how to do hashtag analysis, we should have a clear understanding of what type of hashtags are used most commonly by brands around the globe.
Which Hashtags to Analyse
I'll cover the most common hashtags that you'll be using in your social media posts and content…
Brand or Event Specific hashtags
This is a hashtag that you create for your brand. For example, AJIO uses the hashtag #AJIOLOVE while Clinique included #Cannes2022 in its social media posts during the Cannes film festival. Branded hashtags are a great way to help spread the word about your business and create a community around your business.
Content hashtags are used to engage a target audience directly. For example, if you're a running a weight management business and want to boost brand awareness, posting before and after photos of your clients with the hashtags #weightlossmotivation #healthy will draw in interested audience.
This is a hashtag that you create for a campaign or product launch. A campaign hashtag is a powerful tool to centralize all the online discussions around your particular campaign. Nykaa used #NykaaSummerSuperSaverDays every year to run their summer exclusive campaigns.
How to do Hashtag Analysis using Vaizle
Hashtags are everywhere. Every marketing campaign uses them.
But how do you analyse the hashtags that appear on multiple social networks in the same time?
Get hashtag analysis from the top channels. Vaizle pulls the data from Facebook, Twitter and Instagram in real-time and presents cross-channel data at a single source.
You can search for specific hashtags either for your own brand or your competitors to see how popular they have been across various social channels. The hashtag analysis is part of Vaizle's Social Media Analysis module. This allows you to centralize all your social media data with one tool.
If you enter a hashtag in the Trend Analysis, Vaizle shows in-depth usage and engagement analysis for that hashtag including the top social posts where they most frequently appear. Indeed, as you start to enter hashtags, Vaizle will make hashtag suggestions.
Vaizle helps you discover the total hashtag usage, their social media engagement, and the top post with their engagement metrics.
Top hashtags
Find the list of top hashtags used by your competitors across various social media platforms. Benchmark your hashtag usage against your competitors.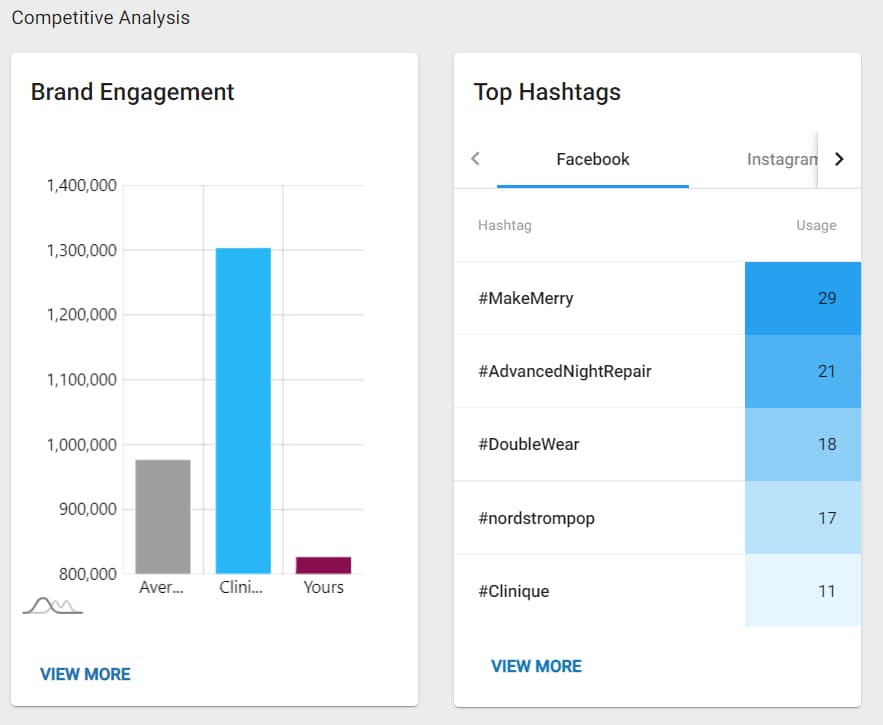 Track Your Competition
Want to know what your competitors are up to and what hashtag is trending for them. You can easily use Vaizle for real-time monitoring of any selected hashtags exclusively for Facebook, Instagram and Twitter, referring to your brand, campaign, or event.
Always be a few steps ahead of your competitors with our keyword and Hashtag Analysis. You can track the social media activity exclusively for Facebook, Twitter and Instagram by your competitors around their branded hashtags. Get in-depth analysis around their trending hashtags and keywords to unravel their social media strategy.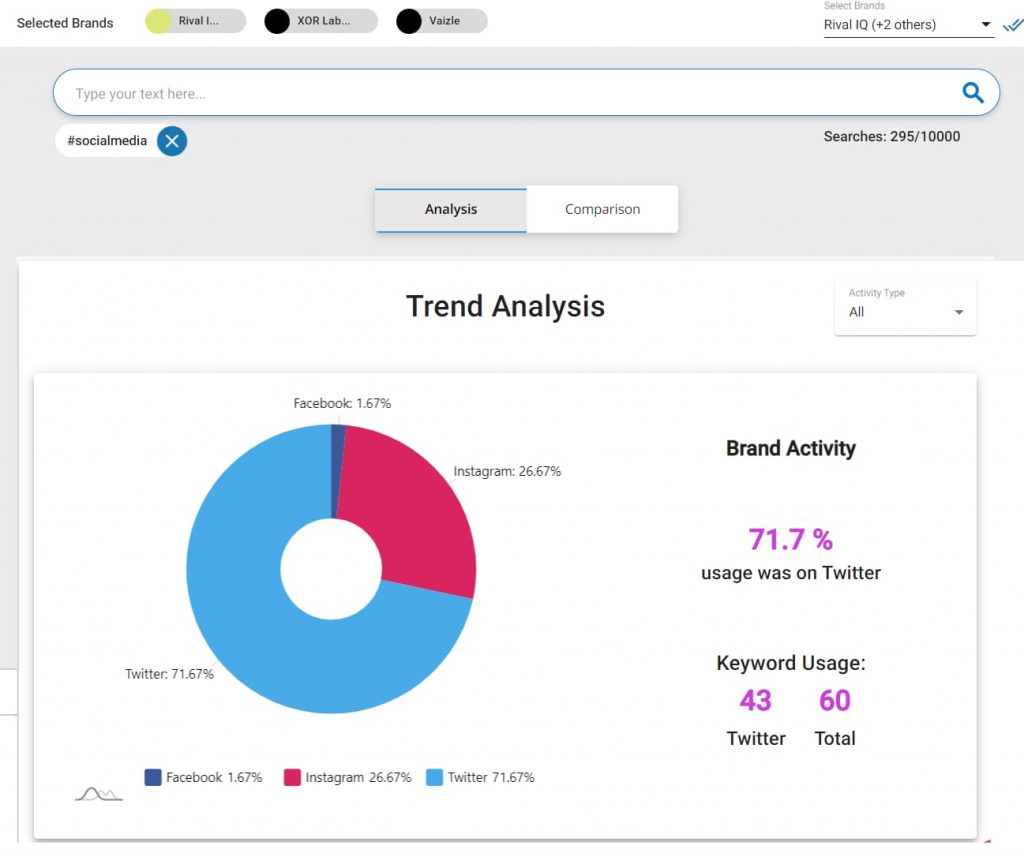 Social Media Engagement of your Hashtags
Use Vaizle hashtag analytics tool to find out what social media engagement a hashtag generated across major social media platforms. Get the data in the form of easy-to-read visual charts and graphs.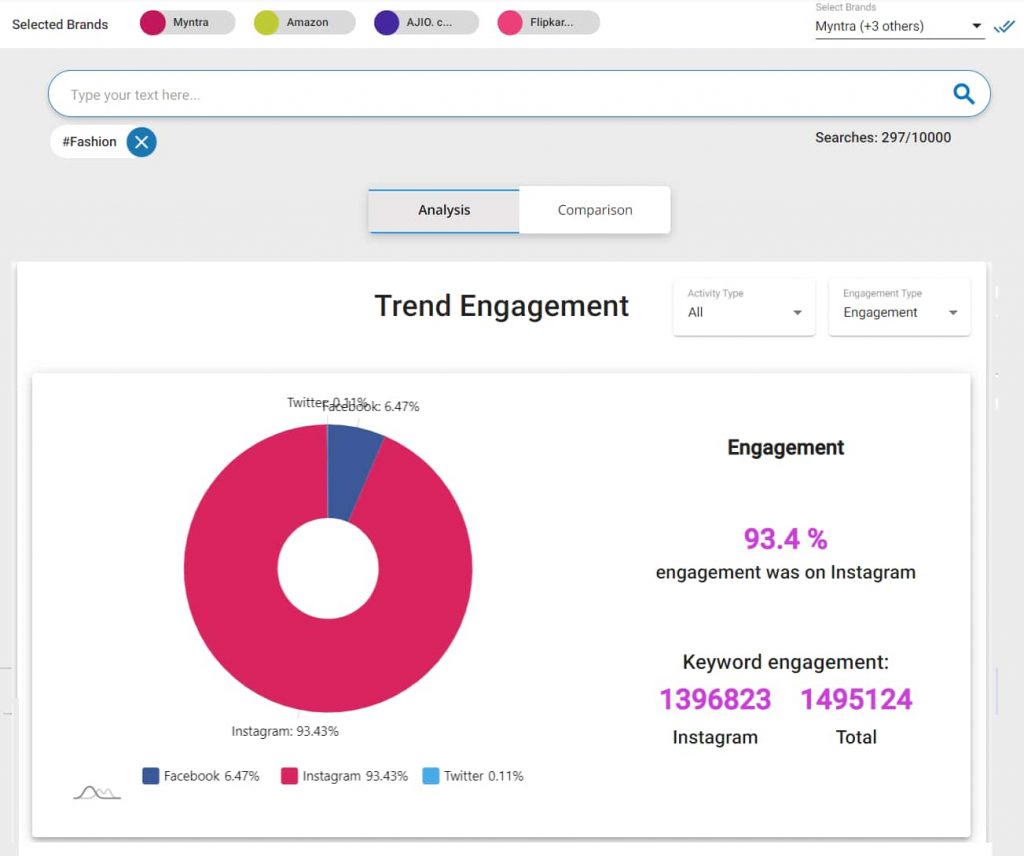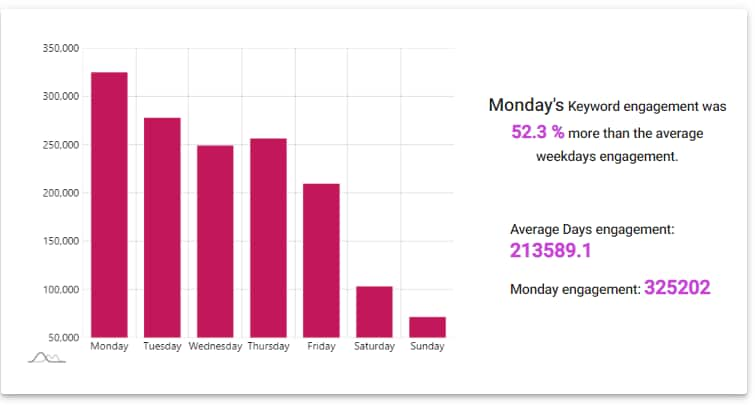 Strategize your own Social Media Strategy
Vaizle gives you a quick, yet detailed analysis of how a hashtag is being used across multiple platforms.
It delivers lots of useful information which could be used to analyze the impact of a hashtag in social media campaign, to track all the activity of the competitions' social media communication with the hashtag or to device your own social media marketing strategy.
Adding those keywords and hashtags into your own tweets can help generate more engagement and buzz around your brand online. Vaizle allows us to analyze trends using hashtags on social media to make sure your content is resonating, and your social media posts have a much greater impact.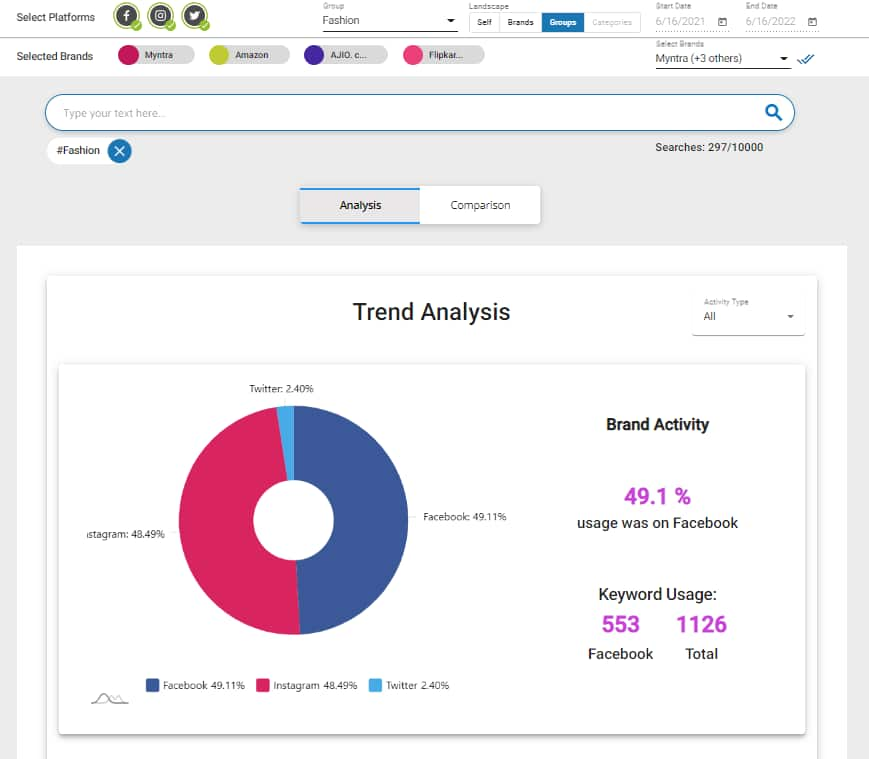 It offers useful filtering options, including the ability to set a timeframe spanning from the last year to the present. You can also set up a search, showing the hashtag usage from a particular time.