How To Check And Measure The Instagram Hashtag Performance
When it comes to brand promotion on social media, no marketer can deny the importance of hashtags. Pretty much it is one of the most essential parts of your Instagram content strategy.
Like any other platform, Instagram hashtags boost impressions, improve content searchability, and encourage people to talk about your brand – driving views, likes, and shares.
Even brands create custom hashtags for specific campaigns or causes to magnify campaign visibility and categorize and organize their most relevant posts and conversations.
These useful little links are perfect for making content discoverable by captive audiences and also by people who are outside Instagram follow list. They are bold, they're clickable, and they're trendy!
Whether you are a seasoned expert or a newbie to Instagram marketing, only using hashtags in captions – is not enough to attract social media success. You must be able to track your hashtag's performance too! It is the only way that you can decide the effectiveness of your Instagram hashtag strategy and overall marketing plan.
Certainly, measuring Instagram hashtag performance is essential, but there are not many resources to fall back on. Neither does the social platform have the option to track Instagram hashtag performance specifically.
Yes, Instagram's own analytics provide a general overview of post-performance – but you desperately need the help of a third-party tool like Vaizle to track hashtag performance efficiently. Vaizle will not only help you track your Instagram hashtag performance but will also reveal the hashtags that are trending or popular at any given moment.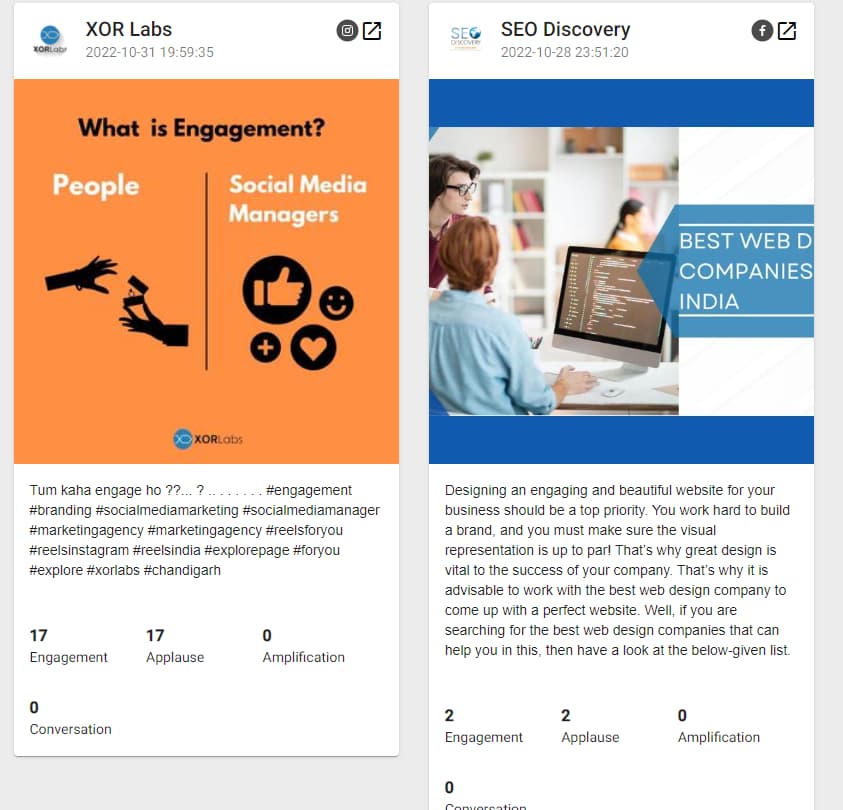 If you're on the same page and desire to know everything about Instagram hashtag performance and want to know how to tell which hashtags are working for your campaign – this writeup will enlighten you with the required hashtag information.
Without ado, let's get started!
What Are The Benefits Of Instagram Hashtags?
As we prepare to step into 2023 with a new Instagram strategy and plans – many marketers have started questioning the effectiveness of hashtags for Instagram (and other social platforms).
This is a doubt that bothers many social media experts too!
Well, the truth is: no matter which social media platform you use, or your social media goals, hashtags are not going anywhere soon, and these metadata tags (hashtags) are of #advantage for everyone.
And to support our statements with facts, we have laid down the advantages of using Instagram hashtags and how tracking Instagram hashtag performance can help determine campaign success.
Increases Exposure and Discovery
The primary goal of using Instagram hashtags (or on any social media) is to increase brand exposure and discoverability. It is an amazingly easy way for marketers to explore certain specific topics – along with the top and latest posts that get the most engagement on that topic. All these can be done by simply clicking on the hashtag.
Use the most relevant and right hashtags for your brand – and audiences searching for those hashtags will find your post easily. It is the best free way to gain overall brand exposure.
Encourages Audiences Reaction
Anytime you use branded hashtags and encourage their use – it grows into another form of engagement and is a great way to reach and engage with your customer base.
Competitor Analysis
With hashtags, you can analyze and inspect how much space your competitors are taking up in the market. Based on that, you will also be able to understand your share of voice in the same space. Chances are you and your competitor will have overlapping hashtags (especially if you both are in the same niche).
Instagram hashtag analytics can be a really handy tool for marketers to get content inspiration and grasp where their brand is falling short compared to their competitors. 
Links Digital & IRL Campaigns
These days any time you go retail shopping, you will witness marketing campaigns with hashtags attached. Whether they use general brand or campaign-specific hashtags – it offers an easy way to connect digitally and in real-life campaigns.
Hashtags For Each Social Media Platform
Before we get into this, you must know: there is no one-size-fits-all hashtags strategy. The number of hashtags you use depends on the platform you're using, i.e. Facebook, Instagram, Twitter, and LinkedIn.
With that said, the absence of a hashtags strategy doesn't mean you can fill your posts with as many hashtags as your heart desires. In fact, there are some social platforms where using hashtags on posts is not even recommended.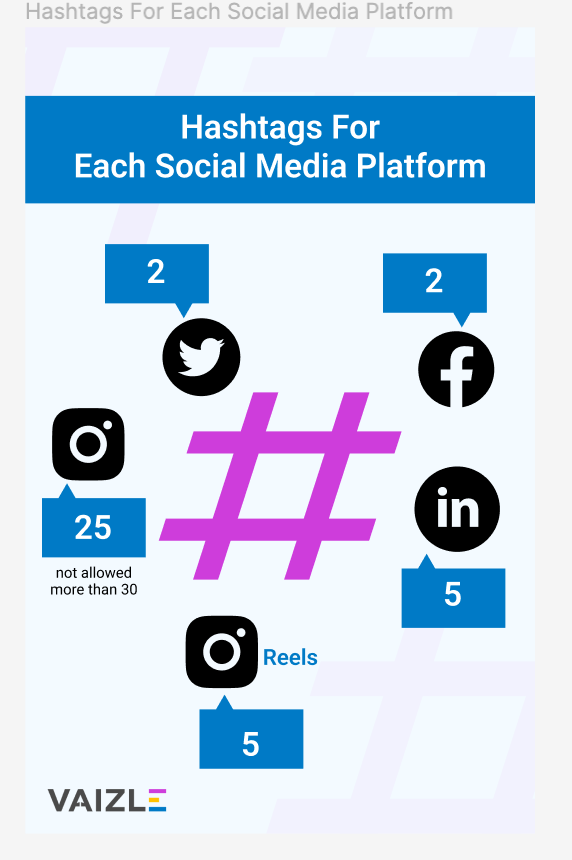 The ideal hashtag strategy is about maintaining a balance – without overdoing it!
Using hashtags on Facebook helps: attract new members, improve visibility, and increase your brand's overall reach. Though there is no hashtag limit for Facebook, the best hashtags approach is to be precise and use 1 -2 hashtags that are genuinely relevant to the content you post.
Remember, anytime Facebook users browse through a hashtag feed rather than their personal feed – their intention is to engage and discover trending topics and discussions. And as a marketer, you can grab this opportunity to market your brand in the spotlight.
Instagram – Upto 30 Hashtags
Instagram is the perfect platform to maximize reach and engagement –and the best part of all, Instagram allows you to use up to 30 hashtags on a post and up to 10 hashtags on your story.
Did you know including two hashtags in your tweets can double your Twitter engagement? However, using an excess of two hashtags in your tweets can literally decrease your audience engagement – dissolving your overall intention of reaching new audiences.
Therefore with the Twitter hashtag strategy, be mindful and use only one or two hashtags to the utmost.
Instagram Reels– 3-5 Hashtags
Like regular posts, adding hashtags on Instagram Reels increases the views and reach of your Reels. Ideally, you can add up to 30 hashtags on your Reels – but it's recommended to use a maximum of 3 -5 hashtags that are relevant to your posts –  without being spammy.
LinkedIn recently introduced a hashtags feature to their platform. But there is a significant difference between the two: LinkedIn also created a search method focusing on hashtags.
There is no sure-shot rule as to how many hashtags are ideal for LinkedIn. Our recommendation is to keep it between two to three max. 
What is the Importance of Tracking Instagram Hashtag Performance
By evaluating and monitoring hashtag performance, you'll be able to determine whether your hashtag targeting needs to be improved or is already performing well. This information is critical for your marketing team to understand why some postings perform well while others do not.
Instagram hashtag tracking can help you measure and compare the efficacy of Instagram marketing efforts and set realistic expectations.
What Are Some Important Metrics To Track In Hashtags?
You already know adding hashtags to your content will generate more engagement and buzz around your online brand – the next question is: what are the important hashtags metrics to track on Instagram?
Here are a few of them:
How popular is the hashtag that you are using? Hashtags that are used often are also searched for often. So it's a wise decision to include hashtags on your posts that are already popular.
At the same time, you must remember not to populate your audience's feed with irrelevant and spammy posts – just for the sake of gaining popularity. It's a big NO-NO!
Using hashtags is not only about using and seeing these hashtags. It is also necessary that people interact with them too. Posting hashtagged content that entices users to retweet and share – will certainly expand the reach of your campaign and brand.
Do you know how many people are seeing the hashtags that you're using? If your reach isn't high – it's obvious that the hashtags you are using are not popular or engaging. Look for hashtags that will increase the eyes on your posts and bring your content attention.
Who is using your hashtags? For measuring hashtags performance, you have to ensure that your target audience is using and searching for the same hashtag that your brand is using – so that the message resonates.
No one said that measuring Instagram hashtag performance will be easy – but it will definitely be worth it. One such tool with which you can easily track Instagram hashtag performance is Vaizle. Using this tool's smart insights feature, you will get a complete overview of your competitors' top-performing posts and the top 10 hashtags they are ranking for – along with the posts they use these hashtags on. These insights can be absolutely invaluable while constructing your hashtag strategy and overall social marketing plan.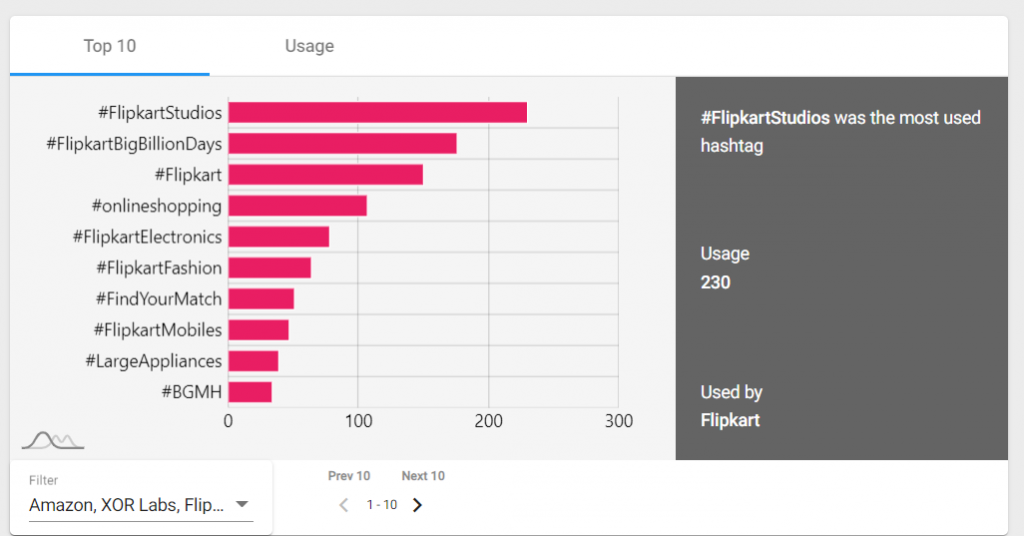 Now Start Tracking Your Hashtag Performance!
You have the basics and know-how covered – the next step is to get down to business. Don't wait a single day to start testing and tracking the Instagram hashtag performance and its effectiveness in your social strategy. Of course, it's possible that your hashtag strategy may not work on the first go – and it's perfectly normal. But you must never stop tweaking, tracking, and experimenting! That's how you learn and polish your social media strategy along the way.
Hope you find this write-up helpful! Thanks for reading!