10 Free Twitter Analytics Tools To Perform A Quick Twitter Audit
It is well known that Twitter is demanding. The sheer volume of tweets may cause brands to reduce their frequency of tweeting.
Nonetheless, brands and even customers have taken to twitter for communication. It has emerged as a right hand for customer service and plays a crucial part in brand imaging.
There is no need to fear it. A well-planned Twitter approach can help you gain attention. However, to do that, you must examine analytics and determine what is and is not beneficial to your company. The majority of marketers use a Twitter analytics tool to create this a sound strategy.
Luckily, there are free Twitter analysis tools with which you can perform Twitter audits in just a few minutes.
Doing regular social media audits and tweeking your marketing strategy persistently will help your brand to shine out among the competition.
If you are goal is to promote your own brand then you can use Twitter. It is one platform which still has a decent organic reach. Don't you believe me?
Well, I got 100 users on my website from Twitter alone last weekend. Not just traffic, Twitter also works when you want to reach out to new demographics and Twitter influencers.
To make an efficient Twitter strategy, you need to understand what works for you and what works for your competitors.
Here are some free Twitter Analytics Tools that will help you along the way.
Let's know about these free Twitter analysis tools in detail.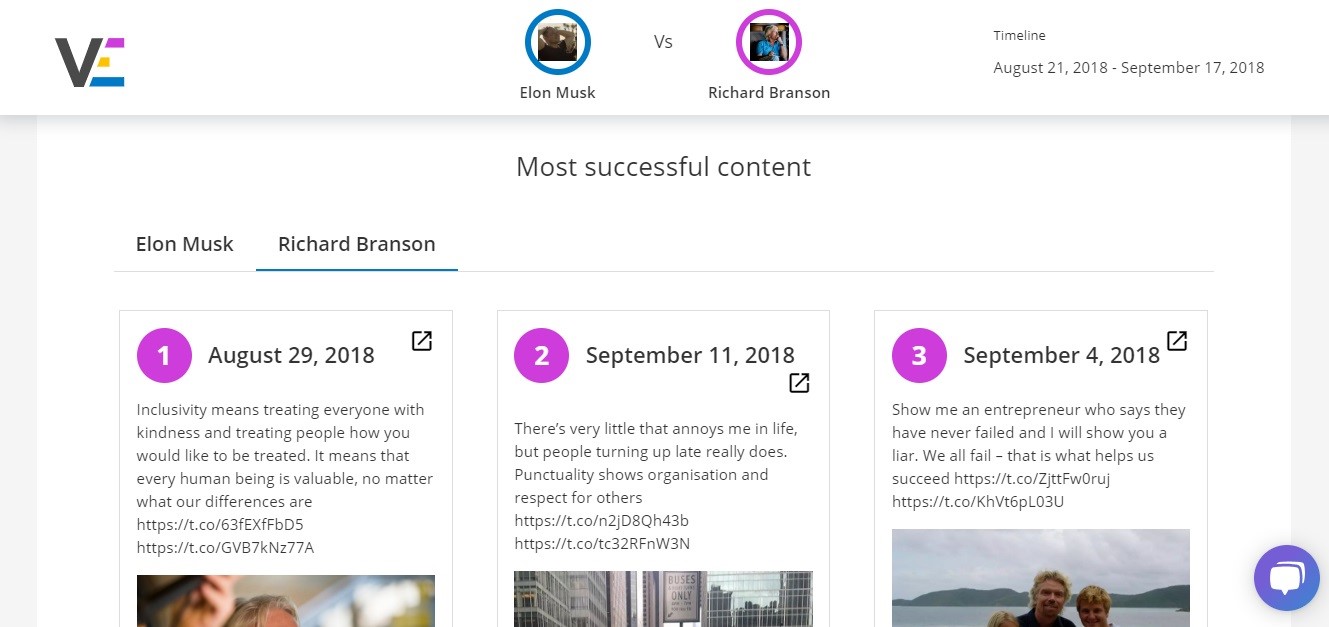 You can use this tool as a Twitter competitive analysis tool.
With Vaizle's free Twitter audit tool, you can do a quick competitive analysis against one of your competitors. Enter your and your competitor's Twitter URL. And you will get a comparison of your performance versus your competitor's Twitter performance with this twitter competitor analysis tool free.
It shows brand activity and brand engagement in the last 28 days with a week-over-week performance report. It also breaks down the engagement into engagement types: favorites and retweets.
In the last section of the report, you also get to see the best performing tweets in the last 28 days of your Twitter account and your competitor.

2. Twitter Audit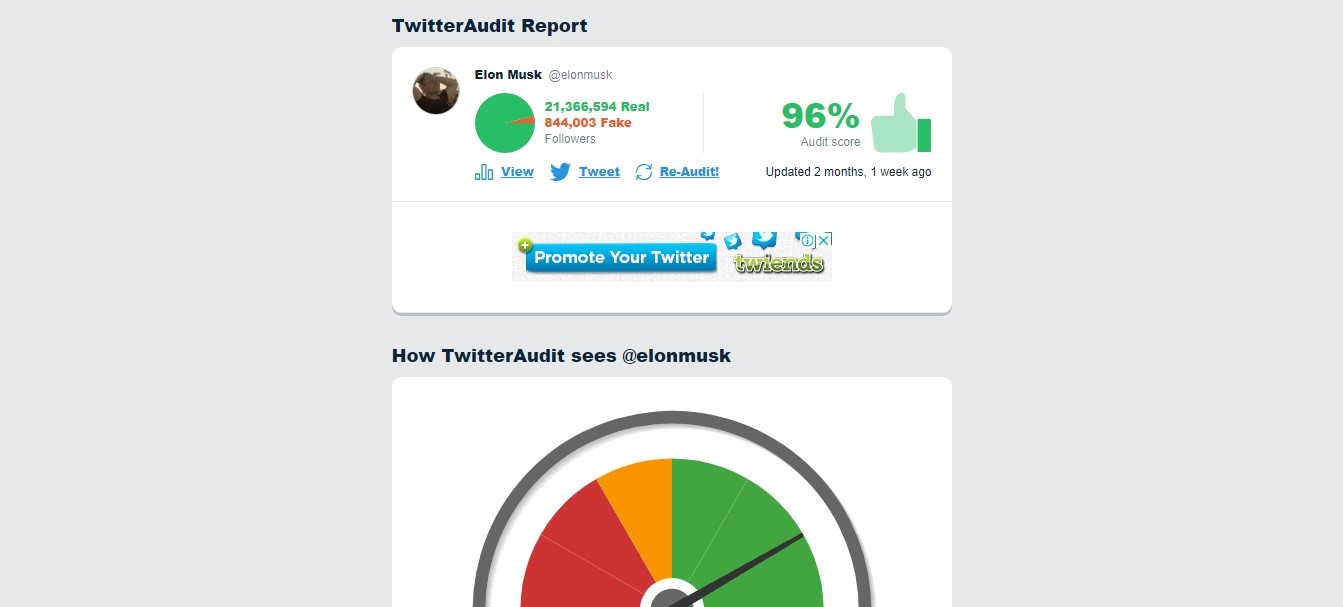 Twitteraudit is probably the simplest Free Twitter Analysis Tool. To use this tool, just enter the username of Twitter account you want to audit and click on "Get Analysis".
This tool allows you to know how many followers of yours are fake and how many of them are real. It will also tell you if the account you are auditing is real or fake. With its paid plan, you can block these fake followers.
However, this tool will not give provide any graphical data or competitive audit. The best part of Twitteraudit is that it identifies a fake profile just like that!
3. Agorapulse's Twitter Analytics Tool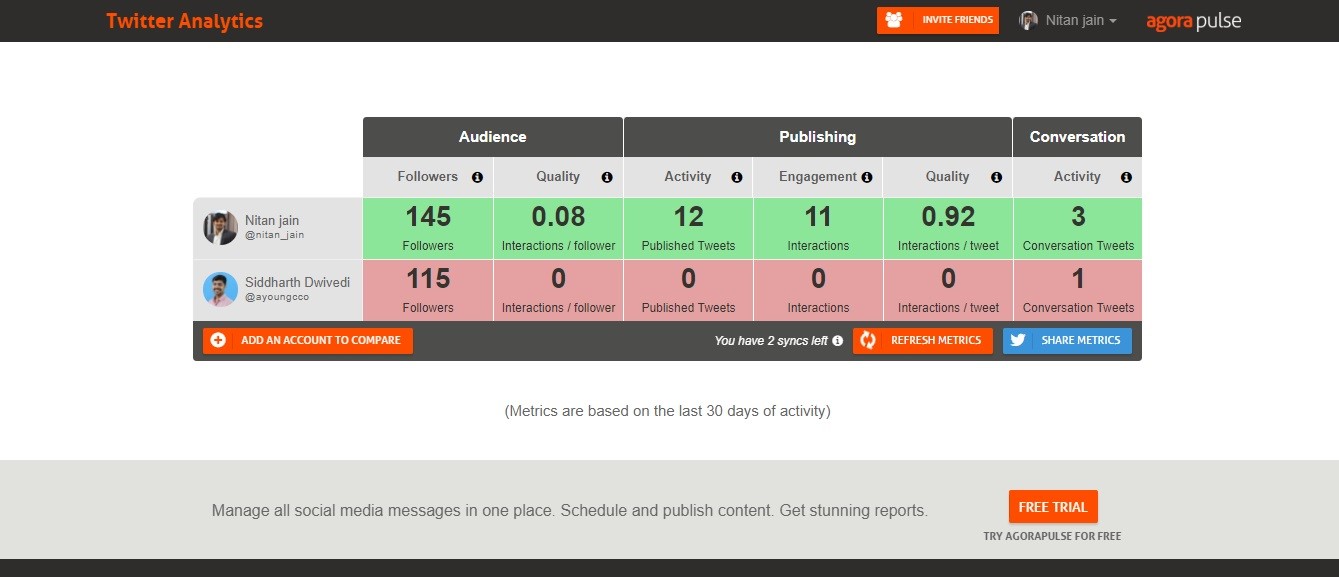 Agora pulse's free twitter tool is more suited if you are looking for an account overview. This Twitter tool will give you total activity and engagement of the last 30 days.
You will not get the graphical analysis of your account. Instead, it will provide you with a report card for you and your competitor. It will also convey the total number of followers and their quality. But there is a limitation, you can only perform 5 data refreshes for an account with this Twitter Analytics tool free.
4. Socialert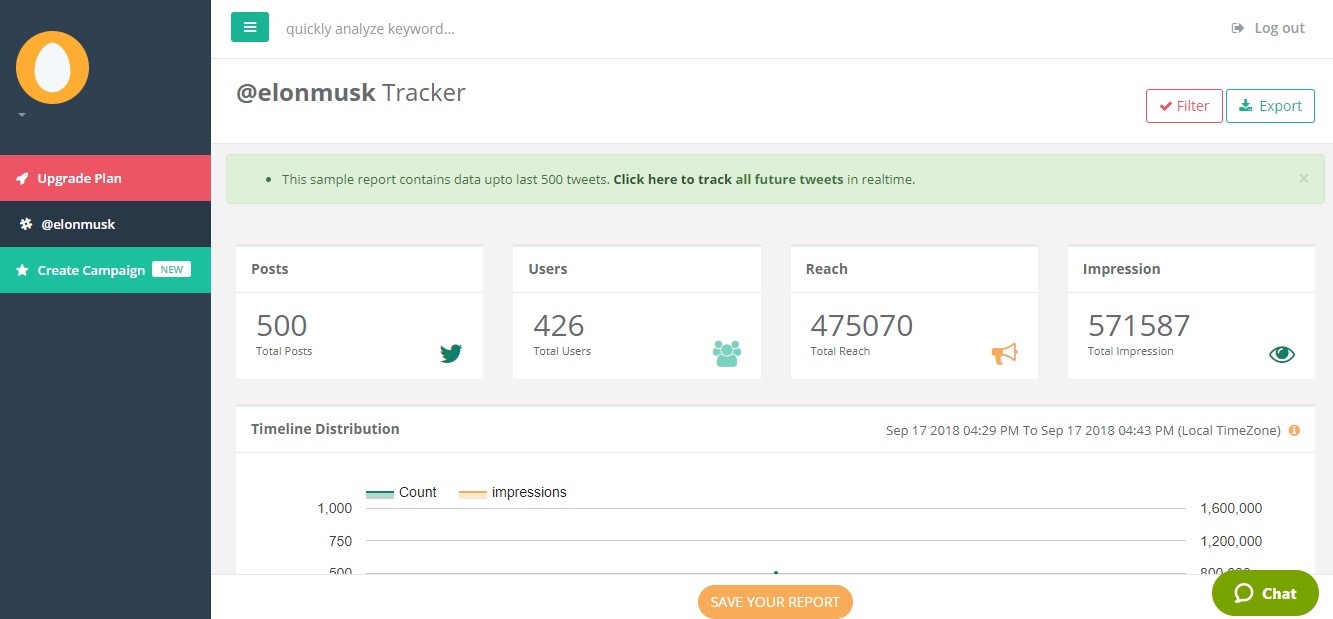 With Socialert , you can track twitter hashtag or any Twitter account over the period of 7 days or up to 500 tweets with this free Twitter Analytics Tool. All you need to do is to enter the hashtag or @mentions or keyword or username of the account you want to audit and press enter.
It will give you:
The total number of tweets, total impressions, and total reach.
Tweets mentioning your twitter handle recently.
But there is no option to compare your data with your competitor's data. This tool is an ideal option when you are looking to audit your own account.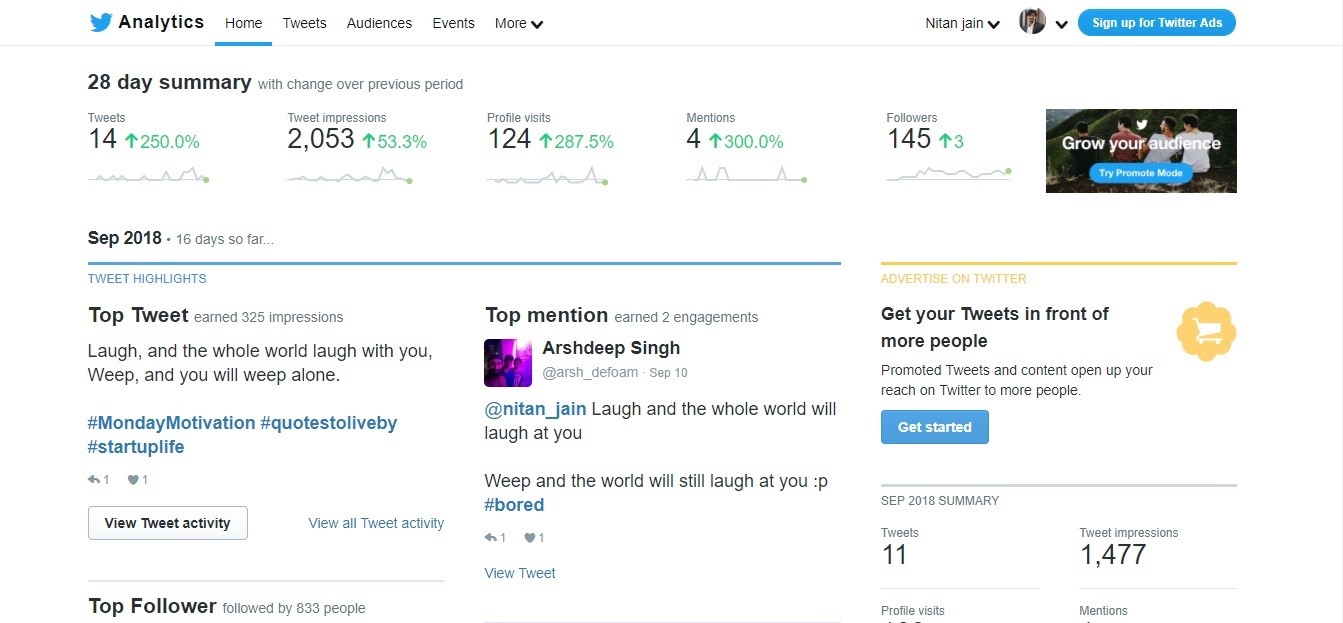 Nothing is better than Twitter's native analytics platform. And it is the original Twitter Analytics Tool.
But Twitter Analytics will not allow you to perform a competitive analysis. However, you cannot get data for someone else's profile. But it will give you all the parameters you need to audit your own account.
To use this tool, click on the profile icon of your twitter account and then go to analytics. With Twitter analytics, you can get total followers, total impressions, profile visits and mentions. It will also help you identify your top tweet, top media tweet, and top mention. Learn more about twitter's native analytics platform.
Historical data from the creation of your account is available.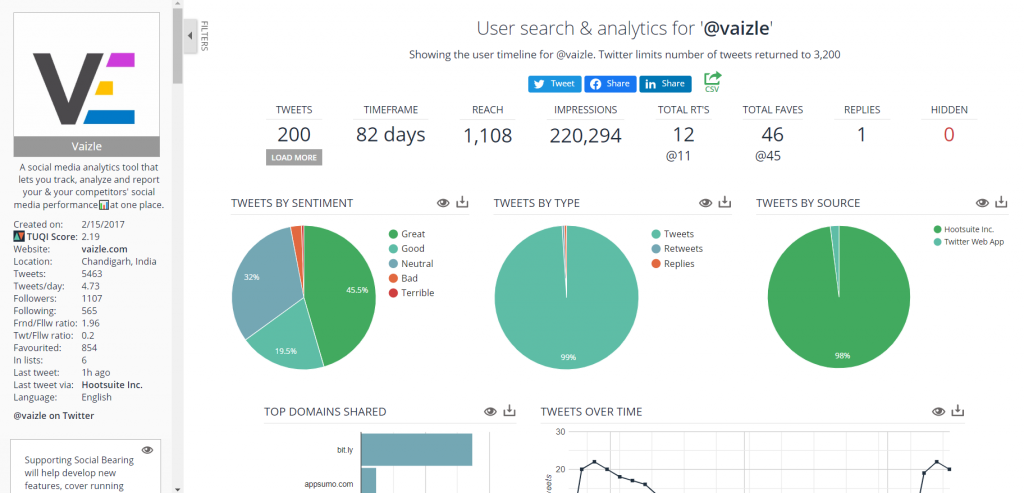 A tool specifically designed for Twitter allows you to monitor tweets around certain topics, quickly analyze a Twitter profile, find friends or followers of a Twitter handle, and find popular Twitter hashtags in a geographical location.
For me, it's one of the best free Twitter Analytics tools out there. As you can get a complete overview of a Twitter account in less than 10 seconds. Yes! Less than 10 seconds!
On its home page, go to "Handle" tab and enter a Twitter username and within a few seconds you will be served with all the key information. This includes:
Total tweets, reach, and impressions
Engagement as total retweets, favorites and replies
Domains shared in tweets
Hashtag cloud and word cloud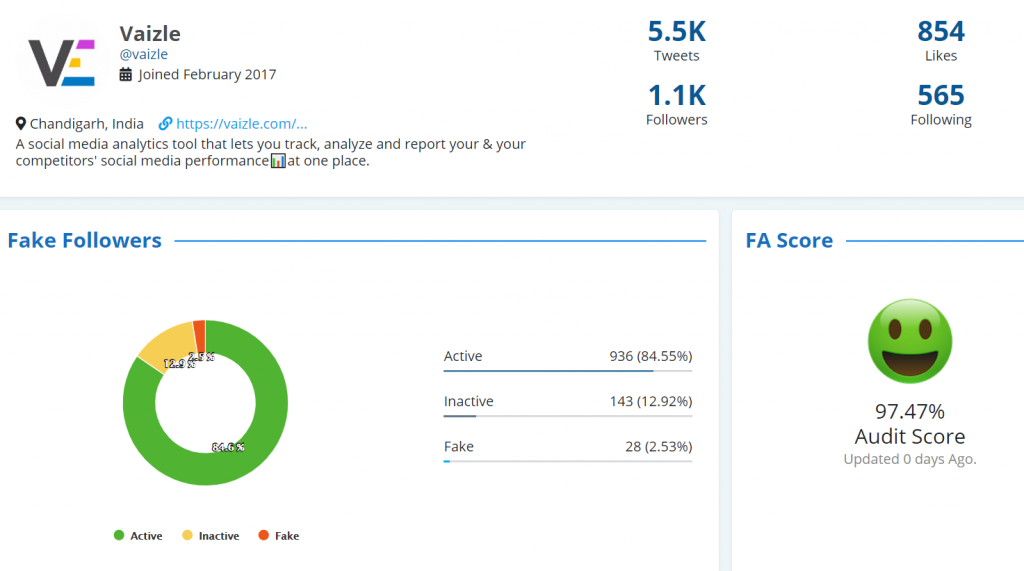 Many times I have audited INC500 companies' social media and the first step that I follow is to identify what percentage of their followers are fake
Many times I have audited INC500 companies' social media and the first step that I follow is to identify what percentage of their followers are fake
Follower Audit does exactly for you on Twitter.
All you have to do is add a Twitter account to this twitter analytics tool free and it will go through your follower list and tell you how many and what percentage of your followers are fake.
This is also accompanied with a followers quality graph which depicts how the quality of Twitter followers changed over a period of time. This info is followed by:
Followers inactive for more than 1 year
Followers with less than 5 tweets
Followers with less than 5 followers
Followers with default profile image
Followers with no bios
8. Hashtagify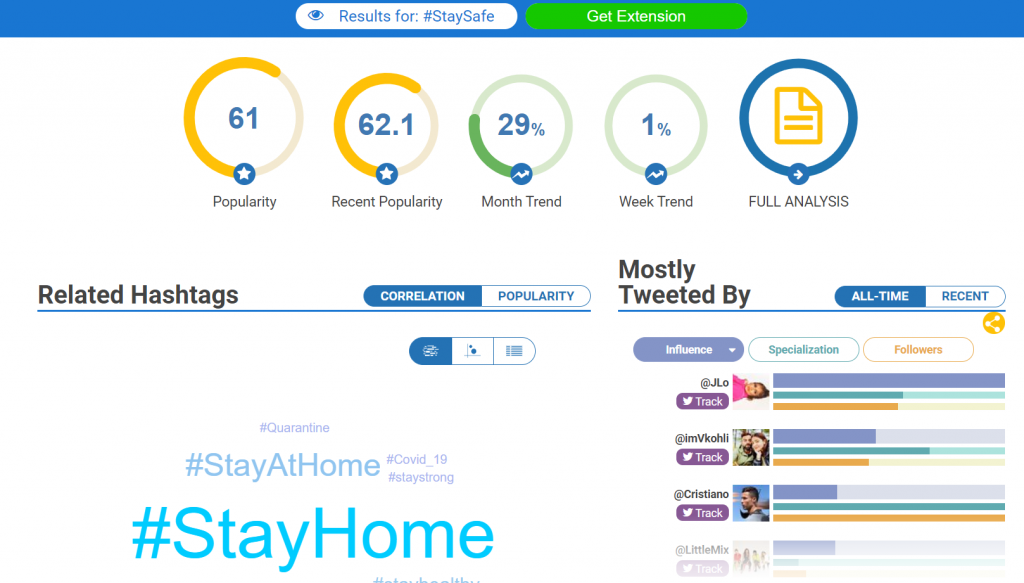 While all the tools I mentioned till now allowed you to analyze a Twitter account's performance, on the other hand, Hashtagify's free Twitter analytics tool allows you to study the performance of a hashtag.
This becomes invaluable when you're trying to study a hashtag campaign you ran recently.
You just have to enter the hashtag that you want to track and within a few seconds all the data is served to you. This includes:
Overall popularity, recent popularity, month trend, and week trend
Related hashtags in a hashtag cloud
Popular trend in a timeline graph in the last two months
Language and world where its the popularity
9. Twitonomy
This tool is available in both a free edition and a paid, upgraded version. Simply sign in with your Twitter account to get started.
A Twitter user can utilise Twitonomy to find out more about their tweets and which ones are retweeted. It keeps track of responses, mentions, and provides data on hashtag popularity.
Learn more about the Twitter users who are someone's followers and the users who are being followed using the browse, search, and filter capabilities. One may record and save tweets, mentions, and retweets using a handy export feature. For convenient offline use or for import into other analytical tools, the backup option generates an excel or pdf file.
The user-friendly layout of Twitonomy makes it simple to keep track of Twitter activities. With this feature, you can easily monitor Tweets from your favorite users, your favorite lists, and keywords that are important to you.
Twitonomy twitter analysis tool free let you search for the following metrics:
Popular Tweets
Most Retweeted
@users
URLs
Keywords
#hashtags
10. Followerwonk
Twitter users can utilise Followerwonk to analyse their activity on the platform and determine how to get more exposure. It has both free and paid version. Twitter Analytics tool free will give you access to just one profile. You can upgrade to paid versions to access more profiles.
With the aid of Followerwonk, Twitter users may gain insight into the analytics of their followers to discover their locations and the topics they find most fascinating.
Followerwonk assists in analysing the following:
Find people to connect with, who have similar interests, by searching the bios of Twitter users.
Find the most popular Twitter postings by organising Twitter accounts.
Followers may be tracked based on their geographical location, bios, and the people they follow.
Compare the dynamics between the competitors.
Accurately follow and unfollow other people.
Get the attention of the influencers by following them.
Utilize the visual social graphs to see Twitter influence in its entirety.
Summary
It's easy for Twitter users to track their analytics to see what impact their Twitter postings are having on a global scale using some of the best free Twitter analytics tools out there.
Twitter users can use these tools to determine their reach, number of followers, location, and overall impact of their tweets.
There must be more free Twitter analysis tools. Do you know any?
Also, there must be one tool that you like the most. Please let me know in the comments.

If you are looking for a free Facebook analytics tool, click here!