How to Use Hashtags for Instagram Reels to Promote Brand in Best Way
Instagram Reels has a wider audience than your Instagram posts.
We all know the tried and tested formula to gain visibility for Instagram posts aka "Hashtags".
But do hashtags work on Instagram reels too? And how to use hashtags for Instagram reels for maximum engagement?
Yes, Hashtags do increase the visibility of an Instagram reel just like hashtags works for Instagram posts. So let's have a look "How"?
How to use hashtags on Instagram Reels effectively
Clear away these rookie mistakes before you even think about posting Instagram reels.
Privacy settings: Your account is set to private. In this case, only those who follow you can see your postings on the hashtag page in this situation, despite the fact that the hashtag itself is plainly not restricted to a certain group of individuals. However, the fact that you limit who may see your posts has an impact on how they show on the hashtag page's Recent or Top posts.
Blacklisted hashtags: The hashtag for Instagram posts you're using has been blocked, either permanently or temporarily. Instagram's list of restricted hashtags is updated on a regular basis. Some of these might have surprised you. #dogsofinstagram, #boho, #books, #likeforlike, #followforfollow, and #todayimwearing, for example, are all prohibited hashtags.
This implies that when you search for them, you will only view Top Posts rather than Recent Posts. This also means that when someone searches for that hashtag, your fresh posts will not show.
As a result, even if your caption contains one of these tags, your post will not be searchable using any hashtag.
Avoid using Instagram hashtags like this.
Now because reels are still a new feature, there is still a lot to explore. To answer the above questions, we may need to take a different approach and consider it from IG's perspective.
What is the most crucial component for going viral with reels or getting more exposure (which is what you're aiming to achieve when you use hashtags)?
Views and replays. Specifically, watch time.
To go viral with regular posts (or videos), the algorithm considers a variety of factors, including likes, views (particularly for videos), bookmarks, shares, and so on.
And, when the algorithm compares millions of posts per day, the bigger volume of data is necessary. Math does not lie!
When it comes to reels, the number of plays and replays takes priority over anything else. It's very apparent if you study reels closely.
It can be achieved by creating high-quality original content and by using viral hashtags for Instagram reels.
Once these are in place, your Reel will have a good chance of ranking for one of your hashtags (or several of them if you've sorted them properly), although Reels normally appear on their own, mostly on the explore page (which is a totally different subject on its own).
Best hashtags for Instagram Reels
Hashtags are still important for reaching a larger audience, particularly on Instagram and Twitter (and a bit less so on Facebook).
On a daily basis, people utilize them to look for all kinds of data. As a result, skipping out on hashtags is generally not a good idea.
That is the easiest response to your question: Hashtags allow people to be discovered by users who would not otherwise come across their work. When you search for hashtags, you'll see postings from both individuals you follow and people you don't.
There are a few basic sorts of hashtags that people use to have their content noticed and categorized into the right section:
Trending: There will be topics that are currently popular at any one time. For example, it could be the current news on Twitter or the festive season on Instagram. Because a great many people are interested in the same sort of content at the same time, the trending hashtags for Instagram reels can be quite effective.
Generic: These are the types of hashtags that most people use, and they normally don't work if your goal is to grow your audience. The most prevalent examples include #love, #couple, #happy, and other similar terms. While they are the most common, they do not necessarily attract a receptive audience.
Relevance: Using reel hashtags that are relevant to a particular topic can assist readers looking for information in that niche to locate it quicker. Examine whether the remainder of your material is also relevant to these hashtags. If consumers click to see more of your content, you want them to be interested rather than bewildered by your account's wide range of themes.
Competition: Because some hashtags are used significantly more frequently than others, it can be tough to rank high for them. Consider the search volume and popularity of Instagram hashtags for reels when deciding which ones to use in your posts. To achieve a nice balance, we propose selecting a pair of hashtags with high volume and low competition. You can also analyze your competitor's social media to get an idea about their hashtags.
What makes Hashtags for instagram reels better
But reels hashtags for Instagram do not work like the regular posts. The Instagram Reels hashtags won't merge in the hashtag for Instagram post area
If your account is public, you can submit your reel to a designated spot in Explore or to the Reels tab on your Feed. When you post reels with certain music, hashtags, or effects, your reel may display on dedicated pages when someone searches for that song, hashtag, or effect.
Creators can use hashtags in their Instagram Reels to make it more likely that the correct viewers will find the relevant content.
Mix-and-match works best for instagram hashtags for reels
Make use of a variety of hashtag kinds
Let's assume you own a diet consultancy business.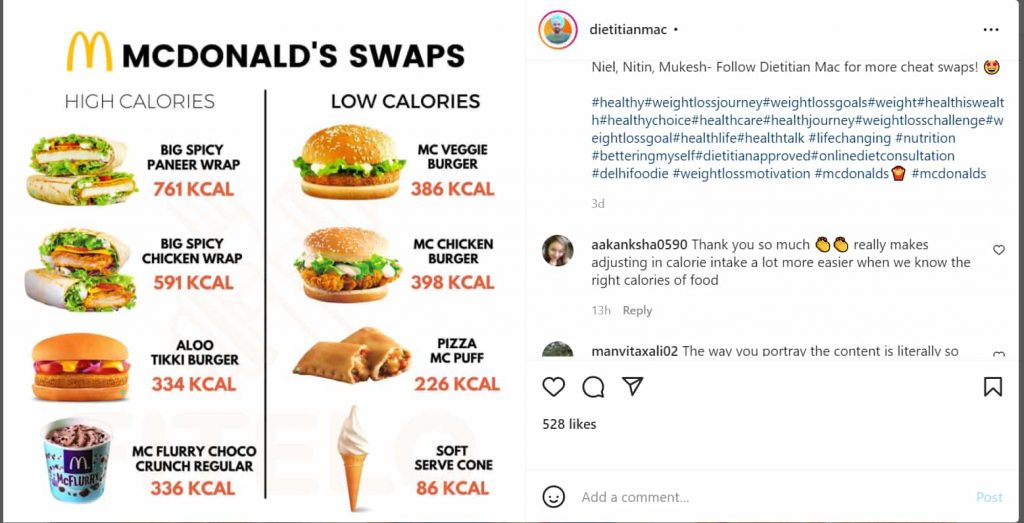 The trending hashtags for Instagram reels. There will be a lot of competition for this. However, take advantage of them because they have a sizable following. #weightlossjourney #healthy
Some less-well-known industry hashtags, such as #healthlife
Hashtags that are unique to your product. #dieticianapproved
Hashtags that are particular to your piece of content. #mcdonalds
Hashtags that are specific to your target customer base. For example, #delhifoods #lifechanging, and so on. Simply consider your target audience and look for hashtags that they might use. However, keep the number of these to a minimum.
On Instagram, use no more than 30 hashtags in total for optimum reach. Vaizle Instagram Hashtag Analyzer helps to increase your reach beyond your current followers
Instagram Reels Hack: Share Your Reels to Your Feed
Sharing Reels to your Instagram feed is one of the best ways to improve their views and increase their chances of going viral, in case you didn't know.
As a result, make sure you choose to push your Reels directly to your Instagram feed.
Conclusion
So, choose some hashtags that are specific to your industry. Put them in random order on your reels. Use reels hashtags that are specific to the content and will be unique to each post. Also, use 1–2 hashtags that are specific to your target audience.
Also, if you're not using reels hashtags in your caption, and instead of thinking about submitting it as a comment, be sure to do so as soon as the reel is online. The importance of initial engagement cannot be overstated.
As Instagram Reels evolve as a platform, it's critical for businesses to stay informed about how their algorithms function as they improve their social media campaigns.