4 Free Instagram Page Analytics Tools You Should Be Using In 2023
Every marketer dreams: Of being at the top of their Instagram analytics. Obviously, with 1 billion active users, Instagram is an opportunity that is too good to miss!
Whether you're a social media marketer or an agency owner – if you're serious about Instagram and wish to bag high ROI from your Instagram business profile – you MUST keep a close eye on your analytics. It's pretty essential.
Having an Instagram analyzer is like having a magic wand. You ZOOSH the wand, and all information comes flowing.
By not using a powerful Instagram page analytics tool, you are simply missing the boat of multiple opportunities by:
Approaching the wrong target market.
Not understanding which content is generating the most engagement.
Not capturing opportunities to sell or connect with your audiences.
Sharing irrelevant and uninterested content on your page.
Misrepresenting your brand.
Not posting relevant content frequently.
Missing out on social signals, tags, and mentions.
Just like you cannot cook a good meal without the right ingredients, you won't be able to run a thriving Instagram business page without knowing crucial Instagram business page analytics.   
What is Instagram Analytics?
Instagram analytics provide you with the key metrics and data regarding your Instagram performance. There are many types of data that can be collected, such as how many people see or like an individual post or how many followers are likely be online at a particular time. 
The only way to build an effective Instagram strategy is to track the data you can access through an Instagram analyzer.   

Free Instagram analytics tools pull out rich insights about your Instagram business account performance, its growth, your audiences, the best engaging content – and so much more that you get to know by using an Instagram analytics free tool. 
In 2023, here are four Instagram Page Analytics tools that you should use.

1. With Vaizle, you can see the –
2. Icnosquare
3. Pixlee
4. Analisa
Based on this data, you and your marketing team can comprehend your Instagram growth better, identify gaps in your marketing strategy, create content that inspires and engages your audiences and amplify your brand on Instagram for a better reach.
To ride the wave of your Instagram growth and help your brand shine bright in the platform, we are rolling top 4 Instagram analyzer free tools that will give you an in-depth, comprehensive overview of your Instagram business page and overall Instagram marketing strategy – and more. 
Let's hit it…..
Top 4 Free Instagram Business Page Analytics Tools
The first Instagram page analyzer free tool rocking our list is Vaizle. Designed for brands, marketers, agencies, and influences – this free Ig analytics tool brings you everything in one place.
Get Instagram data interpreted into actionable steps, improve your Instagram marketing strategy, and conduct competitive analysis with the Vaizle Instagram free tool.
Page Performance Overview
Vaizle gives you a daily overview of your Instagram business page performance and engagement. Track all the most important social media KPIs including reach, profile views, engagement, follower count, brand activity – and every other valuable metric under the sun that is important for your online business. You can also track the performance of individual posts and use the data to curate better engaging posts for your audiences. Well, they have much more in store for their users!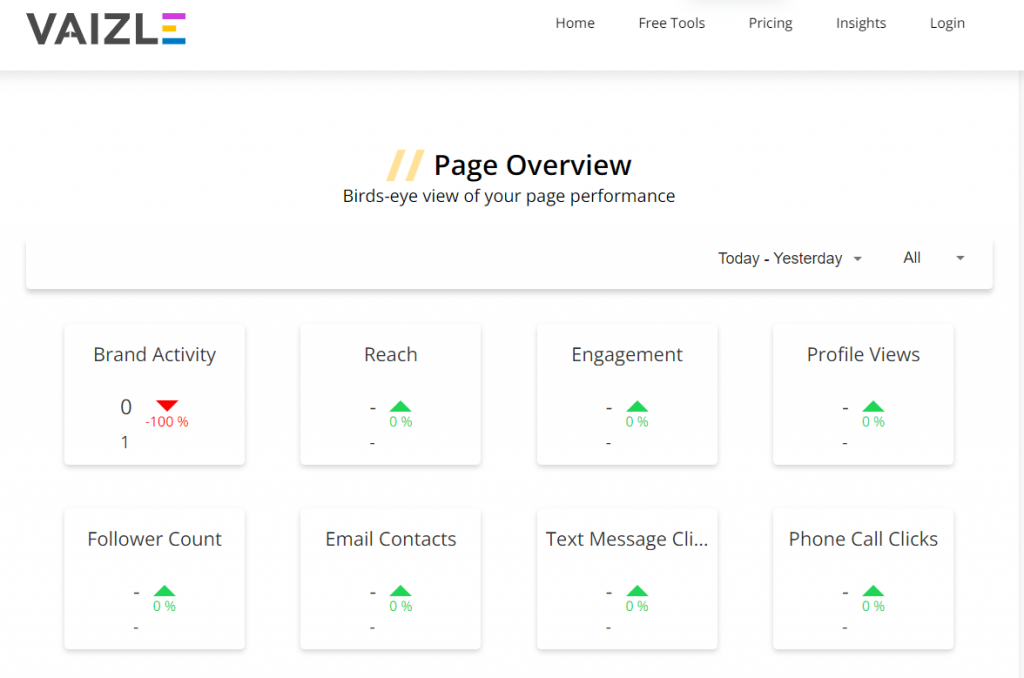 Daily Analysis Of Instagram Page Performance
Another amazing feature of this ig analytics tool is that it helps you analyze your Instagram business page daily – giving you an extra edge over your competitors. These insights will enable you to understand which days bring the most engagement and likes and which days are just not worth it. 
Analyzing these data will guide you to strengthen your overall Instagram marketing strategy and put in efforts in areas where you feel your marketing strategy is lagging behind and need tweaking.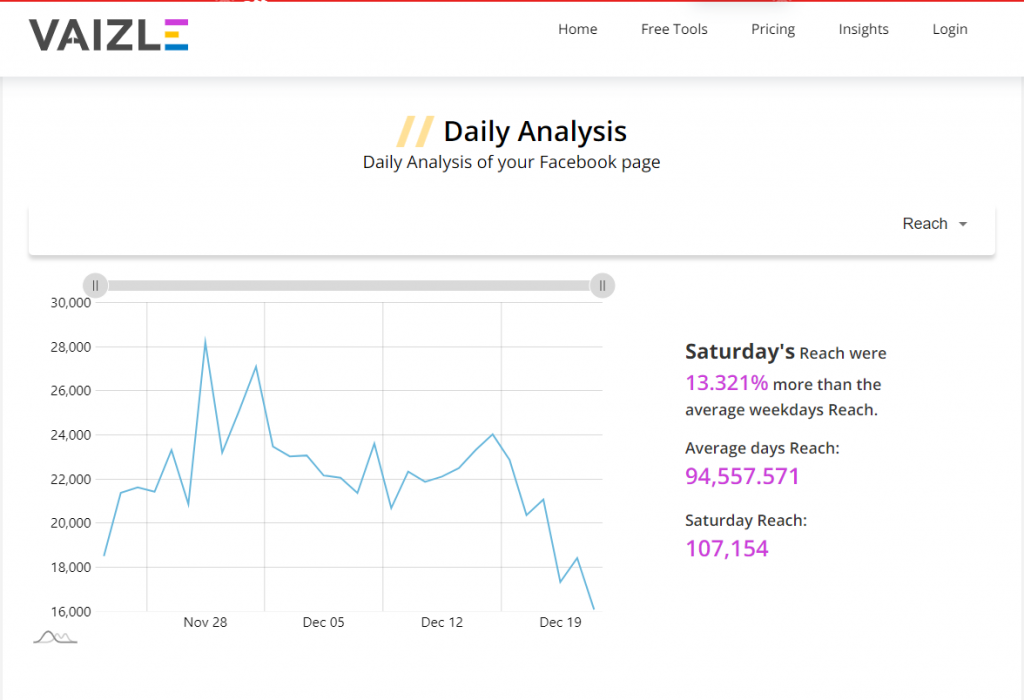 Find Your Most Engaging Content
You can also find content that is generating the most engagement using the free Instagram tracker. Find the demographics of people that generate the most engagement in your posts and uncover audience traits and behavior.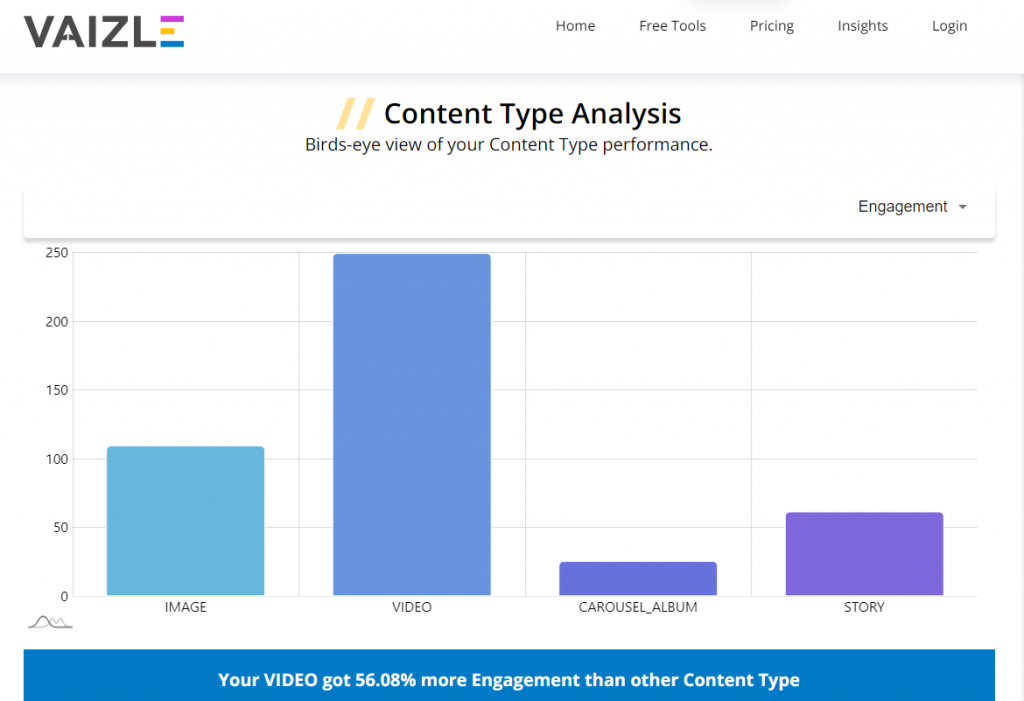 Use these insights to curate better content that resonates with your audiences, refine marketing efforts, and generate and bring more leads to your online business.
Using Vaizle Instagram analytics free tool will open the doors to your online business success!

'If you want an Instagram analyzer tool to help you "look beyond numbers," this is the one! Iconosquare allows you to track Ig analytics, schedule posts, monitor what people say about your industry – and much more. 
The most advanced analytics are presented in an easy-to-understand format, which is why this Instagram page analytics tool runs favorites among over 25,000 markets worldwide.
Iconosquare offers you a 14-day free trial period, no credit card needed – and is the ideal way to get started with the tool right away.
The best part of this tool is that it is easily accessible on smartphones – which makes it easy for marketers to keep a check on their Instagram business page performance on the go. You also receive complete Instagram audit reports.
The third Instagram analytics free tools on our list is Pixlee, an amazing tool for marketers. 
This social media tool helps you identify top influencers in your industry, receive in-depth weekly reports, analyze metrics, drive better engagement and attract new followers.
Pixlee also offers a feature to monitor conversations among your target audiences and identify top-performing content.
The best part of this Instagram analyzer is that it helps you find and reach out to brand advocates. You can seek their help to evangelize your brand.
Like other Instagram profile analyzer tools, this one also lets you track hashtag performance, monitor business page growth, identify followers' growth and collect data to create engaging posts. 
The final free Instagram page analytics tool that made it to our list is Analisa. This tool is amazing for Instagram marketing, especially for small businesses. Using this tool, you can analyze your influencers' profiles, determine the composition of their audiences, and analyze the nature of likes and comments they receive on their profile within Instagram profile analyzer. 
Finding all this information in one place will help you make better-informed decisions on selecting the right influencers for your brand.
Analisa tool gives you two detailed reports of your Instagram page: one account report which provides comprehensive data about your Instagram profile. The second is a hashtag report, which gives you an insight into how your hashtags perform on the platform.
Though this is an Instagram post analytics free tool, they also have a paid version for marketers.
Summing Up
Analyzing and upgrading your Instagram strategy is the ideal way to stay ahead of the curve. But doing these manually is not really feasible. Use Instagram page analytics free tools to conduct your analysis, track important metrics, spy on competitors, learn about your engaging content and be one step closer to an impactful Instagram business account. Tweak and improve your marketing strategy along the way.

Enjoy the free version of Vaizle and keep tabs on your Instagram business performance. If you want to enjoy more features, subscribe to the paid version and roll with the best Instagram analytics tool, available at your convenience. Track, analyze, measure, compare, and tweak – do it all from one single dashboard. 
FAQs about Instagram analytics
What is the best Instagram analyzer for free?
With Instagram Insights, you can track your engagement in real time. Your Instagram Insights are accessible on your profile, in individual posts, and in stories. Vaizle offers a free Instagram analyzer tool that lets you create shareable weekly reports.
How do I get analytics on Instagram?
The only way to access Instagram Insights is to switch to a Business Profile. In order to view these analytics, tap the menu in the top-right corner of your Instagram profile and then click On Insights. The analytics will only be displayed for posts you have made after switching to a Business Profile.
What are Instagram analytics tools?
The management of data is difficult without context. Using Instagram free tool like Vaizle, you will be able to track, understand, and make use of the metrics and results that Instagram provides.