13 Simple Ways to Increase Facebook Engagement
Facebook is one of the most popular social media platforms in the world, with over 2 billion active users. For businesses and brands, it is a powerful tool for connecting with customers, building brand awareness, and driving traffic to their websites.
However, with so much content being posted every day, it can be challenging to get your content noticed by your target audience. That's where increasing your Facebook engagement rate comes in.
The engagement rate measures how much people are interacting with your content on Facebook, such as likes, comments, and shares. The higher your engagement rate, the more visible your content becomes in your followers' newsfeeds.
"Get ready to explore the exciting world of Facebook engagement, where we'll uncover the top strategies to help your brand connect with its audience and achieve social media success. Let's dive in together"
What is Facebook Engagement?
Facebook engagement refers to the level of interaction and involvement that users have with content on the Facebook platform. It can be measured by a variety of metrics, including likes, comments, shares, reactions, and click-through rates.
Essentially, engagement is a measure of how much attention a piece of content is receiving on Facebook, and how much it is being interacted with by users. High engagement levels typically indicate that a piece of content is resonating with users and generating interest, which can be valuable for businesses, marketers, and individuals who use Facebook for promotional or personal purposes.
Why Facebook Engagement is important for business?
Facebook engagement is crucial for businesses because it helps to establish a strong online presence, connect with potential customers, and build a loyal following of brand advocates. By engaging with their audience through likes, comments, and shares, businesses can create a sense of community around their brand, and increase brand awareness. Apart from this, higher levels of engagement on Facebook can improve a brand's visibility in users' newsfeeds, making it more likely that their content will be seen and shared by a wider audience. This can ultimately lead to increased website traffic, higher conversion rates, and ultimately, greater business success.
How to Increase Facebook Engagement: Some Ways that really work
"Unlock the secrets of social media success with these 13 powerful ways to increase your Facebook engagement and reach a wider audience"
1. Know your audience
One of the most important things you can do to increase Facebook engagement is to understand your audience. What do they like, what do they dislike, what are their interests, and what motivates them? Use Facebook's audience insights tool to gain a better understanding of who your followers are and what they respond to. This will allow you to tailor your content to their preferences and increase their chances of engaging with it.
You can use Facebook Page Analysis Tool which offers a wealth of valuable information about your audience. Take the time to thoroughly analyze this data and keep an eye out for any surprising details that could assist you in building a deeper and more authentic relationship with your followers.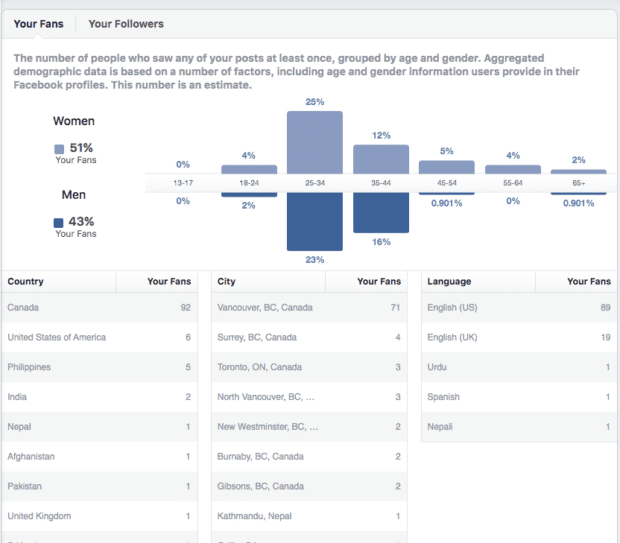 2. Post consistently
Posting consistently is another key factor in boosting Facebook engagement. Create a posting schedule that works for you and stick to it. This will help your followers know when to expect new content from you and will keep your brand at the top of their minds. When posting, make sure your content is high-quality and valuable to your audience. This will encourage them to engage with your posts and keep coming back for more.
You can also find the best time to post on Facebook by knowing when your audience is active. You can use Vaizle Facebook page Analysis tool to check these insights.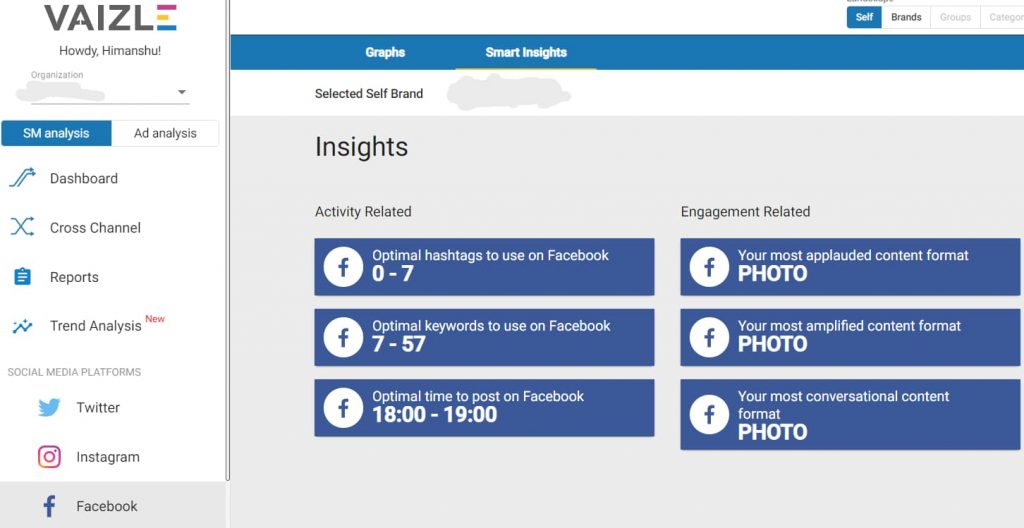 3. Use Visuals
Visual content is highly effective in capturing people's attention and boosting engagement. Use eye-catching images, graphics, and videos in your posts to make them stand out in people's Facebook feeds. You can also experiment with live videos or Facebook stories to provide a more immersive and interactive experience for your followers.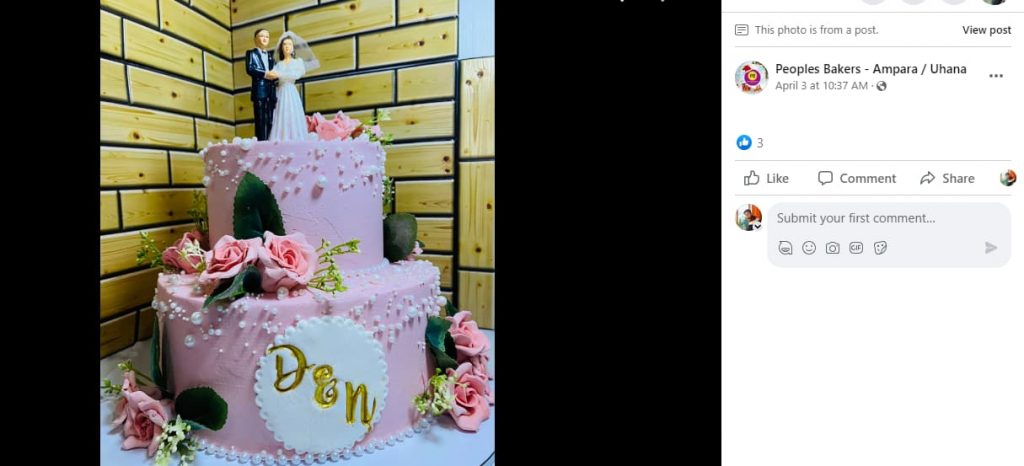 4. Ask questions
Asking questions is a great way to spark engagement on Facebook. People love to share their opinions and experiences, so use your posts as an opportunity to ask your audience for feedback or input. Be sure to respond to their comments and keep the conversation going to encourage even more engagement.
5. Run contests and giveaways
Contests and giveaways are a fun and effective way to boost engagement on Facebook. Offer prizes or incentives for people to like, comment, and share your posts. This will not only increase engagement but also help spread awareness of your brand to a wider audience.
6. Engage with your followers
Engaging with your followers is key to building a strong relationship with your audience and increasing Facebook engagement. Respond to comments and messages promptly, and show appreciation for their support. This will encourage them to continue engaging with your content and help build brand loyalty.

7. Use Facebook Live or post videos to connect with your audience
By using Facebook Live, you can create a more authentic relationship with your followers, as it allows you to engage with them directly and answer their questions in real time. Facebook Live is also an effective way to build buzz and generate interest for upcoming events or product launches, and it can be used to provide exclusive content that is not available elsewhere.
8. Use Facebook Groups –
Create a Facebook Group around a shared interest or topic to encourage engagement and foster a sense of community. These Meaningful interactions in groups can create brand loyalty.
9. Collaborate with other pages or influencers
You can also collaborate with other businesses or influencers to reach a wider audience and increase engagement. There are many ways to collaborate, such as co-hosting a Facebook Live event, cross-promoting each other's content, or running a joint giveaway or contest. By leveraging the audience and expertise of others in your industry, you can increase engagement, gain new followers, and establish yourself as a thought leader in your field.
10. Facebook Stories
Similar to Instagram Stories, Facebook Stories are displayed at the top of the News Feed, making it a prime location to attract attention to your content.
With the informal nature of sharing content on Stories, you can post as frequently as you want without fearing it will inundate your followers' News Feeds. Moreover, since Stories are perceived to have lower production value, you can be more authentic and spontaneous, creating a stronger personal bond with your followers.
11. Take a Verified Badge
Getting verified on Facebook means that your account or page has been authenticated by Facebook as a legitimate and official representation of your business or brand. Having a verified Facebook page can help increase engagement because it adds credibility and legitimacy to your brand.
Users are more likely to engage with content from a verified page because they trust that it is a legitimate source of information. It can also help your page stand out from other similar pages that may not be verified.
12. Participate in Trends
Successful brands on social media always take advantage of trends to boost their engagement. Staying up-to-date with current topics and interests allows you to participate in online conversations and make your brand more relatable to your audience. By leveraging current trends, you can keep your content fresh and relevant, and attract more followers to your brand
13. Repost your top-performing post
Reposting your top-performing Facebook post is a simple yet effective way to increase engagement on your page. By reposting a popular post, you can remind your followers of its value and bring it back to their attention. This can also attract new followers who may have missed the original post.
Be sure to add a fresh caption or context to the post when reposting to keep it relevant and engaging. Consider reposting the post during a different time of day or week to reach a different audience and maximize its reach.
Conclusion –
Increasing Facebook engagement requires a combination of strategies tailored to your audience and brand. By using these unique and effective strategies, you can boost your Facebook engagement and create a stronger and more engaged following. Remember to monitor your Facebook Page Insights to get insights on your business page or you can use Vaizle free Facebook page analysis tool to get insights, track your progress, and adjust your strategy accordingly.
FAQ's –
1. What is a good Facebook engagement rate?
A good Facebook engagement rate is typically considered to be around 1-2%. However, this can vary depending on your industry, audience, and other factors.
2. How to calculate the Facebook engagement rate?
To calculate your Facebook engagement rate, add up the total number of likes, comments, and shares on a post, divide that by the total number of followers you have, and multiply by 100. The formula is:
Engagement rate = ((Likes + Comments + Shares) / Followers) x 100
3. How often should I post on Facebook to increase engagement?
Posting frequency on Facebook should be based on quality rather than quantity, but aim for at least 1-2 posts per week to maintain engagement.
4. How do I measure the success of my Facebook engagement strategy?
To measure the success of your Facebook engagement strategy, track metrics like reach, engagement rate, click-through rate, and conversions.