The Best Ways to Optimize Your LinkedIn Company Page
What are you doing to make sure your brand gets the most out of LinkedIn? Let's discuss in this article how to optimize your LinkedIn Company Page to increase your credibility, authority, and career opportunities.
A social network like LinkedIn is primarily focused on professional networking and career development. It allows individuals and businesses to create profiles, connect with others in their industry or field, and share updates and information related to their work.
The platform offers a number of features are available on the platform to facilitate professional networking. These features include finding and connecting with other users, joining groups and discussions about topics of interest, and receiving personalized job recommendations based on users' skills.
Along with these networking features, LinkedIn also offers a variety of tools for businesses and organizations, including the LinkedIn Page analytics tool. These tools help them build their brand, reach their target audience, and promote their products or services.
And the process all begins with a remarkable LinkedIn Company Page. Continue reading for a step-by-step tutorial on how to design the finest Company Page you can to maximize your visibility, establish your authority, and boost sales.
Do you know why you should create a LinkedIn Company Page?
With more than 720 million users, LinkedIn is the world's largest and most active professional networking platform. A well-optimized LinkedIn Company Page offers you many opportunities to establish your brand as an industry expert, as well as numerous other benefits such as:
Building brand awareness: A Company Page allows businesses to showcase their brand and share information about their products or services, which can increase brand recognition and awareness.

Connecting with followers: Followers of a Company Page can receive updates and news from the business directly in their LinkedIn feed, which helps companies connect with their audiences.

Showcasing thought leadership: By sharing relevant industry news, insights, and commentary, a Company Page can establish the business as a thought leader in its field.

Recruiting top talent: A Company Page can be used to promote job openings and attract talented candidates interested in working for the business. The place to be seen and heard if you want to find today's top talent.

Lead Generation: 33% of those who see a brand or product on LinkedIn are more likely to make a purchase. It's your chance to connect with decision-makers on Linkedin.

Driving website traffic: A Company Page can include links to the business's website or other online content, which can drive traffic and boost search engine rankings.
A step-by-step guide to setting up a LinkedIn company page
I will start by telling you that you must first create a personal LinkedIn account if you do not already have one. (Click here for LinkedIn's step-by-step guide).
Let's focus on the company page now.
Choose a "Company" from the Create a LinkedIn Page.

Fill in your company's information and as you add it, a preview of the page will display to show you how it will appear. Select a suitable URL for your brand, and if possible, make it consistent with your username on other social media platforms.

You have the option to upload your company logo and include a tagline. Although this step is not mandatory, it is highly recommended that you complete it. Company Pages with comprehensive information tend to receive 40% more views.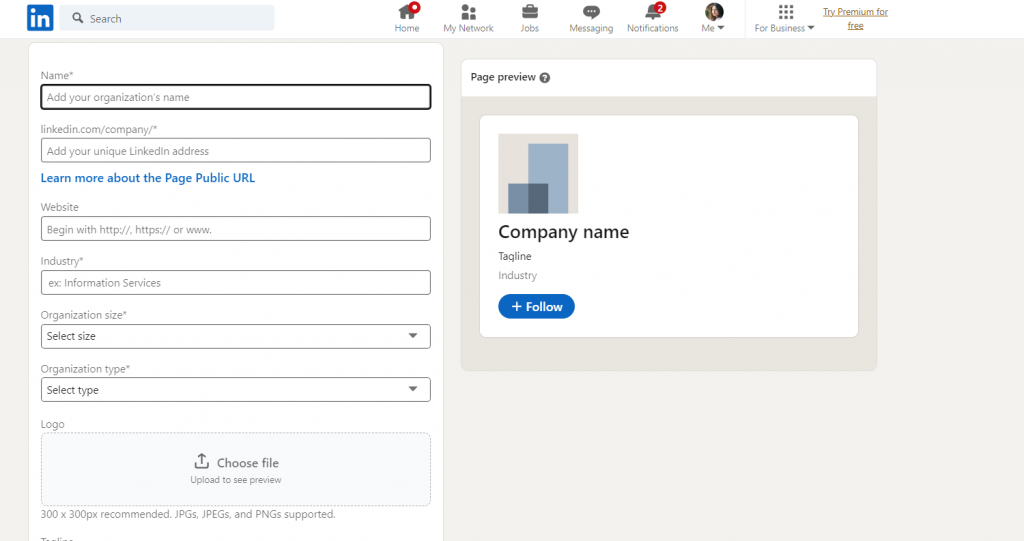 Click Create Page.

Now, it's time to add more detail to your Company Page. Be sure to include your URL, a detailed description that incorporates relevant keywords, and your location. Keep in mind that you can always go back and make changes to these details later if needed.

To further improve your Company Page, consider adding a customized button that links to your website or landing page. Posting valuable content that highlights your expertise and includes relevant hashtags can also help establish your business as a thought leader in your industry. Additionally, incorporating industry-specific hashtags and potentially creating a branded hashtag can aid in increasing your visibility to potential followers.

Remember to include a cover image on your Company Page. The recommended size for the image is currently 1,128px by 191px.

Expand your audience by inviting your connections to follow your Company Page and engage with your content.
The launch of your page is just the beginning of your LinkedIn journey. If you want to make the most out of LinkedIn's networking-oriented platform and elevate the effectiveness of your page, continue reading for expert recommendations on how to optimize your LinkedIn Company Page to increase engagement and achieve optimal results.
How to Create a Successful LinkedIn Company Page
Make sure your profile picture and banner are great.
A strong first impression is created by your profile picture and banner on LinkedIn. Choose a clear, high-quality image of your company logo or a brand image for your profile picture.

On the other hand, your banner is a large image that sits at the top of your company page. The image should be visually striking and align with your company's overall messaging and values.
Strong profile pictures and banners can boost your company's credibility and professionalism, leading to increased engagement and results.
Take a look at Aza Fashions' profile banner featuring product shots and its profile image features a clean and simple text logo.

Ensure that your "About Us" section is compelling and contains relevant keywords
While well-chosen images can capture a prospect's attention, it is the use of language that ultimately draws them in.
To effectively communicate your company's identity on your LinkedIn Company Page, crafting a concise "About Us" section of 2,000 characters or less is key. Utilize a straightforward language that is informed by keyword research to clearly express your business objectives to a wide audience.
The primary goal of your "About Us" section on your LinkedIn Company Page is to effectively convey your company's story and showcase the unique value of your products or services. Similar to other social media platforms, the section should aim to answer six fundamental questions, tailored to your business:
Who is your company?
Where is your company located?
What products or services do you provide?
What are your company's core values?
What is your brand's tone and personality?
How can interested individuals get in touch with your company for further information?
If you're seeking ideas for your own LinkedIn Company Page, consider taking a look at the competition to gain inspiration.
For instance, the online furniture retailer Furniture Mart USA offers a concise and straightforward "About Us" section as a potential reference.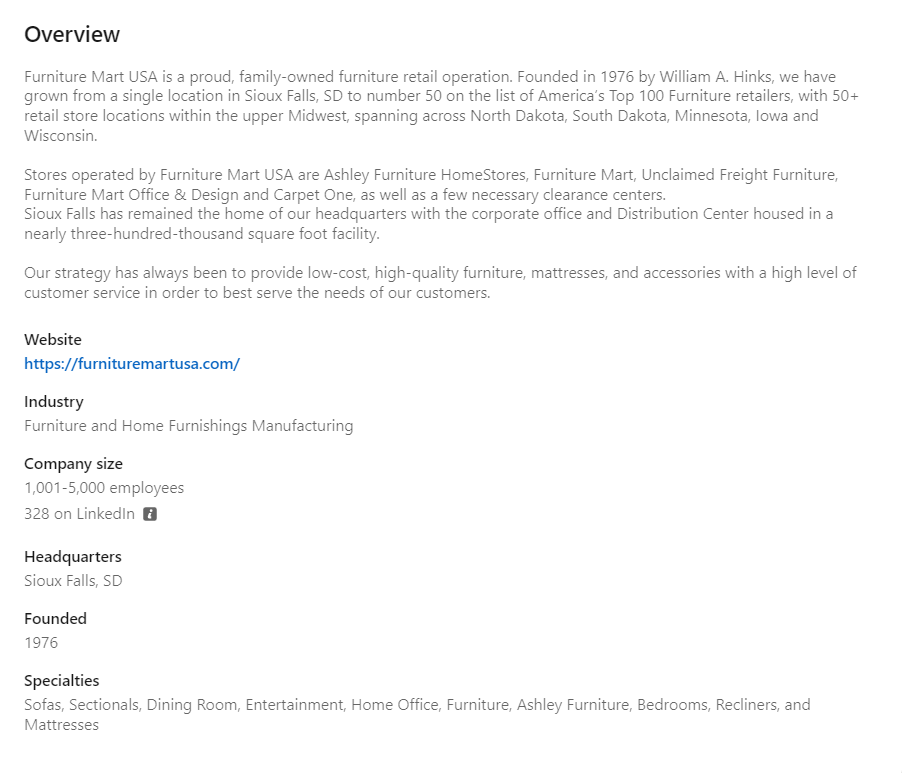 Maintain a regular presence on your Company Page
According to LinkedIn, companies that post content on a weekly basis experience a significant increase in engagement, with a 2x uplift. Therefore, it's essential to regularly share fresh content on your page to maintain your audience's interest. Fortunately, there are multiple post formats to choose from on LinkedIn, such as articles, images, videos, and documents, offering you various opportunities to educate and entertain your followers.
LinkedIn's content formats are explained here.
Articles- LinkedIn's long-form article feature allows you to create in-depth content (500-1000 words) with embedded images, links, and pull quotes, similar to a blog post. You can also publish articles as newsletters to reach followers' inboxes, giving your content an extra boost.
Images– LinkedIn reports that incorporating images into your posts can result in a 2x increase in comments, and suggests using image collages or collections of 3-4 images for even better engagement.
Videos- Video content on LinkedIn gets 5x more engagement than static content, but Live Video takes it up a notch with 24x more engagement.
Reach out to more people
LinkedIn's organic growth as well as paid boosting and ads provide plenty of opportunities for attracting an audience.
Target your posts- Maximize your LinkedIn Company Page's organic reach by setting specific target criteria for your posts. You can choose factors such as region, language, company size, or industry to ensure that your content reaches your desired audience. LinkedIn will then direct your posts to the appropriate individuals, without any additional cost.
Paid Promotion- Your Company Page lets you boost individual posts or your Page to reach an even broader audience.
Experimenting hashtags- Try incorporating up to three hashtags into your LinkedIn Company Page to increase your visibility within relevant tag feeds. This allows you to engage with industry-related discussions and expand your reach to a broader audience, all while representing your brand.

Promote your Page– Last but not least, after creating your LinkedIn Company Page, promote it wherever possible, including your company website, other social media platforms, and even your email signature. Spread the word and invite people to visit your page from any and all available channels.
Create a product page
The product pages on your Company Page provide an excellent platform to showcase your product or service offerings. You can highlight the advantages of your products, upload videos and images, gather feedback from the community, and feature your current customers to provide social evidence to potential customers.
To learn more about LinkedIn's Product Pages, click here.
Make sure you are up-to-date with the LinkedIn algorithm
All social media platforms constantly tweak their algorithms to deliver more engagement to their users. LinkedIn is no exception. Don't miss a chance to boost your performance by staying on top of the company's latest success secret recipe.
Conclusion
An effective Linkedin company page is created by optimizing the page layout, creating compelling content, and engaging the audience. You can also drive traffic to your page by using LinkedIn Groups, Showcase Pages, and LinkedIn Ads. If you follow these best practices, your LinkedIn Company Page can be an effective marketing tool for your business.
Are you ready to take your LinkedIn Company Page to the next level?
With Vaizle, you can easily manage your LinkedIn Page and all your other social media channels. By using this tool, you will be able to track and analyze your performance over time so you are able to make informed decisions about where you need to improve.