The LinkedIn marketing strategy that works in 2023
As a business-to-business (B2B) marketer, you're always looking for new ways to reach and engage your target audience. And with over 600 million users worldwide, LinkedIn provides an excellent platform for doing just that. When used effectively, LinkedIn can be a powerful tool for building relationships, generating leads, and driving sales.
Here's a closer look at why LinkedIn's marketing strategy benefits B2B marketers.
You can target your ideal customer – With LinkedIn's extensive targeting options, you can make sure the right people see your content.
You can target by location, company size, job title, etc. So whether you're looking to reach C-level executives or small business owners, you can use LinkedIn to get your content in front of them.
You can build relationships with influencers. Because LinkedIn is a professional networking site, connecting with influencers in your industry is easy. By building relationships with these influencers, you can increase the reach and visibility of your content.
This post explains how to build a LinkedIn marketing strategy that works. Additionally, we will discuss best practices for personal accounts.
How Does LinkedIn Impact Business Marketing?
Tips to get success on Linkedin
Is LinkedIn Marketing Dependent on Personal Accounts?
The five best LinkedIn marketing tactics
What Is The Role Of Linkedin In Marketing For Businesses?
LinkedIn has become one of the essential tools for businesses when it comes to marketing. By creating a company page and building up a following, businesses can use LinkedIn to reach out to potential customers and clients professionally and personally. In addition, LinkedIn provides businesses with an easy way to post content and articles and offer products and services directly to users. By utilizing LinkedIn's multiple features, companies can create a comprehensive LinkedIn marketing strategy to help them reach their target audience and achieve their goals.
Regarding social media marketing for businesses, LinkedIn is often overlooked in favor of more famous platforms like Facebook and Twitter. However, LinkedIn can be a potent tool for B2B marketing, especially regarding lead generation and thought leadership.
Here are a few tips for using LinkedIn effectively as part of your business's marketing strategy:
Use LinkedIn Advertising to Reach Your Target Audience
LinkedIn Ads can be highly targeted, which makes them ideal for reaching your target audience with your LinkedIn marketing strategy. You can target LinkedIn users by their job titles, company size, or other factors, which means you can make sure the right people are seeing your ads.
Create a Company Page on LinkedIn
If you don't already have one, creating a company page on LinkedIn is a great way to promote your business and build its presence on the platform. Your company page can include information about your products or services and articles, videos, and other content that will interest your target audience. Regular updates to the page – whether in the form of blog posts, infographics, or other content – can help keep users engaged and interested in what the business has to offer and is one of the significant LinkedIn growth strategy you can use.
Use LinkedIn Groups to Connect with Potential Customers
There are thousands of groups on LinkedIn covering every imaginable topic, many of which are relevant to businesses in specific industries. Joining and actively participating in these groups can help you build relationships with potential customers and generate leads for your business. Experts with LinkedIn marketing tips agree that these connections can provide valuable opportunities for collaboration, joint ventures, or increased visibility for all involved parties.
Overall, LinkedIn provides businesses with an excellent opportunity to reach out to new potential customers. However, success on the platform requires careful planning and execution of an effective LinkedIn marketing strategy.
Why Are Personal Accounts So Important For LinkedIn Marketing?
LinkedIn marketing can be an extremely effective way to promote your business and connect with potential customers and clients. However, many businesses make the mistake of only using their company page as a part of their LinkedIn marketing strategy, which can limit their reach and effectiveness.
Personal accounts are much more powerful when it comes to LinkedIn marketing. This is because personal accounts allow you to connect with other users more personally, build relationships, and interact in ways that company pages cannot. For example, you can send private messages, share updates and articles, comment on posts, and endorse other users – all of these are LinkedIn marketing tips which can help promote your business more organically.
There are a few things to keep in mind when using your account for LinkedIn's social media strategy. First, ensure that your profile is complete and up-to-date, as this will give people a good impression of your business. Second, take advantage of all the features that LinkedIn offers – from groups and forums to publishing articles – to ensure that you're making the most of the platform. Finally, don't be afraid to reach out to other users directly; building relationships is key to success on LinkedIn.
If you're looking for an effective way to market your business on LinkedIn, consider using a personal account as part of your LinkedIn marketing strategy. With a little effort, you can connect with potential customers and clients more meaningfully – resulting in better relationships and tremendous success for your business.
A personal account allows you to share your story, connect with others, and showcase your business in the best light possible. When done right, a personal account can be a powerful marketing tool to help you effectively reach your target market.
5 Marketing tactics on LinkedIn that can help you improve your strategy
Using some simple yet effective tactics can significantly improve your LinkedIn marketing strategy. For example, regular updates to your LinkedIn profile can help keep your information current and help you build up a more comprehensive picture of your skills and experience. Additionally, staying active in relevant LinkedIn groups can help you network with potential clients and customers and stay up-to-date on industry news and trends. Of course, no two businesses are alike, so it's essential to tailor your LinkedIn marketing strategy to fit your specific goals and target audience.
Here are five that you should consider incorporating into your LinkedIn social media strategy.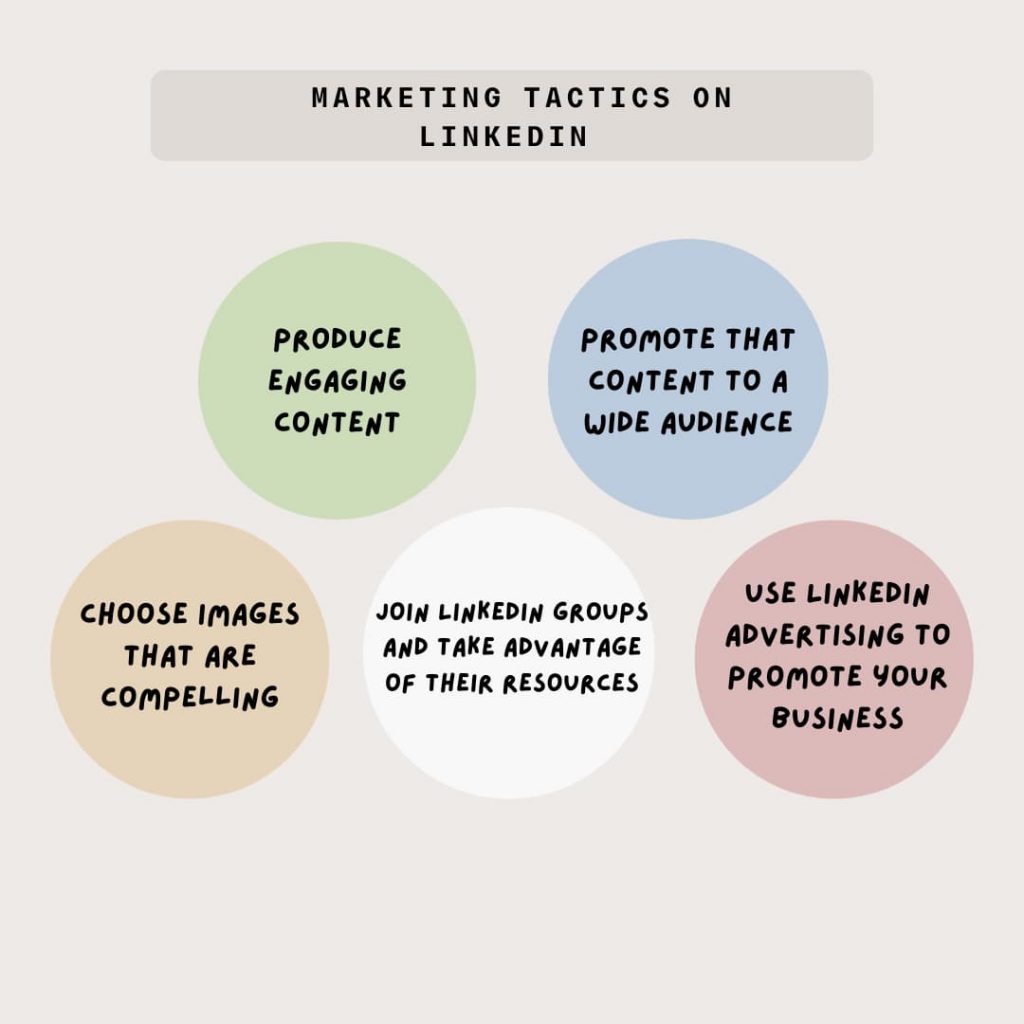 1.Create Engaging Content
You need to publish thought-provoking, informative articles and blog posts to attract attention on LinkedIn. The LinkedIn strategy suggests sharing your original insights and ideas, and backing them up with data and references. This will show that you're an authority in your field and have something valuable to say.
2. Share that content widely
Once you've published great content, share it with as many people as possible. Start with your network of connections, but also consider sharing it with relevant LinkedIn groups or posting it on your personal page (if you have one). As a part of your LinkedIn social media strategy, make sure people know about your company's LinkedIn page by promoting it on your website and other social media channels. You can also add a follow button to make it easy for people to connect with you online.
3. Use Compelling Images
Images are a powerful tool that can help capture attention and communicate your message more effectively. Be sure to use high-quality, compelling images in your updates and posts and on your profile. Visuals are always eye-catching, so don't forget to use them in your LinkedIn marketing efforts. Post images along with your articles, or create short video clips to accompany your posts.
4. Take Advantage of LinkedIn Groups
Groups are great for connecting with potential customers and partners on LinkedIn. As a part of your LinkedIn strategy, seek out groups relevant to your industry or niche, and join in on the conversation. You can also start your group if you can't find one that's quite right for you. Just be sure to moderate it well so it remains a valuable resource for everyone involved. Don't just be a one-way broadcaster on LinkedIn; get involved in discussions and interact with others regularly. This will help get your name out there and make people more likely to engage with your content when they see it in their feed.
5. Utilize LinkedIn Advertising
When creating your campaign as a part of your LinkedIn strategy, you'll need to consider your goals and budget. Once you've got those figured out, you can create ad units that align with your objectives. For example, if you're looking to generate leads, you'll want to create an ad unit that includes a form for users to fill out. Once your campaign is up and running, it's essential to monitor its performance. LinkedIn Ads provides detailed reporting to see how many users view and click on your ads. You can also use this data to adjust your LinkedIn strategy as needed to ensure it's as successful as possible.
Conclusion
As you can see, there are many different ways to use LinkedIn for marketing. But what's the best LinkedIn strategy? Well, it depends on your goals and objectives. For some businesses, building up a large number of connections is most important. For others, generating leads is the priority. And still, others might focus on using LinkedIn groups to build brand awareness and create thought leadership content. The bottom line is that there is no one-size-fits-all LinkedIn marketing strategy. The best way to use LinkedIn for your business is to experiment with different tactics and see what works best for you.