LinkedIn Post Boosting: Pay a Little, Get a Lot More Views
Are you looking for a way to increase your LinkedIn reach? I think it's time to try LinkedIn post boosting.
LinkedIn's boost option is there for a reason: to give your content some extra kick.
Boosting Linkedin posts also allows for more targeted content, enabling you to reach the right people with the right message. Additionally, it can help you to measure the success of your post, allowing you to improve the content for future posts.
LinkedIn boosts your posts based on job title, industry, location, and more, so you ensure the right people see your content. More likes, comments, and shares can result from increased engagement and interactions with your post.
Overall, your professional brand and career can be significantly improved by boosting LinkedIn posts. So, it's time to let the boost power you up. Here is how to get started with LinkedIn post boosting to ensure your content is seen.
Let's take a look at what we'll find in this article
What is Linkedin Post Boosting?
Boost posts on Linkedin involves paying a bit of money to get it seen by more people. No matter if your target audience follows you or not, your post will appear in their feed.
Boost posts on Linkedin means converting them from organic posts to paid advertisements. When you invest money in a post, LinkedIn will help promote your high-quality content to a broader audience than the platform's algorithm usually allows. You determine the budget, target audience, and timeline, and then LinkedIn's automated system amps up your post's visibility.
In order to boost a post, you must have a LinkedIn ad account. You can boost existing posts directly on LinkedIn once you are set up.
Benefits of LinkedIn post boosting
There is a chance that your post will survive without any help. If you don't boost your LinkedIn post, it might receive very minuscule engagement, leaving you feeling disheartened and discouraged. However, buying followers or likes is not viable.
Instead, investing in a post boost is a responsible way to spend your advertising budget. By doing so, you can improve the visibility and engagement of your content, potentially leading to new connections and business opportunities.
Boosting your LinkedIn post provides several benefits, including:
Expanded reach: By promoting your post to a wider audience, you can significantly increase its visibility and reach beyond your current network. This can help you attract new followers and connections, increase engagement, and potentially generate leads and business opportunities.

Targeted audience: Boosting allows you to target a specific audience based on job title, industry, location, and other criteria. This ensures that your content is seen by people who are most likely to be interested in it, leading to higher engagement and better ROI.

Increased engagement: Boosted posts tend to receive more likes, comments, and shares than organic posts due to their increased visibility. This can help you build your personal brand, establish yourself as a thought leader, and gain more exposure to your content.

Flexible budget: You control your advertising spend and choose how much to invest in your boosted posts. This allows you to experiment with different budgets and optimize your ad spend based on performance.

Measurable results: LinkedIn provides detailed analytics to track your boosted post's performance, including impressions, clicks, engagement, and conversion rates, or through a Free LinkedIn ad analytics tool like Vaizle can help you. This enables you to refine your targeting and optimize your campaigns for better results.

Overall, boosting your LinkedIn posts can help you achieve your professional goals. This is whether it's to increase your visibility, generate leads, or establish yourself as an authority in your industry.
How to Boost a Post on Linkedin?
Take a peek at this blog post if you still don't have a LinkedIn business page before you start boosting a post.
Now: Invest some money!
1. Locate the post you would like to boost on your page in admin mode. Alternatively, click on the Analytics drop-down menu and select Updates.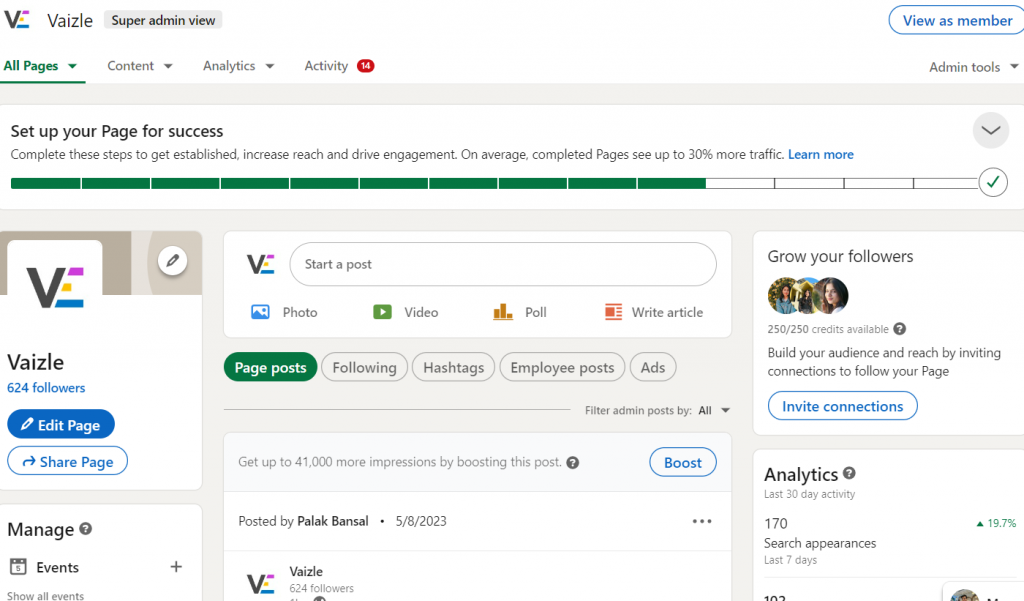 2. In the post's top right corner, click the Boost button.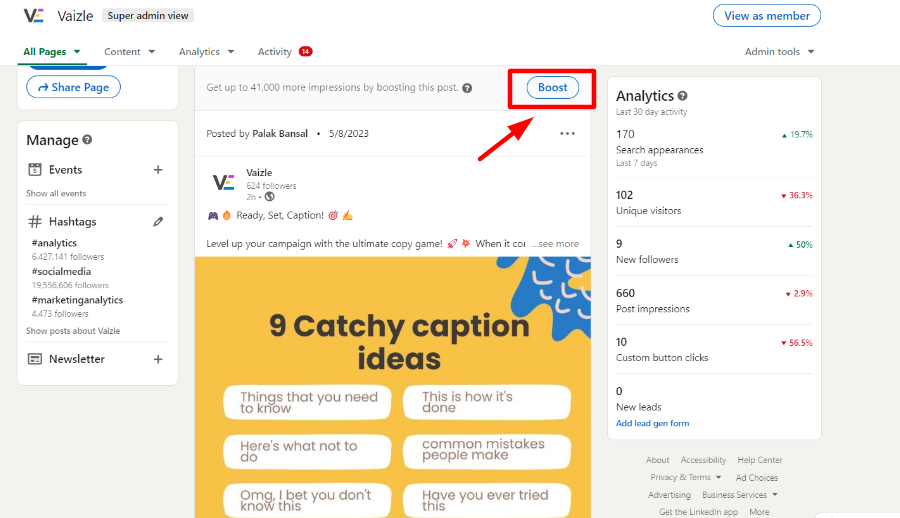 3. Use the dropdown menu to choose Drive Traffic or Engagement as your campaign objective.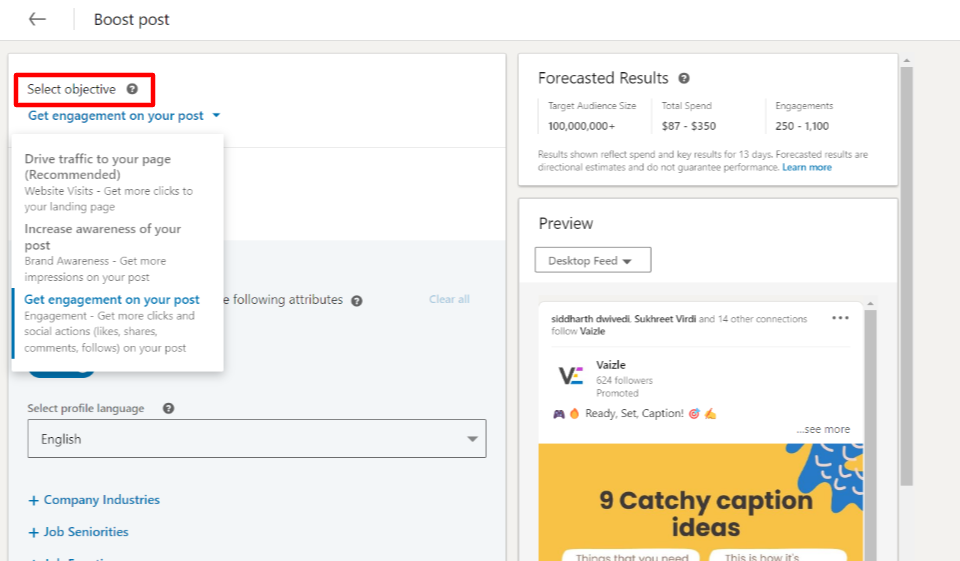 4. Choose your audience now. Depending on your profile or interests, you can do this. Additionally, you may select a Saved Audience if you already have a LinkedIn Audience template.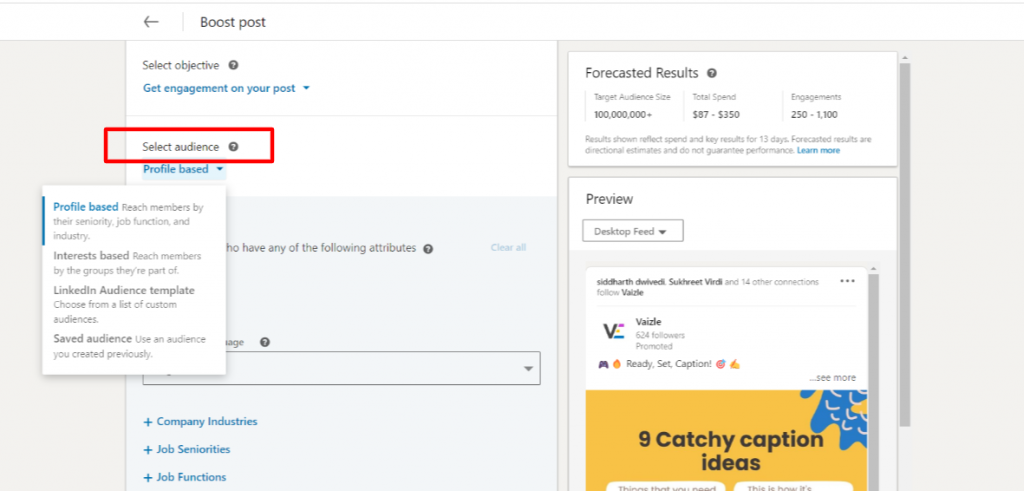 5. Now it's time to narrow down your target audience. Based on the type of audience you are targeting, choose the profile language, location, and other criteria.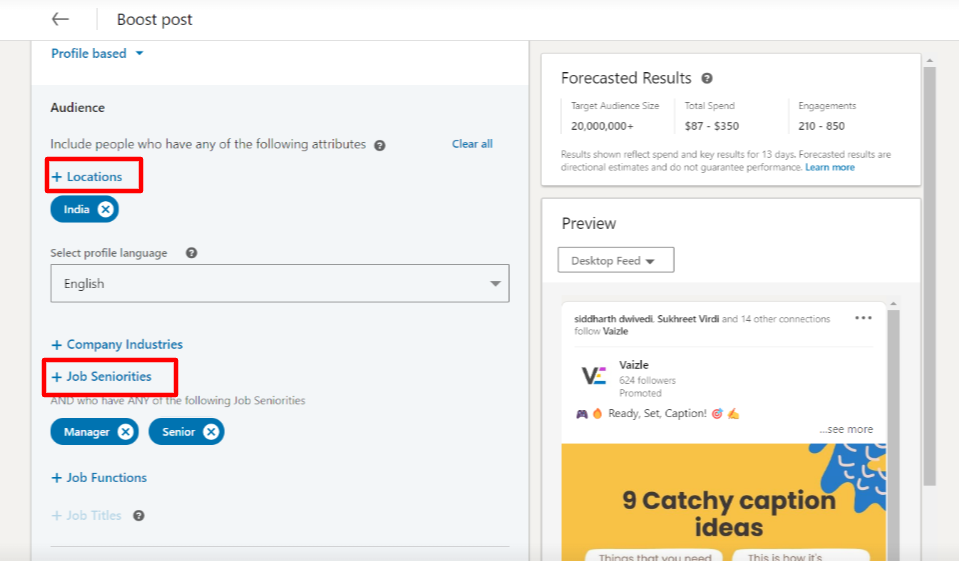 6. If you would like to include the LinkedIn Audience Network in the Auto Automatic Audience Expansion feature, select the advanced options.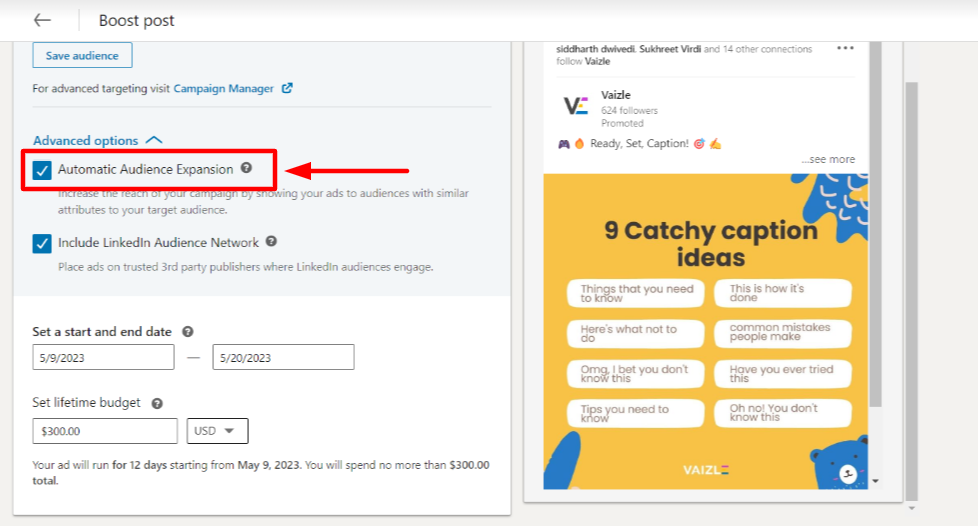 7. You will need to set a budget and schedule first, and then select the appropriate ad account for billing.
8. Don't be afraid to push the Boost button!
Your ad account in Campaign Manager allows you to view or edit your campaign performance. Alternatively, you can edit boosted posts and settings directly from your LinkedIn Page.
How much does LinkedIn boosting cost?
Boosting a LinkedIn post requires a minimum daily budget of $15 USD.
One of the best things about a boosted post is that the budget is highly flexible. A LinkedIn post can be boosted for as little as $15, or you can spend $100K if you want your story to reach a wide audience.
The amount of money you invest in your campaign will affect how long it runs, which audience sees your post, as well as how successful it is. You're probably aware that the more money you spend, the further your post goes.
As the saying goes, more money means more views.
Following a LinkedIn Best Practice document, it is recommended to budget at least $25 per day to achieve the best results. To find the optimum spending amount, we recommend ongoing experimentation for each business and budget!
4 tips for boosting LinkedIn posts
Would you like to get the most value for your money? Boost your LinkedIn boost by following these best practices.
Create organic content of high quality
A good organic strategy is paramount to establishing a successful LinkedIn advertising campaign, no matter how much money you have to spend.
You'll gain valuable insight into which content resonates with your audience if you post regularly on your LinkedIn page.
To build a successful organic presence on LinkedIn, follow these best practices recommended by the platform:
Complete your LinkedIn page: Make sure to fill in all the fields on your page, including a compelling cover image and logo, overview, and other text fields, and a clear call to action.
Post regularly: Keep your audience engaged by posting engaging and relevant content consistently. Creating a content calendar for weekly or monthly posting can help you stay on track.
Respond to feedback: Your LinkedIn page is an excellent platform for two-way conversations with your target market. Responding to comments and feedback from your followers demonstrates your commitment to engagement and builds trust with your audience.
Focus on creating authentic content: Keep your tone and voice consistent with your brand messaging. As a result, you build a loyal following over time by setting expectations for your content.
By following these best practices, you can establish a strong organic presence on LinkedIn, build your brand, and connect with your target audience effectively.
Posts that perform well should be boosted
LinkedIn offers various post formats, including text, polls, and photos, among others. According to LinkedIn, posts that focus on thought leadership, customer spotlights, and new product launches tend to receive higher engagement from audiences. Such posts are ideal for boosting to reach an even wider audience and maximizing engagement.
Make sure you target your audience strategically
LinkedIn has a unique advantage in its ability to reach highly targeted audiences due to its members' motivation to keep their profiles up to date for business and job opportunities. As a result, it is effortless to reach the right individuals at the right time on the platform.
LinkedIn reports that one of the most frequent errors businesses make with their campaigns is narrowing down their audience too much. While targeting a specific audience is crucial, having an audience that is too small can be a waste of time and resources.
Choose the right objective for your campaign
Selecting a meaningful objective is a crucial step in ensuring the success of your LinkedIn post boost. The objective you choose, whether it's to gain followers, increase views, or drive web traffic, helps LinkedIn deliver your post to the most relevant audience for maximum impact, even though it does not affect how your post looks.
Choosing "brand awareness" will get your content in front of as many people as possible, and choosing "engagement" will increase your chances for likes, reshares, and followers.
Easily manage your LinkedIn Page alongside your other social channels using Vaizle. Having the proper LinkedIn analytics tools is integral to professional success. Use Vaizle's social media analytics tool to track and analyze your performance over time and make informed decisions about what needs improvement.