16 Instagram post ideas you can try in 2023 to boost engagement
What to post on Instagram? Keep up with your competition with these fresh Instagram post ideas. Instagram is one of the most popular social media platforms with over 3 billion users. So, to co-up with the competition you can copy these Instagram post ideas to keep up with your competition and get Insta-famous and increase Instagram engagement.
Don't just rely on Instagram Ads to bring you customers. Use these IG post ideas to overcome the lull in your posts and increase your fan following. Instagram offers the best way for you to get traffic, build a huge audience and promote your stuff. Build an organic audience with your Instagram posts and use these content ideas for Instagram to keep them engaged.
Keeping up with the competition for eyeballs on Instagram can be hard. Don't just post whatever comes to your mind or follow some outdated "post-a-motivational-quote" strategy. "Honesty is the best policy" and everybody knows it. Aim to educate, entertain and engage in a way that boosts your Instagram follower count.
If you are looking for Instagram fresh post ideas, you can always start by scanning your competitor's profile. Discover what your competitors are postings right now and get an in-depth analysis of their social media accounts.
Instagram is the juggernaut of traffic and audience building. These Instagram post ideas will help you stand out from the Instagram feed noise, get noticed, and leverage the algorithm to expand your reach, and build an engaged audience.
List of 15 Instagram stories ideas
Here are 15 tried and tested creative Instagram post ideas you can copy into your Instagram, to boost your Instagram profile engagement –
1. The M.I.P
It is the "Most Important Post" you can have on your page or Profile. Without it, you'll struggle to have people care and vibe.
It can be anything from a picture of your storefront, a simple brand logo, a signature product, or your personal picture. It must capture the essence of your business.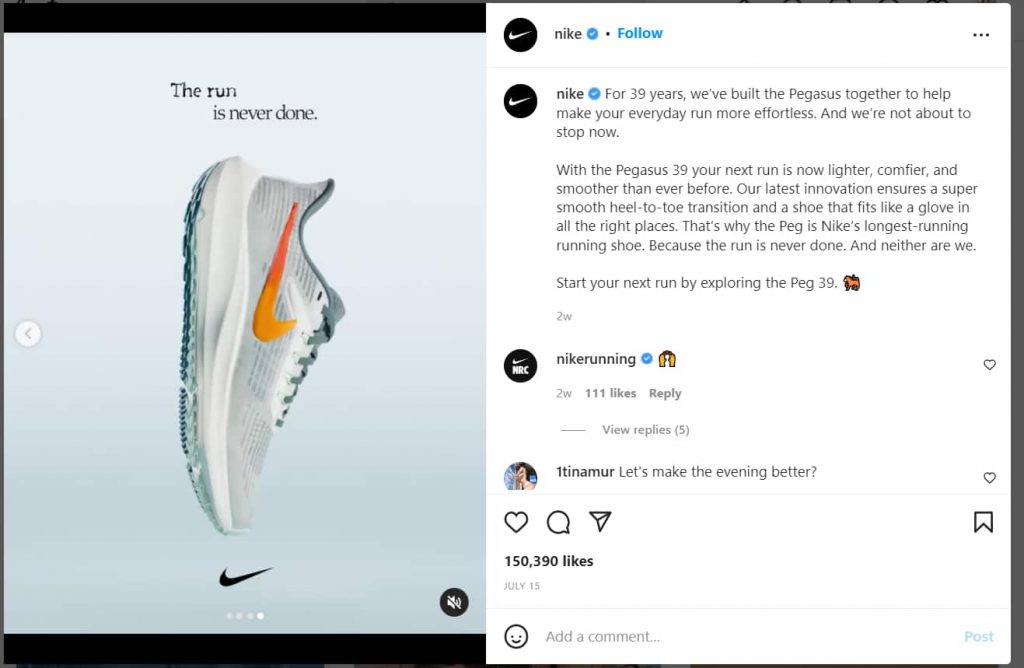 2. Repurpose
Repurposing a post is one of the most powerful things you could do on any social media. Cross-post across multiple social media sites instead of depending on just one channel.
Take this example from Starbucks. Repurposing can be as easy as sharing a tweet across your Instagram channel.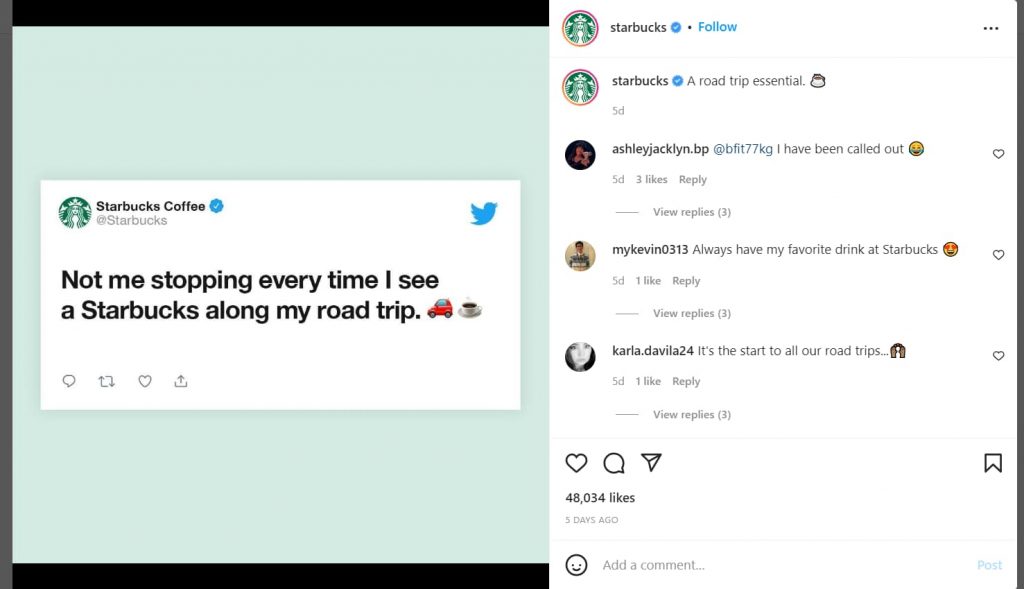 The method works especially well if you find one channel to have a higher number of followers or engagement than another.
3. Customer feedback
84% of people trust reviews as much as their friends when buying a product. A post that features a customer review is not only interesting but also useful for marketing.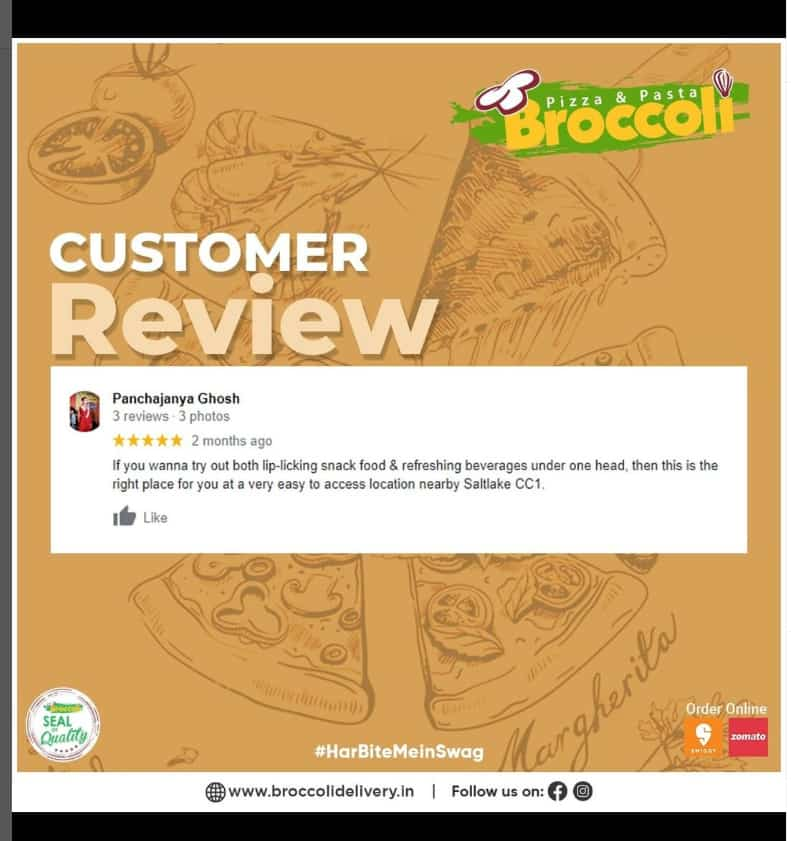 4. UGC
User-generated content impacts the shopping decisions of 79% of people. Repost a beautiful photo made by a subscriber, and you'll let people know you care about your audience.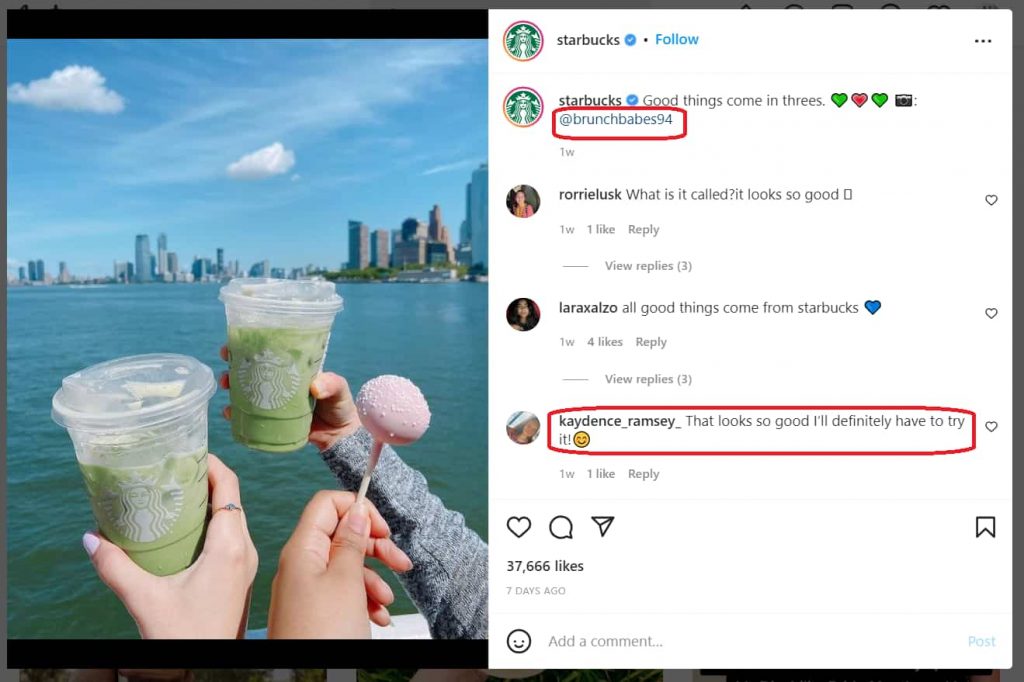 A company as huge as Starbucks caring enough to repost a photo posted on an account with a bit over 3k subscribers is just priceless. Your repost will be well received too.
5. Shoppable post
This feature is one of the most useful features that Instagram offers. Create a beautiful image of somebody using your products and spice it up with shoppable tags. Mobile customers will be able to access your website right away and make the purchases you mention.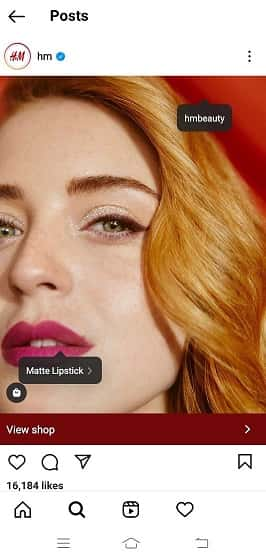 6. Fun Contests
We all know "tag your friends in giveaway contests". But IKEA took it to another level with so a simple but so powerful contest. This is a very creative way of using User-generated content.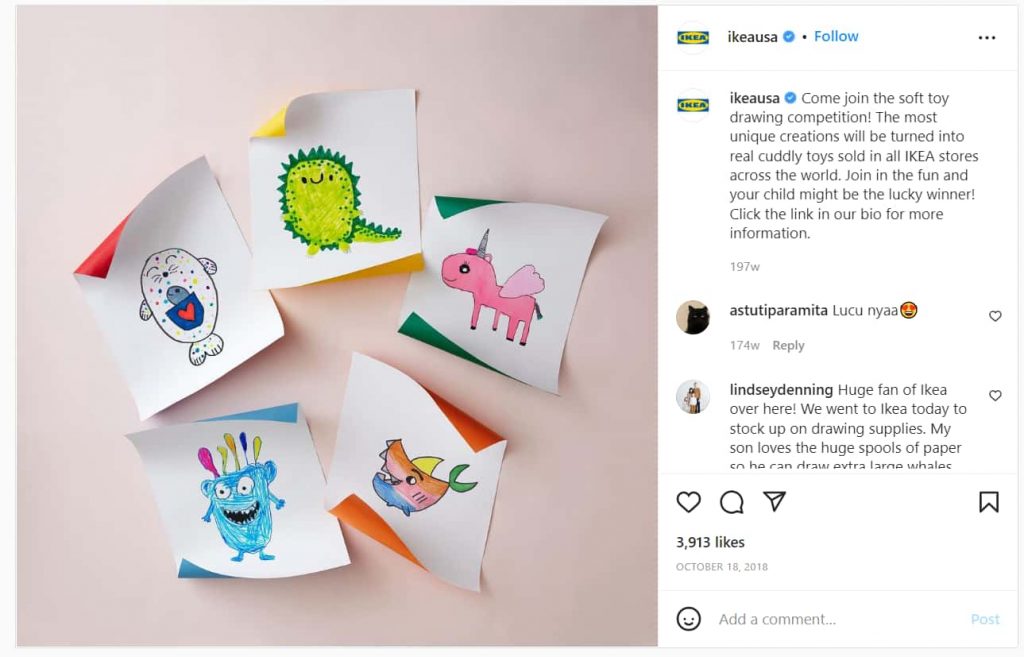 Never shy away from any chance of gathering user activity on your profile. Fun contests are a good way of putting it into action.
Make a contest, then pitch it. Encourage consumers to share pictures of your products on social media by giving them a great reward.
7. Carousel posts
Stop the scrolling and get them swiping with a Carousel post. Users (and brands!) can upload many images or videos into a single post using carousel posts.
You have a lot of options with this post format, as you might expect. Options are:
Using one product in multiple ways
Various related products with their own product tags
Image dump for an event
Step-by-step instructions for using the product
8. A funny video
Given the success of TikTok, it's clear that silly videos aren't going anywhere anytime soon. They helped turn YouTube into the advertising powerhouse it is today. They are liked by people, and they will enjoy that kind of content on your page.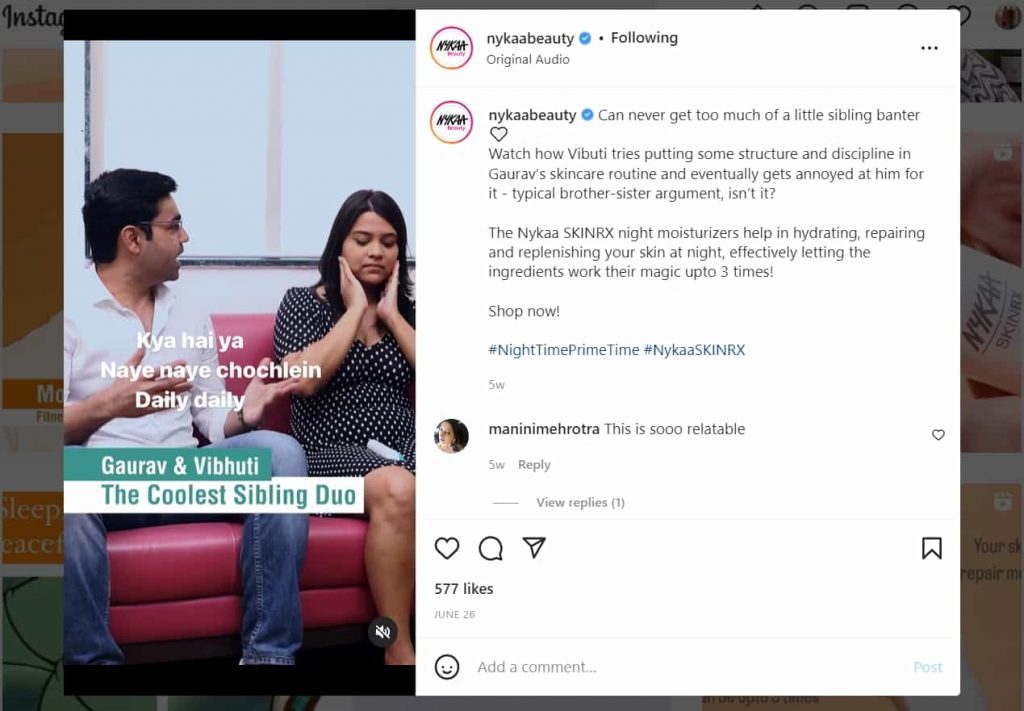 Show that you're not afraid to let your playful side out, but watch out that your comedy doesn't degenerate into self-pity. Humour in marketing could be a gold mine if you are marketing to young people.
Related: Latest Tips for Video SEO that you must know!
9. A meme
These days, memes are trending. However, using them in advertising is more difficult than simply posting a meme on 9gag. You'll receive a ton of likes and comments if you do it correctly. If you push too hard, all you'll get from your subscribers is a reprimand.
It's always a good idea to post one.
The issue with this kind of content is that, unlike an essay writer, an SMM specialist, or a photographer, you can't hire a meme expert. You'll need to either create the meme on your own or use someone else's.
10. A personal photo
You don't have to keep your Instagram page absolutely professional and formal. Why not share a personal photo on this social network as it exists to highlight your life in the beauty of the moment?
Better branding results from letting your audience get to know you better. Sales will increase if customers know they are buying from a personable individual rather than merely a brand.
Another option to add a personal touch is using behind-the-scenes photos.
Be careful to portray your office or coworkers in a genuine setting, as if your followers were peeping through the window.
11. Ask the Audience
Asking an odd question to your audience will help you connect with them. It can be created as a lighthearted quip to start a conversation and maybe anything (and lift your engagement rate).
Mcdonald's never shy away from this strategy as its customers are more than happy to share what's on their mind.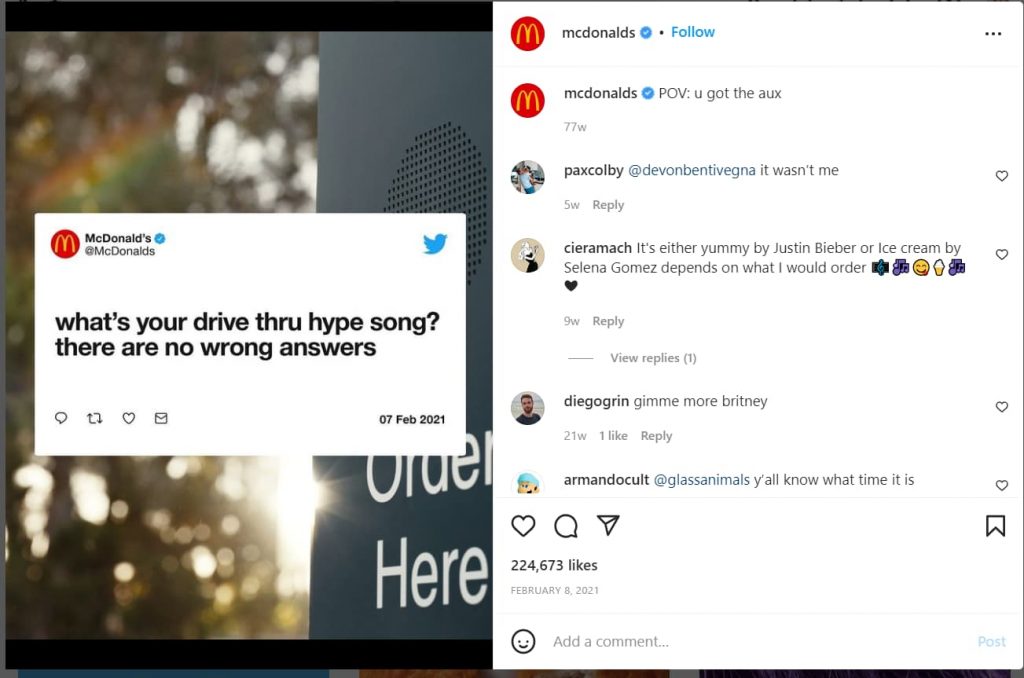 12. Holiday announcement
Everybody enjoys a holiday. To attract more followers, talk about a holiday in your upcoming Instagram post.
Don't worry if there isn't a big holiday like Diwali coming up. You can just come up with an IG post idea to celebrate any occasion.
Burger King has come up with monthly posts including sun signs and people are "Loving it" (pun intended).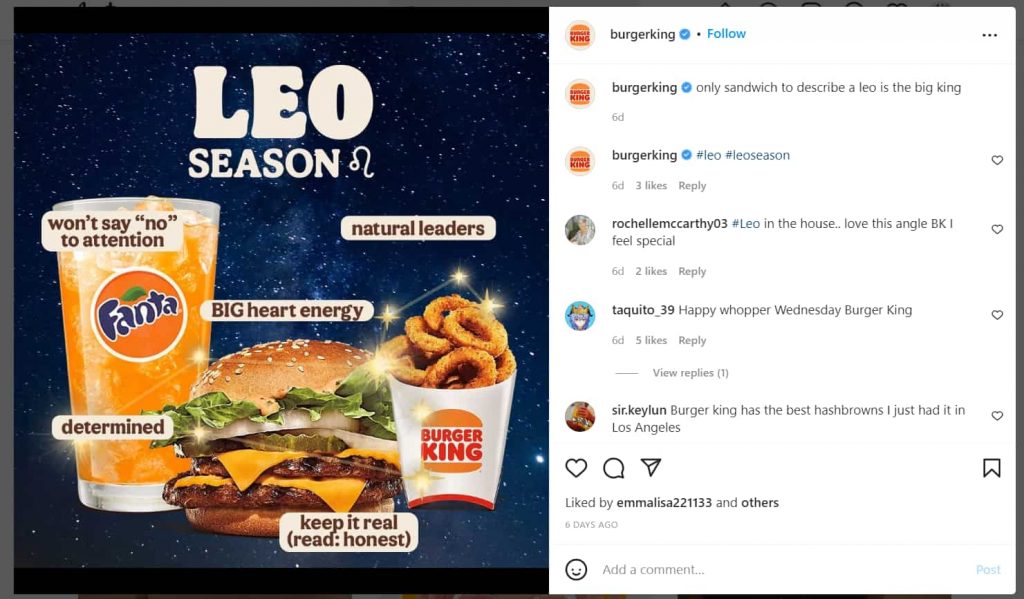 13. Design a Flat lay
It is the easiest yet most fun setup for creating an Instagram-worthy picture. To create your own flat lay, gather the equipment or items you use every day.
You can use this as an opportunity to show what your life is like behind the scenes by explaining why these things are so important to you. Or just let the picture do the talking. This is so diverse across any business vertical. No wrong answers here
Deconstruct your equipment or choose your products, and set them flat on a contrasting background for an eye-catching photo.
Arrange them as a jigsaw or sort them based on color or size for a more aesthetically appealing click.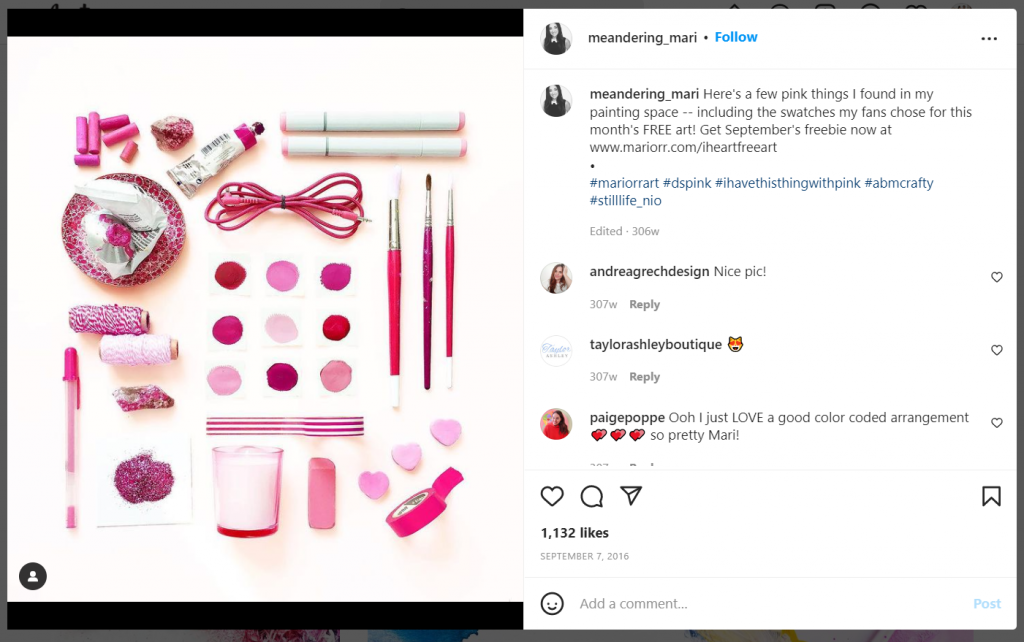 14. Tell a story
A great picture to post is always a nice idea. But nothing captures users' attention like a good story. You can create the ideal Instagram post if you combine a good image with an engaging story. What you can write about is as follows:
Share a personal narrative
Tell the audience what drives you.
Tell a hilarious work-related tale.
Remember that telling your subscribers how fantastic your product is, is not a good story to tell.
Related: 8 Free Instagram tools to unlock your creative potential.
15. Your book recommendation
No matter if it's 'THE BEST BOOK EVER!' or the one you just put down, share your key takeaways and give your audience something to think about!
A simple picture and books will work up their charm. Don't forget to add an appropriate Instagram hashtag to let the book lovers know.
16. Behind-the-scenes photos or videos of your work process
Behind-the-scenes photos or videos of your work process" are a great way to give your Instagram followers a glimpse of the hard work and creativity that goes into creating your product or service. This type of post allows you to share a more personal and authentic side of your brand, which can help to build trust and strengthen your relationship with your audience.. 
Here is an example of such type of Instagram stories types – 
Wrap up
To really make your Instagram posts stand out, you need to be creative about each of these tips.
Create Instagram content that resonates with your target audience above all else.
Take advantage of Instagram marketing tools to simplify your efforts, and experiment with how your audience reacts to your posts.
From testimonials to product launches, tweak different content type or formats and monitor your Instagram Insights. Also, analyze your competitor's Instagram profile to see what works for them. Soon, you'll learn which Instagram post examples work best for your brand.