7 Practical Solutions to Overcome Major Social Media Challenges
For modern brands, social media marketing has evolved from a nice-to-have to a must-have. Based on research and data done by the marketers, these facts demonstrate the power of social media:
Worldwide people spend 2 hours and 25 minutes every day on social media.
Social media marketing is considered effective by 73% of marketers.
Almost 80% of consumers are influenced by social media marketing when making purchases.
When consumers follow a brand on social media, they visit their website or application 91% of the time.
Whether you're a specialist or a newbie when it comes to social media marketing, you'll agree that it's not simple. It's difficult because of changing technical and social trends. There are also issues with strategy formulation, ROI measurement, and time and budget allocation.
In this article, we'll go over seven of the most typical challenges of using social media in business, as well as practical ways of dealing with them.
#Challenge 1: Defining Marketing Objectives
It's astonishing how many marketers have trouble setting marketing campaign goals. Marketers struggle to develop social marketing strategies that are aligned with their company's objectives.
While enhanced brand awareness is still a top priority for 70% of marketers, many are unsure which KPIs are important.
You'll have a hard time measuring your marketing effectiveness and demonstrating its worth to your stakeholders if your goals aren't well-defined. This could have a negative impact on your campaign budget in the future.
Solution
Begin with the larger picture. Consider why your company is on social media. This exercise will assist you in determining the business goals you want to achieve through social media marketing.
Set SMART goals for each campaign after that. Specific, measurable, achievable, realistic, and time-bound are the acronyms for SMART goals. SMART goals help you stay on track with your marketing and stay within your budget.
Specific: The type of engagement, the platform, and the target audience should all be clearly specified.
Measurable: You can track your reach and engagement using the data provided by each social media network.
Attainable: Make sure the goal is achievable through both organic and paid advertising.
Realistic: Set a realistic objective that you can reach in a reasonable amount of time. As a guide, use your previous performance as a benchmark.
Time-bound: To help you compute reliable metrics, the time frame should be well-defined.
The more SMART your objectives, the more effective your campaign will be.
#Challenge 2: Measuring the Return on Investment (ROI) of Social Media
The return on investment (ROI) from social media marketing is the amount of time, money, and resources invested. The tough part is that social media ROI is not the same as traditional web marketing ROI. It can be difficult to see the worth of your Tweet or post is shared in comparison to ad clicks.
Because social media ROI is determined by your individual business goals, your approach on how to calculate ROI will differ from that of other businesses. You must have well-defined goals in place before you can begin measuring your ROI. This is why having a solid social media strategy is crucial. Make certain you have one in place with measurable objectives.
Solution
In order to track your goals, you must be able to assign a number to them. Consider the following system:
Newsletter subscriptions
Purchases
The number of people who have downloaded a whitepaper or an app
Understanding what you're getting out of social media isn't tough if you have strategic goals in place and the correct tools.
You can quickly produce personalized social media reports and track all of your efforts with Vaizle's smart insights.
But there's a lot more to it than we can cover in this article, so we recommend reading our A Brief Guide To Social Media Benchmarking.
#Challenge 3: Choosing the Best Platform
The next challenge of social media that marketers confront is deciding which platforms to use. Few marketers conduct significant research into their target markets in order to determine the platforms on which their target audience is active.
Investing in the incorrect platforms can quickly deplete your budget, especially if you utilize paid ads frequently.
Twitter, Facebook, Instagram, and LinkedIn all serve a different purpose, and your target audience uses them for a certain reason (even if it's unspoken). It might be a trial and error process to align those goals with what the audience wants to see and connect with.
Solution
However, deciding which platform to use to establish a presence might be difficult. Fortunately, there is a simple answer, and it all boils down to one factor: your target audience.
What social media platforms does your target audience use? You should familiarise yourself with each social network's demographics to discover if your target audience is among them.
Knowing where they are isn't enough; you also need to know where they're active.
Use a social media analytics tool to track engagement with your account and the demographics of your audience once you've established yourself on a social site.
If you want to reach certain segments of your audience, you'll also want to know which social networks offer targeting options.
You should also keep an eye on your competitors with social media competitor analysis. For social media users, the phrase "out of sight, out of memory" is particularly true. You'll lose a lot of conversion opportunities if you don't have a strong presence in channels that your competitors dominate.
#Challenge 4: Declining Organic Reach and Engagement Rates
Organic reach on the most popular social media networks is dwindling, thanks to new algorithms being rolled out constantly. At the same time, the cost of paid advertisements is rising. Brands are seeking out solutions to create a balance between their marketing objectives and their budget.
It's discouraging when something you publish doesn't perform well after you put a lot of time and effort into it. It's understandable, but it points to a bigger problem: oversaturation.
Every day, Instagram receives 95 million photographs and videos, Twitter receives over 600 million Tweets, and Facebook receives over 350 million photos as per data. Because people are overloaded with content, it's not as easy as it previously was for yours to stand out.
Solution
Finding the correct content mix for your audience is crucial to increasing reach. Use a social media analytics tool to keep track of how well your postings are doing.
Keep track of which postings are doing well and which aren't. Do you see any patterns in your performance? Are posts with photographs, for example, performing better than those without? What is the best time to post on social media in your industry? Make data-driven decisions about your content strategy moving ahead using these social media insights.
Your aim with content, regardless of the channels you're using, is to keep it interesting, educational, and entertaining. Never publish content just to keep up with the times. Consider your social media strategy and focus on posting material that meets your company's goals.
#Challenge 5: Increasing ad costs
Brands with huge finances may prefer to purchase engagement through social media paid marketing. Even that, though, is getting difficult. The expense of advertising is rising, and the competition is fierce. It's becoming more difficult to recoup your investment and profit from paid adverts.
The enormous popularity of sponsored marketing, particularly Facebook ads, is one cause for this trend. In the third quarter of 2020, Facebook had 10 million active advertisers. With so much advertising content available, marketers are finding it challenging to break through the clutter and reach their intended audience.
Solution
Paid advertising yields demonstrable results. So, before you start your ad campaign, make sure you have your advertising goals in place. This means you can see if your campaign met its objectives.
Use advanced targeting to engage over to those who aren't already followers of your page.
Cover as many target categories as possible with your ad by using the buyer persona. Avoid overlapping audience categories that suck up your ad budget but don't provide you any results.
Look alike Audiences on Facebook might help you find your perfect consumers.
#Challenge 6: Staying up-to-date with the latest social media trends
Because social media is constantly changing, keeping up with everything on a daily basis can be one of the most difficult tasks. Changes to one of the platforms, such as Facebook launching a new algorithm or feature, a client dealing with a community management issue, or simply daily trending events in popular culture that necessitate a reactive social post are all examples of fluctuating social media trends.
Given how swiftly space evolves, this is virtually a full-time job in and of itself, requiring a true balancing act in addition to more mundane chores. Reactive content and articles are another difficult part of the job to handle since they frequently require client sign-off time and design resources, which keeps you on your toes.
Followers that interact with your social media accounts demand rapid, intelligent, and accurate responses, which can be difficult to manage around the clock.
Solution
While there is no "ONE" thing that works on social media, a social media manager can employ a few tried and true ways to get started.
And, as you may be aware, each platform functions differently, so you'll need to think outside the box for each one.
For instance, having a theme for Instagram, using Twitter to raise awareness and Social Listening, Facebook advertising, and so on. The difficulty arises when you attempt to do all of this at the same time.
Vaizle has created customized content feeds that allow you to cut through the clutter and focus on the trends, hashtags, smart insights, and keywords that are important to you.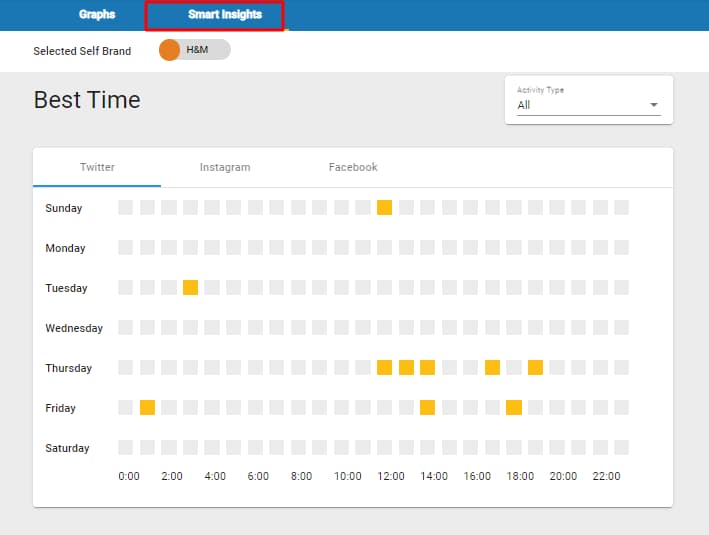 #Challenge 7: Trying to make sense of muddled metrics
If you're on social media for a reason other than sheer entertainment, you would be interested in analytics.
Indeed, the valuable insights gathered through analytics justify the effort and resources spent on your social media channels. And you're using these social media insights to optimize content strategy or to design and execute an audience engagement strategy, no matter how you use social media to market and promote something. Many supervisors and managers also expect to see this information on a monthly or weekly basis.
Because of the massive amount of data available on social media, it's nearly hard for a marketer to categorize meaningful data that can be utilized to learn more about your audience's behavior. If data management isn't done properly, fresh leads, industry trends, audience dialogues, and brand mentions are all likely to be missed.
Solution
Deploying social media analytics tools is essential for a conclusive view of the performance of your social media efforts. Your brand can benefit from regular analysis by recognizing trends, identifying prospective influencers, finding compelling content, and much more.
Vaizle was created to collect real-time analytics data from sites like Twitter, Facebook, Instagram, and YouTube (coming soon) and present it all on a single, intuitive, and visually engaging dashboard, eliminating unnecessary clutter and confusion.
Users also have unrestricted access to analytics data for all of their social media channels, which simplifies the reporting process significantly.
Are you ready to take on Social Media Challenges?
Every sort of marketing has its own set of difficulties. Marketing on social media is no exception. You are better prepared to deal with these potential challenges of social media now that you are more familiar with them. 
To risk-proof your social media marketing activities, use the tactics and strategies described in this piece.
Learn to embrace solutions such as social media analytics tools, automation, time management, and social media monitoring tools. This will greatly simplify your social media marketing experience.