How to Optimize Your Social Media Content Strategy Using Smart Insights
You're into 2019 and its needless to say that a strong social media presence is indispensable.
If you're in India, you know what Zomato has been doing this year. If you're in US, you know how witty Burger King or McDonald's can be on social. The point is: no matter which country you're in right now, there are brands who are trying to pick conversations with their audience.
Here's when Wendy's tried to jab McDonald's on Twitter. 👇🏼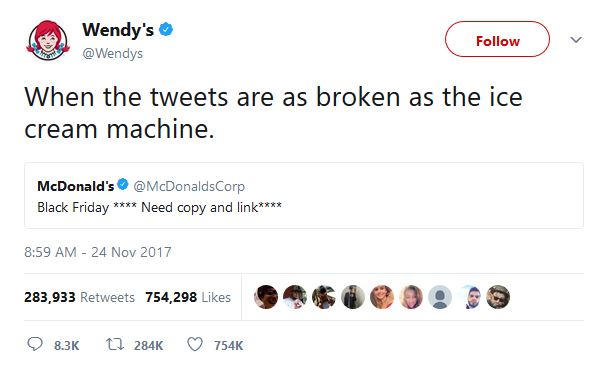 If you've managed a Twitter account, you know it's not easy. To be witty. To spark conversations. And be engaging all the time.
You Twitter strategy is part of a larger social media strategy where where you try to set tone and voice, and then ensure your content is creative while not swaying away from your brand's core theme.
And then there are the moving parts. Posting consistently, keeping the social media calendar updated, and analyzing what's happening because of your activity. The whole process is, to say the least, difficult to organize.
This is where a Vaizle steps in, removing the stress from the process and at the same time providing all the necessary insights a social media marketer would need in order to create, be creative and make the much needed social media impact!
Let's see how Vaizle's Smart Insights helps you create a better content strategy using the classic who, what, when, and how approach.
Who: Knowing your competitors
If you're in eCommerce, Amazon is not necessarily your competition. At least not on social. In fact, if you want to beat Amazon in creating community around let's say, your pet product, you can do it better.
Essentially, on social media, you have to identify your competitors carefully.
Vaizle allows you to do that by actually diving into the content strategy of the brands you add in your dashboard.
Here are the steps you can take to get started
Step 1: Add all the possible brands in the landscape which you feel are your competitors.
Step 2: Go into the Smart Insights section to check for 'All Content' and sort by 'Latest' to see which of your competitors are active and which are silent.
Step 3: The brands whose post you don't see in the first three sections are naturally dormant on social. That means, you cannot set those brands as benchmark for your social success.
Step 4: Rest of the brands can be put into further scrutiny.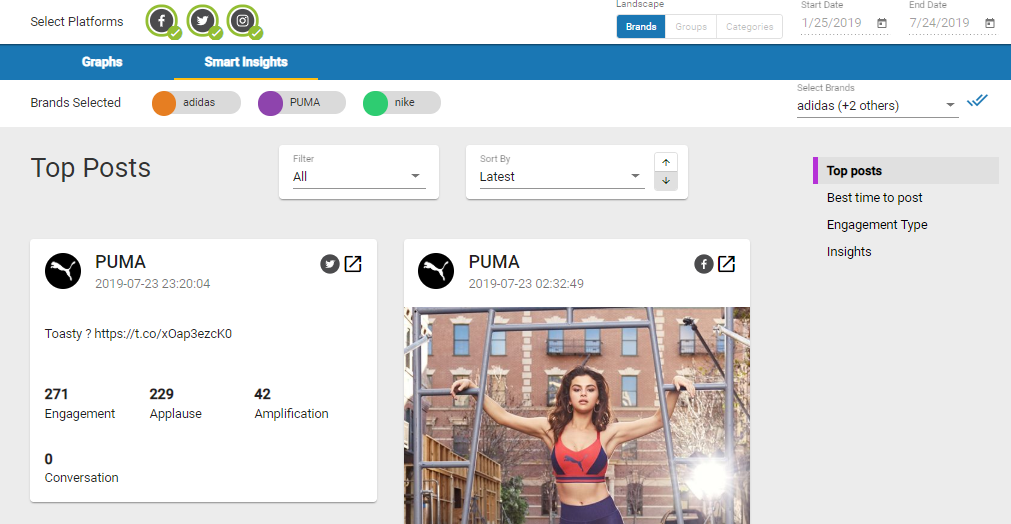 This is something that's virtually impossible to do manually. Vaizle can help you do that in a simple, yet constructive way. You can also do this analysis in the cross-channel section for the brand activity metric.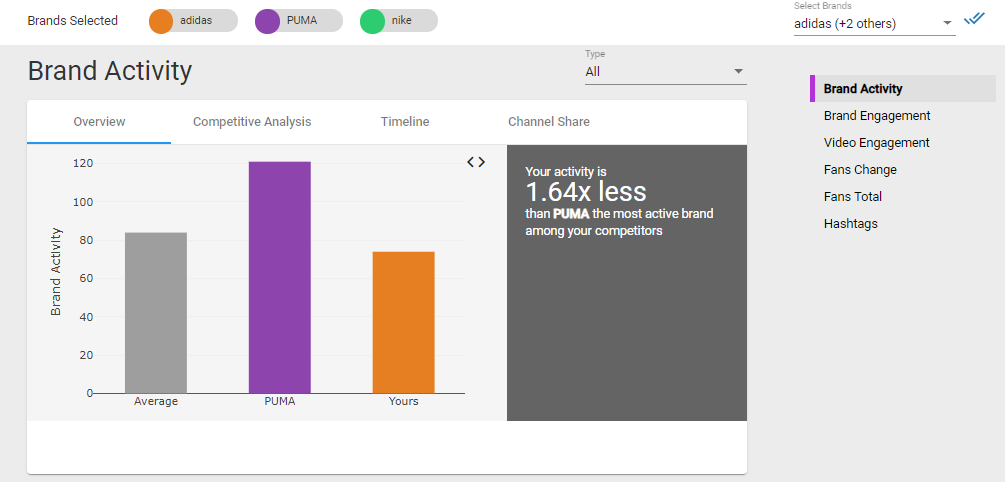 To being understanding your competition within Vaizle, after you've entered their handles, Vaizle's algorithm will provide you a 'competitor social media calendar' with a multitude of filters.
Vaizle's data bank shows six months of information to date and this is really helpful for Social Media Marketers to 'jump in' at the right time, or replicate successes that have had a positive response.
From here, the content marketer has the ability to deep-dive into the data, the kind of content, analytics and more behind 'successful content.'

What: Understanding content in your industry
Now that you know who your actual social media competition is, you can start studying their actual content.
The biggest question every content and social team has is 'What is my competitor posting?' and, this answer is on Vaizle's Smart Insight's first tab of 'Top Posts'.
Given that Vaizle is multi-platform, you can grasp the content along with what platform it's on. A lot of times, brands cater to a different audience on Facebook and YouTube, for example. Vaizle makes it easy to understand performance metrics by the platform.
Currently, according to content marketing experts, there are over 40+ kinds of content presently floating in the market. On social media, there are 5 major types;
Text
Link
Photo
Video, and
GIFs
which you can view when you press the filter button on the top right. There, a drop down indicating text, video, GIF, photo or link appears. Vaizle's ability to understand and group data helps marketers make the best use of not just content, but kind of content – which is the overarching idea.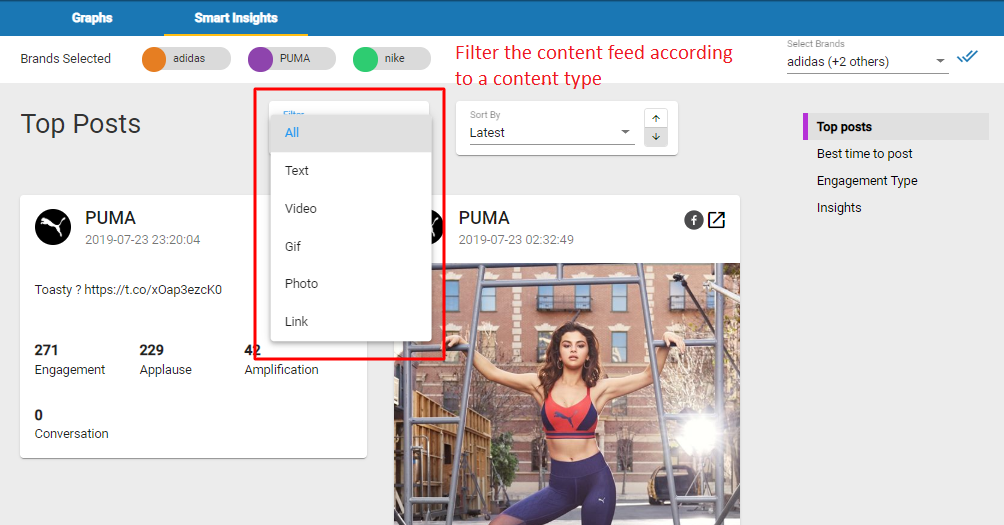 By segregating the kinds of content, you can see what kind of content your competitor is taking up the margin with. Secondly, you'll see within each type, when you click on either category – Vaizle will tell you what tone of voice and kind of content they're posting. For example, funny GIF's might exist, or short customer testimonials in a video format.
The next tab is a sort filter to judge content on metrics of engagement, applause, amplification or conversation.
When writing up content or a campaign, the team would have a goal – either to gather likes, or shares, so on and so forth. For example, if you want to run a competition where you're looking for people to tag other people/engage their network with the brand, you'd look for "filter: Photo, sort by: Conversation" – this will show you posts that lead to comments on social.
Vaizle's tool helps you further filter by these metrics so you can see, learn, assess and implement a strategy that works for you based on historically proven data.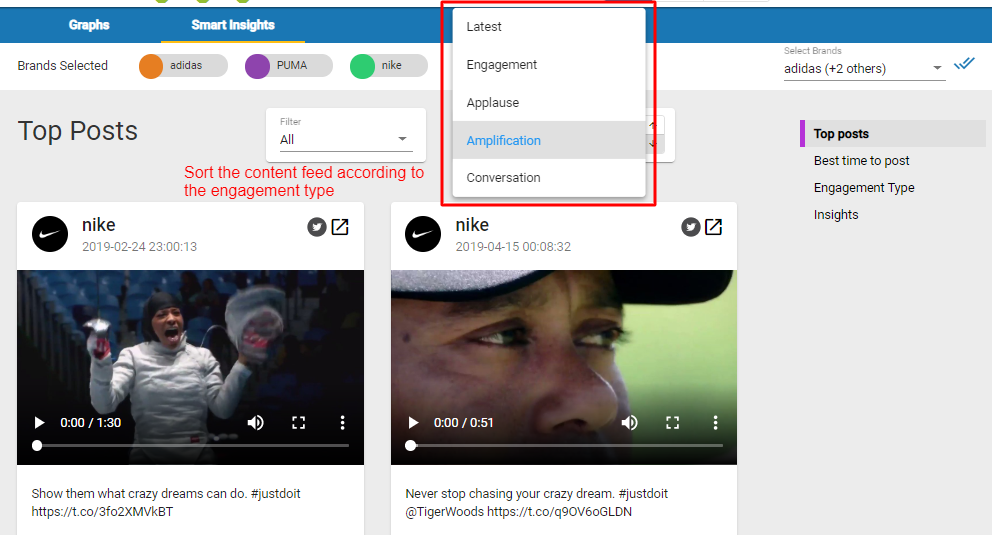 With Vaizle, you can understand which message and visuals worked successfully in the recent past for you as well as your competitors.
When: The best time to post
This feature of the Smart Insights section is your gateway to creating content calendar. Just with a single click.
On the right side, click on the Best time to post tab.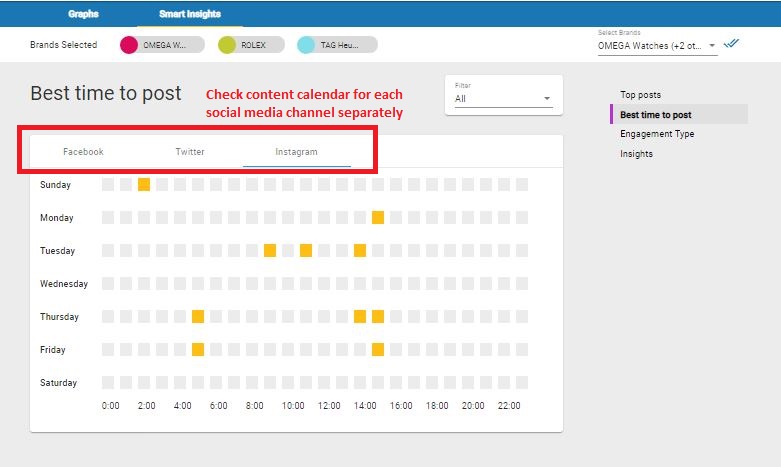 As you can see in the image, the best time to post is available for each social media channel.
This is extremely helpful since every platform does indeed like it's own organic content. Unfortunately, due to 'linking' our Facebook with Twitter with Instagram – we post the same content on all platforms and hope for the best. This tool by Vaizle breaks down that thinking to encourage a more organic content on each channel, with targeted messaging and, potentially, different graphics too!
You can use this feature for two objectives:
To understand when your competitors are posting and secondly when are the gaps where you can post. It works on both ends, either you can ride the tide with your competitors and post at similar times.
To fill the grey areas where the box isn't yellow by posting in those times. This is already helping Vaizle's customers to gather their own insights.
However, that's still not the best part.
The best part is you can get this content calendar to drill down to a certain content type.
Trivia: Segregating content in the best time to post section according to a content type is one of the features which was built from our customer feedback. One of our customer asked this question, "How do I know if I received the engagement because of the time I posted or because of the content type?"
This helps you time your content to the platform in a manner wherein your audience is receptive, as per historical data. Content type breakdown give you the ability to experiment with our audience and understand what they are responding to.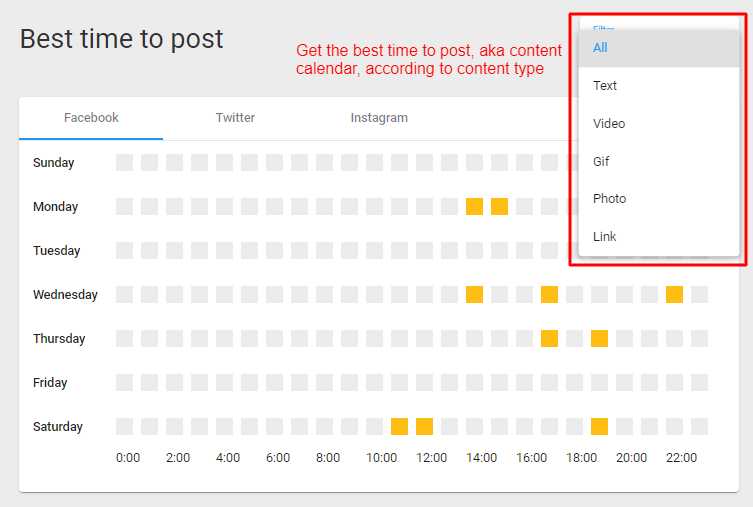 So essentially, with this part of Smart Insights you can time your posts better. Specifically, you will be able to post content when people are ready to pay attention.
How: Breaking Down Engagement & Discover Actionable Insights
Breaking Down Engagement
You have often tried to create engaging content. But what did engagement meant for you?
Did it mean likes? Or shares? Or comments?
Vaizle gives you a breakdown of all engagement into three categories:
Applause: A sum of all likes and reactions
Amplification: A sum of all shares and retweets
Conversation: A sum of all comments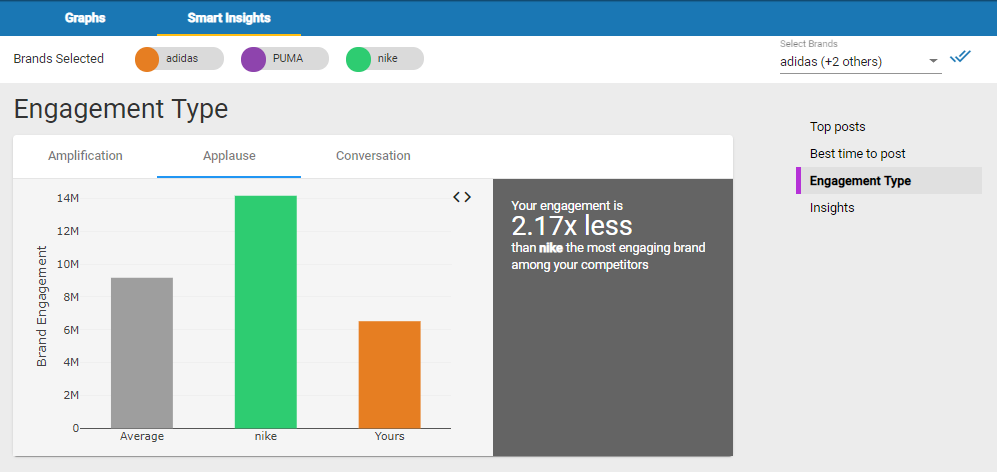 Using this as a guide, you can create benchmarks for each engagement type. So the next time you embark on a campaign where you want to get more responses on your content, see which competitor is outperforming you in conversation.
Then you can go back into top posts section again and see what's the competitor's most conversational content. Is it an inspiration video? Are they doing contest? Moreover, you can go to Insights section to see which content is contributing to each engagement type.
Moreover, you can choose only the social media channel you want to focus on. You can even use a combination. For instance, if you're only active on Facebook and Instagram, you can see smart insights for only those two channels combined.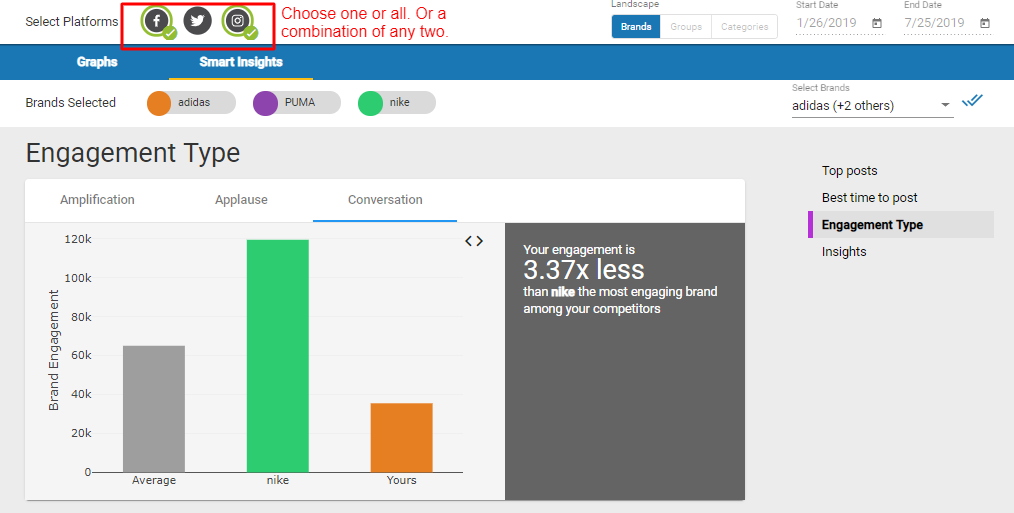 Actionable Insights
Now that you have spied no your competitors, seen the top performing content, and done engagement breakdown analysis, you need to add fine touches to your content.
When you start creating copies for your social media posts, start by creating a copy table.
Here's how I do so.

I create this copy sheet in my social media strategy and refresh this every week or month depending upon the result.
I am confident following this will help you write your copies better.
Apart from this, there are also platform specific insights. For instance, Twitter gives you optimal video length you should post. And the most responsive brand among all your competitors. Once you know this information, you can drill down more into the Twitter analytics section to get more data on brand responsiveness.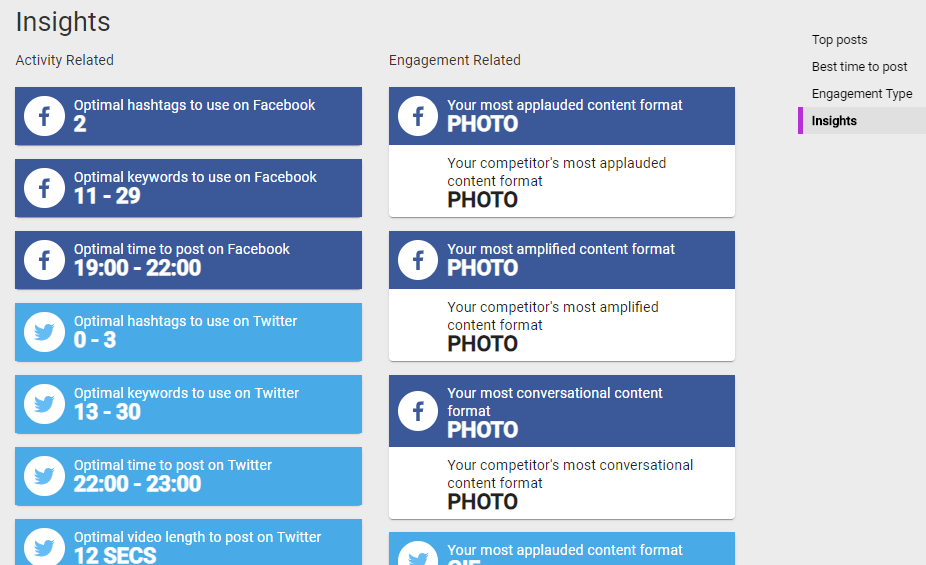 In the engagement breakdown section, remember how you could see the lag for all engagement types?
Insights tab builds upon it. Basically, you can now see which content type is contributing to each engagement type for you as well as for your competitor. And then further, you can go again into top posts section to build your analysis on it.
Conclusion
To sum up, this entire segment exclusively provided by Vaizle, this is a powerful ammunition for everyone that touches social media of a brand. Using Vaizle as a trusted source, everyone can modify their content, experiment with content types and lastly, make the audience love the brand by being present when they are.
This tool was created with a lot of thought and the presentation, as simplistic and minimal as possible to give you the most accurate, updated information in a way that's easy to consume.