How to Track Social Media KPIs that are Meaningful to Your Clients
How to track social media KPIs that are meaningful to your clients
Many social media managers waste too much time monitoring social media analytics but neglect to track the KPIs that are truly important.
It's difficult to choose just a few social media KPIs to focus on when there are so many different data, statistics, and metrics to consider.
That's very understandable. However, as usual, we are here to assist.
In today's post, we'll go through how to choose social media KPIs and why they're so crucial. In addition, we'll show you 10 social media metrics to pay attention to.
How to Set Social Media KPIs
First of all, KPIs should never be vague. They should meet the SMART criteria and be Specific, Measurable, Achievable, Relevant, and Time-bound. This means you should include precise, realistic numbers or percentages, and a set time limit to meet them.
Secondly, you should always talk to your clients to make sure you're on the same page about the KPIs they want to track and the metrics that are meaningful to them. This will be different for each client and should align with not only their broader marketing objectives but their overall business goals.
Thirdly, you should track KPIs diligently and focus on the most relevant ones to avoid clutter in your data. Each social network has different metrics to measure performance: so instead of trying to measure everything, pick a few important ones to focus on.
Here's an example of a social media KPI:
"Increase Twitter follower count by 20% by the end of the second quarter."
This is a great KPI to improve your client's performance on Twitter. It's specific, measurable, and has a deadline.
By the end of Q2, you'll be able to say for sure whether you've met it.
With Vaizle, you can create customized dashboards where you can track all your client's KPIs in one place. In the dashboard, you can add the relevant metrics that will tell you if your KPI is on track.
The top 10 social media KPIs to track are:
Now let's look at these top social media KPIs you should be tracking as a marketing agency in detail.
1. Social Media Followers
The number of Followers for your brand is a basic audience metric that you should be tracking to monitor your client's following over time.
It's most meaningful when put into context by comparing it to the following of your client's competitors in your social media report.
While this metric alone won't tell you everything you need to know, it's good to keep tabs on the accounts vying for the same audience's attention.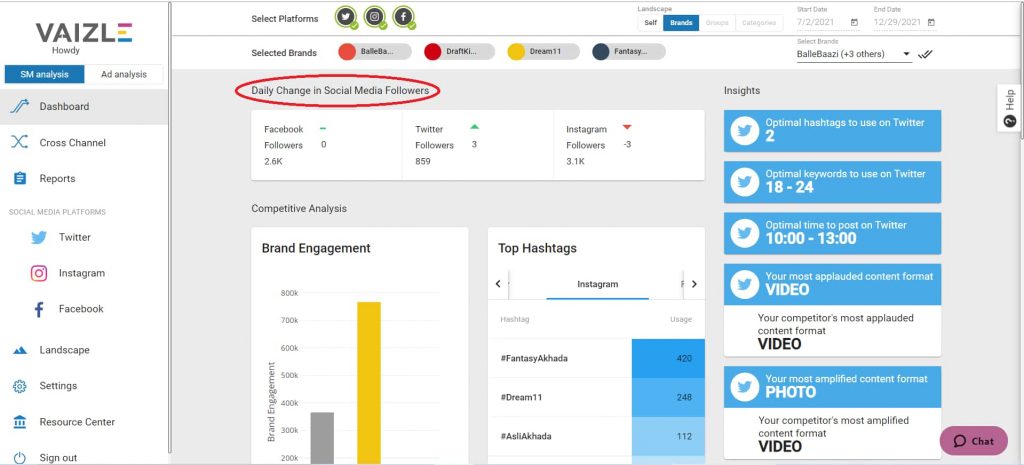 Easily track your total followers and any gain or loss of followers on Facebook, Twitter and Instagram using Social Media Analytics Tool like Vaizle.
2. Fans/Followers Change Rate
A great metric to reflect your performance on social media is Fans or Followers Change Rate.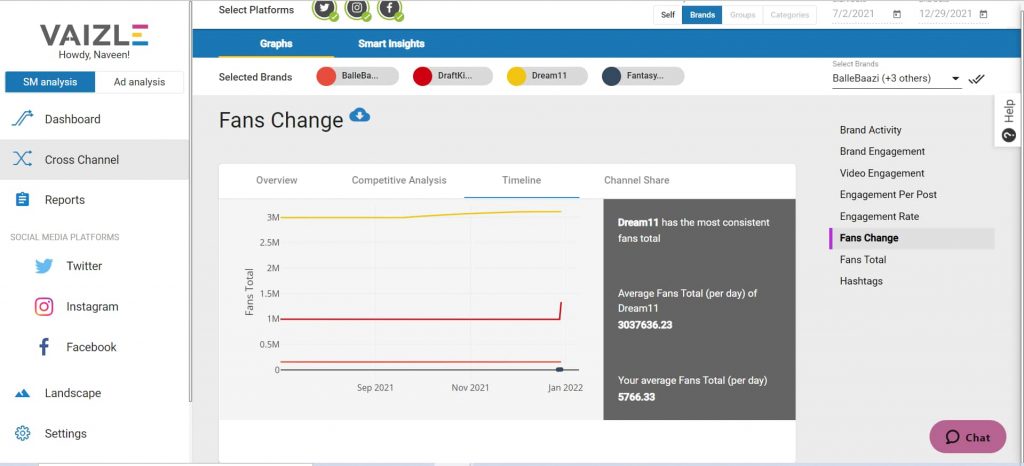 Your clients may be looking to grow their following on a specific channel because it drives the most traffic out of all their channels and gets them the most engagement.
To monitor your progress toward this goal, set a KPI to increase the number of fans/followers by a certain percentage, within a timeframe.
For Instance the KPI can be: "Increase the tally of Instagram fans by 15% within the next 3 months."
Fans Change Rate lets you see the increase or decrease in Fans as a percent over time. This way, you can compare smaller and bigger accounts side-by-side.
You can measure this easily with Vaizle as shown in the image:
3. Brand Engagement
Tracking Engagement is fundamental to identifying the posts that your followers find the most engaging.
Once you've pinpointed them, you can optimize your strategy to include more of the same kind of posts, and increase your overall engagement.
Depending on the social media channel, Engagements can include a lot of different things, from Likes to Reactions, Comments, and Shares.
With Vaizle, you can do a simultaneous comparison for top Social media platforms Twitter, Instagram, and Facebook. To find the posts that garnered the most Engagement in a certain period, take a look at the "Brand Engagement" tab under Cross Channel as shown in the image below –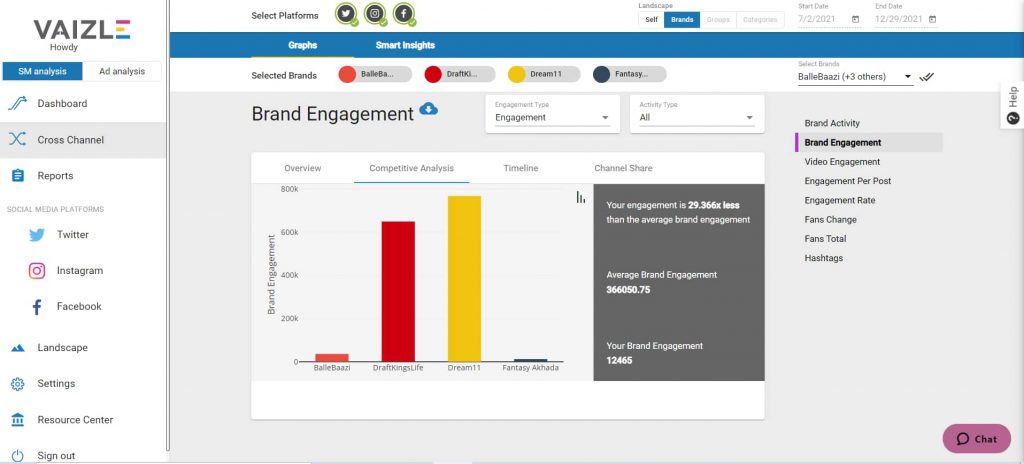 Engagement Rate
Another useful metric to track is Engagement Rate.
This tells you how pages perform based on Engagements earned relative to their size over time.
If your client wants to increase their Engagement Rate but you're not sure what would be a good goal to shoot for in their industry, you can benchmark your performance against their competitors.
For example, you could set a KPI such as:
"Outperform company X in Facebook Engagement Rate for at least 15 days in the next month."
Using the Engagement Rate metric, you can compare profiles of different sizes and even against industry average as shown in the image –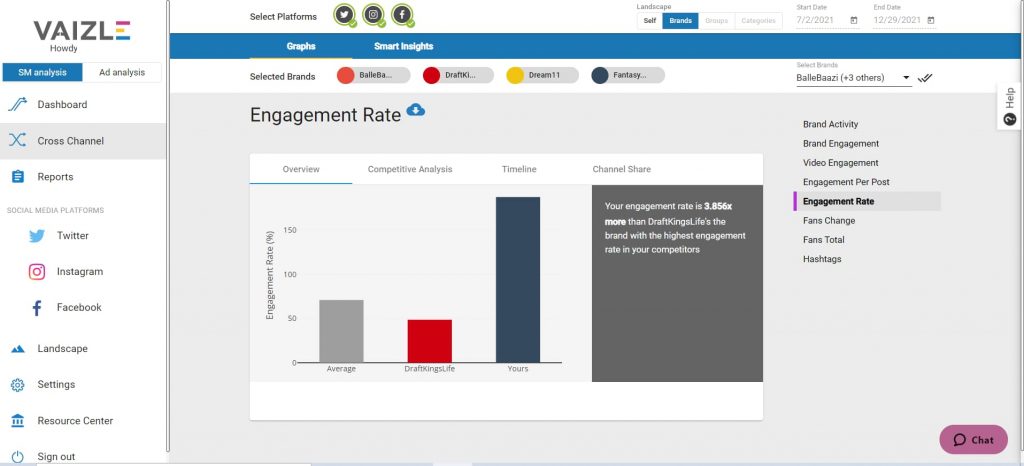 Tracking Engagement Rate on social media channels using Vaizle. This graph shows that Engagement Rate for Fantasy Akhada is 3.856x more than DraftKingsLife's the brand with the highest engagement rate among the competitors during the last six months.
5. Engagement Rate by Post Type
If you want to know what types of content are earning your clients the most interactions, track engagement by post type through 'Engagement Content Division' using Vaizle as shown in the image below: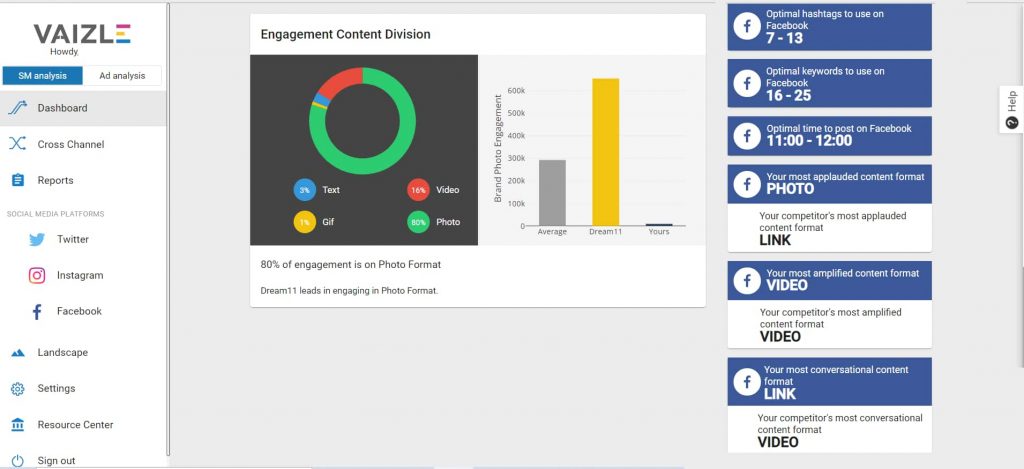 To get truly valuable social media insights, compare your client's account to their competitors' accounts and see their performance for each post type.
If you see that one competitor seems to get a much higher Engagement Rate for a specific post type, look at their posts and see if you can figure out what makes that post type particularly attractive to their followers.
Tracking Engagement Content Division by post type using Vaizle.
When it comes to Photos, Dream11 gets the highest Engagement Rate. All the insights from the graph are mentioned in plain English on the side for quick and easy evaluation.
6. Brand Activity
By comparing the Brand Activity of the client and their competitors in one graph, you can analyze the number of posts published in a selected time frame, complete with social media competitor analysis and industry average brand activity broken down by weekday.
The higher the spikes, the more posts were published at that time, hence higher the chances of engagement they had.
This allows you to pinpoint the best time to post on social media based on not just your client's performance but also that of competitors.
Since this metric also looks at comprehensive Brand Activity on all leading platforms, you can use it to compare engagement between posts on different social media platforms.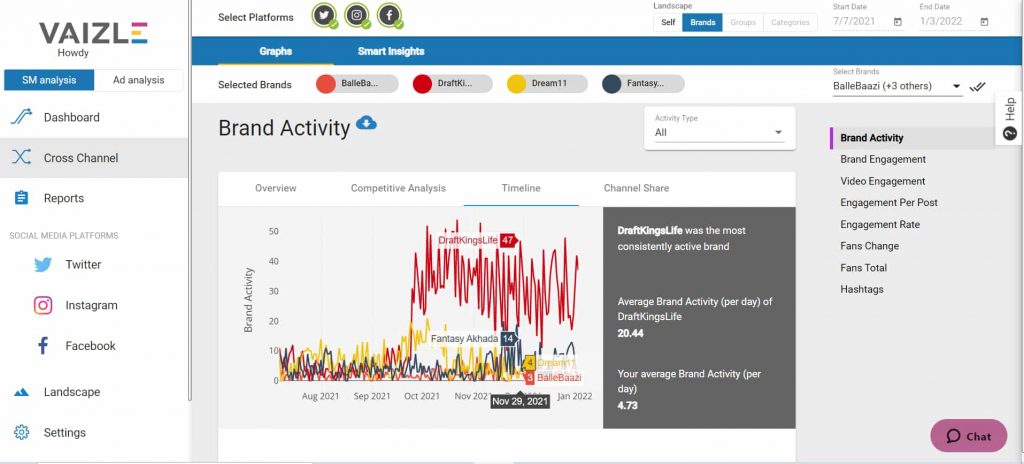 7. Engagement type
If you want to dig deeper into exactly what types of Interactions your client's posts and their competitors' posts are getting, track Engagement Type in Smart Insights feature of Vaizle.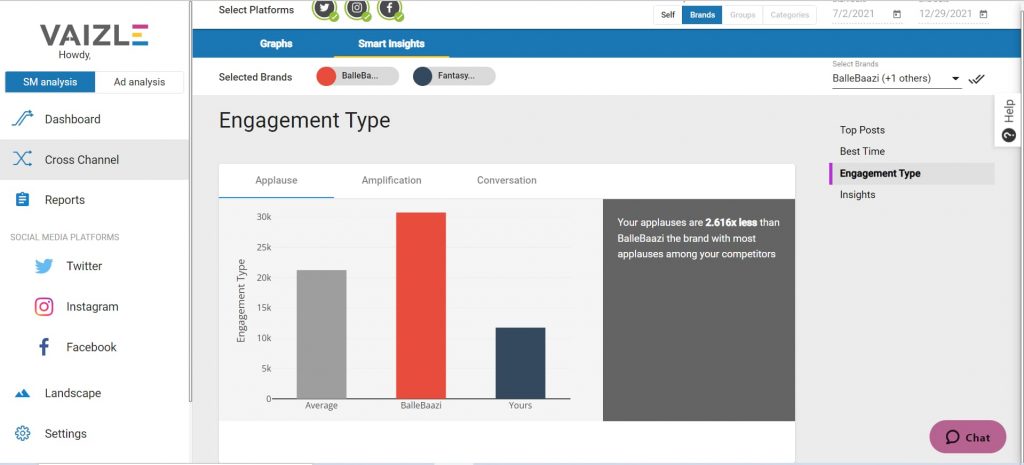 Some clients may be satisfied with their overall Engagement Rate but may want more valuable interactions, such as more comments and shares as opposed to likes.
In either case, you can use Engagement Type to inform your KPIs.
For example, you could set a KPI like: Increase the post applause by 10% by the end of the quarter.
8. Best Time to post
Your every successful competitor has a data-driven plan for posting that calculates the best day and time to post.
Even the most stunning social media postings won't help your business if they aren't shared at the correct moment.
Posting content when your target audience is not active on social media will only lead your post to be lost in the timeline. To get a better shot at capturing the attention of your audience, plan to publish during high-traffic hours. Designing a social media calendar is going to go a long way.
Identifying the best time to publish on social media (as well as how frequently you should post!) will help you expand your reach and engage more of your followers, and it's simple to do in just a few steps with Vaizle.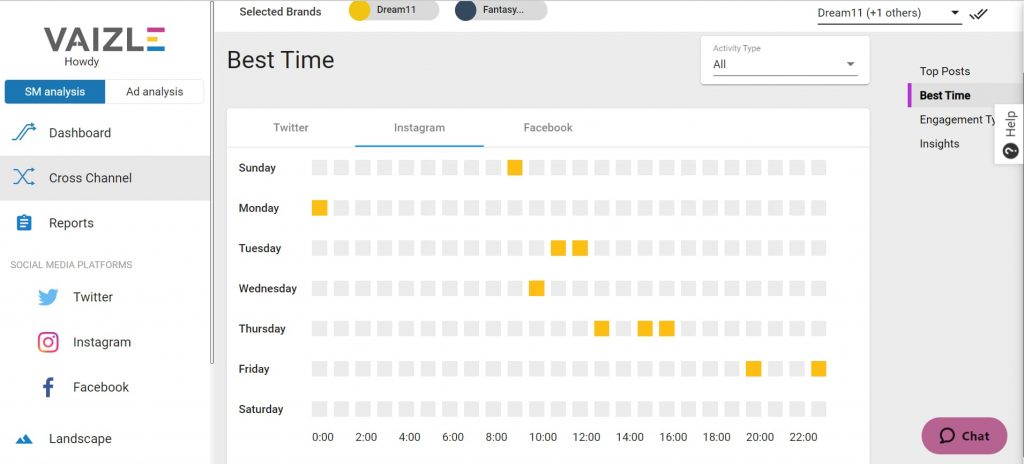 Thursday is the best day to post on Facebook and the best time to post is 9 a.m. for most of the days in the week.
9. Hashtag detection
Hashtag detection gives you an overview of the hashtags your tracked accounts used in their posts in the selected time period.
It helps you analyze in your social media report, how competitors are using branded and non branded hashtags as part of their social media campaigns, and how their posts performed.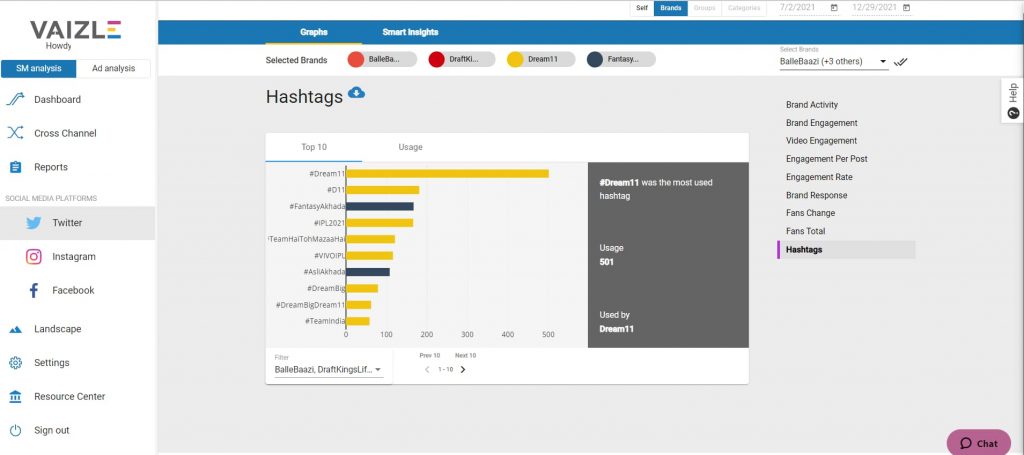 Top Hashtag detection for self and competitor brands on Twitter, Instagram and Facebook using Vaizle.
For example: Optimum number of hashtags for Facebook posts is 7-13 hashtags for one of our client.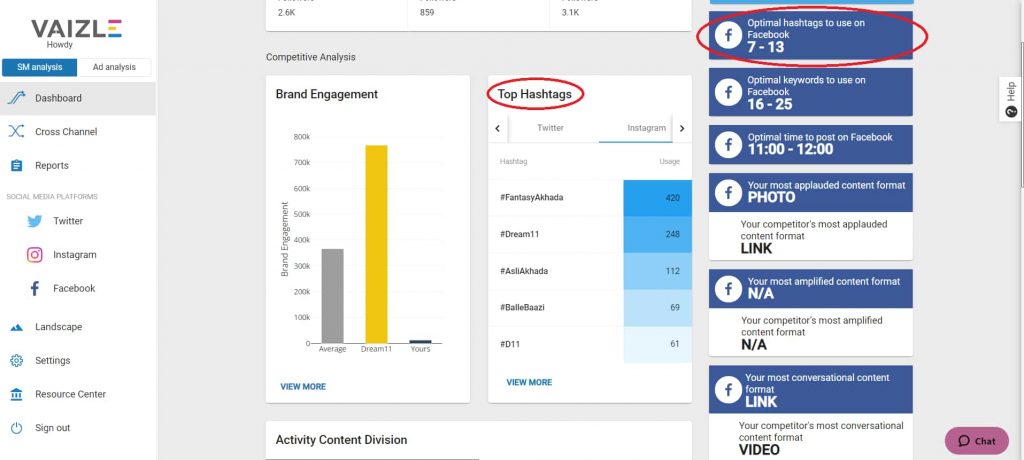 10. Top posts
It's important to analyze each platform individually, but don't forget about the bigger picture.
Looking at all your client's social media channels can help you pick out weaknesses and strengths in your campaign. If Instagram is performing well, you may want to improve your client's performance on Facebook to match it.
Alternatively, you may want to double down on the most successful channel. You can't optimize everything, so you'll have to make choices. You can use a Cross-Channel analysis metric of Vaizle like Top Posts to do this.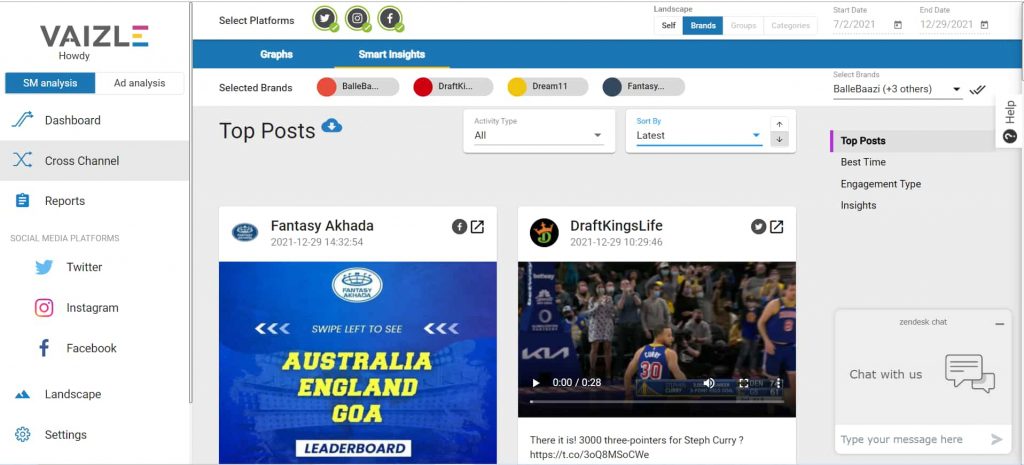 Conclusion
When choosing the right metrics to track, remember that each channel has unique performance indicators that you may want to keep an eye on.
For example:
Twitter: Mentions, Retweeted Tweets, or User Questions
LinkedIn: Followers Breakdown by Job Function or Company Size
YouTube: Subscribers or Video Tag Performance
Facebook: Views, Shares, Likes, or Comments
Instagram: Engagement/Views, Likes, Comments, or Clicks on CTA
Once you've identified KPIs and set up metrics to track them, you have to measure, improve and optimize your performance.
When your KPI deadline arrives, you must evaluate your performance.
If you hit the target, try to understand what tactics helped you achieve it. If you missed your KPIs, figure out what went wrong through an easy and precise SWOT Analysis using Vaizle.
This helps you set a new round of KPIs and improve your performance.