How to do Social Media Audit: Competitive Analysis
In this series of blog posts, I share with you methods to perform social media audit for free. In this part one, I discuss social media competitive audit.
---
It takes a lot of time and energy to build a social media strategy. After you start implementing that strategy, you need to make sure that you are going in the right direction. The best way to do that is to perform a competitive social media audit.
Competitive social media audit? Sounds complex, doesn't it?.
But actually, it's easy if you know how to do it. Nowadays, with the help of social media auditing tools, you can perform your competitive audit within seconds. As we have already discussed in social media benchmarking guide , competitive audit will help you create the right benchmarks for your social media performance.
What is a competitive social media audit?
Competitive social media audit is a technique which helps you identify how good or bad you are performing on social media as compared to your competitors.
But why do you we need social media competitive analysis at all?
The text in bold letters, casual it may seem, is the crux. Self-audits, as you will see in the next part, only compares 'you' against….yes, you guessed it right, against 'you'.
It's only in the competitive analysis that you start creating a holistic picture of your social media performance?
How's social media self audit different from social media competitive audit?
Let's assume on a performance scale of 1-100 (1 being the lowest and 100 being the best), if your performance was 25 last month and is doing 35 right now, it might seem of jump of 100%.
But practically, it doesn't tell you anything. For instance, it doesn't tell you:
Why did the performance increase?
Is such performance jump high or low? What's the benchmark?
Did every competitor brand also posted such jump?
And the last question is specifically important. Self audits doesn't take competitors into account.
Social media competitive audit (or competitive brand audit) will help you decide whether you need to change your social marketing strategy or not.
In this article, I am going to show you how you can perform a competitive social media audit in 4-simple steps for free.
How to do Social Media Competitive Audits?
Step 1: Identify your competitors
You know the one question we never anticipated while launching Vaizle:
"Does your tool also tell who's my competitor? And how can I find my true competitor?"
Notice that word "true".
It's an enigma. Downward spiral. Because most people just settle with those competitors they can see or settle with the first few names they find on the search engine.
On social media, essentially everyone is your competitor. Because all of us are trying to get a person's limited attention.
But that's I topic I will reserve for another day.
The point is choosing the right competitors is the key to the whole process.
You can start by asking how many competitors you should choose. In general, 3-5 competitors are enough when you are auditing once a month. But if you are auditing weekly then one competitor will be sufficient.
Try to possibly bring diversity in the competition you're selecting.
For instance, if you're a national clothing brand, and trying to choose 5 competitors for social media audit, you can select your competitors like this.:
Two dominating forces on the national level
Two competitors who you're competing with at state or regional level
Or maybe one at the city level
Here's the logic behind this. They are all competing with you at some level and if you just choose the top names of the industry, you're missing the whole picture.
Tip: Try choosing all competitors as direct competitors – competitors operating exactly in the same industrial domain as yours.

Step 2: Identify social media channels
Once you have a list of the competitors you want to audit. Next step of the process is to identify which social media channels you should audit. Not all your competitors are active on all the platforms.
By the way, this process can also be a step in your SWOT analysis: Strength, Weakness, Opportunity, & Threat.
You might want to audit only those platforms on which your company is active. However, this is completely up to you how you want to approach this.
But in my experience, auditing those social platforms on which you are not active but your competitors are may open up new frontiers. And give you new campaign ideas.
Tip: When you are doing cross-channel analysis (combining data of all social media platforms), only add those platforms in your audit on which you and every competitor is active.
Step 3: Decide metrics to measure your audit
Some metrics should always be in an audit, even though your objective varies.
For instance:
Brand activity
Engagement
Total fans, or
Change in fans
I've seen people going after either all the metrics or trying to be choosy just so they can reach a specific result.
Tip: Don't forget to include top performing content and content types in your audits. It will help you create a better content strategy for social media.
Step 4: Perform competitive social media audit
You can try some social media audit tools if you want to make it quick Some inherently have competitive analysis built in them, but with others you can audit one brand at a time.
Here are some popular competitive analysis tool for social media:
With these tool, you can do competitive audit exercise in less than 30 minutes. 60 minutes at worst.
If you don't want to spend on paid tools, you can get these audits using some free competitive audit tools.
Here are two of them.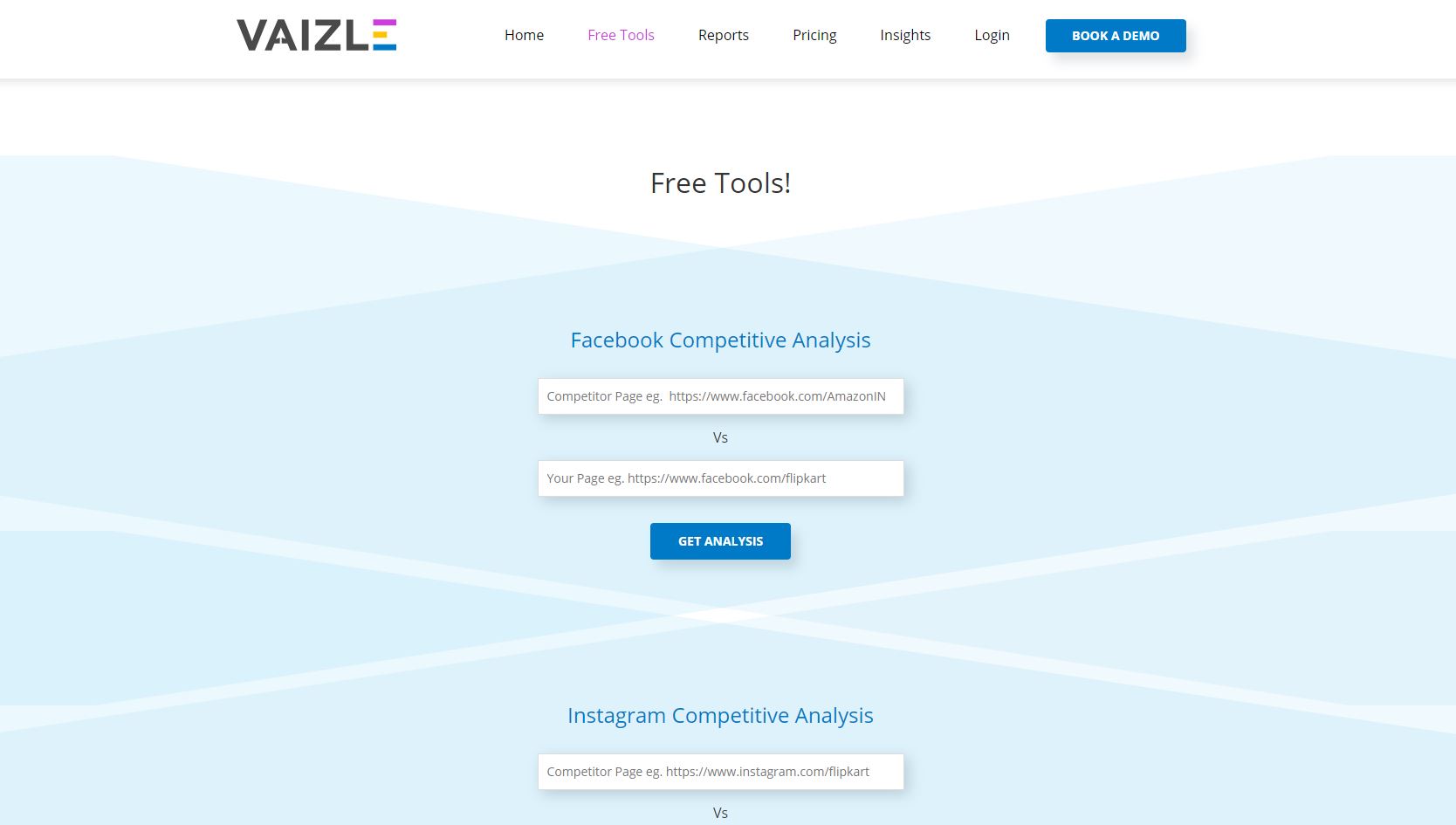 With Vaizle's free auditing tool, you can do a quick competitive analysis with any one of your competitors.
Select the social media platform you want to perform the audit for. Vaizle allows you to do that for:
Then enter your and your competitor's social media page URL and click get analysis. And you will get a comparison of your performance versus your competitor's performance.
Vaizle will give you a week by week analysis of last 28 days of the data. You will get data for brand activity, brand engagement, and most successful content. This audit will help you decide what type of content you should post on your social media channels. It will also give you brand engagement breakdown for any specific platform.

Socialbakers provides a free competitive audit for Facebook and Instagram analytics. There is another tool for Facebook ads performance prediction which can help you decide how much you need to spend on Facebook to achieve your goals. It also provides free twitter analytics tools.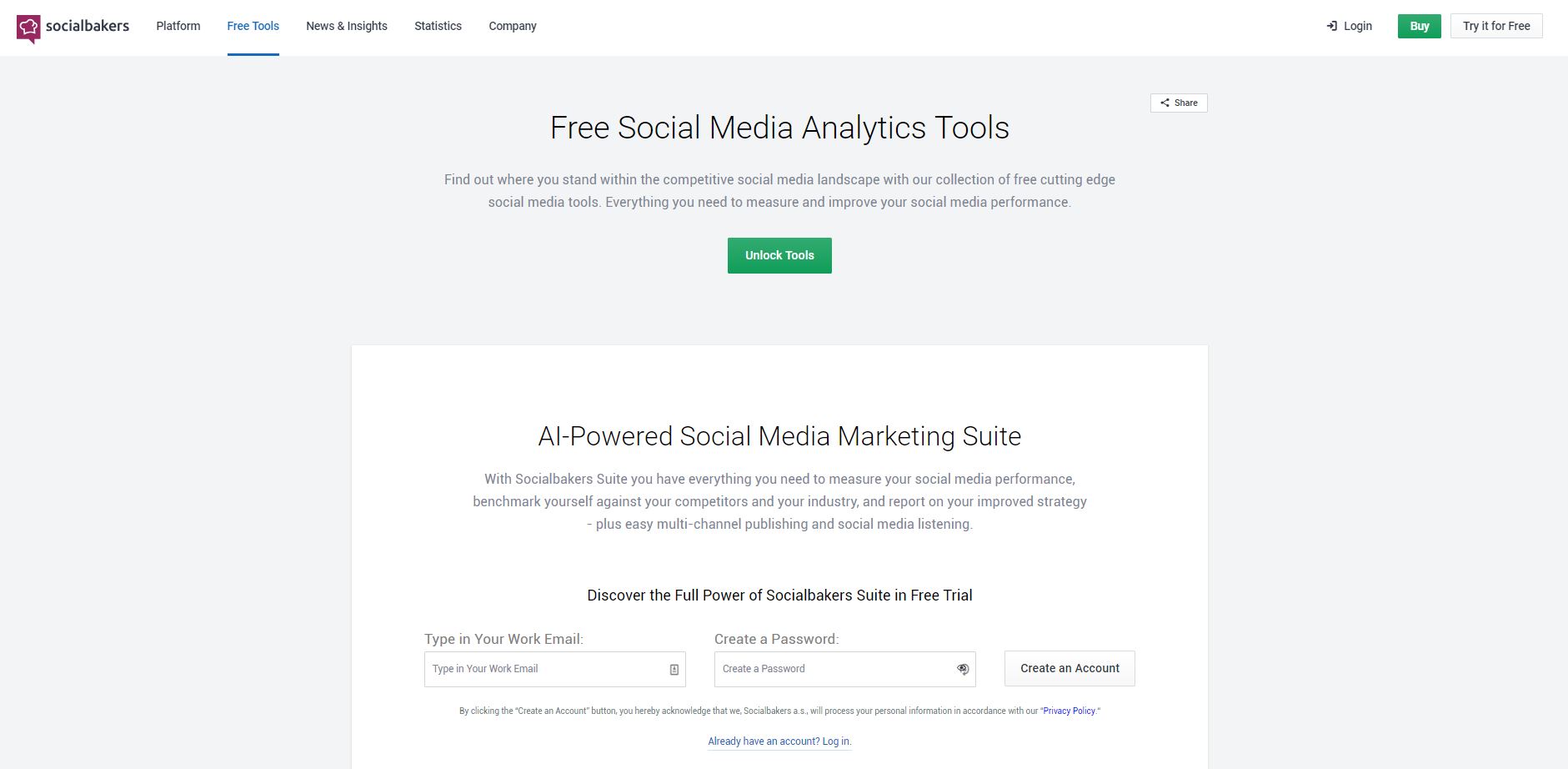 To get started with audit, you have to click on unlock tools and fill the required details.
Once, you had filled the form then you can select the tool you want to use. After selecting the tool, you can enter the URLs of the account. Once you enter the details, it will give you data for brand activity, brand engagement, and brand response.
Pro: Report will be emailed in the PDF format.
Tip: You can only compare two competitors at a time using these free tools. To get a comprehensive analysis you have to enter this data manually into excel sheet.
That's how easy it is.
Conclusion: Competitive social media audit examples
Before I end this article, I wanted to show you some of the best social media competitive audit examples I could find:
I am sure if you look on the internet, you will find even more. And better so.
You can be as simple or as thorough as you want. Even if you're doing a brand's social media audit, competitive audit has got to be a part of it.