A Step-By-Step Guide For Creating A Facebook Ads Report
As a marketer, you cannot deny the importance of Facebook ads for online businesses. TBH, it is one of the most popular digital marketing tools for devising a successful social media strategy.
Facebook ads performance report is the best way to show your ROAS on your Ad campaigns.
As good as it sounds, running Facebook ads, ad campaigns, and ad sets – demands a lot of time, effort, and energy! Keeping track of different key metrics, measuring performance, setting budgets, optimizing campaigns – there is a lot on your plate!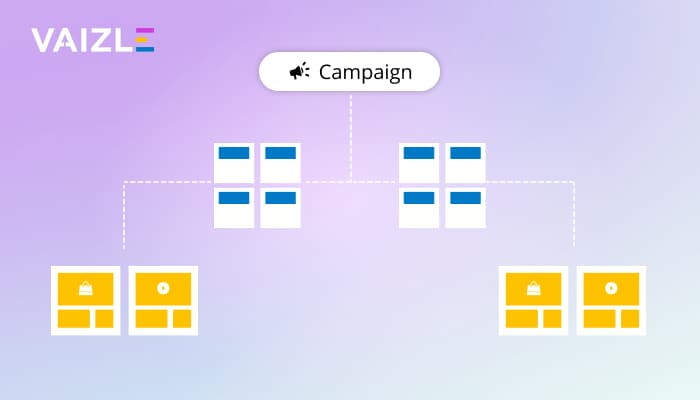 Well, that's just the tip of the iceberg!
The hardest part of all is to present and report these crucial data and insights to your clients in the simplest and easiest way possible.
As strenuous as it sounds –we understand your pain!
Dismiss all this hassle, tension, and pressure of Ads reporting by automating the process.
Facebook ads reporting allows you to track your ad campaigns, automatically represent marketing insights, optimize your performance, and display your Facebook Ads data with comprehensive report templates.
Customized Facebook ads reporting helps pull the right report from the confusing functionality of Facebook Ads Manager – and makes it easy to visualize your marketing activities and read Facebook ad insights pointing to the most important social metrics.
Intrigued to know how to create personalized Facebook Ad performance reports? Hook onto this blog – and we will take you to step by step to creating personalized, creative ad reports.
Things To Keep In Mind While Creating A Facebook Ad Report
Now before you jump onto outsourcing your Facebook insights into reports – there are a few steps that you have to follow to come up with a customized ads report.
Find the Best Suitable Facebook Ads Template
Provided the complexities of Facebook ad campaigns, its confusing functionality, and a sea of metrics and data – tracking, analyzing, optimizing, and reporting them manually is gruesome.
Most marketers feel dizzy and overwhelmed with the process.
Did you know?
A marketing agency spends an average of 44 hours a month on client reporting.
It's an utter waste of time, manpower, and energy!
But working with a custom Facebook ads report template can automate this process and make reporting much more effortless.
Facebook ads reporting tools to power you to automate the process of gathering data on key metrics and generating graphs and charts – so that you can focus on analyzing the result and provide valuable insights to your clients.
With a custom Facebook ads template, you can visualize the whole picture of your Ad performance (in one place) and focus on the parameters that are important to you and your clients. Not to mention the ease of measuring Ads performance while saving time.
The whole idea of using Ads reporting Templates is to simplify ads reporting!
No, we are not degrading the already established Facebook Ads reporting dashboards. They are just fine. But they have certain hanging drawbacks and limits, which restrict the marketer from showing the success of their ads campaigns in the clearest forms.
To help you choose a functional ad reporting template, there are a few crucial things that you need to keep in mind:
The Ads templates must be optimizable to your needs and preferences.
The charts and graphs on the template must be customizable.
The report must have predefined custom metrics and KPIs as per your needs (If not, it should be easy to add)
Should be able to create your own metrics
Must be easily shareable with your team and clients
Vaizle's Facebook ads reporting tool ticks all these boxes perfectly! With Vaizle's Facebook ads template, you can create your own custom report and present it to your clients in the best light. You get a variety of template options and color schemes to decorate your ad report template creatively and in a vivid way. This takes away the boring process of creating reports – and makes them fun and easy to prepare and look at.
Vaizle's Ads reporting templates also give you the option to add and edit your brand name and logo in each report template. This adds personalization and weight to your reporting – and brings a feeling of trust and authority among your clients.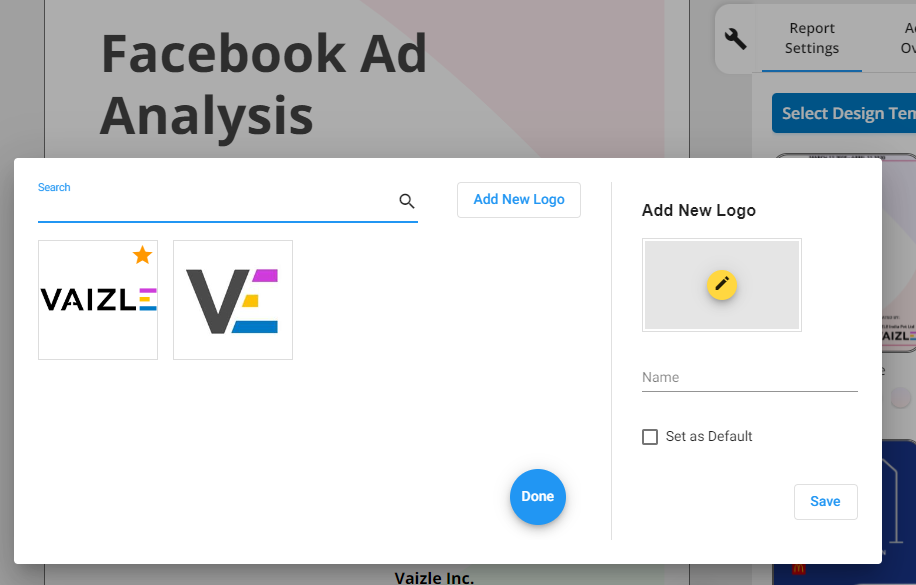 Also, there is a separate note section at the bottom of each template report. You can add your notes, insights, and references for the respective analysis on the page to help the client understand the performance and ROI of the Ad campaign better.
Grasping Crucial Metrics on Every Ad Level
Since you are managing Facebook ads, you have to manage and analyze them on every level, i.e., campaign level, Adsets, and Ad analysis. Each campaign has a specific objective and must be tracked to ensure the ads are generating traction and attracting the right users.
To give context, measuring and analyzing Facebook ads on each level helps you understand your audience better and know which ads are performing best (and which are not!). Based on these invaluable insights and findings, optimize your Facebook marketing strategy and make ad campaigns more specific and targeted.
Now before you jump onto Facebook ads reporting with every metric under the sun, you need to lay down your business goals. Once you have them on paper, the next step is to choose the right metrics that measure your ads performance rightly and help understand your progress toward reaching your marketing goals.
Every business is different, and so are its goals. And accordingly, metrics that represent these goals are also different.
But a few metrics are crucial for every business (no matter your business goals). You must track and analyze these metrics to get a comprehensive picture of your paid ads performance and then allocate marketing dollars reasonably.
The crucial metrics are:
Periodic analysis on your Facebook ads helps you analyze ad data for a specific period, mine the patterns, and search for propositions in time-related data.
Facebook ads performance is required to be traced daily, weekly and monthly, and keeping track of your ads data on a periodic basis is really helpful in determining the steps of campaign success.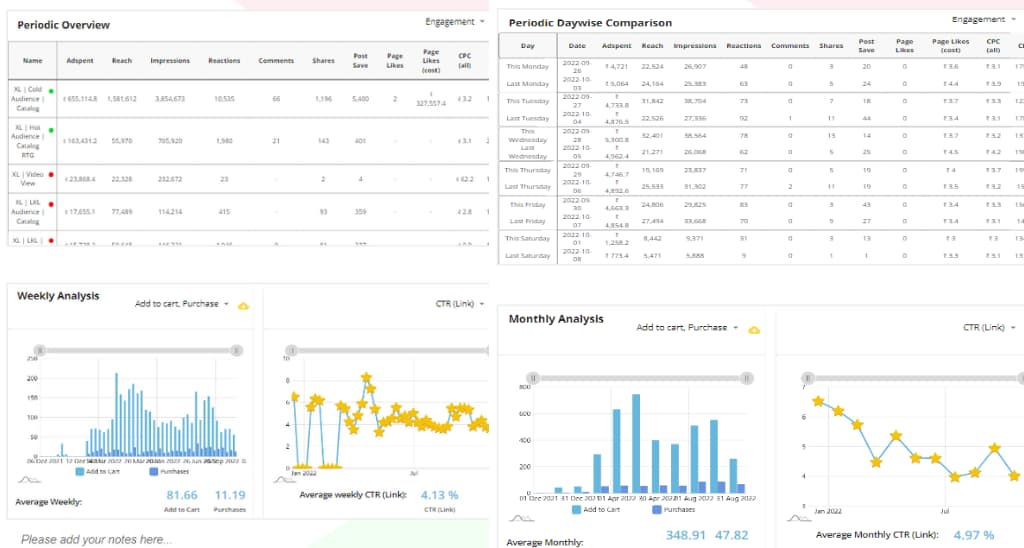 If you don't know your audience properly, your marketing efforts and dollars and simply washing down the drain. The essence of a successful ad marketing campaign (or, as a matter of fact, any marketing effort) lies in knowing your audience, their demographics, analysis of placement to determine the most engagement and link clicks, platforms share like Facebook and Instagram, and their behavior – which aids you in targeting them with ultra-specific ads and creatives.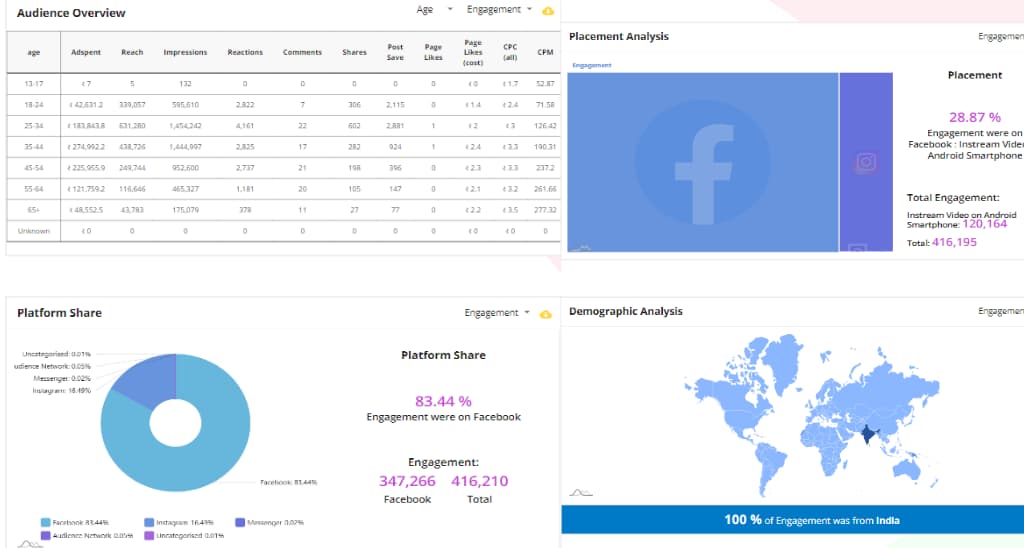 Ad Spend analysis helps you analyze ad spend data and ROAS. Tracking this data allows marketers to know which ad campaigns, ad set levels, and creatives are providing the highest returns on their investment.
Tracking and reporting these insights help to optimize marketing budget strategy. Based on the reports, you can increase the budget on Facebook Ad campaigns that are performing best and stop allocating money to campaigns that ain't providing many results.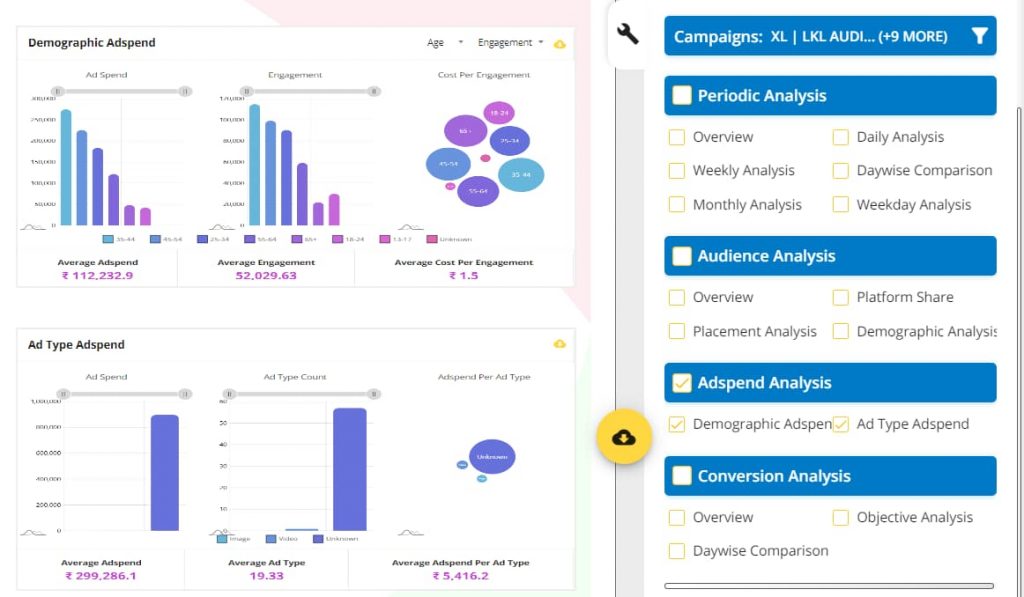 Conversion analysis on Facebook ads helps you know the percentage of viewers who actually turned into customers by clicking or viewing your ads on Facebook. It also enables you to track whether the customers are doing exactly what you hoped—converting—or dropping off through the funnel.
Once you have all these crucial analyses in place, Facebook ad reporting becomes more focused and concise—giving you the scope to track performance better.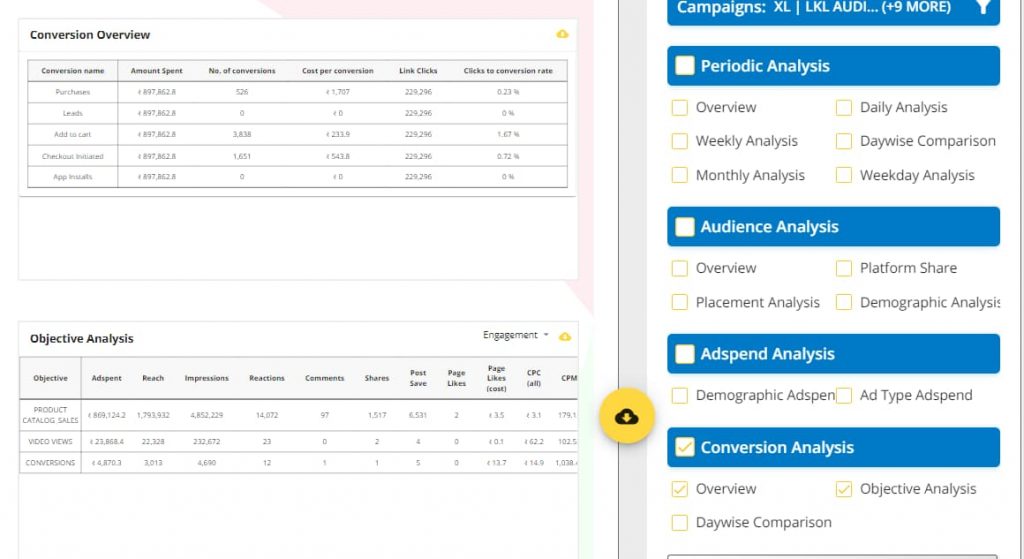 You have Vaizle's Facebook reporting tool handy to quickly analyze all these metrics data and more in one simple click – and transfer these insights directly into your reporting template.
That's not all! With the Facebook ads reporting tool, you can track your ad performance on every Facebook Ad level. Using this data, marketers can uncover in-detailed information and insights into their Ad performance ( on each level) and make better marketing decisions.
Customize Your Ad Reports With White Labeling
By now, you have the template ready and the crucial metrics in place. The very next step of ad reporting is to customize and build your report with white labeling. Customizing Facebook ad performance reports makes them more professional and branded, which adds more credibility with clients.
Use Vaizle's Facebook reporting tool to customize and design the report as per your whims. Add your brand logo and account manager name on each report, and make your reporting more personalized and impressionable to your clients. Along with these, you also have a section for adding notes and insights to each page, which is crucial to making things and analyses clear to the manager or client.
That's All!
As a marketing agency, you have to juggle different clients. And if you think the Facebook ads manager tool is enough for you – you are the sailor of your ship. But the complex functionality of Facebook Ads Manager will throw you completely off-guard (especially if you are new) and make it challenging to present the critical metrics to your client.
Instead, be smart and choose Facebook ads reporting tool where you can customize your ads perfectly and present important information that will help your client understand the campaign progress.
Hope you find this helpful! Thanks for reading!