How To Build B2B Social Media Marketing Strategy In The USA
Reality check: B2B social media marketing is here to stay!
Anyone with the notion that social media marketing is for B2C companies only – you are mistaken!
In fact, as per recent statistics, 83% of B2B businesses practice social advertising and are second in search engines in terms of success.
From nurturing customers, generating qualified leads, and bringing lucrative contacts to flexing your industry influence – social media marketing has a lot to offer to B2B businesses in the USA.
Here is an explanation of how to build a social media marketing strategy for US businesses.
How does B2B social media marketing work?
How can B2B businesses benefit from social media marketing?
In what ways should B2B marketers use social media?
Top B2B Social Media Tools You Need
Examples of great social media content by Top Companies
What is B2B Social Media Marketing?
Social media marketing for B2B is the process of using social media platforms like Facebook, LinkedIn, Instagram, or Twitter to market products and services through actionable, educational content.
Unlike B2C social media marketing, effective B2B marketing demands an altered approach. B2B marketers must be more strategic in their tactics to reach business owners and decision-makers.
Importance Of Social Media Marketing Strategy For B2B Businesses
Did you know social media influences 84% of C-level and VP-level buyers when making a business purchase?
Whether vendors or buyers, social benefits everyone.
Companies all around the world are investing more resources in B2B social media.
The question stands: Why?
Strategic social campaigns can be of great support for different aspects of your business, and they lead to some pretty good results, including:
Improved customer service.
Multi-Channel approach
Boost reputation.
More brand exposure.
Earn trust
Increase market share
Better audience understanding
Improved search visibility
Strengthened thought leadership.
How To Build Social Media Marketing Strategy For B2B?
As enticing as these sounds, B2B social media marketing takes work. Worry not! Here are the steps to craft your social media marketing for B2B in the USA.
NOTE: While building social media strategy for your B2B business, plan for short-term gains and long-term growth.
Align Goals With Business Initiative
Just like any B2C strategy, your B2B social media strategy sheds light on these questions:
B2C and B2B businesses use social media for different purposes. Social media campaigns of B2C businesses are more on driving sales.
But rather than focusing on selling, B2B social media marketing is more focused on top-of-the-funnel marketing, which helps businesses prioritize:
Creating brand awareness.
Educating audiences
Building credibility
Before you proceed with any strategy, set goals and objectives for your B2B social media plan. Don't miss out on the internal goals and objectives of your business.
Locate Social Opportunities
A robust B2B social plan will always have an outline of where the opportunities lie.
Conduct a SWOT analysis to identify your Strengths, Weaknesses, Opportunities, and Threats in this highly competitive landscape.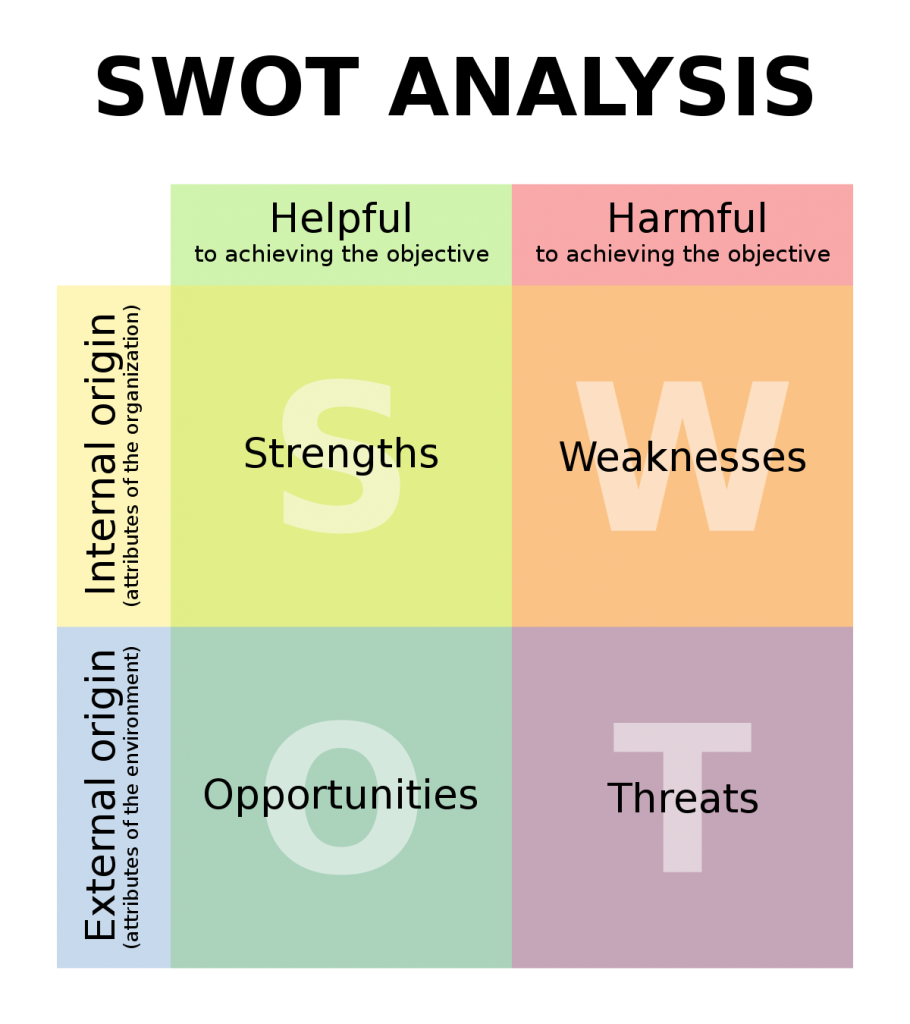 Social listening is another excellent tool for finding opportunities.
Know Your Customers
Did you know: Only 56% of B2B marketers use customer personas to guide their content creation process?
Take this opportunity to build fleshed-out buyer personas for your ideal customers or at least different client categories.
This will help you build more personalized content that speaks to your users.
Use The Right Social Media Platforms
"You should be where your customers are" Ever heard the phrase?
If you're not sure where your ideal customer hangs out, a good approach is to start by looking at inclusive social media demographics. Following that, move on to audience research.
Most B2B marketers (around 96%) favor LinkedIn for social media marketing in business.
IMPORTANT: Different social channels are significant for different businesses, products, and marketers. Take into account the vibe of the social media platform before you make a decision on which platform that suits your business the best.
Find A New Perspective For Your B2B Content
This is a big one!
Surely terms like "finance"," security", or "software" won't entice people to jump off their seats.
Social media marketing in B2B is more concentrated on initiating conversations and then building relationships that ultimately lead to sales in the long run.
The idea is to make your social presence less snooze-worthy, and the best way to do so is by putting out content that doesn't interest them.
Provide content that delights your audiences in some way. Make their lives easier and more enjoyable with your content.
Remember: You are not just curating content for CEOs and purchase officers. Within a few years, younger people will be moving up their ranks and will be finalizing purchasing decisions – so nurturing relationships for the long run pays a lot.
Here are a few ways to amp up your B2B content strategy:
Refine your brand voice
Adapt your content to socially friendly formats
Highlight stories
Stay on top of trends
Embrace employee advocacy
Use Analytics To Track Results
How do you know your B2B social media marketing efforts are paying off if you don't measure your performance with clear KPIs and metrics?
A brainer, analytics is essential!
Track customer satisfaction ratings, engagement rate, response time, impression, and more.
Remember to set benchmarks and realistic goals.
B2B Social Media Tools You Need For Your Business
Not all social media tools will provide you with all the features you need to stay ahead of your game. The tools mentioned below are the top B2B social media tools – where you get everything at your fingertips.
This social media tool gives you a complete picture of your B2B business and an edge over your competitors. From checking social media performance to analyzing, comparing and generating reports – Vaizle can be a fantastic tool for social media marketing in business.
Be it any social media platform, you can easily track your track metrics, most engaging posts, customer demographic, and much more using this tool.
This is another amazing tool for tracking your B2B social media marketing efforts. Learn about your visitors, from where they come, and what they do when they visit your page. Use these insights to upgrade your strategy and boost your marketing actions.
To track how your social media marketing strategy for B2B business is proceeding, Sprout Social is designed to power your entire social media strategy from one tool. Depending on the stage of your B2B marketing funnel has playbooks and tools to maximize content creation, track campaigns, and review your performances.
Their social listening tool is one of a kind and provides insights into your brand's health and industry landscape.
Examples Of Great Social Media Content By Top B2B Companies
Here are some great B2B marketing strategy for social media platforms that will spark your inspiration.
Mailchimp
We all have witnessed how the marketing automation company Mailchimp uses designs creatively to stand out among its competitors. The posts and graphics they publish on social media are filled with colors and interactive graphics. This encourages engagement and enlivens viewers.
On Instagram and LinkedIn, Mailchimp's b2b social media marketing strategy was to share profiles and tips from partner communities. This marketing tactic helped Mailchimp show off the wide range of support and use of Mailchimp cases.
During Covid 19. Mailchimp took the opportunity to highlight how their employees were staying in touch behind the scenes while working remotely. This helped strengthen the relationship with the employees while giving value and ideas to small businesses on how to use the situation for virtual and remote employee engagement.
Truly the results were remarkable!
IBM
The B2B social media marketing of IMB is all about advertising its legacy in the technology industry. And they do it by sharing videos and photos on Instagram of products from the last hundred years.
These marketing tactics creates a sense of trust and credibility among potential customers, and they continue to hold their position as a giant in the industry,
To create a personal connection with the audiences, they also share employee experiences, where they discuss different cloud technologies.
Through their storytelling, IBM integrates the company's brand value surrounding innovation, trust and personal responsibility.
Adobe
With its massive network of content creators, Adobe has a robust strategy for social media marketing in business. They fill their Instagram feed with inspiring user-generated content created and edited using their creative tool.
The idea of sharing user-generated content is lucrative and is also helpful in building customer loyalty. This, in a way, acts as a testimonial for their company.
They also encourage their employees to share posts about the company on social media using EveryoneSocial's employee advocacy platform. This helps expand their social engagement and reach.
Summing UP
Social media marketing in business is not easy! And for B2B business, it is way tougher. But the results you get are truly rewarding. Make the most use of this article and craft a robust social media strategy for your B2B business today!