How Can You Analyze Multiple Facebook Ad Accounts?
If you work as a social media marketer and want a platform where you can manage multiple Facebook ad accounts – you are in luck!
TBH, managing one Facebook ad account is challenging enough (target the right audiences, get engagement, track KPIs, make adjustments, the list goes on…..), let alone piloting multiple ad accounts.
Yes, you have Facebook's business manager! The downside is that you can only see the performance of one ad account at a time if you want to get a quick overview of all your ad accounts.
It gets really overwhelming for marketers (running digital marketing agencies) to function this way.
Obviously, you have to keep a daily check on the performance of all the ad accounts you hold every morning – including curating the respective campaigns – and making tweaks wherever necessary. And to do it while continuously switching between different accounts is nothing less of a time and mood killer!
But that's a thing of the past!
Now with Vaizle cross account analysis you get a quick performance overview of multiple Facebook ad accounts from one dashboard.
Here's how you can achieve it effortlessly.
1. With just one click, analyze multiple ads accounts
2. Keep track of multiple Facebook ad accounts without switching between them
3. Analyze the performance of the ad accounts
How To Analyze Multiple Ad Accounts In Just one Click
Now that you have the good news (no worries about daily logging in and out of multiple Facebook ad accounts) – the next step is to know how as a marketer, you can benefit from Vaizle Facebook cross-account analysis (Scrum).

Monitor Multiple Facebook Ad Accounts Without Going Back And Forth Between Different Ad Accounts

As a social media marketer, you know the effectiveness of Facebook ad accounts depends on how often you track, measure, and improve your marketing strategy.
It's a continuous process and requires daily monitoring.
For marketers running digital marketing agencies, it's frustrating to see the chaotic dashboard of Facebook Business Manager when you just want to check on your account.
You end up wasting time when you do not want to dig deeper and just want an account overview
Designed specifically for digital marketing agencies and freelancers managing more than one Facebook ad account, Vaizle allows you to have a quick performance overview of different ad accounts from a single scrollable screen. And that without the hassle of login in and logout of different ad accounts.
In one screen, you get to view, track and monitor multiple Facebook ad accounts on the go. This saves your time and energy – which you can devote to other important tasks.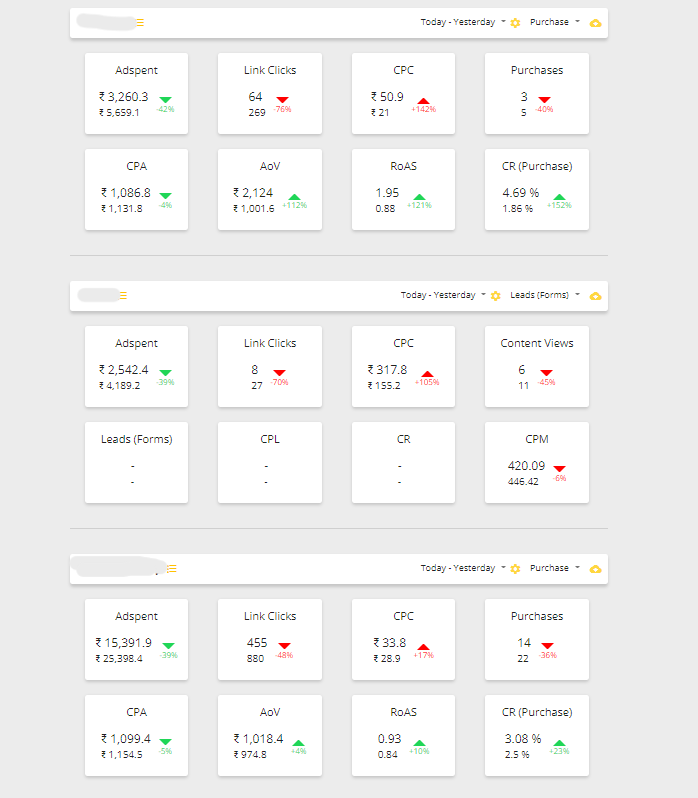 Review Ad Accounts Performances
As discussed, the success of your advertising strategy majorly depends on how efficiently you monitor and frequently adjust the performance of your Facebook ad accounts accordingly.
And with Vaizle Facebook multiple ad accounts analysis, you can do it without losing a sweat.
Review the performances of your Facebook ad accounts from one single dashboard.
This gives you the opportunity to monitor as many Facebook ad accounts as you want, and gives you time to track and optimize their performances – while keeping it simple, quick, and easy for your marketing team to review daily.
Identify Red Flags
Another struggle that most marketers and freelancers face (when managing multiple Facebook ad accounts) is to identify red flags (if any) in their advertising strategy – and acknowledge them immediately.
The sooner you identify the Facebook ad accounts with dipping performance, the easier it will be for you to take preventive measures to keep the account on track.
With Vaizle Facebook cross-account analysis, you will be able to keep a check on the KPIs of all your ad accounts and identify the red flags immediately.
 It will help you and your team identify the account that needs attention and allows your team to dig deeper and take necessary measures at the right time to get the account's performance on track.
That's A Wrap
Now you have the knowledge on why and how to monitor Facebook multiple ad accounts analysis. Frankly, as a marketer, there is nothing better than having a tool to overview your ad performance from one dashboard. As a marketer, you save a lot of time in analyzing all the ad accounts every day. This feature will allow you to identify the accounts with dipping performance on a daily basis and needs to be attended to thoroughly.