10 Facebook Ad Tools That You Should Know
In today's digital age, social media platforms have become a crucial marketing channel for businesses to reach their target audience effectively. Among the numerous social media platforms, Facebook stands tall as a dominant force, offering unparalleled opportunities for businesses to connect, engage, and convert users into loyal customers. To maximize their presence on this social media giant, intelligent marketers harness the power of Facebook ad tools. These invaluable resources provide a competitive edge, enabling businesses to optimize their advertising campaigns, increase brand visibility, and drive impressive ROI. In this comprehensive guide, we will dive into the world of Facebook ad tools, exploring their features, benefits, and how you can leverage them to propel your marketing efforts to new heights.
Running successful ad campaigns on Facebook can be a game-changer for businesses of all sizes because it has many users and advanced targeting options. However, marketers require the right tools to fully utilize the platform's potential. Facebook ad tools provide a variety of features that empower advertisers to easily create, manage, analyze, and optimize their ad campaigns with precision and simplicity.
Throughout this article, we will delve into the essential Facebook ad tools that can supercharge your advertising strategy, and how they can work together seamlessly to amplify your brand's reach and impact.
Table of Content
Top Facebook Ad Tools for 2023
1. Vaizle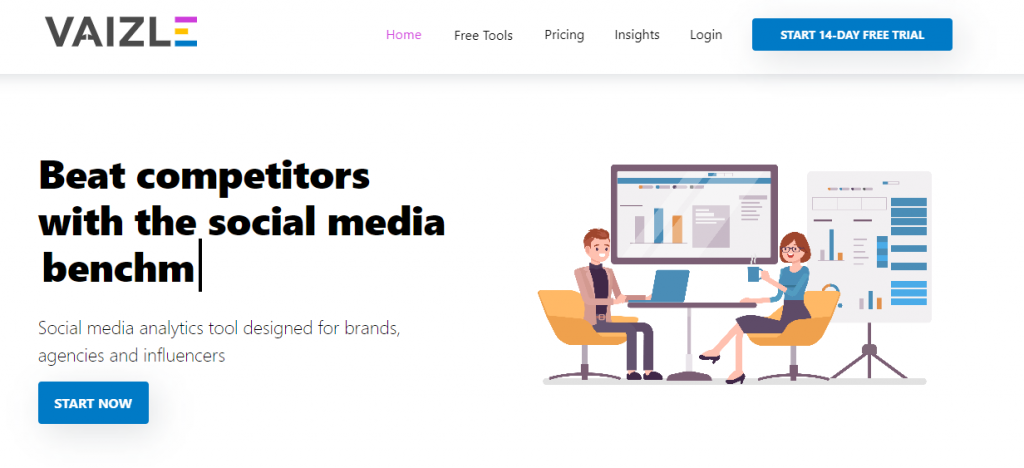 Vaizle is an incredible Facebook ad tool that simplifies the process of monitoring and analyzing your ad campaigns. With its in-built interface and powerful analytics, Vaizle provides valuable insights into your campaign's performance, including engagement metrics, audience reach, and conversion rates. 
By leveraging Vaizle, you can make data-driven decisions, optimize your ads, and save time while maximizing the effectiveness of your Facebook advertising strategy.
Vaizle offers robust audience targeting features that help you connect with Facebook users who are highly likely to engage with your ads. With Vaizle, you can easily select your existing target audience or create new ones to ensure that your ads reach the right people. By utilizing these targeting options, you can optimize your Facebook ad campaigns and increase the chances of getting meaningful engagement from your desired audience.
Features –
Powerful Analytics
Competitor Analysis
Target Audience Optimization
Automated Reporting
Pros –
Comprehensive Analytics: Vaizle provides in-depth analytics and performance metrics for your Facebook ad campaigns
Customizable Reporting: Vaizle offers customizable reports that present your Facebook ad campaign metrics in a visually appealing and easy-to-understand format.
Collaboration Made Easy: The tool facilitates seamless collaboration with your team by allowing you to share ad creatives, analyze performance, and make informed decisions together.
Tracks modification to your adset: Automatically tracks every modification made to your adset allowing you to make an informed choice about which adsets are successful and which are not.
2. Hootsuite Ads –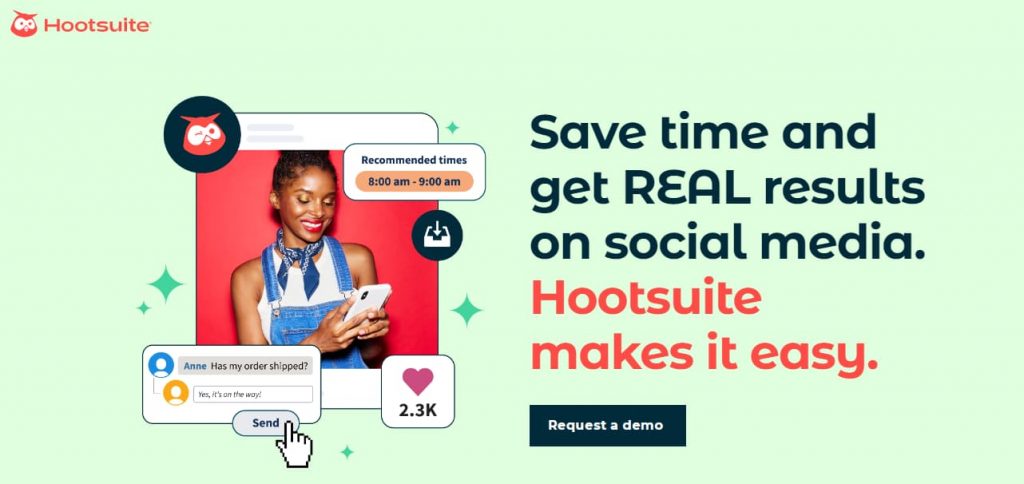 Hootsuite Ads tool is a powerful and versatile platform that simplifies the process of creating, managing, and optimizing your social media ad campaigns. With Hootsuite Ads, you can efficiently target your desired audience across various social media platforms, including Facebook. 
With Hootsuite Ads, you can streamline your advertising efforts, save time, and achieve better outcomes on Facebook and other social media platforms.
Pros –
Simplifies the process of creating and managing Facebook ad campaigns.
Offers advanced targeting options to reach the right audience.
Provides a user-friendly interface for easy campaign setup and monitoring.
Offers valuable analytics and reporting features for insights into campaign performance.
Cons –
Limited features compared to dedicated Facebook ad management tools.
Potential delays in campaign updates due to platform limitations.
3. Adstage

Adstage is a comprehensive advertising platform that simplifies the management and optimization of multi-channel ad campaigns. With AdStage, you can streamline your advertising efforts across various platforms, including Facebook, Google, LinkedIn, and more.
The platform provides a centralized dashboard that allows you to create, launch, and monitor your ad campaigns, providing a holistic view of your advertising performance.
Pros –
Automation features save time and increase efficiency.
Advanced analytics provide valuable insights for campaign optimization.
Scalable for businesses of all sizes.
Cons –
Pricing may be prohibitive for smaller businesses.
Steeper learning curve due to the platform's advanced features.
Limited customization options for ad creative compared to native platform tools.
Require additional integrations for certain advertising channels.
4. Revealbot

Revealbot is an intuitive advertising tool that simplifies the management and optimization of social media ad campaigns.
With Revealbot, you can easily automate and monitor your ads across platforms like Facebook, Google, and Snapchat. The platform provides a clear and organized dashboard where you can efficiently create, schedule, and analyze your campaigns. Revealbot offers advanced features such as automated rules and optimizations, allowing you to save time and optimize your ad performance.
Pros –
Simplifies the management of social media ad campaigns across multiple platforms.
Allows for easy creation, scheduling, and analysis of ad campaigns.
Provides clear and organized dashboards for a comprehensive view of campaign performance.
Cons –
Limited support for ad platforms other than Facebook, Google, and Snapchat.
Pricing may not be cost-effective for small businesses with limited budgets.
Some users may find it difficult to use, especially for complex automation rules.
Integration limitations with certain third-party tools and platforms. 
5. Facebook Ads Manager

It's important to mention Facebook Ads Manager in this list. It is a built-in tool within Facebook Business Manager that provides marketing tools for creating targeted ads to reach specific audiences.
With this user-friendly tool, you can easily create, manage, and optimize your campaigns. Beginners will find it easy to use as it has a familiar Facebook-like interface. Many people start with Ads Manager and later transition to more advanced Facebook marketing software as they become more experienced.
Pros –
Ability to add employees, advertising agencies, and partners to manage the account collaboratively.
Provides a user-friendly introduction to the fundamentals of Facebook advertising.
Offers complete visibility and control over the pages and ad accounts you manage.
Cons –
Setting up Ads Manager can be challenging for large businesses and agencies.
Unable to remove ad accounts once they are linked to the Ads Manager.
Numerous reports of bugs, crashes, and other performance issues with both Ads Manager and the mobile app.
6. Driftrock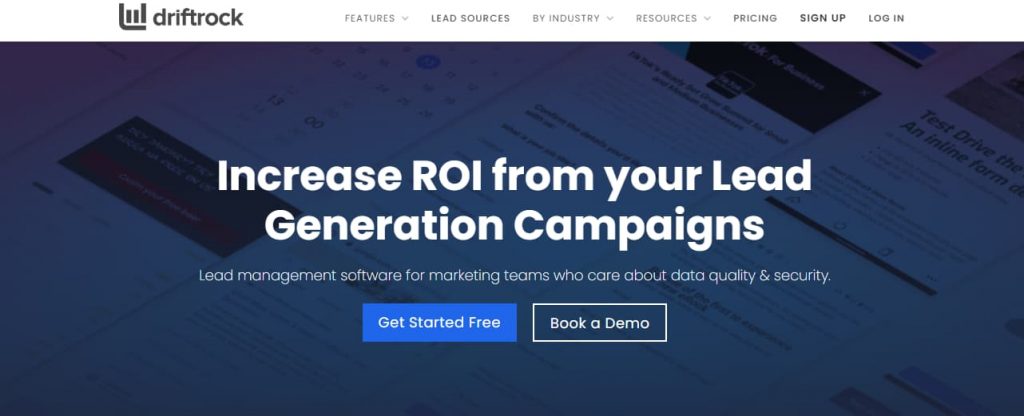 Driftrock is a user-friendly advertising platform that simplifies the process of managing and optimizing your digital ad campaigns. Whether you're advertising on platforms like Facebook, Google, or LinkedIn, Driftrock provides a centralized dashboard that makes campaign management efficient and hassle-free. With Driftrock, you can easily create, schedule, and monitor your ad campaigns, all in one place. The platform offers powerful targeting options, allowing you to reach the right audience at the right time.
Apart from the Create feature, Driftrock offers additional tools to enhance your Facebook ad campaigns. One such tool is Flow, which enables automatic updates for Facebook Custom audiences and helps target similar audiences effectively. Another tool called OpenBook allows for in-depth analysis of your Facebook ad campaigns, helping you define and measure the return on investment (ROI) accurately.
Pros –
Easy creation of Facebook Ads with Driftrock create feature.
A customization option for bidding strategy is also available.
Create a new version of campaigns with content reuse.
Cons-
Limited platform compatibility and integration options.
Relatively high learning curve for beginners.
Lack of advanced analytics and reporting features.
7. Qwaya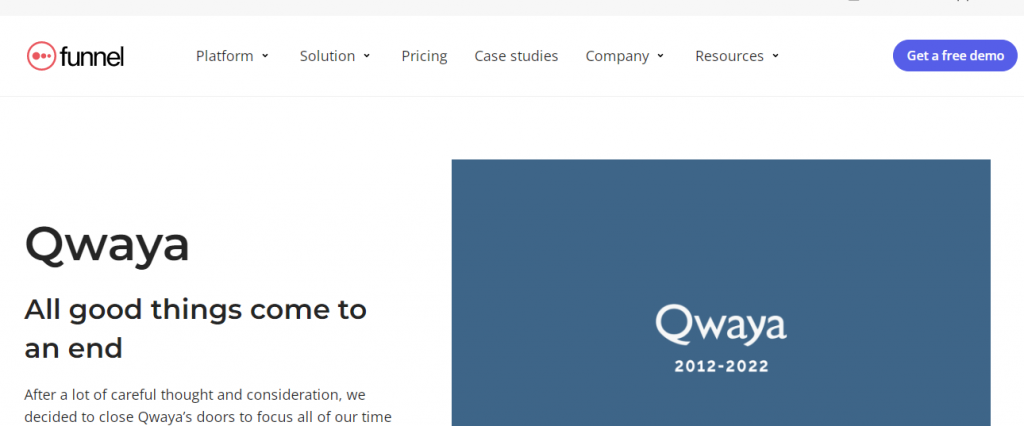 Qwaya provides advanced features such as A/B testing, ad rotation, and bulk editing, allowing you to fine-tune your campaigns and improve their effectiveness. Qwaya also offers detailed analytics and reporting tools to track key metrics and gain valuable insights into the performance of your ads.
Creating ads with Qwaya is a straightforward process. You can easily navigate through a special menu and access a variety of ad templates to assist you with the design. Additionally, Qwaya offers a target audience search engine that helps you find relevant Facebook users for your ads.
Pros –
Target audience search is available
You can set up personalized automation rules for your ad campaigns, which allow you to end a campaign early if it's not generating satisfactory conversions.
Access to a collection of ad templates for design assistance.
Cons –
Customer support response times can vary.
Some users may experience occasional bugs or performance issues.
Hard to use for Small Businesses.
8. Adroll

AdRoll provides a range of ad formats, including display ads, social media ads, and email marketing, allowing businesses to reach their audience across various platforms and channels.
The platform integrates with popular advertising networks and social media platforms like Facebook, Instagram, Twitter, and Google, making it easy for businesses to manage and optimize their ad campaigns from a single dashboard.
Pros –
Advanced tracking and segmentation capabilities for personalized campaigns
Ability to track user behavior across multiple devices.
Simplified campaign management from a single dashboard
Cons –
Can be costly for businesses with limited advertising budgets.
AdRoll's attribution modeling may not provide a complete picture of the customer journey.
AdRoll's effectiveness may be impacted by ad-blocking software and privacy regulations.
9. Perfect Audience

It is similar to Adroll in many ways. The Perfect Audience tool enables advertisers to identify and engage with their ideal audience
At first, glance, retargeting may seem straightforward, but as you explore further, you'll discover there's more to it than meets the eye. That's where Perfect Audience comes in. It acts as your helpful guide, providing the necessary support and expertise in navigating the complexities of retargeting.
Pros –
Customizable retargeting strategies to fit specific business needs.
Expert guidance and support in navigating the complexities of retargeting.
Competitive edge in the dynamic landscape of digital advertising.
Cons –
Ad frequency and repetition may be perceived as intrusive by some users.
Cost considerations for businesses with limited advertising budgets.
Ad creative customization options may be limited compared to other platforms.
10. Adview

Sometimes, people may comment on your ads, and that's perfectly fine! To make it easier for you to keep track of those conversations, Adview is an excellent tool. It allows you to quickly reply to comments on the spot or use ready-made templates to respond.
The tool also provides you with information on which ads are getting the most comments and has a handy filter feature that helps you organize and find comments that have already been read and replied to.
Pros –
Ability to monitor and manage comments on your ads in real-time.
Insights into which ads are generating the most engagement and conversation.
Prebuilt templates for faster and more consistent comment replies.
Cons –
Possible dependency on the tool for monitoring and engaging with ad comments.
The need for active monitoring and timely response to maintain customer satisfaction.
Conclusion –
Facebook Ads tools provide a robust and comprehensive suite of resources to help businesses and advertisers achieve their marketing objectives. From ad creation and targeting to analytics and campaign management, these tools offer powerful features to optimize ad performance, reach target audiences, and drive conversions.
By leveraging these tools, businesses can gain valuable insights, increase brand visibility, and ultimately achieve greater success in reaching and engaging their target audience.
FAQ's
Q1. What are Facebook Ad Tools?
Facebook ad tools are applications that help you create and run personalized ad campaigns on Facebook. It's a popular strategy to connect with customers because it allows you to target Facebook users based on their unique traits and where they live.
Q2. How to create Facebook ads for small businesses?
If you want to create and post ads on Facebook, you'll need a tool to help you. As a beginner, it's important to find an affordable and user-friendly tool that can help you run and control your Facebook ads effectively. Vaizle is a great option for beginners, offers a simple interface and a 14-day free trial.
Q3. What are the best Facebook Ad tools for brands?
Vaizle
Hootsuite ads
AdEspresso
Qwaya
Driftrock