Analyze your Facebook ad account's performance using a free tool
The success of Facebook marketing is built on knowing your audiences! Conduction in-depth ad audience analysis uncovers driven insights and data – unequivocally required to create a content strategy for your Facebook ad campaigns.
From your customers' age, and gender, where they live to their interests, hobbies, and working status – facebook ad insights data tell you everything. With this data handy, you can curate highly targeted content that speaks to your audiences, while meeting your overall marketing strategy.
Receive comprehensive information about your audience's interests, and behaviors, build a marketing strategy and bring maximum ROI to your business with the FREE Facebook ad analytics tool.
How do I use the Free Facebook Ads Analytics tool to analyze ad accounts?
Facebook Ads Manager demonstrates how your advertising is assisting you in meeting your business objectives across Facebook, Instagram, and Audience Network. Use free Facebook ad insights tools from Vaizle to analyze your campaign outcomes and discover more about your target demographic, product sales, ad reach, and more. With this information, you may make more educated judgments while developing campaigns, eventually improving your outcomes.
Analyze performance with account overview– Analyze your Facebook ad performance and get an account overview of how your ads are performing after evaluating insights like ad spent, CPC, purchases, ROAS, and more. This will help you craft a better advertising strategy and you get a comprehensive snapshot of your projects' performance by examining your statistics at the account level. Use the free Facebook analytics tool to collect all your results and analyze the success of your ads over time and find trends around any given time of the year.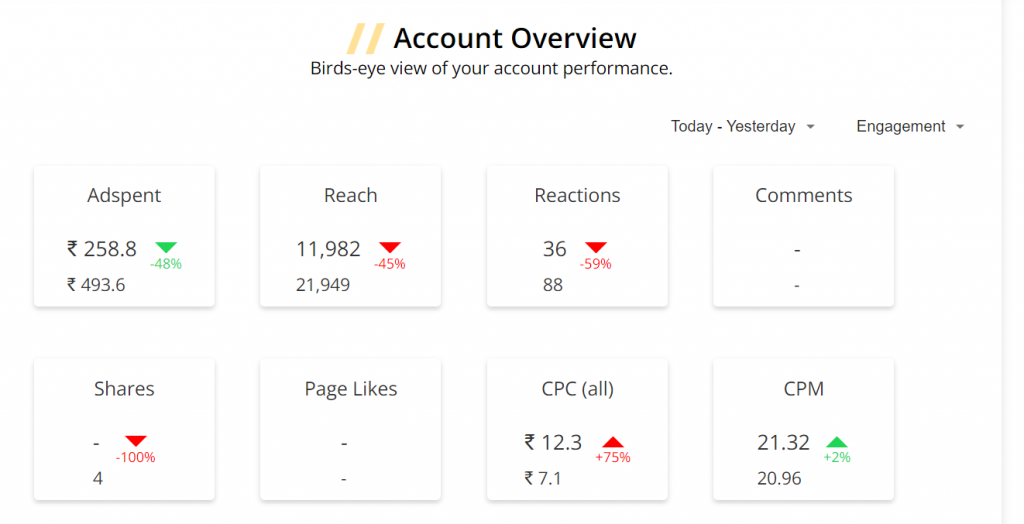 2. Funnel drop-offs– Secondly, you can figure out how people are converting and dropping from your funnel. You can see the conversions you want to achieve in your ad campaigns. This will help you know where users are having problems with your product or services. Identifying those drop-offs and addressing the issues causing them can be an excellent way to boost your conversion rate.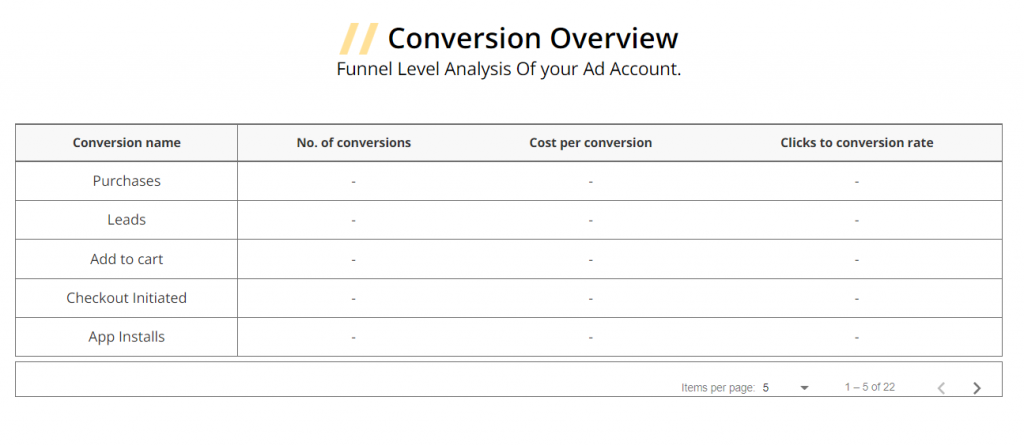 3. Ad Performance- Next, users can get periodic analysis of Facebook ad insights and campaign performance, where you measure all the KPIs of your campaign so that the users can relate to each other. You may receive details on how each ad performs that you place on Facebook. This information includes:
The number of individuals that saw your advertisement.
The number of individuals that click on your advertisement.
The amount you pay for your advertisement.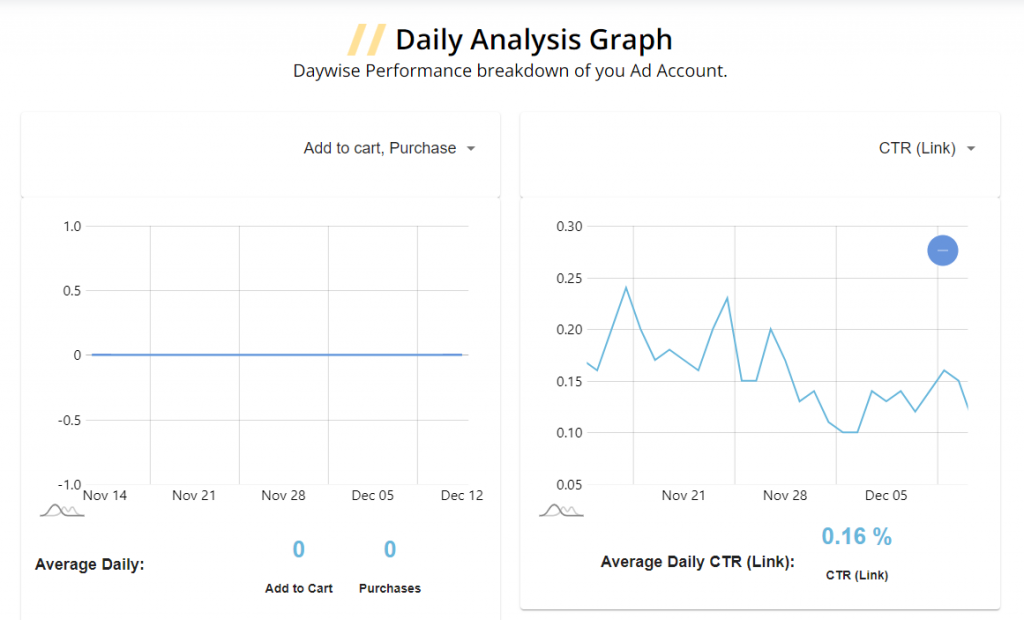 Vaizle Free Facebook Ad Tool – To analyze your Facebook Ad Account Performance
The finest tool for checking your Facebook ad metrics is Vaizle. With this free Facebook ad analytics tool, you can view Facebook ad analytics data and make a decision accordingly. From this tool, you can keep a track of your pivotal Facebook metrics and boost your campaign strategy to the best results.
Crucial Metrics To Check In Facebook Ads
Reach The total number of individuals who saw your advertisement at least once. This number should be compared to the number of click-throughs or interactions — if people notice it but don't follow your CTA, what went wrong?
Impressions This is the number of times your advertisement is displayed on the screen. Because the same individual may view your ad many times, this statistic is likely to be larger than reach.
Cost per result This piece of data is critical for determining how much bang you receive for your buck when measuring the ROI of a campaign.
For businesses and startups who want valuable Facebook ads insight, Vaizle is a Facebook-free analytics solution. It enables marketers to enhance their performance on social media by detecting gaps and possibilities.
Have social media data turned into practical advice that can be utilized daily to improve companies' social media performance? Vaizle will provide you with daily insights across numerous factors via graphs, charts, figures, and daily advice.
Conclusion
Monitoring Facebook is a mind-numbing experience from the outset. Only replies and remarks will not provide you with a thorough understanding. You'll need to use a Facebook analytics program to obtain a clear picture.
As social media rises to the top of marketing priorities, organizations are investing in a one-stop platform that controls every critical platform from a single location.
So, if you want a comprehensive analytics solution for your social media platforms, Vaizle is the way to go. It is an all-purpose social network platform that integrates with various social media apps to provide analytics, reporting, planning, content visualization, updating, and other features.
Once you start getting results using our FREE Vaizle tool, you can switch to our paid version of the tool, and enjoy more added benefits!