5 Free and Paid Tools to get Your Facebook page data into Google sheets
Do you understand the importance of harnessing data to make informed decisions and drive business growth? If yes, you're at the right place! Among the multiple platforms and tools available, Facebook has never left its position as a robust social media marketing platform. And, to maintain that, there is a way data from such platforms needs to be handled! To effectively analyze and leverage our Facebook page data, we've explored various free and paid tools that seamlessly integrate this valuable information from the Facebook page to Google Sheets.
In this blog, we share discoveries and insights, along with some compelling statistics, on five such tools that can help you supercharge your data-driven strategies.
You can also check 5 Facebook ads to Google sheet connector tools & 7 LinkedIn ads to Google sheet connector tools.
Table of Content –
How do I pull data from Facebook to Google Sheets?
Identifying my Facebook Page ID is a simple process, as it usually consists of a numerical string in the page's URL. Once it is complete, turn to Google Sheets, using its built-in function. This call enables you to import the desired data directly into a spreadsheet, allowing you to work with the metrics you need.
For those seeking automation, setting up scripts or tools to schedule data updates is a viable option. However, it's crucial to stay informed about Facebook's API policies and adhere to data privacy standards throughout the process. You can initiate this process for a month, a year, or a custom time zone with Vaizle.
5 Free and Paid Facebook Page to Google Sheet Connector Tools
As you can see, understanding and analyzing your Facebook Page performance is essential. And when it comes to efficiently managing and visualizing this data, we have got you covered! There's no better ally than a robust connector tool that bridges the gap between your Facebook Page and Google Sheets data.
Here is a list of tools for you to choose from!
1. Vaizle
Here is a remarkable tool that simplifies the way you import Facebook Page to Google Sheets. Whether you're tracking engagement, post-performance, or audience insights, Vaizle's intuitive interface makes it easy. As part of the platform's multiple benefits, you'll also gain an intuitive user interface, creative data management, comprehensive integration, and an automated platform to manage your marketing reports.
You can use this tool for free on the platform. Using Vaizle, you can effortlessly extract data like post reach, likes, comments, and shares and visualize it in Google Sheets for in-depth analysis. Google sheet connectors from Vaizle eliminate the need to manually calculate data points.
2. Funnel.io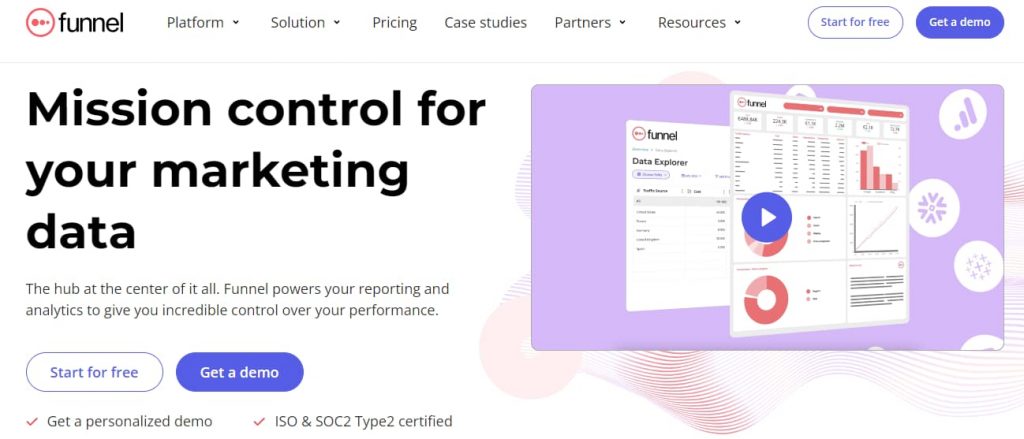 Here is a comprehensive tool that can collect and transform data from various sources, including Facebook Pages. You can easily sync your Facebook data to Google Sheets, automate the process, and ensure your reports are always up to date with time. All your campaigns and their reports can be monitored here! While it offers a free trial, it primarily operates on a paid subscription basis.
3. Supermetrics.com

Get a dedicated Google Sheets add-on that streamlines the process, allowing users to create custom Facebook data reports with ease. While it is a paid tool, Supermetrics' high level of customization and automation capabilities make it a valuable investment for businesses looking for in-depth insights.
4. Actiondesk.io

This is a no-code data automation platform that connects various sources, including Facebook, to Google Sheets. It offers a free tier with limitations and different paid plans. With Actiondesk.io, you can effortlessly import your Facebook Page data into Google Sheets through a visual, drag-and-drop interface.
5. Portermetrics.com

It simplifies the data extraction process, allowing users to schedule regular data imports and create custom reports. Porter Metrics primarily operates on a paid subscription model, but its ability to automate data transfers can save you valuable time and resources.
How can you import Facebook Page data to Google Sheets using Vaizle?
Step 1: Log in to your Facebook account from Vaizle by clicking on the "Continue with Facebook" tab on our portal.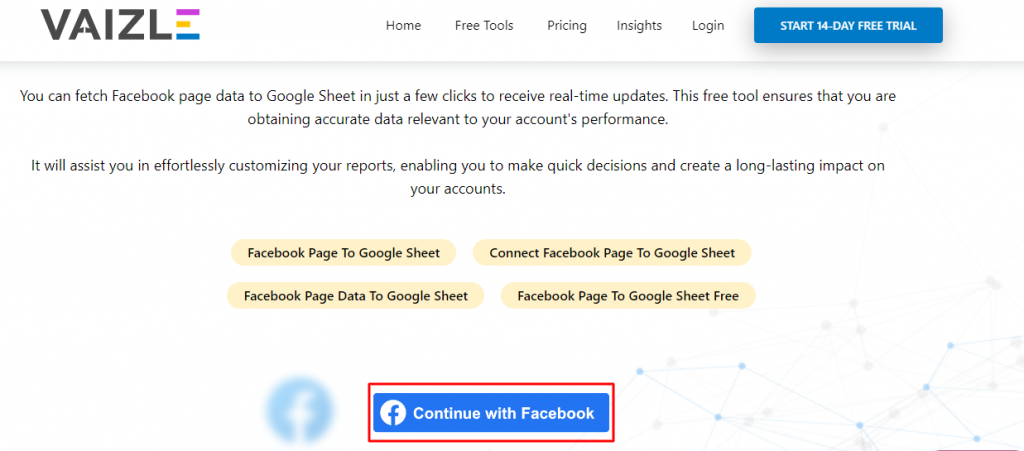 Step 2: Add your Facebook account details for a seamless experience then select an Ad account and click on next.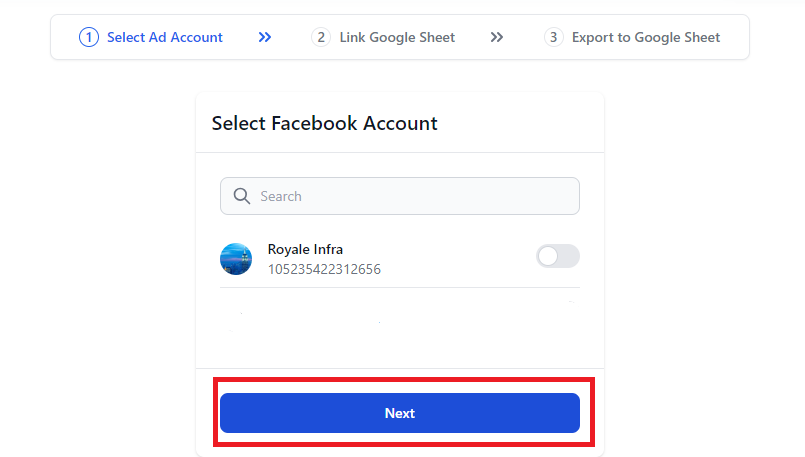 Step 3: Create your Google Sheet, copy its link, and paste it on the Full Link prompt along with your desired sheet name, and click on the link sheet.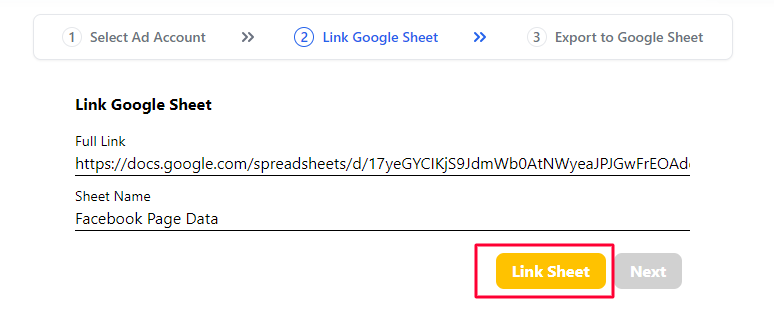 Step 4: After this, you have to provide account permission to Vaizle. And once the sheet is linked click on next.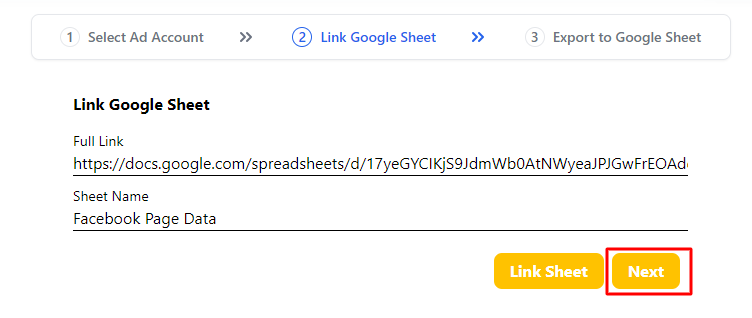 Step 5: Now, Group it by day, select the time period, and get your data by clicking on Export to Google Sheets.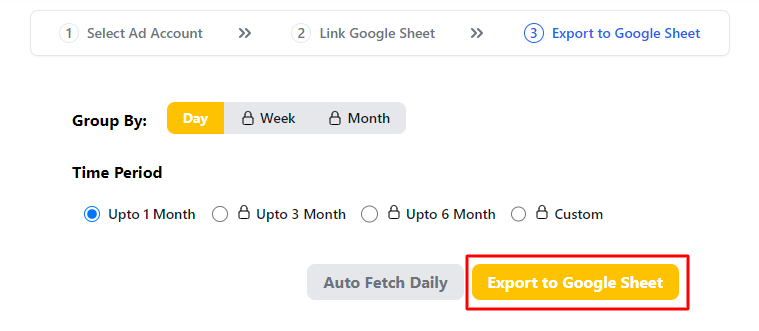 Step 6: Once export is complete, reload your Google Sheet to get access to all your Facebook Ad metrics.
And finally, you'll be able to see the data on the Google Sheet!
If you want a weekly or yearly report, you have to subscribe to our premium offer at a mere cost of $75/month.
Conclusion
Data is the oxygen to modern marketing, and integrating your Facebook page data into Google Sheets is how you will breathe through it. Make a move that can significantly enhance your decision-making and, ultimately, your business's success.
Take a crucial step towards supercharging your data-driven strategies in the dynamic world of digital marketing with Vaizle. Start exploring and unlocking the full potential of your Facebook page data today!