7 Free and Paid Tools to get Your Linkedin ads data into Google sheets
Are you excited to dive deep into your LinkedIn ads data?
If you're eager to uncover the reach, views, clicks, and impressions of your ads all in one place, we've got the solution you've been looking for.
LinkedIn advertising is a game-changer for businesses and professionals seeking to connect with a highly engaged and professional audience. Yet, effectively optimizing your LinkedIn ad campaigns requires an effective tool that seamlessly exports your LinkedIn Ads data to Google Sheets, creating a focal point for all your campaign metrics.
Entering various LinkedIn Ads to Google Sheet Connector tools, each with its unique features and advantages. In this guide, we will be comparing these tools highlighting their strengths and drawbacks to help you unlock your campaign's full potential.
Additionally, you can check out these five Facebook ads to Google sheet connector tools.
Can I import data into Google Sheets from LinkedIn Ads?
Yes, you can import data without a hitch, from your LinkedIn Ads campaign to Google Sheets using tools like Vaizle free connector that can streamline your process. There are various other tools available on the Internet that will allow you to centralize your data for efficient analysis of trends, making your advertising more target-focused and easing decision-making.
7 Free and Paid Tools to get Your LinkedIn ads data into Google Sheets:
Here are some online tools that will link your LinkedIn ads to Google Sheets without much effort:
Vaizle is your effortless gateway to export your LinkedIn data to Google Sheets. With a zero-learning curve and a few clicks, you can analyze your data with this LinkedIn ads connector. What differentiates Vaizle is its user-friendly approach: no need to create an account or install a plug-in. Just sign in and link your Google sheet, and you are ready to roll. It empowers you to swiftly analyze your monthly data and enhance your ad trends, eliminating the inefficiencies and time-wasting obstacles that often hinder decision-making. Say goodbye to complexity and hello to this clear and straightforward LinkedIn Ads to Google Sheets connector empowering your campaigns with precise insights for FREE.

Actiondesk offers you a data retrieval solution for LinkedIn Ads by importing it into Google Sheets, requiring no third-party software. By integrating with the Google Apps Script platform, you can easily fetch data from your LinkedIn ads. Users can create their own channels to fetch data according to their needs. It also offers pre-built LinkedIn Ad templates, simplifying the process but at a cost. Its DIY approach to data integration makes it highly appealing for users looking to script their own solutions.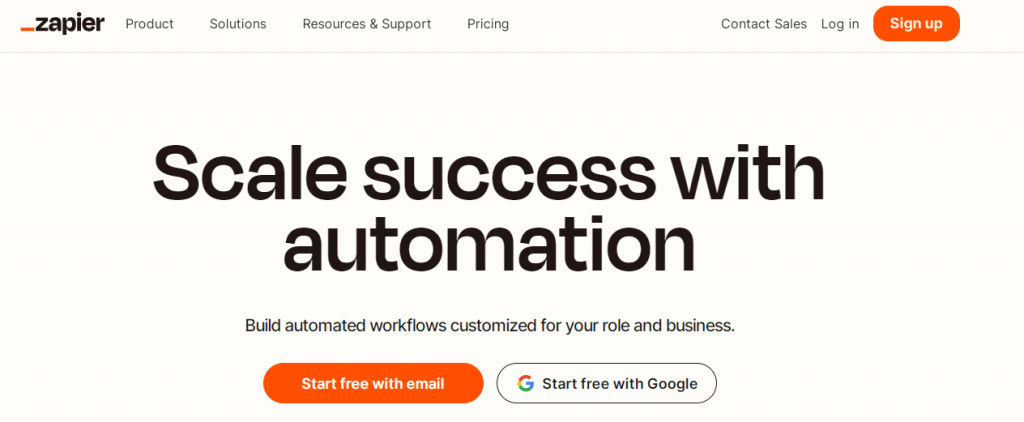 Zapier lets you export LinkedIn ads data to your Google Sheets automatically without the need for coding expertise. This versatile platform allows you to automate various tasks, including adding new leads in LinkedIn ads and creating Google Sheets rows for LinkedIn Ad event registration form responses. With a wide array of automatic templates, Zapier streamlines these processes, making data management more accessible by operating on a pricing model, making it less budget-friendly compared to some other tools in the market. It is worth, however, to consider the cost implications while enhancing your LinkedIn advertising strategy.

Power My Analytics is a robust data integration solution that merges Google Sheets with essential LinkedIn Ads marketing metrics, facilitating data manipulation and analysis. Its automated data import feature ensures your spreadsheet reports stay up-to-date, saving you valuable time and effort. Moreover, it also allows you to amalgamate LinkedIn Ads data with other marketing sources, allowing for a fully customized and comprehensive report tailored to your specific needs. Additionally, the tool offers outage protection to ensure uninterrupted data access. However, all this comes at a monthly cost of $124.95, which can impact your finances. It is advisable, thus, to consider your budget and specific requirements when choosing this tool for LinkedIn Ads to Google Sheet connector.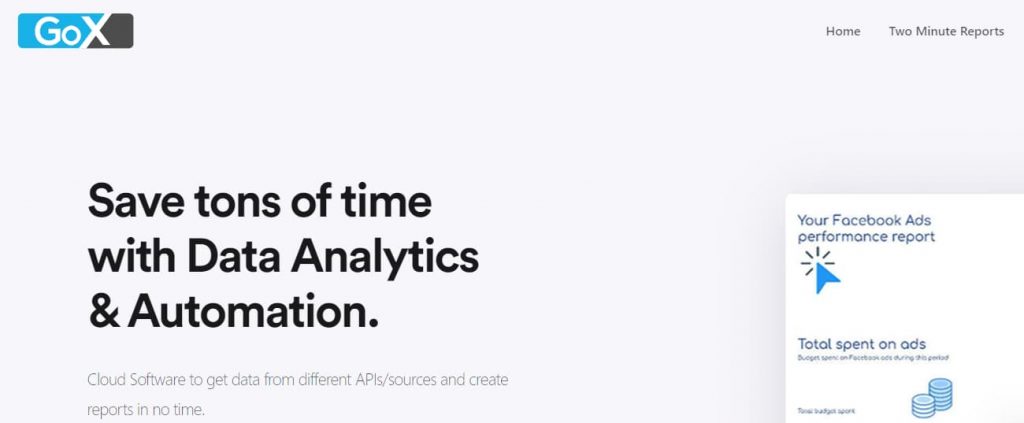 GoX.ai provides a bridge to export your LinkedIn Ads data to Google Sheets via a user-friendly add-on plug-in called Two-Minute Reports. Getting started is a breeze: simply install the plug-in, grant access to your LinkedIn ads, and pick the specific data you wish to visualize. A minor drawback, however, is that the plug-in's updates or automatic refresh scheduling require a bit of DIY involvement. This is, however, a small trade-off for customization and data control that the plug-in gives to users to tailor their reporting according to their needs. In a world driven by data-driven insights, GoX.ai opens the doors to effortless LinkedIn Ads to Google Sheet connection, putting you in the driver's seat of your campaign optimization.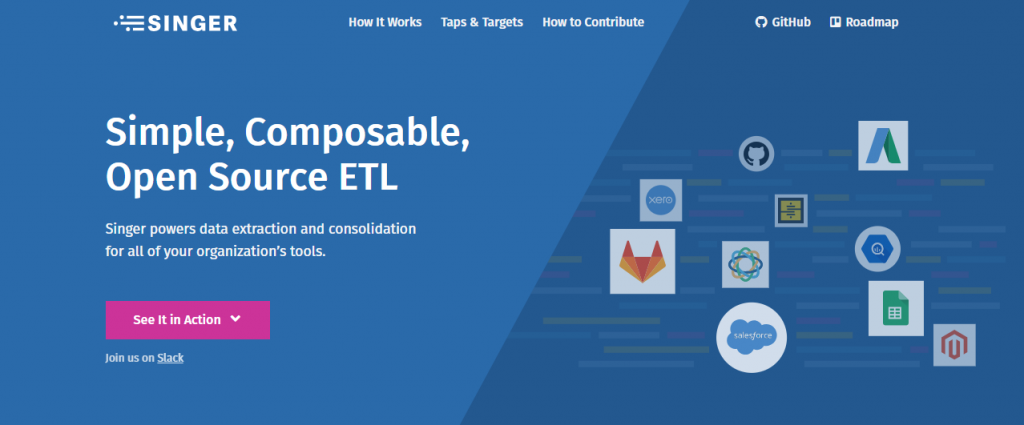 The Singer LinkedIn Ads Tap is a portal to extract LinkedIn app data and transfer it into a structured JSON-based format within your designated Singer Google Sheet target. To use this, you will need to familiarize yourself with the process of installing taps and targets, which lets you use this data integration tool effectively. Though it requires a bit of a learning curve, the power of your data getting effectively organized in a Google Sheet is worth the investment of your time and effort. Singer provides you with the insights and data control you need to make informed decisions and optimise your LinkedIn advertising campaigns, ensuring you stay ahead in the competitive digital landscape.

With Portermetrics, exporting LinkedIn ads data to Google Sheets becomes effortless, allowing you to connect your profile, choose relevant metrics, and schedule data refreshes to gain real-time insights into your campaign performance. This tool also lets you automate PPC marketing reports by downloading data from multiple LinkedIn ads in a single query using a Google Sheets add-on. Simply add the plug-in to your Google Sheets and link your profile to unlock the potential of your LinkedIn advertising with this LinkedIn Ads to Google Sheets connector.
In this tutorial, we show you how to use Vaizle to import LinkedIn Ads data to Google Sheets
Follow this step-by-step guide to automatically retrieve data from your LinkedIn ads:
Step 1: Log in to your LinkedIn account from Vaizle by clicking on the "Sign in with LinkedIn" tab on our portal.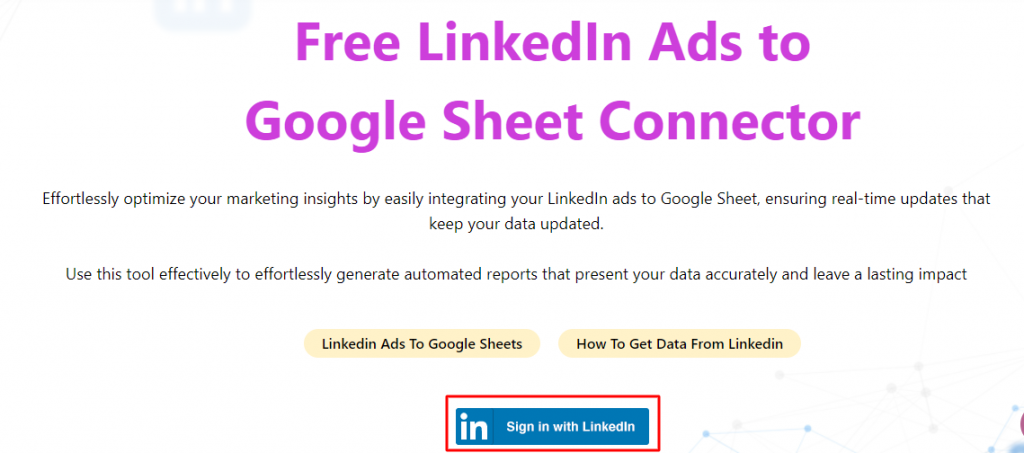 Step 2: Add your LinkedIn account details for a seamless experience and select Ad account.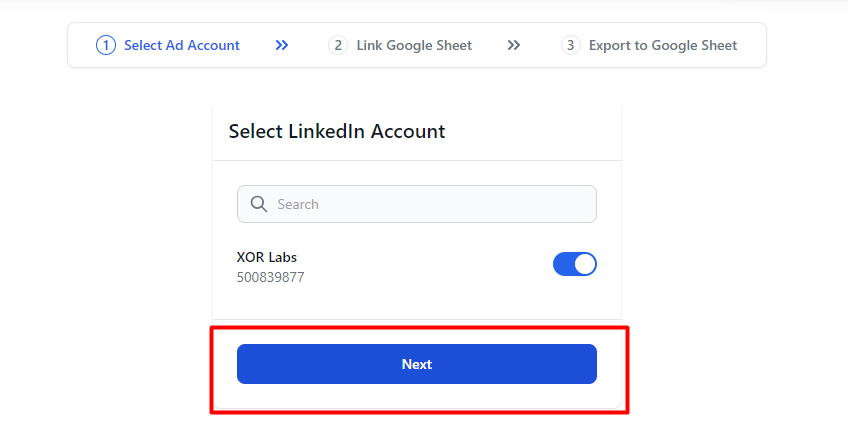 Step 3: Create your spreadsheet, copy its link, and, paste it on the Full Link prompt along with your desired sheet name and then click on Link Sheet.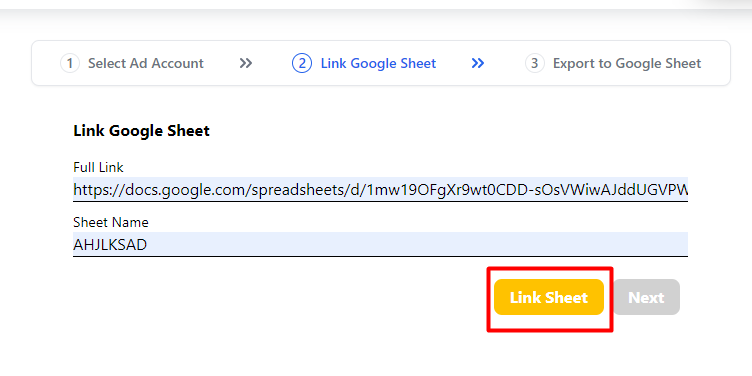 Step 4: Give account permission to Vaizle and allow it to work its magic.
Step 5: Select Account Analysis, Group it by day, and get your monthly data by clicking on Export to Google Sheets.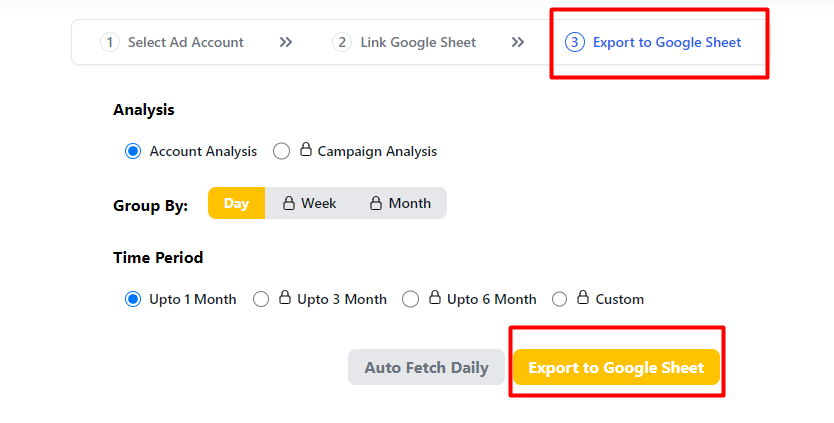 Step 6: Once export is complete, reload your Google spreadsheet to get access to all your Ad metrics.
If you wish to access weekly or yearly reports, subscribe to our premium offer, which gets you all the features at a mere cost of $75/month.
Conclusion
In conclusion, while there are several tools that let you export LinkedIn ads data to Google Sheets, Vaizle's user-friendly free solution allows you to streamline data extraction without the need to code, saving you time and energy. For more in-depth statistics, it also provides weekly and yearly data at an affordable rate of $75/month, making it a compelling choice for data-driven advertising.