Forget Excel, Think Automated Social Media Monitoring Analysis Report
Professionals in the field of marketing must present the results of their efforts. They must do so in order to demonstrate that their efforts produce the desired outcomes.
Preparing reports with a lot of numbers and data, on the other hand, can be a daunting undertaking that takes a lot of time and work. Fortunately, social media monitoring tools such as Vaizle allow you to build an online media monitoring and analysis report in a matter of minutes.
You'll get a lot of raw data from media monitoring. As a marketer, you must sift through and analyze data.
Preparing a social media report will help you sort out the data better.
But before you begin writing a monitoring report, you must first determine why the report is being created in the first place.
The data you'll need to evaluate depends on the type of social media monitoring report you're working on. Making such a report will assist you in separating the wheat from the chaff and identifying the most actionable insights for your next promotional effort.
Your secret weapon could be producing compelling, smart, and effective media monitoring reports. Learn how to produce a media monitoring report like a Marketing pro!
Tip: If you're new to social media monitoring and Vaizle, learn more about what it is and why it's important to you.
What is the Social Media Monitoring Analysis Report?
Online media monitoring and analysis reports, in general, compile all of the information offered by online social media monitoring tools such as Vaizle into a single document.
The content of the media report is completely customizable, and you have complete control over it while making it.
The report is written in PDF format, which allows it to be read on any electronic device that can read PDF files.
What kind of information is included in the media monitoring analysis?
Okay, I believe everyone understands what a report is, so let's move on to the report's most important component: Data.
Let's start with the sources. Data is gathered by Vaizle from the most popular social media channels Facebook, Instagram, Twitter, and YouTube.
The report can display all of the data that Vaizle collects. As a result, you'll find information such as:
Brand Activity
Brand Engagement
Brand Applause
Brand Amplification
Brand Conversation
Video Engagement
Engagement per cost
Engagement Rate
Fans Change
Fans Total
Hashtags
Top Posts by:

Latest
Engagement
Applause
Amplification
Conversation

Content Division (with graphs) by
What is the purpose of a Social Media Monitoring Analysis Report?
If you want to write an informative and effective media monitoring report, you should consider the purpose of your report. To make the task of preparing media monitoring reports a little easier, we may divide them into three categories:
Reports on Marketing Campaigns
Reports on Competitor Analysis
Every report, whether it's a marketing report, a competition report, a crisis report, or a simple monthly report, necessitates the analysis of various types of data.
Continuous media monitoring reports can aid you in tracking your KPIs and managing your objectives in digital marketing.
Knowledge of your objectives in depth will help you have a better understanding of the broader context in which your business operates. You'll be able to quickly identify areas where you need to improve as well as places where you're an undisputed industry leader.
Reports on Marketing Campaigns
I'm confident you have a digital marketing strategy in place. After completing a marketing campaign, you must normally report your efforts to your clients or supervisors.
One of the most crucial components of a marketing strategy is demonstrating the influence of your efforts on the overall corporate goals.
Reports on digital marketing will show what succeeded and what didn't during the campaign. This report will give you some hard numbers, such as hashtag usage or changes in your brand's fan base. You'll be able to see how many individuals you reached, which social media channels generated the most buzz, and how much engagement there was.
Marketing professionals can use digital marketing campaign reports to highlight the value of their work to their C-suite and the influence of a promotional campaign on the company's KPIs.
Reports on Competitor Analysis
Knowledge is a powerful tool. You will be able to make better business decisions if you have a deeper understanding of your competition and the terrain in which you operate.
Keeping one step ahead of your competition will help you build your brand as an industry leader, which will have a direct impact on your bottom line. The good news is that you can conduct a thorough competitor study on your own.
Track the indicators you'd track for your brand when developing a competition study. You'll be able to compare yourself to your competition once you've gathered enough data.
After that, you can construct a report that compares competitors.
This is how a comparison looks in Vaizle, a social media monitoring tool.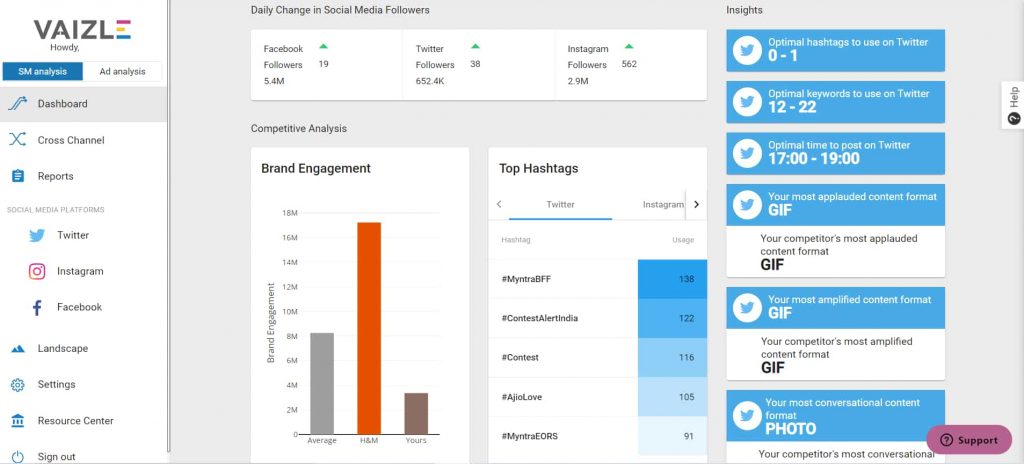 Crisis Reports
We all fear a crisis that could jeopardize our brand's reputation. The bad news is that brands are subject to crises from time to time. There's also some useful information.
You can plan ahead of time for a crisis.
Your brand's survival will be aided by a well-thought-out crisis management strategy. A crisis report will show you what is working and what needs to be improved. You'll be able to identify all of your company's weaknesses and prepare for what is ahead.
Later on, we'll look at the many types of media monitoring reports.
Your Social Media Monitoring Report's target audience
Consider the report's readership when preparing the most useful media monitoring report. What are the most critical pieces of information they require?
Are you sharing the findings with colleagues who require a more in-depth analysis? Is your media monitoring report going to your boss, who requires a quick summary of the most relevant data and insights?
You can tailor the media monitoring report to your target audience. Simply select the elements that will provide the most benefit to the report's readers. The social media monitoring tool will take care of the rest.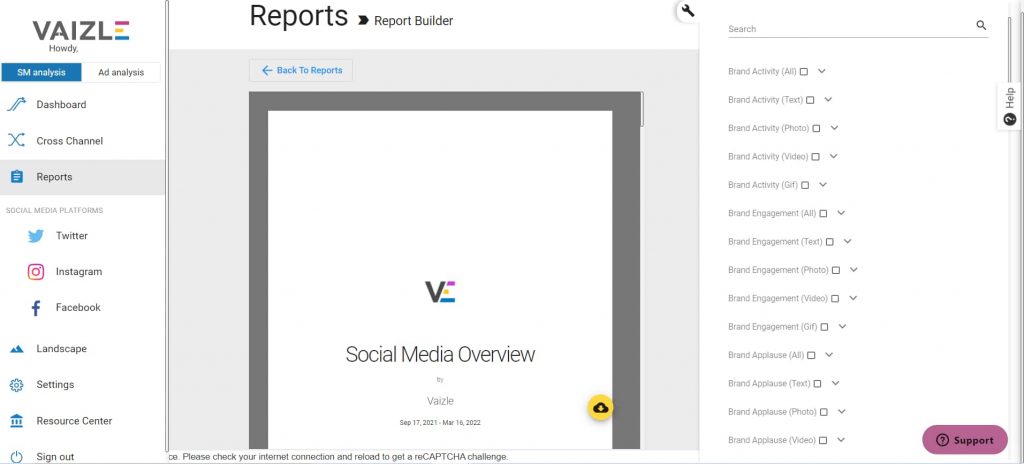 You may also use Vaizle to add your own logo and select a time period for the report (even set Time-Zone as per your country).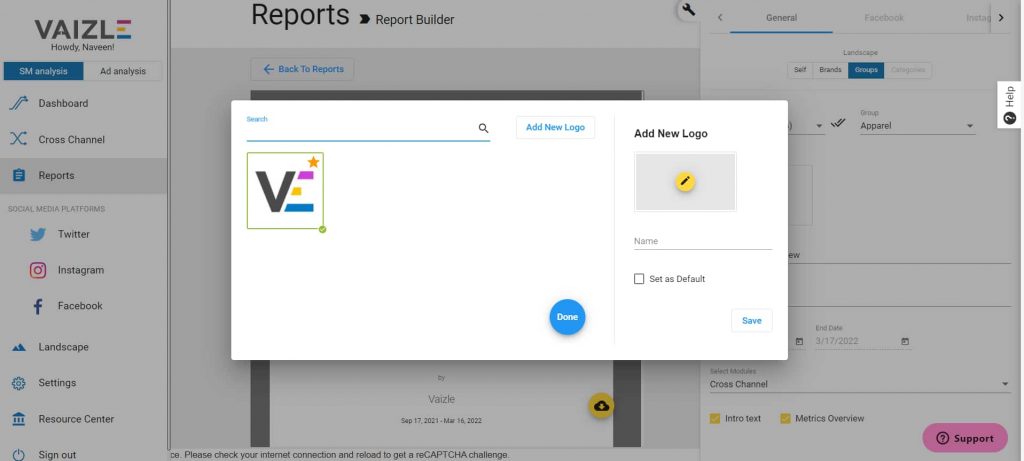 As you can see, using the Vaizle tool to create media monitoring analysis reports is intuitive, simple, adaptable, and, most importantly, takes only a few minutes.
You won't have to look for statistics and numbers across multiple tools and websites thanks to the data gathered in one location. It allows you to spend less time making graphs in Excel and more time on your everyday chores and marketing initiatives.
The report is clear, displays all of the data collected by the instrument, and is aesthetically and visually consistent, which aids in its reception.
You can also save money by using the reports. And you'll make even more money.
You ask, how?
Let's look at the facts in more detail.
The number of Fans Change, Brand Engagement, and Activity Content division are examples of data that show you where the most buzz is generated. We gain significant insight into our brand's online presence or our competitors' online marketing successes as a result of this knowledge.
You obtain a comprehensive sense of the strengths and shortcomings of your competitors' marketing endeavors by following this route. You know which websites and social media platforms your present and potential consumers are using to talk about your company, which platforms have the most potential for growth, and which platforms may be dormant for you.
This type of marketing channel verification can save you a lot of money and time because you'll be able to focus all of your efforts on channels that are providing you with a valuable return, as evidenced by concrete statistics.
Who knows, it could be your holy grail.
When can a Social Media Monitoring Analysis Report be used?
You already know that PDF Reports may save you a lot of time, effort, and money by displaying a large amount of data.
But I suppose you're ready to ask me a question now:
What can I do with this report and when can I utilize it?
I'd divide the response to this question into two categories: external and internal uses of social media monitoring and analytic reports.
When I say "external usage," I'm referring to instances where you need to present your work's results to clients, contractors, or potential investors. It could be:
For your client: A report detailing the results of your digital marketing activities.
If you manage a digital marketing agency, generating such reports for your clients can also make them feel valued and encourage them to work with you more closely.
You can routinely verify your marketing endeavors and consult the outcomes with your clients to come up with the finest solutions by reporting your results on a regular basis.
Furthermore, using the reports, you may identify the weakest connections in your client's campaigns and suggest activities to strengthen these areas, thus increasing their revenue.
For possible investors or contractors: A report detailing the data and statistics of your online presence.
When it comes to attracting new clients or investors, media monitoring analysis reports might be your ace up your sleeve.
Prepare the PDF Report before meeting with possible customers to learn more about their company and to demonstrate that you are well prepared for the meeting and that you know what to do and how to accomplish it. You'll be able to prepare an offer that is completely tailored to their requirements as a result of this.
When it comes to investors, a report like this will demonstrate to them past outcomes of your internet presence, how popular you are, how people perceive your brand, and so on.
Internal usage includes instances in which you utilize the report's data to check the outcomes of your digital marketing campaigns and statistics, such as:
Brand Engagement
Brand-building activities
The size of your campaigns' audience
Your brand's recognition
The consequences of crisis management
Internally, distributing media monitoring information can help you enhance several parts of your internal communication. The most important pieces of information can be delivered to each department.
For Example, the type of content that generates the greatest engagement is beneficial to your creative team, but it may also be a valuable asset to your product team. A report with carefully selected data will assist you in determining the best course of action for improving your service or product.
How do you make a Report on Social Media Monitoring and Analysis?
Despite the fact that a media monitoring analysis report may appear to be serious and complicated, it can be generated in only a few clicks. And you'll need to add brand(s) for social media monitoring to your Vaizle landscape right away.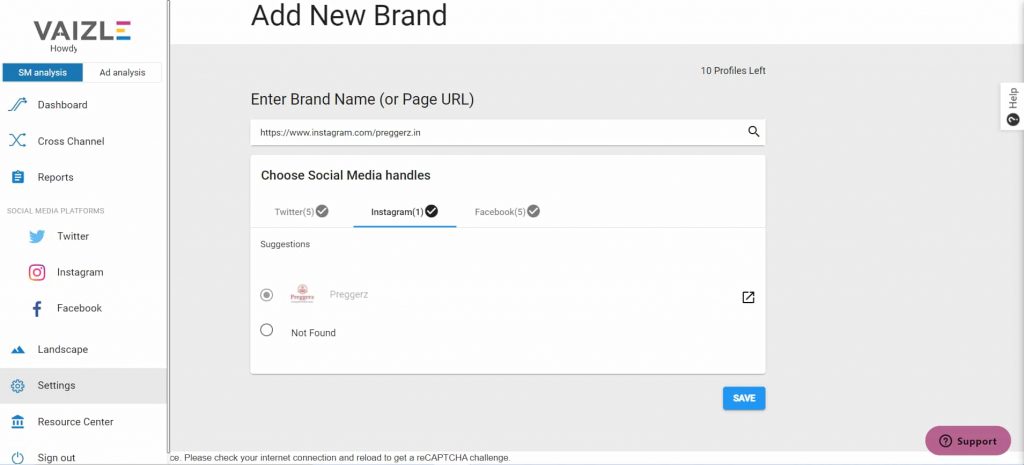 From that moment on, a media monitoring tool collects all relevant social media postings across the major social media platforms like Facebook, Twitter, Youtube, and Instagram.
In the landscape, add the brand(s) you'd like to monitor. You may also add your competitors to the landscape to keep an eye on their Social media activities. If you are a marketing agency and running campaigns for brands from various industries, you may group each bunch separately.
It's as easy as ABC to create a media monitoring report. Simply follow these steps:
Go to "Report" on the left side of the screen
Select a project
Define a time frame
Select the report's content
Optionally: choose filters, groups, and quotes
Include a logo and a description
Optionally Add Notes for easy references
And that's all there is to it! We understand that seven steps may appear to be a lot, but the majority of the work has already been done for you.
The fourth step of the process is the most crucial: selecting the content for the media monitoring report. Various bits of information should be chosen depending on the report's aim.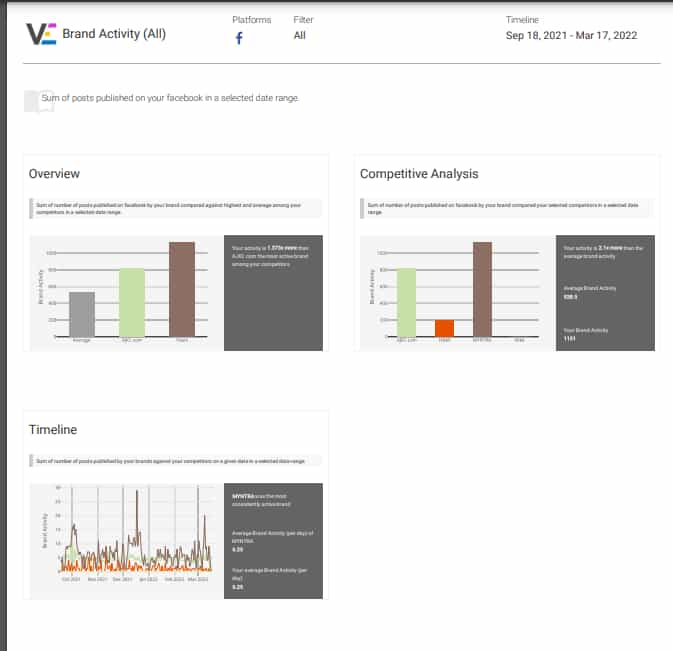 Social Media Monitoring Analysis Reports in a nutshell
To summarise, media monitoring analysis reports are valuable in a variety of areas, including client collaboration, sales, and marketing campaign results.
The reports may provide us with a new perspective on our job and reveal something we overlooked due to their insights and statistics. You may also track the amount of online media coverage.
Additionally, the simple procedure of preparing PDF reports can save you a lot of time and work.
A complete data-based report comprising the most essential numbers and insights regarding your project can be generated in just a few minutes.