What Goes Into Social Media Hashtags For Business That Works
When you look at the numbers, it appears that the entire world is using social media every single minute.
Twitter receives about 500 million tweets daily.
Every day, 1 billion stories are shared across Facebook, WhatsApp, and Instagram.
TikTok is used for an average of 80 minutes per day by children aged four to fifteen.
These numbers spark joy in the hearts of digital marketers.
Sorry to be a wet blanket but this also poses the biggest challenge for social media marketers.
How do you make yourself heard among all this noise? 
With this continuous dump of information on social media platforms, it is extremely challenging for brands to stand out and get their posts noticed.
Hashtags come as shining beacons to make yourself stand out among all the jargon.
The point is to reach the potential customers, not just all and sundry in the world.
Every day heaps of content gets uploaded on different social media platforms. The right hashtag can cut the ice and enable brands to make their content more visible.
In fact, hashtags have become the most popular marketing tool. 
Well obviously! It allows the fashionistas to connect with their fellow beings and "join the Conversation" or travelers with #wanderlust comrades.
Hashtags have been an important element when it comes to organic business growth plans.
With 7 out of 10 Instagram hashtags being labeled "branded," it's evident that marketers and businesses are paying attention.
It's catching on for a variety of reasons. Adding just one hashtag to an Instagram photo boosts engagement by 12.6%.
Hashtag marketing is still quite efficient for increasing Twitter visibility, and LinkedIn is getting closer.
Hashtags are the answer if you're seeking a focused strategy to increase engagement, leads, and conversions without breaking your client's budget.
You may drastically increase your brand's online presence by utilizing and connecting with relevant hashtags for your industry specialty or ideal buyers.
A hashtag campaign can also be beneficial to brands. Before you start your campaign, do some research to see what others are doing and what makes their efforts effective. Then determine your goals and create your campaign to meet your social media KPIs.
Hashtag Marketing Pro Tip
While it may be appealing to copy/paste your hashtag research and approach across social media channels, keep in mind that they work similarly but differently enough to need their own strategy.
Best practices also vary by channel; for example, on LinkedIn and Twitter, it's best to use no more than three hashtags, whereas, on Instagram, you can use up to 30.
How does a Hashtag work?
On Instagram (and practically all other social media platforms), putting a # in front of a word creates a type of link, such as #performancemarketing.
These "links" are a way of organizing and categorizing posts and persons based on shared topics and interests. As a result, most marketers immediately consider leveraging this with some straightforward reverse psychology.
If your ideal consumer is a small shop owner in Delhi, India, you might use hashtags like #Delhi and #InstaDelhi. If you want to target a corporate decision-maker, you could use the hashtags #entrepreneur or #CEO.
How to Explore and Select the Best Hashtags
Get inside the mind of your target market, investigate your ideal client's persona, and you should be able to come up with a list of hashtags that they might use.
Hashtag Marketing uses reverse psychology to help you rank higher.
Another hashtag example: imagine you're in charge of social media for a fitness studio. Just with a little investigation, you can find out that your target market enjoys gyms, healthy diets, protein shakes, working out, and bodybuilding. 
Using a social media marketing tool, you can find trending and active hashtags in certain high-volume categories, optimal no. of hashtags to be used in a post easily. Along with it, you can get a clear and crisp idea about what hashtags are working for your competitors. Never miss the best hashtags for your Instagram post.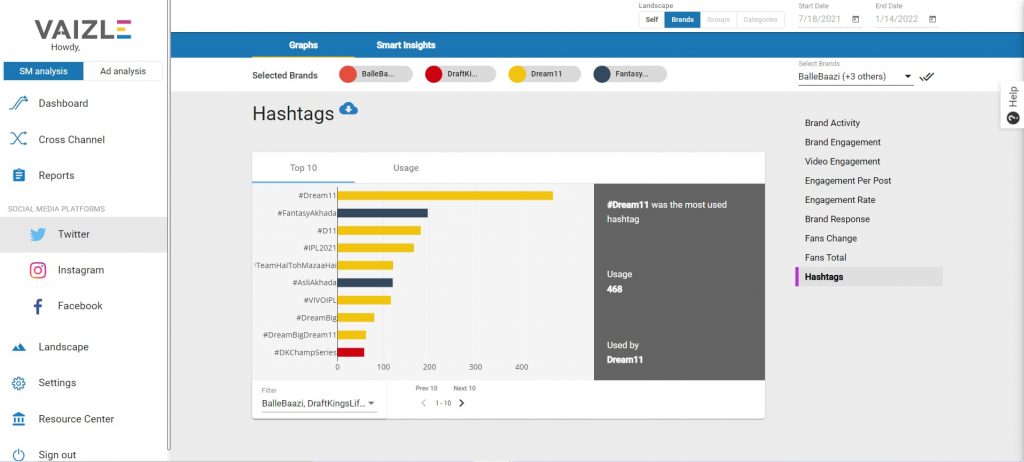 How Do Hashtags Work?
Hashtags essentially make your post appear on a page or "feed" dedicated to that hashtag. Instagram users can "Follow" any hashtag that they find interesting.
By employing rational targeting, produces an ideal environment for a hashtag marketing approach. If you want to bring your client's or business's posts in front of individuals in Delhi, simply include the hashtag #delhi in your post.
Voila! Your post will now appear in a collection, or rather, a community, of over 30,996,377 posts!
However, it is a large audience, and with so many posts, you are likely to get lost in the shuffle unless you are one of the finest digital marketers crushing the social media newsfeed algorithm.
As a result, go granular.
If you are selling cosmetics and want your target audience to be females, then #delhigirls (607,782 posts) or #delhicosmetics are good options (5,916 posts).
These are just a few hashtag examples that demonstrate how to hashtag marketing on Instagram may help your business or brand reach a new audience.
How to Pick the Best Hashtags
The importance of hashtag research cannot be overstated.
It appears straightforward at first glance — and it is, don't get me wrong. But a hashtag marketing campaign that blows up your Instagram, on the other hand, takes a lot of thinking and effort.
Hashtag marketing is the process of gathering, evaluating, and using hashtags to benefit your customers, business, or brand.
The fun part is finding the appropriate hashtags for your customer or business. Aside from that, there's nothing like watching the numbers increase in your monthly analytics reports.
Use Google Trends or a useful tool like Vaizle. This is one of those marketing agency products that every marketer should have in their arsenal.
Analyzing the best hashtags for an Instagram post or the trending hashtags for facebook even for your competitors is a breeze with Vaizle.
How To Use Hashtag Marketing To Its Full Potential
Use online tools to find or create appealing hashtags
You may analyze the performance of any hashtag term using a competitor analysis tool like Vaizle. It will assist you in determining the most appropriate number of hashtags to be used in your post. You may also use hashtag generator apps like Instagram hashtags generator to produce hashtags and save time thinking about them.
Examine the competitors' hashtags
Examine the hashtags used by your competition. You should not, however, duplicate them just because they are getting amazing results because of their hashtag. Take some inspiration and make your own.
Make Seasonal Hashtags a Part of Your Strategy
Seasonal hashtags such as #wintersales, #springbreak, and others can be created and used. Try using festival hashtags instead of just seasons.
In fact, as everyone becomes enthusiastic about each coming festival, hashtags relating to festivals grow significantly more important.
Stay On Top Of Current Trends
Keep an eye on what's hot right now in terms of themes and news. Create similar posts and use hashtags that are currently trending on social media. For example, if you want to market something on Twitter, you'll need to know what the most popular hashtags are so you can pick the finest ones.
Create Your Own Custom Hashtags
Make a hashtag for your company. Make use of it in your social media posts and tweets. When people use your product, they'll start utilizing your hashtag.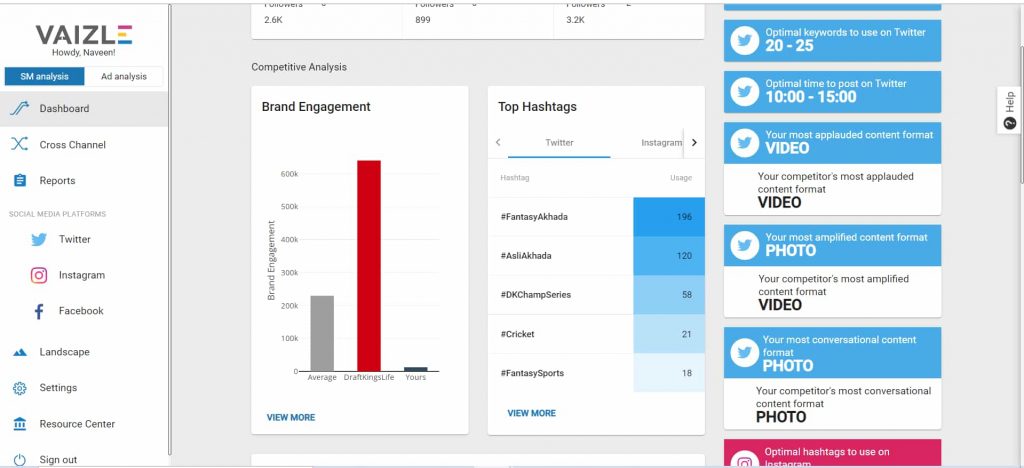 Promote
After you've created your own hashtag and used it in your content, you'll need to figure out how to market it. You can ask influencers to help. If you can't afford them, micro-influencers are a good alternative. Hashtags can be used to promote products on a variety of social media platforms.
Hashtag chat is a Twitter feature that allows you to utilize hashtags in conversations and invites anybody to participate. You can start a chat and invite everyone to participate. It expands your brand's reach.]
Content Hashtags
Last but not least, don't forget to use hashtags that are relevant to the content of your message.
However, while you should use unique hashtags, if you are not a large company, utilizing a standard hashtag will allow others to locate you effortlessly.
If someone uses a popular hashtag or the latest hashtags for Instagram that aren't relevant to the content, it may enhance reach at first, but because of Google's new algorithm modifications, the ranking and reach of your website, or especially that page, may suffer as a result of not employing legitimate keywords.
Use the Appropriate Number of #s
When it comes to hashtag marketing on Instagram, looking good isn't everything.
The quantity of hashtags you use in each post is determined by the post's purpose.
Are you attempting to raise brand awareness? Are you talking to your long-term customers?
A warm welcome to a new employee or a birthday post, for example, does not require 30 hashtags. It may only require one or two for event attendees, as well as a humorous quip, such as #momtexts.
What is the maximum number of hashtags you may use on Instagram? You have up to 30 options, and you should use all of them. It's not necessary to reach 30, but the more the merrier.
In Stories, you can use up to 10 hashtags, but it's not a good idea to squeeze too many in there and lose the story's charm just for the sake of hashtagging.
If you're asking how many hashtags are acceptable on Instagram, the truth is that you can use as many as you want up to 30, however, some people think it looks spammy. This is also why many marketers keep hashtags hidden in the first comment.
Try not to be clever and include 20 hashtags in the caption and another 20 in the comment – your post will be deleted.
Mix It Up a bit
Don't keep copying and pasting the same list of 20-30 hashtags. Actually, don't use the same hashtag more than a couple of times in a row.
The greater the variation, the better. It's like networking; you're tapping into the network of each hashtag… Do not repeatedly knock on the same door.
Conclusion
People are unaware of the true power of hashtags. They make use of it in their regular posts. However, as an entrepreneur, you now understand the importance of entrepreneur hashtags after reading this piece.
Hashtags are great additions to posts to help increase brand awareness, but you must first pick the type of hashtag you want to use before implementing your hashtag strategy. However, if you follow these hashtag marketing examples, your next company post will be a tremendous success.