Instagram Monetization: How to earn money from Instagram
While Instagram started as a picture-sharing platform, it has emerged as an important source of income for many. Instagram monetization helps one yield monetary rewards from the efforts they have put into creating content and building an audience.
In this blog, we will understand the entire concept of Instagram monetization in detail and look at ways to make money on Instagram.
5 ways to monetize your Instagram account
What is Instagram monetization?
Put simply, Instagram monetization is earning income from your Instagram account. But, understand that Instagram monetization is different from earning from selling physical or digital products on Instagram. That is social commerce.
Instagram monetization involves leveraging content to earn income from it.
Now, the question that arises is "how to monetize Instagram."
Let us understand this in detail.
How to monetize Instagram?
So, how to make money on Instagram, you ask?
Essentially, Instagram monetization can be done in two major ways:
Sponsoring content of external parties
Leveraging Instagram's creator tools and features
Some ways to monetize your Instagram Account
1. Collaborating with brands
When thinking of "how to monetize Instagram," collaborating with brands sounds obvious. Brand content can be sponsored through different content formats like pictures, reels, stories, etc. As common as this strategy is, these days, it is creativity that matters for it to give results.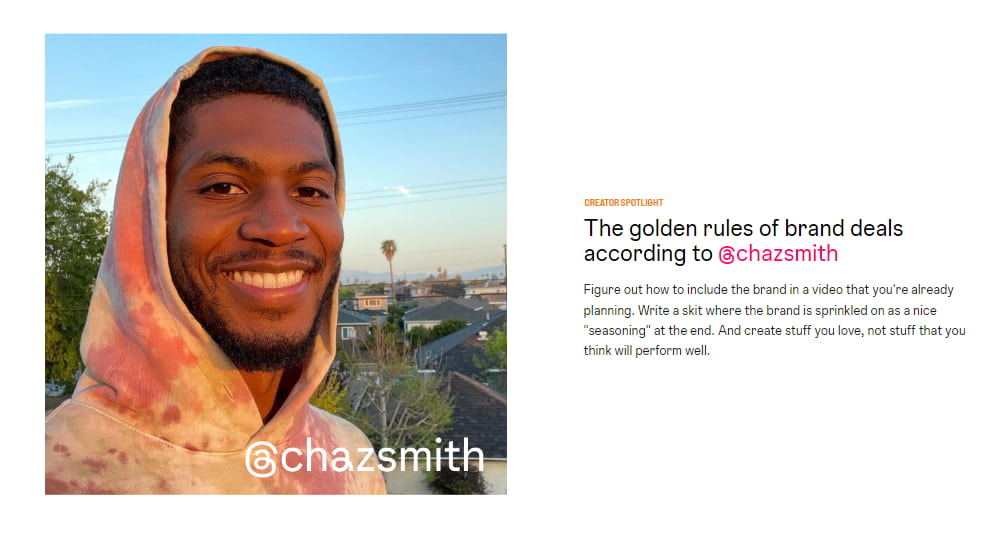 Source – Instagram
This strategy is attractive as it is easy.
As far as the follower count is concerned, there is no specific number of followers that you need to have to collaborate with brands. But you should consider growing to 10,000 followers at least. Remember, transparency is key. So, use labels like "Paid partnership with". Include #ad or #sponsored tags as required by the FTC.
2. Affiliate marketing
In its 2021 updates, Instagram allowed links in stories to everyone irrespective of their follower count and introduced Instagram Affiliate.
Affiliate marketing involves sharing trackable product links. When someone makes a purchase through your link, you earn a commission. These affiliate links can be included in captions, although stories are ideal for it.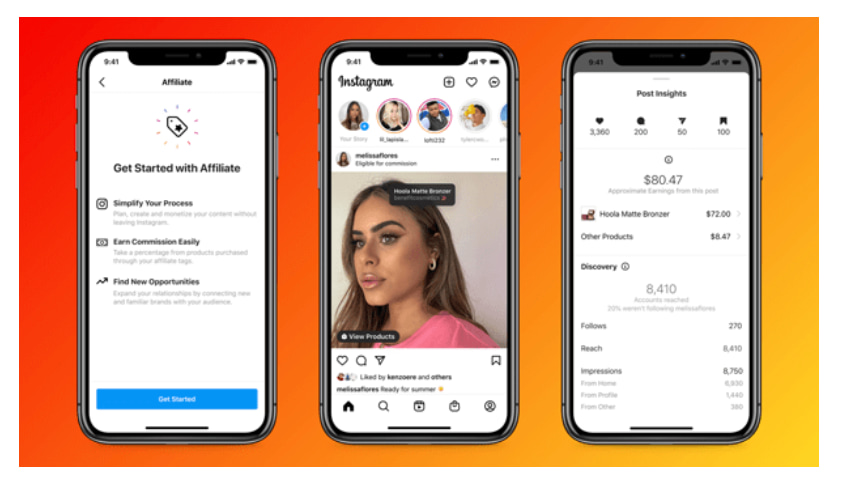 Source – Instagram
As per Instagram policy, you will have to disclose that it is an affiliate link. For Instagram monetization using affiliate marketing, make sure to follow all its guidelines relating to content and monetization policies. Use hashtags like #ad or point out that you earn a commission through linked sales.
3. Badges
If you love doing Instagram Lives, how about earning money from it? Well, this is possible through badges. These digital tokens are available in three denominations: $0.99, $1.99, and USD 4.99. Viewers can purchase these badges and support you. This is currently available only for United States-based creators and selective creators from a few other countries.
To start earning through it, go to your professional dashboard and enable badges. Then, set up a direct deposit account.
To use badges as your monetization strategy, you should be above 18 years of age. You should also have at least 10,000 followers. Also, it is very important to follow Instagram's policies regarding content and monetization.
4. Instagram subscriptions
Through this method, your followers who choose to subscribe will pay a monthly amount to you to support you and get access to exclusive perks and content. Subscribers are distinguished by a special badge, visible in comments and folders. Non-subscribed followers can also see this badge when they comment on your posts. Moreover, subscriber stories take precedence over regular stories for active subscribers. Subscriber posts receive a boost in personalized feeds. This method is currently under testing.
Note that it is important to follow Partner Monetization Policies and adhere to Instagram Community Guidelines and Content Monetization Policies.
5. Gifts
Another feature that Instagram is currently testing is gifts. According to Alessandro Paluzzi, this feature will enable one to send gifts to their engaged followers. Contrary to badges, which are available on Live, this is expected to be available for reels and maybe also for stories.
This tool has not undergone testing with creators as of now. However, it is crucial to stay informed about upcoming tools and functionalities that hold the potential to boost your earnings on the platform.
How many followers do you need to make money on Instagram?
This basically depends on the method of Instagram monetization you use. This basically depends on the method of Instagram monetization you use. There are cases of people with a few thousand followers earning a good amount of income. And, then, there are others with millions of followers, not really making anything out of it.
It completely depends on the method of Instagram monetization you use. While a mode like badges has a requirement of 10,000 followers, others like sponsored posts have none. You have to try to manage Instagram followers. In such cases, your niche, engagement rate, and quality of content are the ones that matter the most.
Can we earn money from Instagram?
Yes! Absolutely.
And we have discussed several methods of how to make money on Instagram. By creating quality content and developing a loyal audience base, you can convert your Instagram account into a revenue-generating machine.
Sponsored posts and affiliate marketing are the most common methods to earn money from Instagram. And then, there are other strategies that Instagram is currently testing.
How much money can you make on Instagram?
It depends on various factors. What strategy are you using? What is your niche?
Several such questions should be considered. There is no limit to what you can earn from Instagram monetization. Some reports point out that there are creators earning as much as $5,000 from one single affiliate link. Imagine the potential!
The likes of Christiano Ronaldo commands a whopping amount of $1.6 million per post. To be more realistic, there are creators with 13k Instagram followers earning around $300 for each sponsored reel. So, the potential is immense.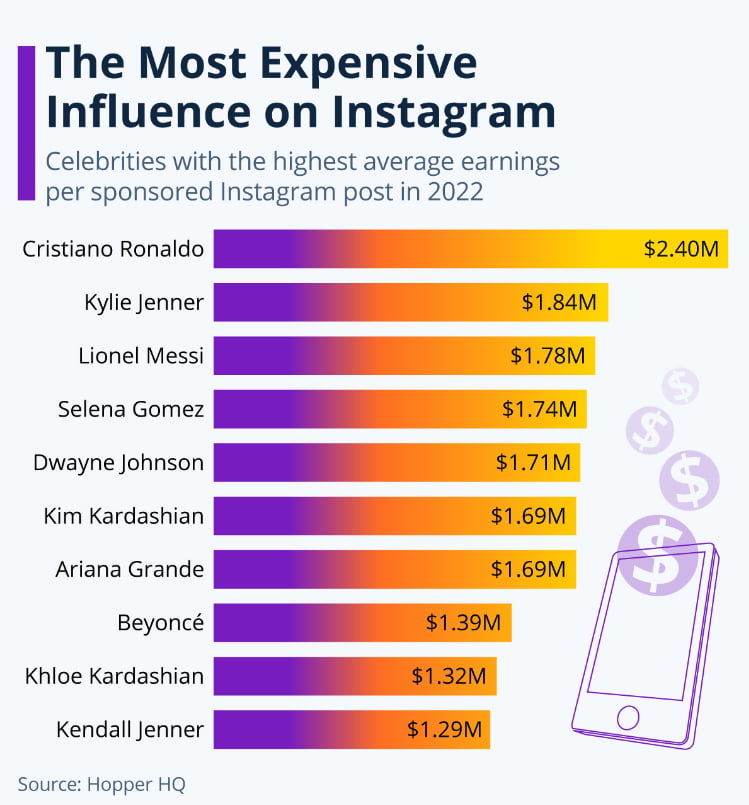 Source – Satista
How Instagram influencers make money?
The most common query around how to monetize Instagram is regarding Instagram influencer's earning strategies.
Instagram influencers make money using the following strategies:
1. Sponsored Posts
We have discussed this above, too. This is the most common strategy deployed by Instagram influencers for Instagram monetization. Due to their credibility and trust factor with the loyal audience base they nurture, their followers are more likely to trust the brand they endorse. The earning from this strategy depends upon your niche, your follower size, your engagement rate, etc.
2. Brand Ambassador
This is a partnership between an influencer and a brand where the influencer agrees to endorse the products of the brand either exclusively or just affiliate with the brand in general. Money can be charged per post or as a certain percent of sales revenue.
3. Affiliate Marketing
We have discussed this strategy in detail above. While income as an affiliate marketer depends on your number of followers and the number of products and brands you are affiliated with, the potential is huge. The percentage of commission on products ranges between 5-30%.
4. Merchandising
Several influencers have started producing merchandise under their personal brand names. This is a very profitable option for influencers with dedicated followers.
5. Direct donations and subscriptions
While subscriptions are a relatively new tool being tested by Instagram, it holds a lot of scope for Instagram monetization