How to Analyze Competitors on Instagram with the FREE Tool
When you look at your competitors' Instagram accounts, do you wonder how they generate so much engagement? Do they have a secret? No, they just have a better strategy than you!!!! 😀
The only way to find out is to analyze your competitors.
Keeping up with trends and staying on top of the competition on Instagram can be achieved with an analysis.
To get started, you need a 5-step checklist to analyze your competitors' performance. How does that sound?
Nevertheless, before we begin…!
What is an Instagram competitor analysis?
Well in a nutshell, Instagram competitor analysis is a strategic process of evaluating and analyzing your competitors' performance, strategies, and tactics on Instagram. It involves gathering data and insights about your competitors' Instagram accounts, such as their content, engagement metrics, audience demographics, and overall growth.
The purpose of conducting a competitor analysis on Instagram is to gain a deeper understanding of your competition, identify successful strategies and trends, and leverage this information to improve your own Instagram presence. It allows you to benchmark your performance against your competitors, discover opportunities for growth, and refine your own content and marketing strategies.
Despite what you might think, Instagram competitor analysis isn't that difficult. Figure out how your competitors engage their audiences, perform with their content, and leverage hashtags.
Aiming to give brands a better understanding of their competitors' Instagram strategies at a profile level, Vaizle will give you the Instagram Competitors Report in seconds at no cost. Similar to the Facebook Competitors Report, you can use this report to track fundamental metrics, such as audience growth and engagement. This is for any public Instagram profile.
Why should you do an Instagram competitor analysis?
A good starting point for newcomers to Instagram is to look at their neighbors for inspiration. Rather than reinventing the wheel, you can learn from your competitors' successes.
You can stay on top of new trends by keeping an eye on your competitors. For instance, if you notice your competitors starting to use a new hashtag or type of content, you can follow suit in order to stay up-to-date and relevant.
By analyzing your Instagram competitors, you can increase your chances of success
Compared to industry standards, benchmark your performance
Make sure you stay up-to-date with industry trends
Instagram's content strategy can be improved. Just remember, the key to success on Instagram is to be Insta-great, not Insta-late! 😉
Enhance your competitive advantage by identifying opportunities
Having understood the why and what, let's move on to how to analyze Instagram competitors.
How to do an Instagram competitor analysis
Step 1: Identify your competitors:
Choosing whom to analyze on Instagram is the first step. For instance, if you're a fashion brand, you might analyze popular fashion influencers to get an idea of what styles are trending.
It is important to pick your competitors carefully for analysis because their insights will ultimately determine your results. The competition should consist of 3-5 competitors, including big and small companies, direct and indirect.
Aside from that, you should find companies that are actively using Instagram to grow their business.
The next step is to figure out how to find competitors on Instagram.
Find accounts by searching
Instagram has a search feature that allows you to find your competitors.
Assume you manage a brand of oxidised jewelry. Enter your keywords in the search bar and check your competitor's account under the "Account" tab. In this example, I'm using "oxidised" as my keyword.
You'll see accounts that include "oxidised" in their profile descriptions or accounts. By selecting your favorite profiles here, you can easily keep track of them.
Find hashtags by searching
Then, instead of checking the results under Accounts, you might want to check under "Tags."
You'll see a list of hashtags including "oxidised."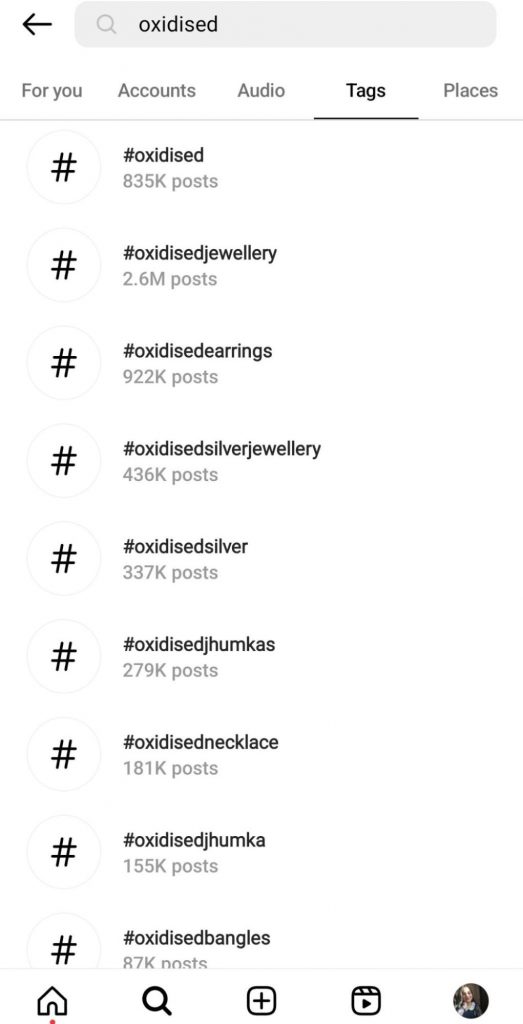 You'll see a bunch of posts from different accounts for each hashtag. It is then up to you to decide which competitors you would like to follow.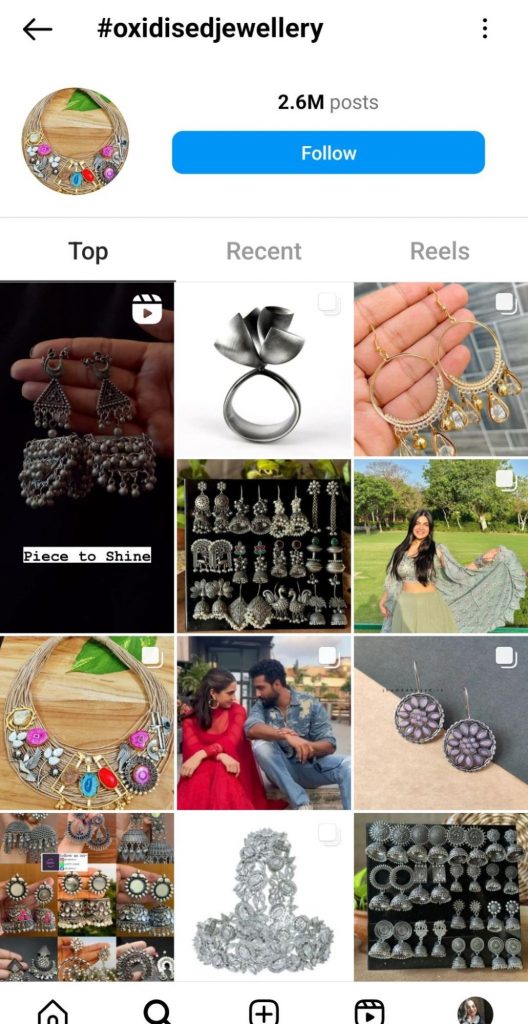 Tip 1: Find out what hashtags people use on Instagram. The hashtags listed here can help you increase organic reach.
Tip 2: You can also use these hashtags to establish new relationships with influencers.
Step 2: Gather information about your competitors
It's time to collect some data on your competitors now that you've shortlisted them.
Followers
In order to measure consumer loyalty, follower count is an important metric. Compare the followers of your brand with those of your direct competitors to see how well it is liked.
Consider these options:
Follower count: who has the most followers of your competitors
Follower growth: the rate at which their followers are growing
You should pay attention to how fast your competitors' Instagram accounts are growing rather than the number of followers.
Content performance
When you analyze the content of your competitors, you can identify where your own Instagram strategy needs improvement.
You'll want to track:
Post count: How many posts are posted on the accounts of your competitors
Posting frequency: the number of Instagram posts your competitors make
Types of posts: static content, videos, or carousels.
Engagement
Next, you should analyze how your competitors' content is engaging their audiences.
Engagement rate: dividing impressions by engagement actions
Engagement per post: Each post has a total number of engagement actions
Hashtags
Instagram is full of hashtags, as you've probably noticed. Boosting organic reach and monitoring brand sentiment are some of the reasons brands use hashtags. If you want to see what your competitors' hashtag strategy is, you can do so by looking at:
The number of hashtags per post
Whether they use any specific hashtags for their brands or one or more of their popular hashtags
Step 3: Be more creative with your content
The content your Instagram competitors create can help you craft better content for your followers, despite the fact that they're your rivals. Take inspiration from your competitors and add your own twist. Consider a different viewpoint if you see a brand telling a great story.
How to analyze competitors with Vaizle FREE Instagram Competitor analysis tool
Vaizle's free Instagram competitor report is easy to use and provides you with the insights for the last 30 days that you need to engage your audience and build your brand. Vaizle is one of the most popular online tools that analyze Instagram competitors. This includes how they post, what type of posts get the most engagement, and how many likes, and comments they get. You can easily derive valuable insights about your competitor by simply pasting the URL of your brand and competitors and will see what their most popular posts are and how engaging each one is for the last 30 days.
Getting insights on the total no. of posts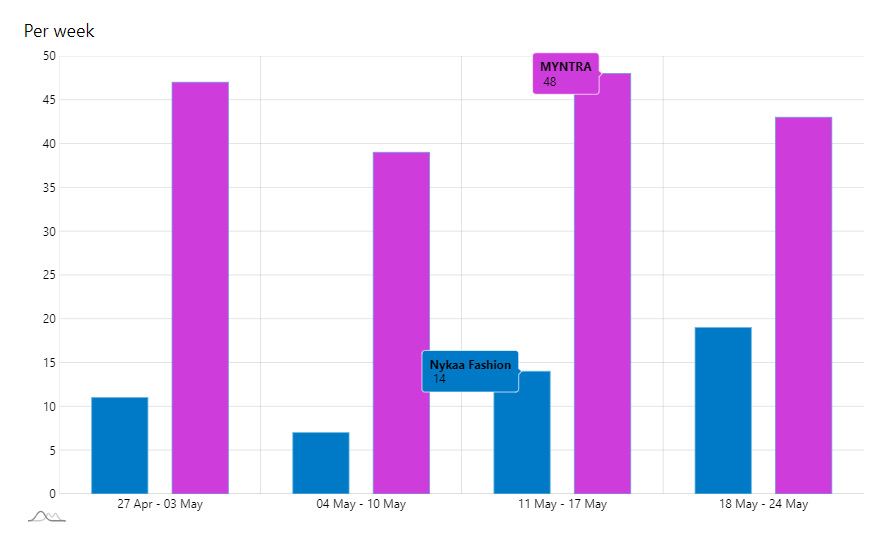 Comparative analysis sum of likes and comments between you and your competitors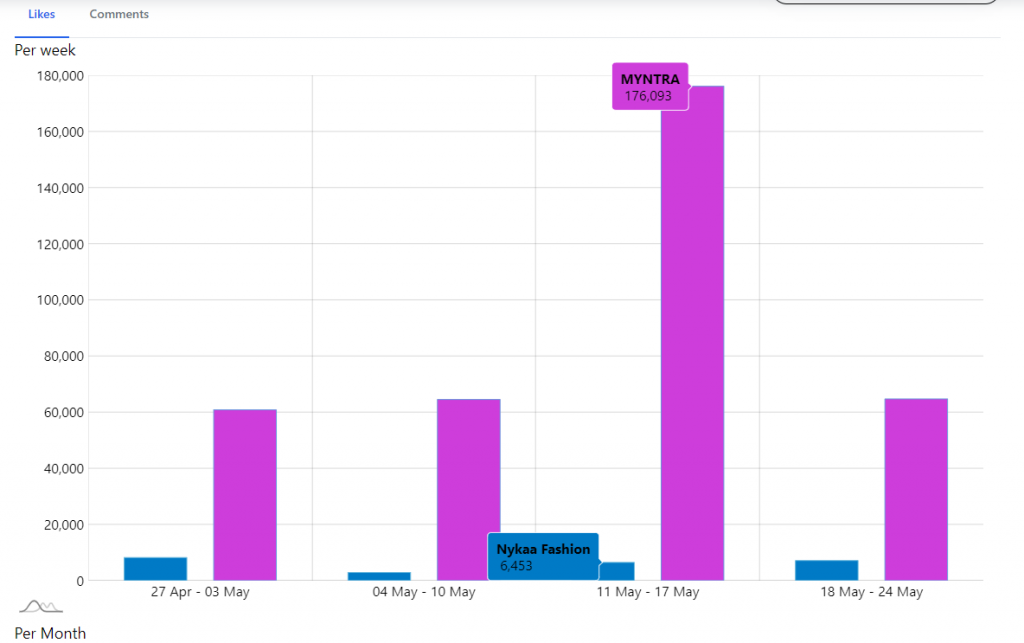 Keep track of Your and your competitor's most popular posts
Analyzing your Instagram competitors
With the Instagram Competitor Report in hand, you can analyze it. Learn about your competitor's strengths and weaknesses by taking the time to soak up the details. Identify potential tactics in your strategy by paying attention to engagement rates and top posts.
Check if the brand has done anything differently if you notice any major spikes or dips. Take a look at their profile if you notice increased followers and see if they've partnered with any influencers or completed any giveaways.
If you'd like to know more about our Instagram Competitor Report, sign up for a 14-day free trial.