How To Analyze Facebook Page Performance For Free
As we head into 2023, Facebook remains the world's most used social media platform. With 3 million global active users – its potential is simply unmatched.
As a business owner or a marketer, you must already be using your Facebook page to reach out to your large pool of audiences – who are a part of these millions of Facebook users on such a giant platform (can be overwhelming, obviously!).
But are you sure your Facebook page is helping spread the message rightly? How do you know your Facebook page is doing the job effectively? How are people reacting to your posts?
Facebook marketing involves analyzing the performance of your business page and optimizing it based on your audience's needs.
Yes, you have a Facebook page insights tool that comes bundled with your Facebook page. But as busy entrepreneurs or social media marketers, we don't have the patience to dig into complex numbers in the CSV export file formats from Facebook insights.
These situations call for easy-to-understand analytics tools – that provide visually rich graphs, and an intuitive dashboard where you can track, measure, and compare your Facebook page performance on the go. And obviously, you have tools like Vaizle to accomplish these tasks efficiently.
Use the FREE Facebook page analytics tool to track and understand your page performance, analyze your audience, and tweak your marketing strategy that works for your brand.
An overview of how to conduct a deep Facebook Page analysis
What To Look For When You Analyze Your Facebook Business Page?
Facebook page analysis is not that easy. As crucial as it is, doing it precisely aids you in uncovering key insights to boost channel performance.
Analyze Your Competitors
The best way to start Facebook page analysis is by spying on your competitors. Examine your competitor's Facebook page thoroughly to gain an understanding of their Facebook strategy.
If you're not sure who your competitors are, you can search for them on Google using your industry's key phrases and search terms.
Once you've listed 2–3 competitors to benchmark your performance against them, the next step is to accumulate information about them, like audience growth, top-performing posts, frequency of posting, engagement, and more.
Use this data to upgrade your campaign strategy on the platform with the Facebook page analyzer free. 
Analyze Your Facebook Page Engagement
After you've gathered all data, you now need to peek into your own Facebook business page insights and dive into the numbers. You have various Fb page analytics tools that can help you with it!
Data without reference is of no use. To analyze Facebook pages, set some key performance indicators (KPIs) that are significant to your business. For instance, if your intention of using a Facebook page is to brand awareness, KPIs should be related to engagements.
There are tonnes of metrics you can focus on, but we've trimmed a few key ones for you:
Facebook page likes.
Facebook page engagement.
Video statistics (if your page includes video content).
Analyze Your Facebook Posts
In the previous section, you analyzed your page-level metrics. Now use Facebook page analytics free tool to analyze individual post metrics.
Analyze your post engagement and find out how many times people took actions involving your Facebook page. Metrics like engaged users, consumption, and more tells you how much engagement your Facebook page is generating from your audiences.
Marketers use Facebook page analyzer free tools to evaluate these metrics and determine which posts resonate with their audience.
Ask Yourself The Right Questions
Now you have some knowledge of how to interpret your Facebook page insights, use these questions to guide your Facebook analysis:
What message resonates with your audience?
What type of posts is getting the most shared?
Who are your Facebook users?
Where are your Facebook users?
What is the ideal time to post on Facebook?
What shall you do after checking the page and posting data?
Once you have these basics covered, you can proceed to the next step of finding your ideal Facebook page analytics tool for free to amplify your Facebook marketing efforts.
Which Free tools To Use For Analyzing Facebook Page Performance
Facebook has heaps of features to offer to marketers. And while making the most of these features, one can easily get overwhelmed and caught up in the process with very little output.
That's why marketers need  Facebook page analysis report to make the best use of this platform – and today, we are going to discuss a few of these Facebook page analyzers.
Vaizle
This Facebook page analytics free tool is what marketers and start-ups need to keep up with actionable Facebook insights. Vaizle helps you get a quick and comprehensive overview of your Facebook page performance from one single, intuitive dashboard. Track your engagement, brand activity, and likes on individual posts with  Facebook page analytics free online, and know what content gets the most engagement.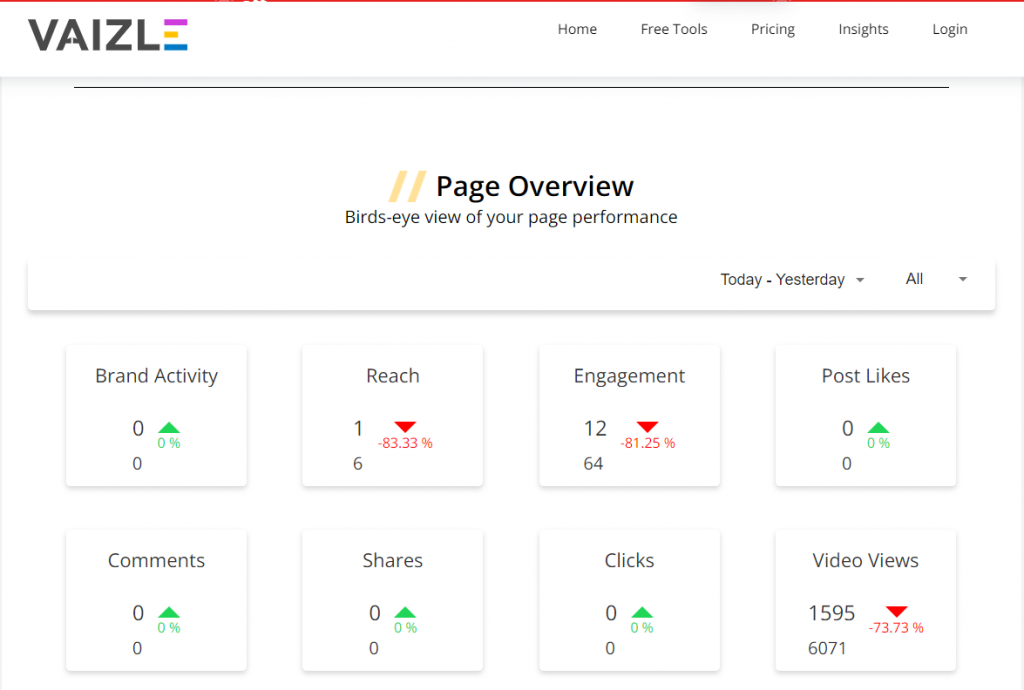 Vaizle free Facebook analytics tools aid you in tracking your page performance on a daily basis – which brings an added advantage for marketers to know which days are bringing the most engagement. Based on these insights, advertisers and social media marketers can revive their strategy based on their daily performance analysis.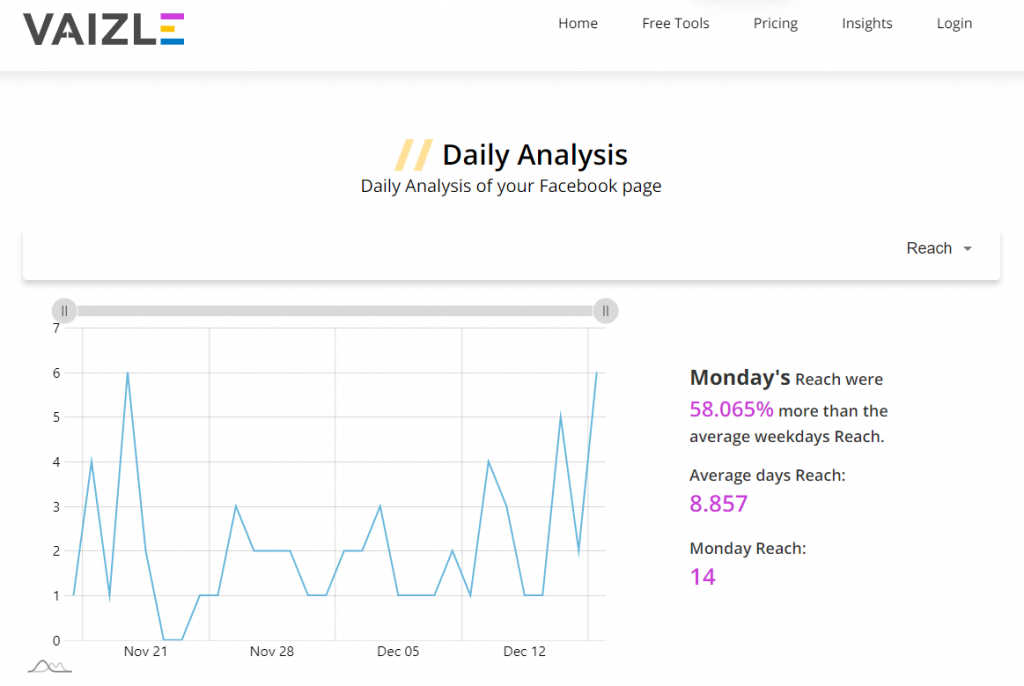 Lastly, the unique quality of the Vaizle tool is its feature that helps you find content generating the most engagement from your target audiences. So you can use this Facebook analytics for targeted marketing also. It shows you the demographics that are most engaged in your posts – giving you rich data to optimize your Facebook marketing strategy.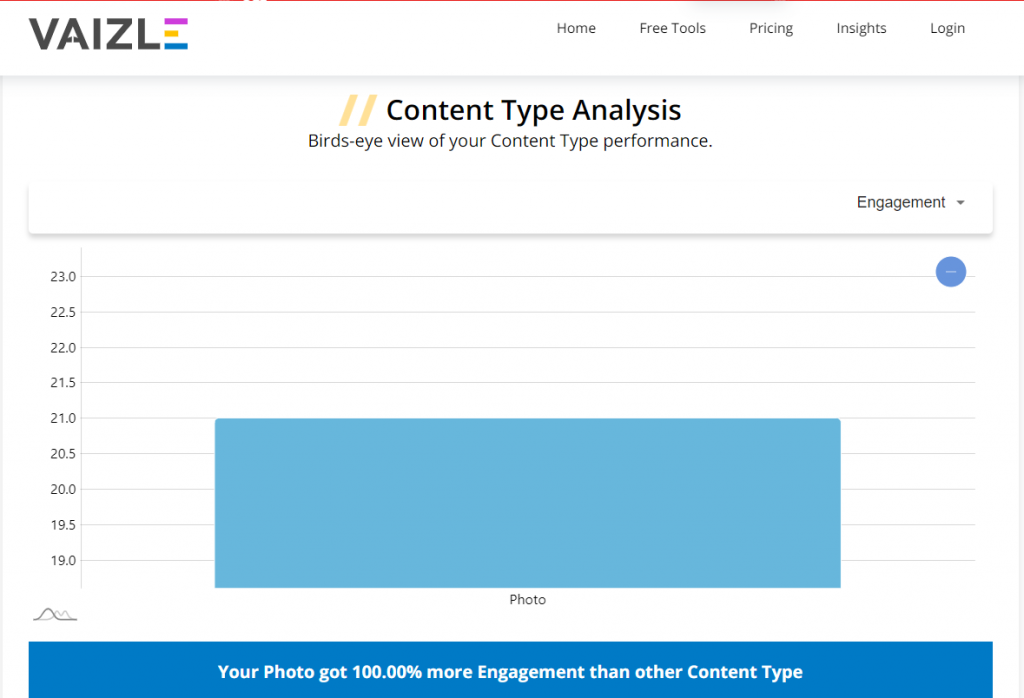 SociolPilot
SocioPilot is one of the finest Facebook analytics tools out there for marketers to analyze Facebook page. Customizing scheduling, analyzing posts, tracking KPIs, discovering trending content – you can do it all with this tool.  
The best part of this analytics tool is its cost-effectiveness – which starts at a mere $30 per month.
Quintly
Another multitasking analytics tool that provides performance insights, competitive benchmarking, and advanced  Facebook analytics for pages. Quintly offers customizable dashboards where you can track more than 250 metrics and generate customized Facebook page analysis report in widely used formats.
Iconosquare
Iconosquare is an official Facebook marketing partner and also offers an amazing Facebook page analysis tool. Understand your audience demographics, keep track of your metrics, measure your community growth, and export analytics data using this tool.
The unique feature of this Iconosquare is its content management and scheduling options – which helps you improve your social media presence and ROI.
Closing Thoughts
Tracking, analyzing, and optimizing Facebook strategies can be fun – only if you have the right tool handy. Paid analytics tools are not necessarily the best, there are various Facebook analytics free tools that can provide better-customized data (than paid ones) to manage this crucial platform. Use Vaizle's free Facebook page analyzers tool and experience how easily you take control of your Facebook page performance, track metrics, and understand your audience needs, optimize your content strategy – all from one dashboard. Once you get a hang of this intuitive tool, subscribe to the paid version and enjoy more added benefits the Vaizle Facebook analytics tool brings to your online business.