Monitor Your Ad Account Performance Using Vaizle Email Alerts
As a business owner or a marketing professional, you already know Facebook ads are your treasure trove for scaling your business. It is that one effective tool that gives competitive marketers a chance to build their brand image, enhance customer loyalty, and heighten opportunities for engagement – and the rest you already know.
But the usefulness of Facebook ads only becomes extremely useful when they are reviewed and optimized continuously. And email alerts help you know when it's required.
Be it any marketer, to nail their e-commerce game, they must keep themselves in the continuous loop of their ad campaign performances. For instance, reviewing which campaigns are receiving more engagement and which are not. And email alerts can help them get these crucial ad performance information and metrics delivered directly to the mail address – without having to spend hours analyzing metrics.
When you're running multiple ad accounts, it becomes incredibly challenging to keep checking your campaign metrics incessantly (obviously, you have other works on your plate too).
With daily Facebook campaign email alerts, you receive all essential ad updates and metrics data – directly delivered to your mail preferred address – without needing to open or navigate any dashboards or ad campaigns. Also, email notifications are quick, easy to use, non-intrusive, and allow you more flexibility and time over mediums.
Every user added to the account can personalize their Facebook email notifications as per their preference and the accounts assigned to them. It keeps you and your team on top of your critical assignments with Vaizle email notifications.
Use Email Connector To Customize Email Frequency And Stay Notified On Facebook Ads Performance
Email 'Connectors' can help marketers keep track of their ad performance through notifications. You choose the ad campaigns for which you want to receive email notifications. If you already have your campaigns added, enable the email notifications on campaigns you want to get notified about and disable the ones you don't want (you can enable them anytime you want to).

Account admins can also add different users to their accounts. With this, other team members
(whose emails are added by the admin) will also receive email alerts on the ad performance – helping the whole team stay updated together on their efforts.
Another amazing feature of Vaizle's email connector – is its frequency customization feature on ad campaigns. Once you connect your Facebook account with the Vaizle tool, you can customize the frequency of your Facebook email notifications on a daily, weekly, or monthly basis.

Once you're done with setting this up, you are ready to receive email notifications on your ad metrics – and make a better judgment on your ad campaign success.
Stay Alert About The Performance Of Your Top 5 Campaigns
Most marketers want a place (folder) where they can access all the crucial metrics of different campaigns – without needing to login to any analytics tool. And Vaizle Facebook campaign email alert gives marketers precisely what they want.
After configuring your email account for your ad campaigns, you will have a complete overview of all important metrics (of your ad performance) directly delivered to your inbox.
Every time you are notified with your campaign metrics over email (drop, rise, whatever!) – you can easily comprehend which Facebook ad campaigns are performing better and getting more engagement from your target audience and which are not.
And you can do all these – on the go – without any analytics login or using complex formulas.
With Vaizle email connector, you can receive a complete periodic analysis of your top 5 ad campaigns analysis of your audience (whether enabled or disabled).
Another mindblowing feature of Vaizle Facebook analysis tools is its account analysis feature on a periodic basis. Some marketers want to review their campaign performances on a daily basis, some want them on a weekly basis, and others want to analyze them on a weekday basis.
Through account analysis, you get customized metrics on your daily performance. Whatever your periodic preference for reviewing Facebook ad campaign performance, Vaizle email alerts will keep you on the hook with detailed emails on your periodic analysis.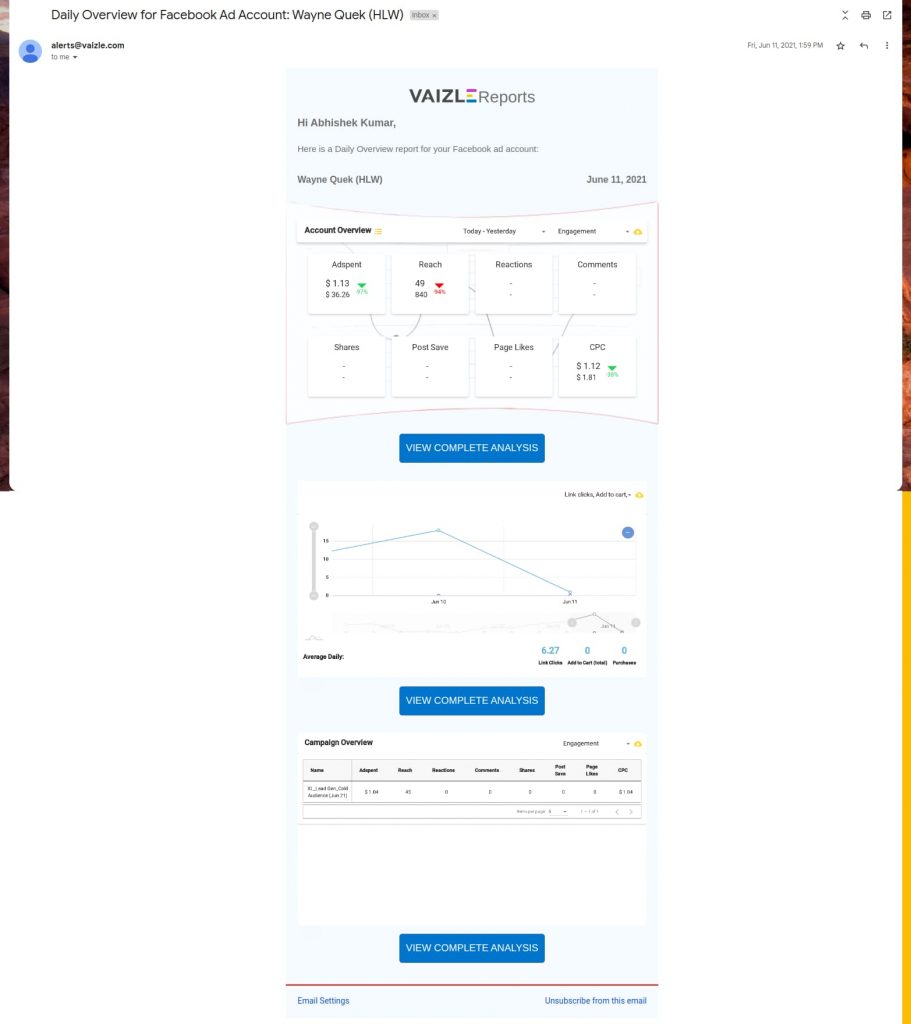 Overall, the Vaizle email connector is an excellent tool for marketers to keep track of their Facebook marketing efforts.

That's A Wrap!
You have complete details on how to activate Vaizle email connector, and how to customize the alerts according to your preferences. Now, you have to take advantage of this feature, connect it to your Facebook ad accounts and keep track of your performance metrics through email.
Thanks for reading!