Analyze The Performance Of Your Google Ads With Vaizle Free Google Analysis Tool
Ok, you have created an ad campaign – and it's up and running! The very next step is to find out how it's performing!
Whether you run a small-scale or medium-sized business, paid ads are always result-driven. To get the best return from Google Ads – marketers constantly need to monitor and analyze the performance of their ad campaigns.
Obviously, it can be overwhelming! But Vaizle FREE Google ads analysis tool makes it easy, manageable, and insightful.
According to research, small business advertisers struggle to optimize their Google Ads accounts; only 1% log into their accounts on a weekly basis.
Determine which keywords are receiving the most conversions, find out top performance posts, monitor your campaign performance, review top marketing channels and calculate your cost per click (CPC) and more – all from one single dashboard – with Vaizle Google ads analysis free tool.
Metrics You Can Monitor With Vaizle Free Google ads Analysis Tool
There are multiple tools for Google advertising available in the market. And among them, not all are up to standard. Some feel complicated, some need to be more efficient, while others fail to produce the necessary information marketers need to make better decisions. 
But Vaizle Google ads analysis free tool is built keeping in mind the needs and challenges of marketers. Here are some activities you can analyze and optimize with the Vaizle ad analytics tool.
Overview Of Your Google ad account:
The success of every google search ads campaign is determined by its performance and crucial metrics.  This google adwords report help marketers to get a better idea of which ad campaign is getting more engagement and which is falling short in efforts – and give them the direction to shape better strategies and optimize decisions.
Get a complete overview of your Google search Ads campaign with Vaizle tools for Google ads. Track, analyze, and evaluate your campaign success from one single dashboard. Receive daily and weekly updates on crucial ad metrics including Total google ads cost, Total Purchases, Clicks, and CTR – and use the information to optimize and adjust your campaigns for better engagement and performance.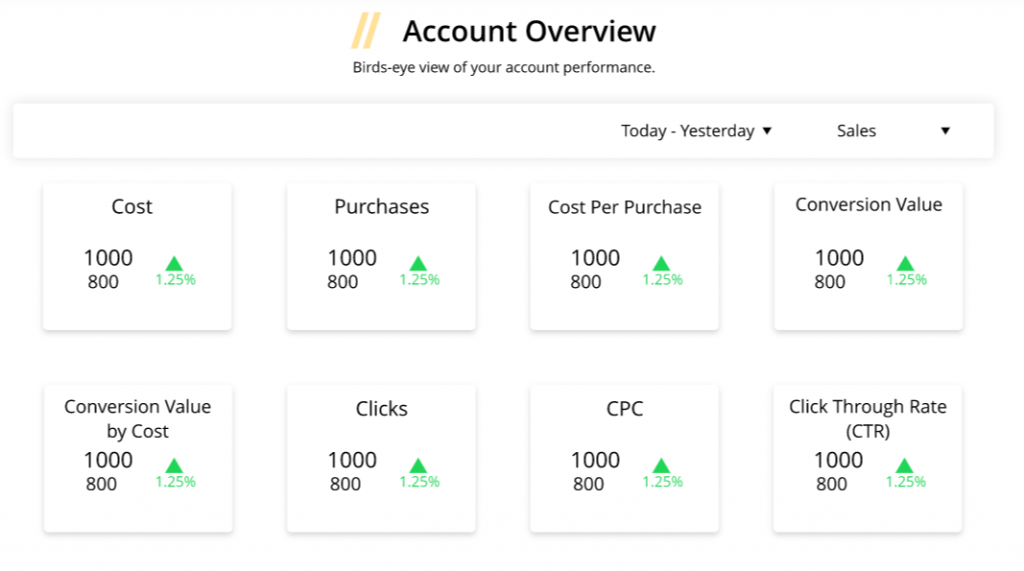 Periodic Analysis:
As mentioned earlier, the success of Google advertising depends on continuous monitoring, managing, and optimizing of campaigns. Not just weekly, but daily monitoring – which helps you understand which days your campaigns are getting better engagement from your target audiences. 
Vaizle's Google ads analytics gives marketers and advertisers the opportunity to analyze and review their ad performance on a daily and weekly basis. Additionally, you can link your email to this tool and receive daily, and weekly google ads reports of your ad campaign performance delivered directly to your inbox- without needing to log into the dashboard. This can be really helpful for marketers running multiple campaigns at the same time.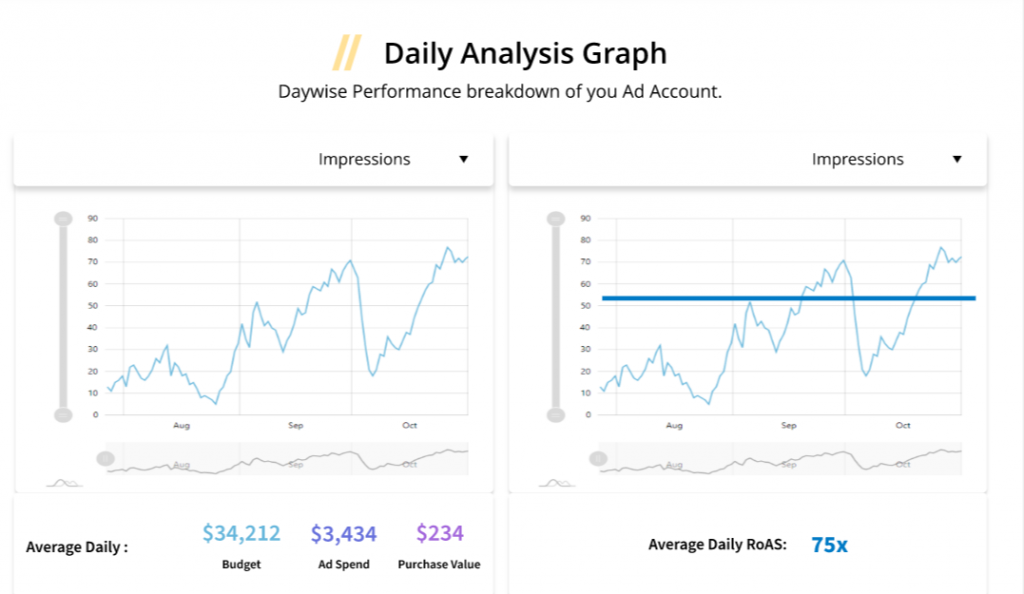 Product Analysis:
So you have been using Google Advertising to grab eyeballs on your product catalogs. But how do you know which product or catalog of your google ad account is receiving the most views? This is where product analysis becomes immensely important for marketers for making optimizing decisions on product campaigns. With Vaizle's free Google advertising tool, you can measure the performance of your product catalog. 
This tool helps you monitor the performance of your product catalog, sort it by CTR, CPC, and link clicks, and find the 'hero' products as per the analysis. Based on these data, you can optimize your ad campaigns, improve your conversion rate, and push forward the products that are bringing the most engagement.
Campaign Overview:
To drive sales, generate leads, and raise better brand awareness, marketers and advertisers create different ad campaigns with different objectives. In these campaigns, there are ad sets that are curated to communicate the same message but in different ways – to see which set message aligns with your audiences.
When running different google search ads campaigns in your google ad account obviously, not all are going to bring the results that you are expecting. Some will perform better, and some will miss the mark – and the Vaizle campaign overview feature will help you find the same. Determine your camping performance, analyze your campaigns' reach, ad spent, CPC, and CPM, and optimize your marketing strategy with a google adwords report from Vaizle.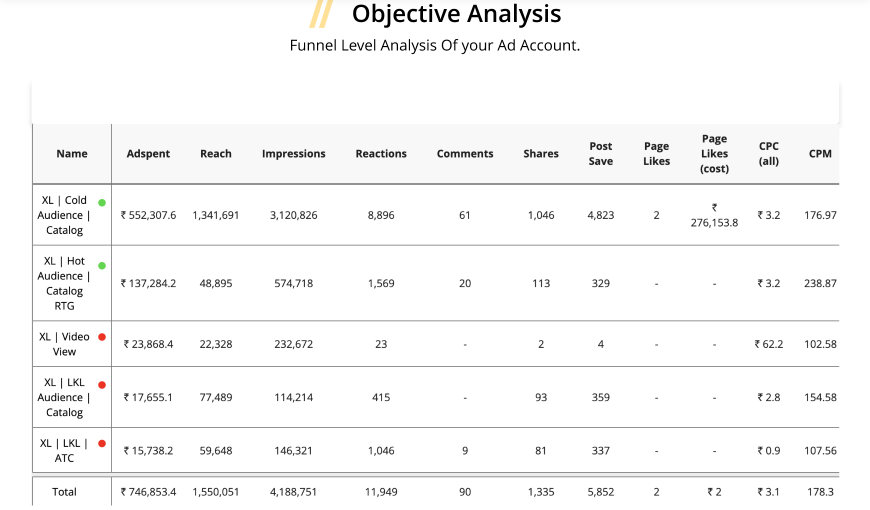 Keyword Analysis:
Find the efficiency of your targeted keywords in terms of your targeted audiences with Vaizle's Google ads keywords tool.
Analyze the phrases that are bringing the best results, and know which keywords generate the most number of clicks and conversions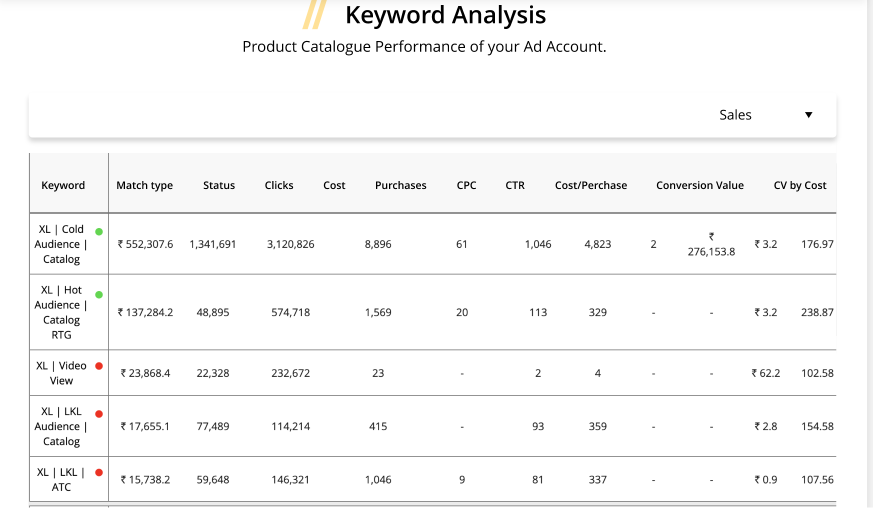 Demographic Overview:
To curate better visual advertising messages, marketers need to understand their audiences, know the device they are using to view their messages, or which device is bringing the most clicks, impressions and conversion value – and then optimize their ads based on these insights.
Vaizle's google adwords analytics tool gives you the freedom to receive a complete demographic overview of your ad campaign from your dashboard and align your advertising messages to the demographic requirements of your target audiences.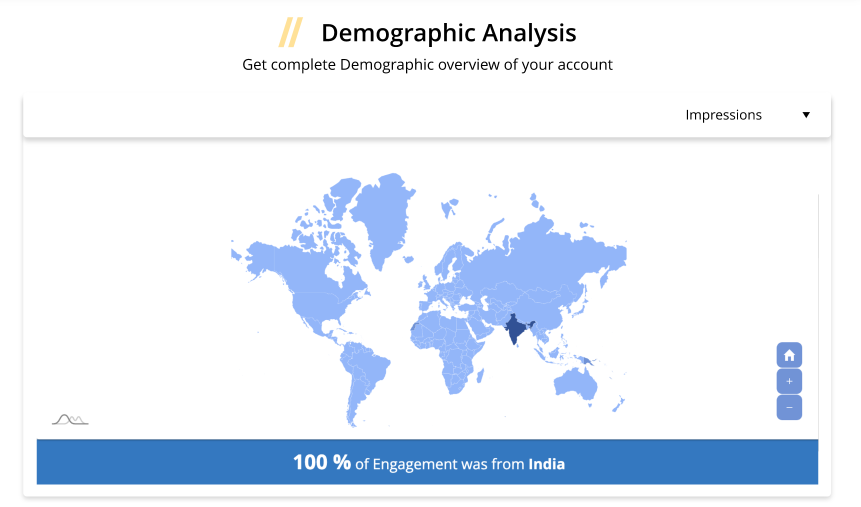 Summing Up
If you have made it here, you are ready to use the Vaizle Google ads analysis tool. Whether your ad campaign demands keyword analysis, periodic analysis, or a detailed campaign overview (to name a few) – everything can be done with this tool. Its easy-to-use interface, seamless integration, and amazing features make this tool a favorite among marketers and advertisers.