Analyze Your Product Catalog To Determine Which Products Are Winning In Your Facebook Ads
Billions of people use Facebook to connect with their friends and family worldwide. But this social platform is slowly changing its course. Now it has become a hidden hub for e-commerce businesses and retailers to promote their products online, grow their presence and create lasting connections with their customers.
Whether you are a retailer, manufacturer, or supplier – with Facebook, you can take your merchandising game to a whole new level. And all this is possible only with e-commerce product catalog advertisements!
Did You Know?
66% of Facebook users check out local business pages atleast once a week!
Now, e-commerce businesses have the opportunity to advertise and sell any product inventory on Facebook by simply integrating their e-commerce product catalog into Facebook Business Manager.
But that's half of the story!
For e-commerce businesses and marketers to build up a solid merchandising strategy on Facebook, one has to be in a continuous loop of studying, analyzing, optimizing, and updating each product catalog.
This way, you will understand how customers react to your products in each catalog, see which product brings the best ROI, and hone your ad campaigns based on the data. Now you can eliminate the losers and discover the HERO product in your catalog.
Remember, your aim is to give customers more of the type of products they desire – the way they want it and how they want it – funneling your way to increase the chances of sales.
Facebook product catalog analysis is the process of analyzing the performance of your products in the store – and identifying the products with the minimum and maximum ad spend.
If you're running multiple product campaigns, it can be draining to analyze each product catalog individually. Instead, take an advanced approach and use Vaizle's Facebook Product Catalog analysis to analyze how well your products catalog performs in Facebook ads – and find the star product among them.
If you are all set to enlighten yourself about your e-commerce product catalog analysis and want to know how to do it correctly, keep reading.
How will Vaizle help you to find your top/hero products from your "product catalog"?
The process of finding your top hero products from your product catalog can be divided into three steps.
To get the best from your eCommerce product catalog, you need to start by analyzing the essential metrics of your product catalog ad campaign, followed by tracking and measuring your ad spend on each product catalog and ultimately finding the e-commerce product catalog with a high conversion rate.
These may seem like a lot of work – but worry not, we will discuss all these steps in detail in the following paragraph.
Tracking Important Metrics Of Product Catalog Ad Campaign
The primary aim of all businesses is growth. You want to increase your bottom line. Marketers spend thousands of dollars in product catalog ad campaigns to gain visibility, boost sales and ultimately procure better ROI.
But without tracking and monitoring metrics, it's almost impossible for marketers to realistically prove and understand the effectiveness of their merchandising efforts and overall e-commerce strategy.
To rightly measure, compare, and evaluate the potential of your product catalog – analyzing your ad campaigns is NECESSARY. It will help you answer every question about your product ad campaign – giving you the data and scope to optimize better and meet your advertising ROI goals.
Now the question stands: what to track?
Yes, there is a pool of Facebook metrics to track to determine your ad campaign success – but all of them are not useful and neither necessary. Here are the important metrics to track:
Ad spent: As the same suggests, this metric helps you analyze how much resources and costs are incurred on an ad campaign. In addition, it will give you an understanding of whether your e-commerce marketing strategy is worth it.
CTR (Click-Through Rate): Tracking this metric shows the percentage of people who see your ad and click through to the post-click landing page. It gives you insights into the effectiveness of your product ad.
And a good-performing Facebook product catalog should receive at least 1.5 CTR.
Impressions: This metric tells you the number of times your product catalog ad has appeared in paid search ads to people. Basically, this metric helps calculate brand awareness.
Link Clicks: This eCommerce product catalog analysis metric measures any click your Facebook ad has received and shows how interested people are in a particular product catalog.
CPC (Cost-per-click): This is a very crucial metric that helps determine how much you paid for each click on your product catalog ads and whether the money you invested in your ads is bringing results.
Also, with CPC, you will be able to identify the right keywords for your campaign and also learn what can be achieved within your budget.
These are the MOST CRUCIAL metrics to always keep an eye on. Other than these, there are a few metrics that you should also track, including comments, reactions, shares, etc. But there is one challenge. Tracking the metrics of individual product catalogs can be too much. You need an analysis tool like Vaizle, where you can measure these crucial metrics easily from one single dashboard.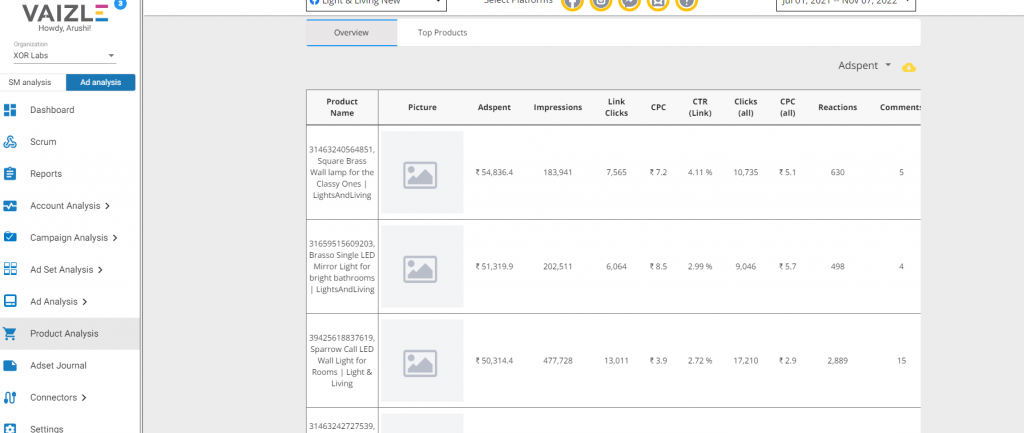 Vaizle product catalog analysis allows you to track, analyze and manage your different Facebook eCommerce product catalogs without a sweat. From one single dashboard, you will be able to track and measure all metrics against each product and get a thorough understanding of which product is getting more engagement and which is not. Whether your business is B2B or B2C, analyzing the catalog will give you a detailed understanding of what ads are resonating with your customers, and what returns you are receiving on your investment and accordingly you can create and advertise more of these products to them.
Based on these data, you can optimize your product catalogs – and push forward the items that are getting the most engagement and take a step back with items that are not generating the required engagement compared to your ad investment.
Measuring Ad Spent On Ad Campaigns
When you are doing paid advertising on Facebook, you have to measure your revenue versus every cent you spend on promoting your online. In short, you have to know the returns on your ad spend – ROAS. Without this, you won't be able to measure the effectiveness of your eCommerce product catalog ad campaigns.
Multiple formulas for calculating the ad spend against the revenue you generate exist. But these all can get too complex and hard-to-swallow situations when you have to undertake it for each product on every catalog separately.

Release yourself from the tension and use Vaizle's facebook product catalog analysis tool. From one dashboard, you will be able to track everything about your product catalog. Use this tool to know your minimum and maximum ad spend on products in each catalog. With this, you can identify the catalogs on which you are overspending – and adjust your budget on those ad campaigns and protect from incurring losses. That's not all! You also get the option to analyze and sort your product catalog based on metrics like CTR, CPC, and link clicks and get a complete detailed insight into your product catalog.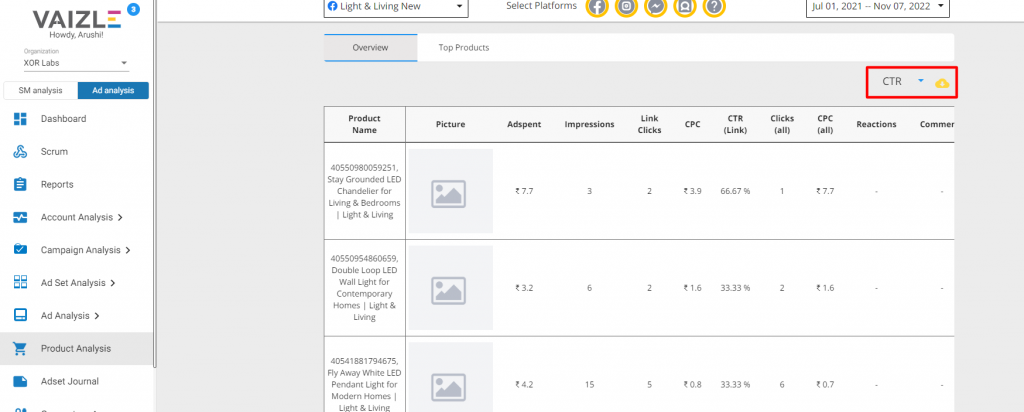 Find Out the Topmost Product from Your E-commerce Product Catalog
Your product catalog houses all your products that you want the customer to see. Though we expect to see that every product gets the highest engagement and CTR,, ideally this is different from what happens.
Among your individual eCommerce product catalog, there will be some products that will receive more engagement and will have a high conversion rate. But, at the same time, few won't be able to grasp your customer's attention. And if you understand what product catalog ad is getting the best engagement, you can create more ads on the same product and promote it to your targeted audience. Also, you get an added advantage over your competitors.
Once you find the HERO product from among your product catalog, you can optimize your ads better for your audience. In Vaizle's Facebook ad analysis tool, you get a separate option to identify your top products from the catalog and know your ad spend and CTR against each of these products. You can also filter your products based on different metrics, like Ad spent, CPC, link clicks, and CTR, and measure them against each other to see which product catalog is performing the best and bringing you the optimum ROI. Once you have all this data handy, you can budget your campaigns better and invest in those catalogs that are bringing you the best results against your ad investment – ultimately improving your chances of scoring sales.

Final Thoughts
The best Facebook product catalog ads are data-driven. You know what your audience wants and how they interact with your eCommerce product catalog. Though it may seem overwhelming at times, if you are reassured to follow this guide, you will have everything under control, and nothing will be overlooked. Ensure you conduct regular catalog analysis and check and help your customers find the right product.
Hope you find this write-up helpful. Thanks for reading!