How to Audit a Facebook Ads Account Under 10 Minutes. For Free.
The first step in making a Facebook Ads account successful is understanding its past performance. In more sophisticated words, you need a Facebook Ads audit.
Doing a Facebook Ads audit is time consuming and exhaustive. The complexity of doing an audit is also directly proportional to the history and the ad spend of your Facebook ad account. The more the ad spending, the more time you'd need to spend. The more ads you tested, the more thorough you'd need to be.
To solve this, we just launched a free Facebook ads audit tool that you can use to do quick Facebook ads analysis.
A good Facebook Ads audit should take into account quantitative as well as qualitative analysis. Here's what it should have:
Lifetime data: To create benchmarks for performance
Past months' data: To create benchmarks for the most recent performance
Breakdown analysis: To understand demographics, user behaviour, and month-over-month or week-over-week performance
Performance of KPIs: Ad spend, Cost per Acquisition or Lead (as per your requirement), conversion rate, and if you're an eCommerce business, maybe average order value as well.
Here's a step-by-step process that will help you do free Facebook ads audit and create quick reports in less than 10 minutes.
Step 1: Add your Facebook ad account on Vaizle's free tool
Click this link to visit the free Facebook ad tool
https://vaizle.com/free-facebook-ads-tools

Click on 'Continue with Facebook' to access the tool.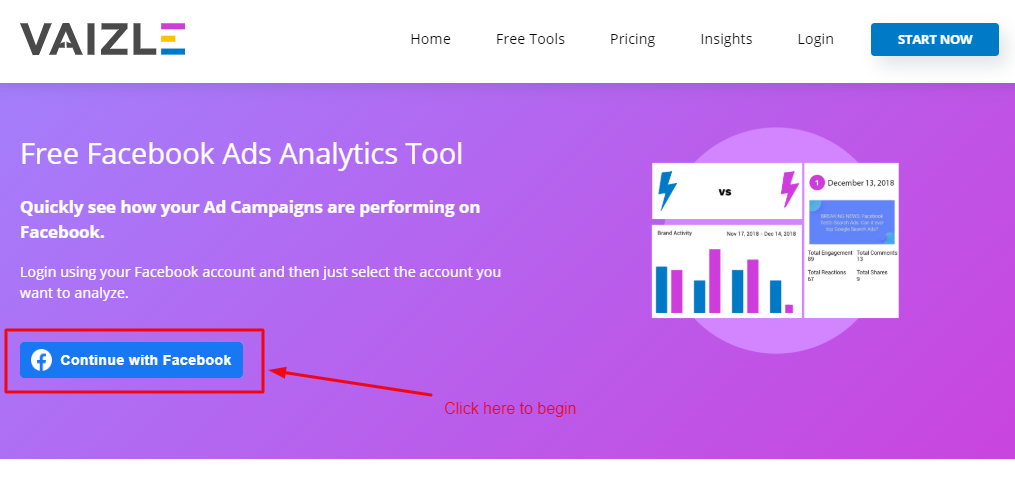 Click on 'Add Facebook Account' and you will be asked for authentication. Continue by authorizing Vaizle to access your FB ad account for audit.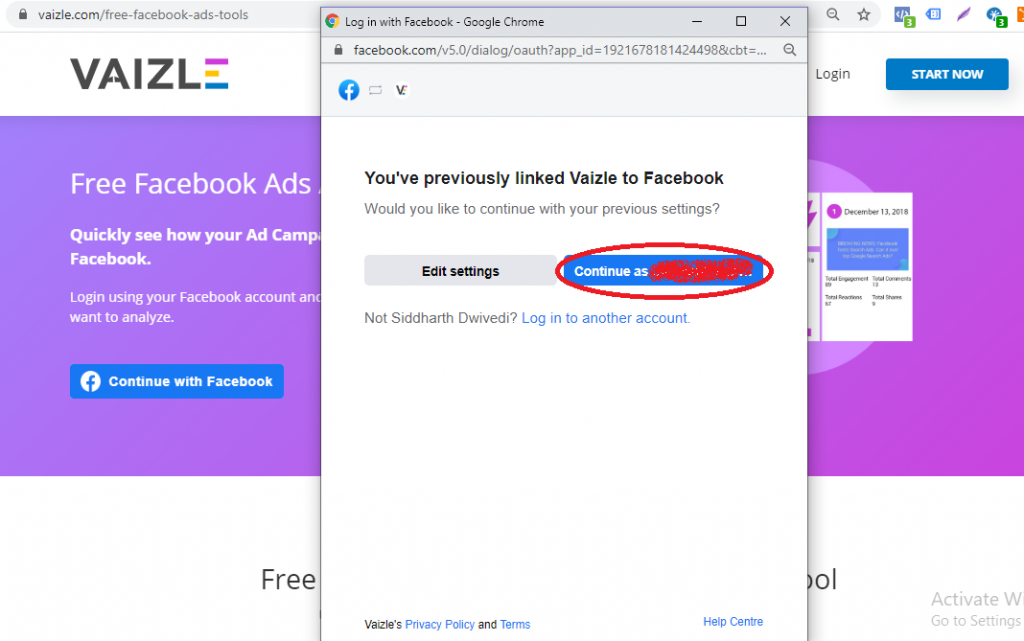 Don't worry. We neither store or share your Facebook Ads performance data. You can read Vaizle's privacy policy for more details.
Step 2: Select an ad account for audit
After you've authenticated, you will be asked to choose an ad account you want to do an audit.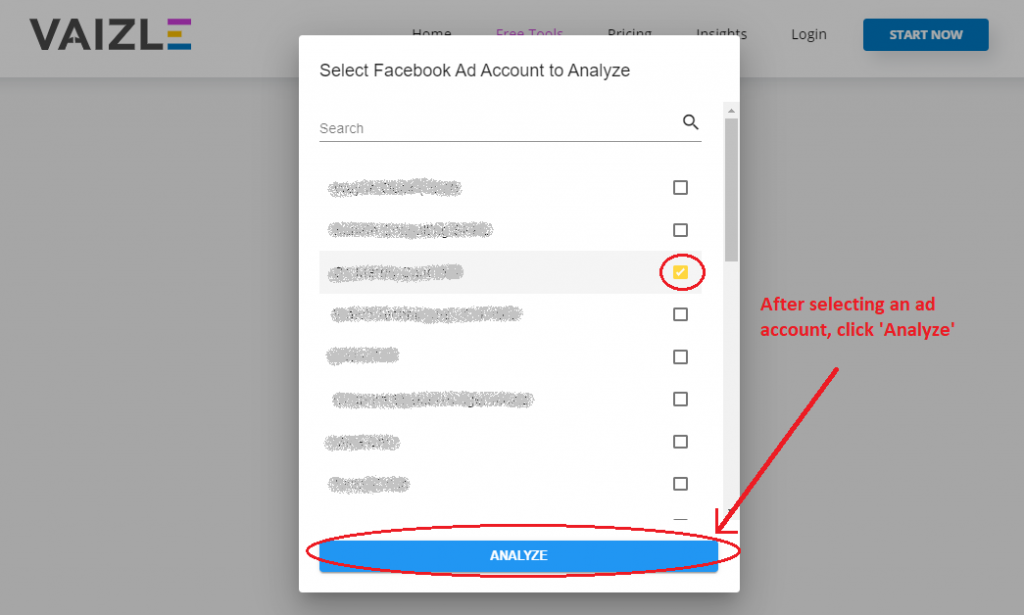 To select an ad account, click on the check box adjacent to the ad account names. And then click the analyze button, once you have selected an ad account.
Many advertisers try to keep their cold and retargeting ad accounts separate. Some multi-category eCommerce stores also do that. In that case, you can even select multiple ad accounts and compile their data.
Step 3: Check all the graphs and choose appropriate 'Conversion'
Once your data is fetched you will be able to see the following details:
Lifetime analysis of your Facebook ad account
Last month's data
The metrics available in the table:
Amount spend
Link clicks
Cost Per Click
Content Views (really valuable if you're an eCommerce store)
Conversions (you can change the conversion event. More on this shortly)
Cost per conversion
Conversion rate
Here's what a typical table looks like with lifetime, last month, this month, yesterday, and today's ad performance data. In this table, the conversion event is Facebook lead forms.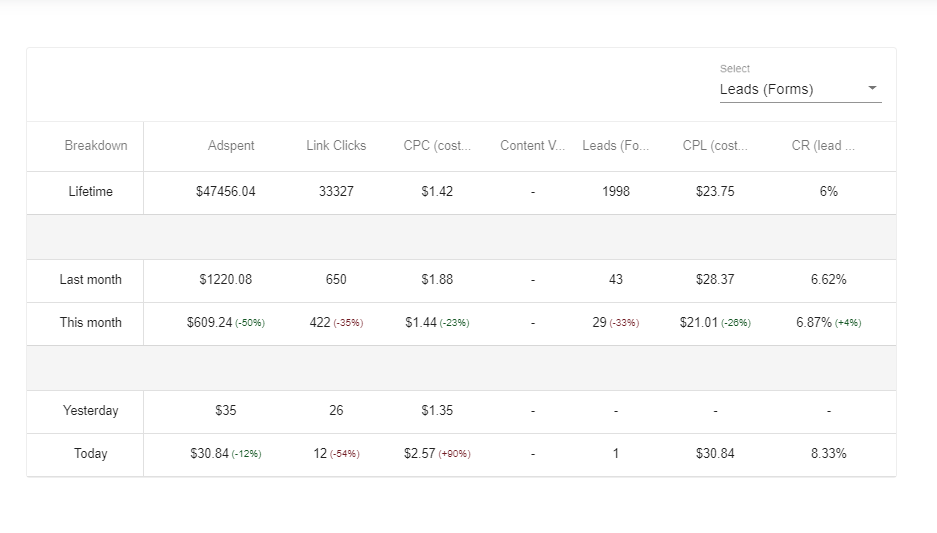 By default, the conversion event is 'Purchase'. However, you can change the 'Conversion' event from the dropdown.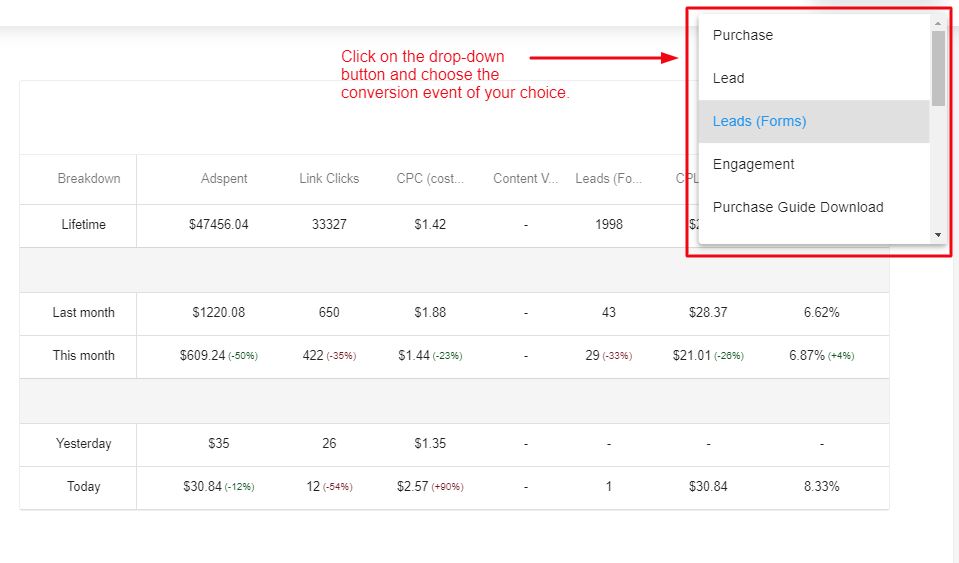 This table is followed by campaign level analysis of the ad account, where you can choose the time frame as well as the conversion event.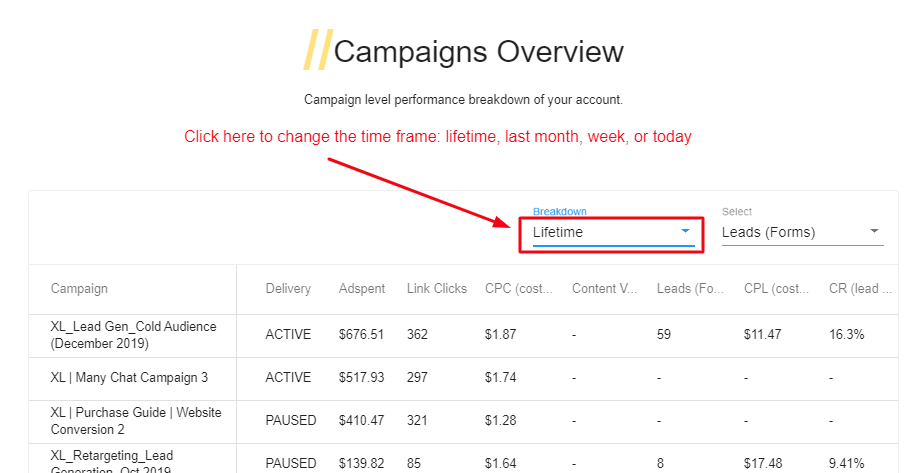 The next two sections of the Facebook Ads audit report show you platform wise breakdown of the ad performance and conversion overview in terms of number of conversions for all conversion events you have created in your Facebook ad account, cost per conversion, and conversion rate.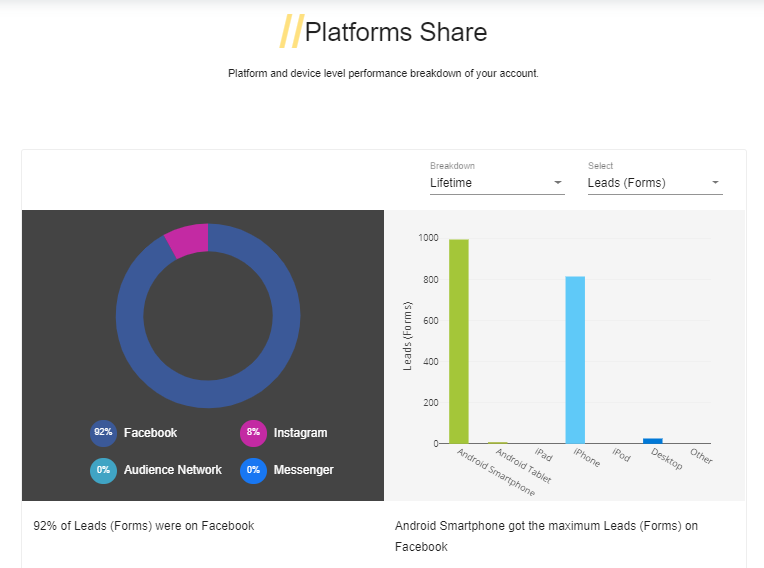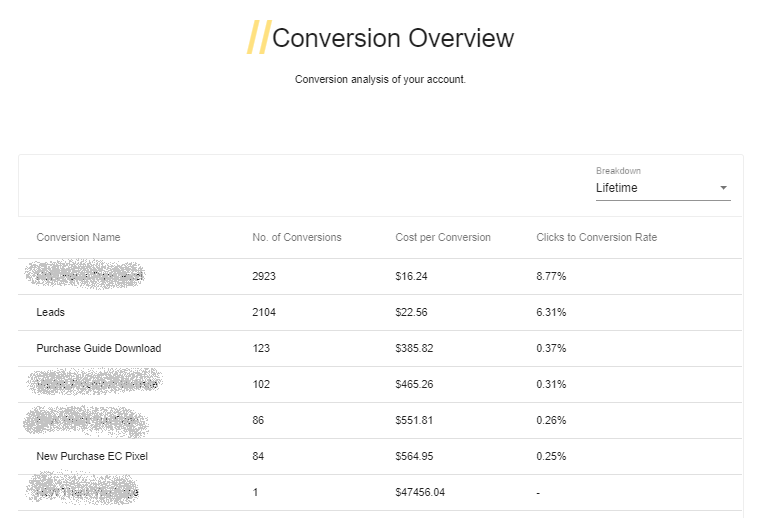 Step 4: Edit or Change Report
While you can look at all the data at your fingertips, you can also download it in a PDF format.
Click on the menu button available in blue to reveal a right column menu where you have tons of other options.
Here's what you can do with this menu:
Hide a table or graph
Change ad account
Go into 'Editing' mode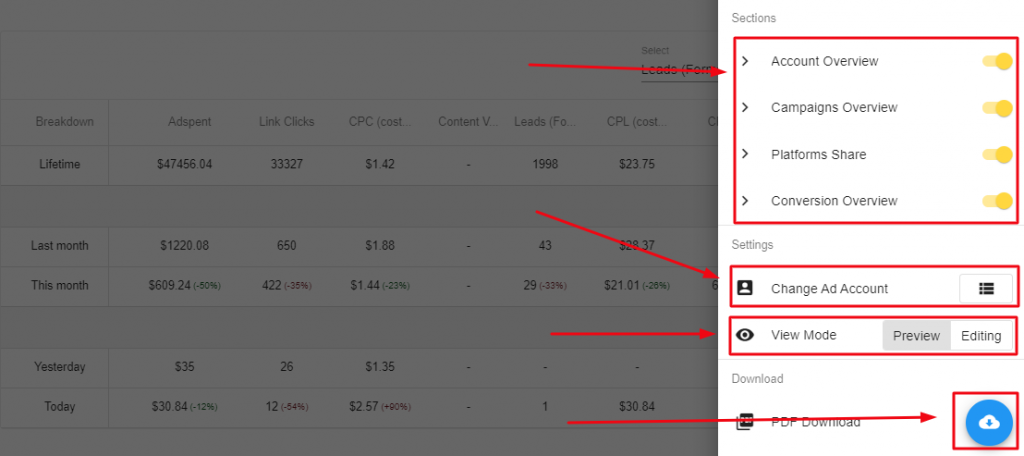 Step 5: Add notes or comments in the report
To add notes or comments in the report, go to Editing mode.
Here, you will find comment boxes under each section of the report. You can write your own analysis of the data before downloading. This will make your report more contextual. So if you want to bring a point out distinctly, you can write it down in the comment section.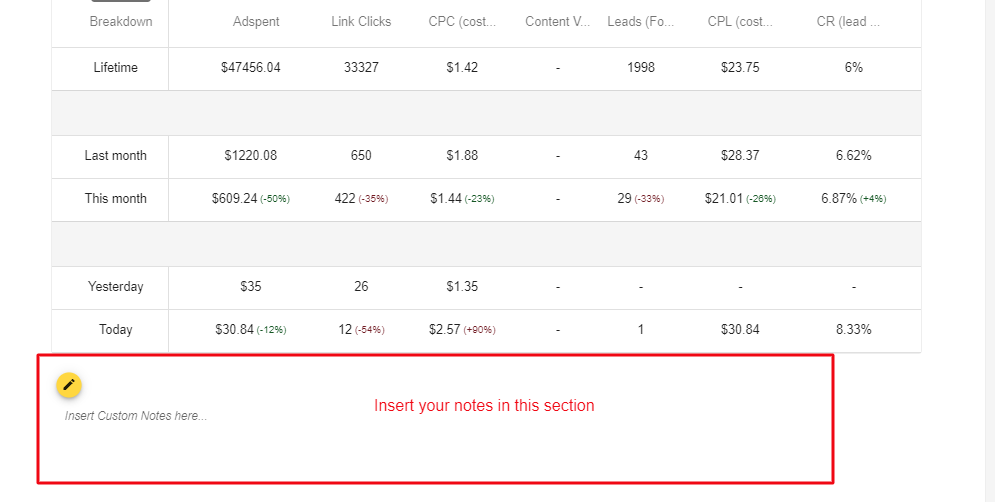 But more importantly, you can even change the title of the report or add your own name to make the report highly contextual.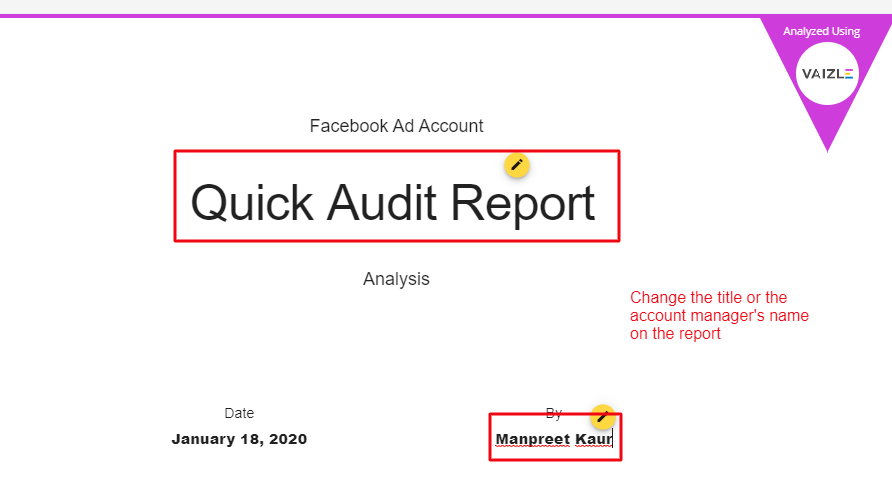 Step 4: Download audit report
Once you're sure that your audit looks like the way you want it, you can download it now.
Click on Download in the right column and then add your work email ID to download the report.
Conclusion
With Vaizle's free Facebook Ads audit tool, you can not only perform quick audits and turn into great reports, but you can also:
Plan your next phase of Facebook Ads plan
Create pitch for your client
Get insights from a Facebook ads account
Create reports with your own comments
So go ahead and start using the free audit tool we designed just for you.
If you liked it, we'd love if you could add a recommendation on our Facebook Page.