What Marketers Need to Know About Social Media Analytics
When it comes to running your brand's social media presence, you need to be able to understand what your content is doing well and what isn't.A number of key metrics can be measured through social media analytics, including reach, followers, engagement, clicks, and conversions.
In this article, we will explore the best free social media analytics tool that marketers should consider using in 2023. These tools enable you to gather comprehensive insights, streamline data analysis, and make informed decisions to optimize your social media strategies.
Let's dive in…!
Table of content-
What is Social Media Analytics?
Social media analytics can help in analyzing data generated from social media platforms to extract meaningful insights and trends. It provides businesses and individuals with valuable information to understand audience behavior, measure the impact of their social media efforts, and make data-driven decisions.
By understanding the trends of their social media data, businesses and individuals can create more effective content. They can also optimize their marketing strategies, and tailor their campaigns to the needs of their target audience. For instance, examining the data from a brand's social media channels can help them determine when their audience is most active, what types of content they engage with, and the topics that resonate the most with their followers.
Why is Social Media Analytics important in 2023?
1.Growing Social Media Usage
As of 2022, there were 4.48 billion social media users worldwide, with an annual growth rate of 13.2%. The average daily time spent on social media is around 145 minutes per user. These numbers highlight the significant audience presence on social media platforms, making it crucial for businesses to analyze and understand this vast user base.

2.Evolving Consumer Behavior
Many consumers discover brands, research products/services, and seek recommendations on social media platforms. 54% of online browsers use social media to research products before making a purchase decision. Social media analytics enables businesses to gain insights into consumer preferences, behavior, and sentiment, helping them align their strategies accordingly.

3.Return on Investment (ROI)
Social media analytics provide valuable data to measure social media campaigns' effectiveness and ROI. An analysis of social media data helps marketers understand the ROI of their efforts, according to 73% of marketers. Businesses can measure the impact of their social media activities and maximize their return on investment by tracking engagement, conversions, and click-through rates.

4.Data-driven Decision Making
To stay competitive and make informed decisions, businesses must make data-driven decisions in the digital age. Marketing, product development, customer service, and brand management are all impacted by social media analytics. 60% of marketers use social media analytics to develop more effective strategies and improve decision-making.
By leveraging social media analytics, businesses can better understand their audience, gain a competitive advantage, optimize their campaigns, enhance customer experiences, and make data-driven decisions to drive success in the dynamic world of social media.
Why do you need Social Media Analytics Tools in 2023?
Are you a social media marketer who would like to focus your efforts, time, and budget more effectively? The time has come for some new social media analytics tools!
Analyzing social media is one way to determine what works and what doesn't on social media. In addition, they should provide you with the historical data that you need to assess your social media marketing strategy.
The following questions can be answered with social media analytics tools:
Is it a good idea to post more on Instagram next month?
What network helped us launch our product with the most brand awareness?
The most popular posts we published on LinkedIn this year?
Are my followers interested in the kind of posts I write?
The list goes on and on.
The best Free Social Media Analytics Tools in 2023.
1. Vaizle:
Aspects of importance:
Vaizle provides comprehensive insights into your social media performance across major platforms like Facebook, Instagram, LinkedIn, YouTube, and Google Ads analysis. By tracking engagement, reach, followers, and sentiment, you can better understand your audience and make data-driven decisions. You can also benchmark your performance against competitors and identify industry trends through the tool's competitive analysis. The user-friendly interface and customizable reporting feature of Vaizle further enhance its value, providing businesses with the tools needed to improve their social media strategies.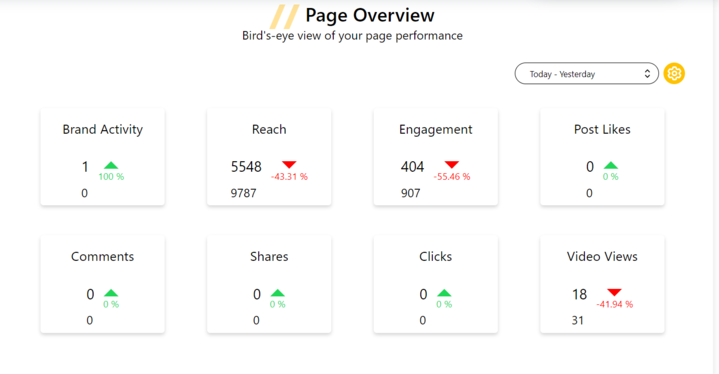 Is it free or paid: Free tool
Level of skill: Beginner to intermediate
Best for: Entrepreneurs who run their own social media, small- and medium-sized business owners, and performance marketers.
How to check instagram analytics?
Imagine Instagram analytics, Facebook analytics, LinkedIn analytics, Youtube Channel Analytics, and Google Ads Analysis all in one place. With Vaizle, you don't have to check each platform separately to find out how your social media efforts are going.
By allowing you to compare results across networks, it saves you time.
Social media post metrics:
Clicks
Comments
Reach
Engagement
Followers count
Website clicks
Impressions
Shares
Saves
Video views
Video reach
Competitor Analysis
Vaizle does Free Instagram and Facebook competitive analysis for you. It will allow you to compare your Facebook and Instagram performance with your competitors. Vaizle provides insights into metrics like page likes, engagement, reach, post frequency, and audience growth. It helps you track engagement, identify top-performing posts, and benchmark your performance against your competitors.
Follow these 4 simple steps to track competitors with Vaizle:
Click on this link to analyze your competitors
In the area provided, copy and paste the Facebook pages of your competitors and yourself.
Click "Continue with Facebook"
And here you go compare your brand presence against your competitors.
Overview-
Get a detailed analysis of your competitors by using our free Competitor Analysis tool. You will be able to gain insight into posting frequency, including images, videos, and text. Take advantage of these actionable insights to plan your content in advance and stay ahead of your competitors.
Best Engaging week-
By analyzing your competitors, you will be able to learn more about your engagement and how you stack up against them. The sum of likes, comments, and shares can be used to identify the most engaging week. With the breakdown of reactions, shares, and comments, you can also determine the level of applause, amplification, and conversation in the past 30 days.
Discover top posts-
Boost the performance of your business page by analyzing your competitors' likes, shares, and comments. By using this tool, you can develop an effective content strategy that is tailored to your target audience's needs. As a result, you will be able to go viral among your audience.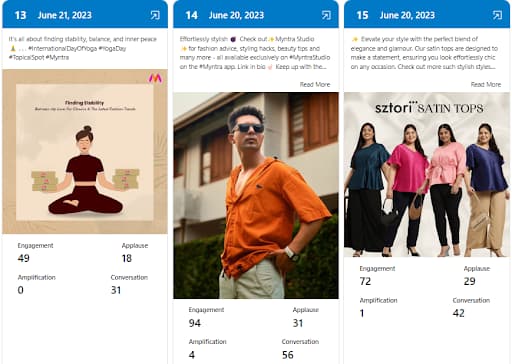 Conclusion
Make the most of your social media budget with Vaizle by tracking your performance. Your posts will be published and the results will be analyzed in the same, easy-to-use dashboard. You can try it for free right now.