100+ Trending Hashtags for Instagram Reels to boost engagement
As per HypeAuditor analysis, Instagram reels have a stellar reach of 33.8 %. This is much higher than any other content format on the platform. But mastering Instagram reels goes beyond the skillful use of filters. You need to have a strategy for hashtags, too.
Consider hashtags to be virtual signposts. They directly lead the user to your content, increasing brand awareness. You can directly engage and connect with your target audience through hashtags for Instagram reels.
In this blog, we will identify the best Instagram reel hashtags for 2023 and then understand how to add hashtags for Instagram reels. We will also understand the importance of using hashtags and how to find the top hashtags for Instagram reels for your brand.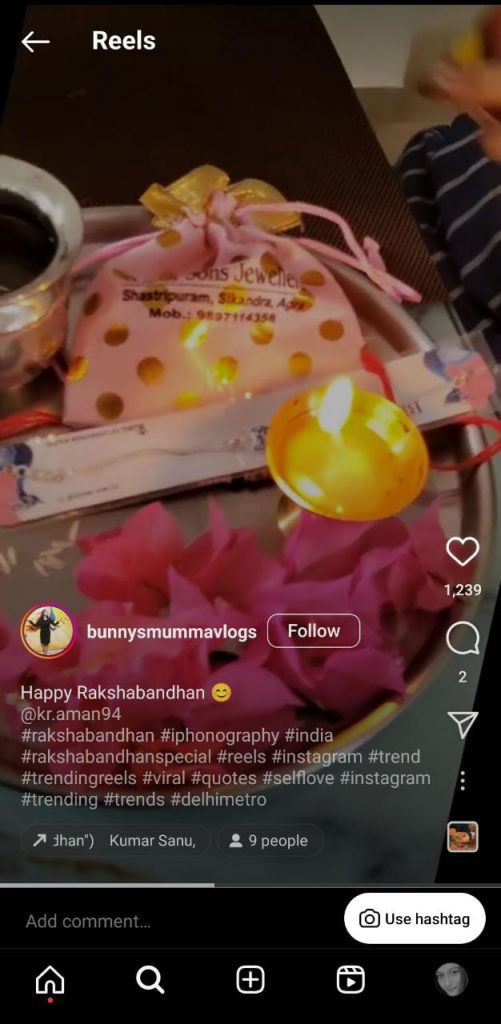 Table of Content
What are the best hashtags for Instagram reels in 2023? 
Best Instagram Reels Hashtags
#reels
#reelsinstagram
#reelsvideo
#reelsitfeelit
#reelsindia
#holareels
#reelsinsta
#instagramreels
#viralvideos
#instareels
#reelsofinstagram
#viralvideos
#reelsvideos
#reelsexplore
#reelsforyou
#reelsviralvideo
#reelsoftheday
#reelslove
#reelsvideo
#reelsindiaofficial
#reelslover
Best Fashion Instagram Reels Hashtags
#stylegoals
#fashionstyle
#lookbook
#trendy
#outfitoftheday
#fashionblogger
#fashionista
#ootd
#instafashion
#shoeporn
#heels
#dapper
#stylesinspo
#sneakerhea
#styleblog
#makeupforever
#beautytips
#makeup
#beautybloggers
#beauty
#photography
Best Instagram Reels Hashtags for Viral post
#viral
#viralvideos
#viralreels
#viralpost
#viralvideo
#viralposts
#viralreel
#virals
#viraltiktok
#viralvídeos
#viralinstagram
#viralphoto
#viralindia
#viraltrend
#viralmusic
#viralsongs
#viralvidio
#viralnews
#viralquotes
#viralphoto
Trending Lifestyle Instagram Reels Hashtags
#fashionreels
#fashionreelscreator
#fashionreelsindia
#fashionreelsinstagram
#fashion
#fashionblogger
#fashionista
#fashionstyle
#fashionable
#fashiongram
#fashionblog
#fashionphotography
#fashiondesigner
#fashionweek
#fashionaddict
#fashiondiaries
#fashionpost
#fashionlover
#fashionkids
#fashionmodel
Best Travel Instagram Reels Hashtags
#instatravel
#travel
#holiday
#mountains
#travelblogger
#nature
#solotravel
#beachlife
#placestovisit
#views
#backpacking
#wanderlust
#vacation
#islandlife
#ocean
#traveladdict
#vacationmode
#tourist
#travelbug
#sunset
#travelgram
Trending Photography Instagram Reels Hashtags
#photography
#naturephotography
#travelphotography
#foodphotography
#portraitphotography
#landscapephotography
#weddingphotography
#photographylovers
#filmphotography
#canonphotography
#fashionphotography
#mobilephotography
#wildlifephotography
#architecturephotography
#macrophotography
#urbanphotography
#nightphotography
#dogphotography
#bnwphotography
#sunsetphotography
Best Fitness Instagram Reels Hashtags
 #exercise
#healthylifestyle
#gymrat
#fitness
#fitnessmotivation
#weightloss
#gymmotivation
#healthandwellness
#workoutroutine
#workouts
#fullbodyworkouts
#trainhard
#gym
#activewear
#activelifestyle
#fitlife
#fitjourney
#fitfam
#fitspiration
#getfit
Best Food Instagram Reels Hashtags
#foodfeed
#foodphotos
#foodtrucks
#foodpornography
#foodinstagram
#foodinsta
#foodtalkindia
#foodlife
#foodprep
#foodismedicine
#foodinspiration
#foodstyle
#foodheaven
#foodforlife
#foodphotographer
#foodgawker
#foodspotting
#foodpornshare
#foodpost
#foodofinstagram
#foodism
Best Tech Hashtags For Insta Reels Hashtags
#technology
#tech
#innovation
#digitalart
#iphonedaily
#apple
#android
#pc
#gadgets
#computer
#cybersecurity
#ai
#gaming
#gamingsetup
#gamingcommunity
#samsung
Best Insta Reels Hashtags for Pet Lovers
#CatLover
#DogLovers
#cute
#cats
#dogstagram
#puppy
#catstagram
#animal
#animals
#DogLife
#dogelife
#pets
#petstagram
#PetLovers
#doglover
#petsofinstagram
#furryfriend
#petphotography
#petsofig
#petsoftheday
Most Frequently Used Trending Instagram Reels Hashtags
#trending
#trendingnow
#trendingtopic
#trendingmemes
#whatstrending
#trendingfashion
#tamiltrending
#tiktoktrending
#malemodeltrending
#trendingnews
#artstrending
#nowtrending
#trendingvideos
#stfoodtrending
#trendings
#trendingdances
#kasuttrending
#tshirttrending
#trendingvideo
#trendingstyle
How to add Instagram Reels Hashtags to your Reel Caption in 2023?
Open your Instagram account.
Go to the "new post" option.
From the button menu go to reel.
Record your reel. Follow the customised steps.
Write your hashtag within the "write a caption" field. To add hashtag simply type "#" and then add your desired keyword (eg. Picoftheday).
Why to use Hashtags for Instagram Reels? A Game-Changer for Visibility and Engagement
Even if you have a dedicated audience that absolutely loves your Instagram content, having an Instagram reel hashtag strategy is important:
Greater Visibility in Search Results and Explore Feeds: Using relevant hashtags with help of Vaizle Instagram Hashtag Analyzer helps to increase your reach beyond your current followers. The ones who are interested in your content can simply find you through a hashtag search.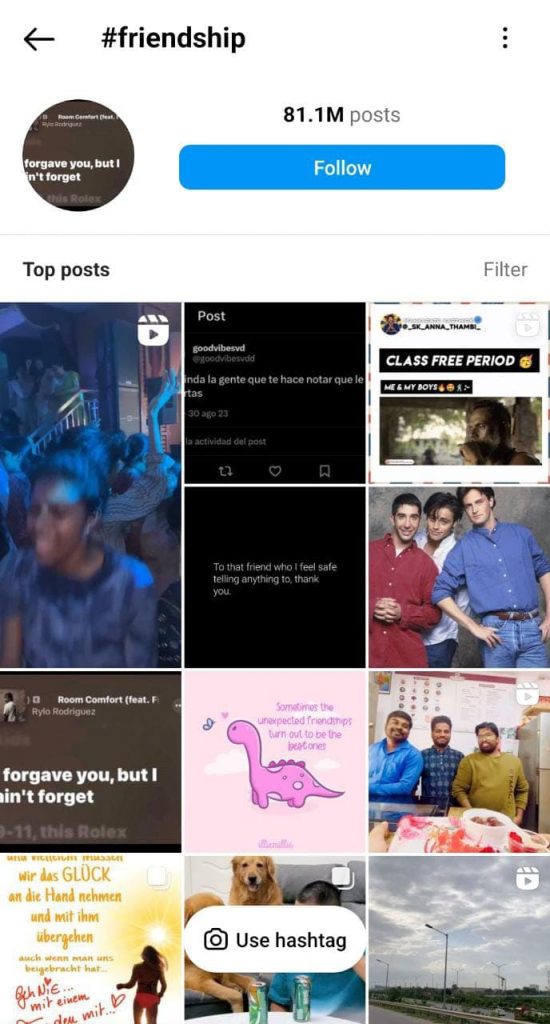 Reaching Users' Feeds: Users do not only search content on Instagram; they follow hashtags, too. Hence, using hashtags can help your reels appear in your target audience's feeds.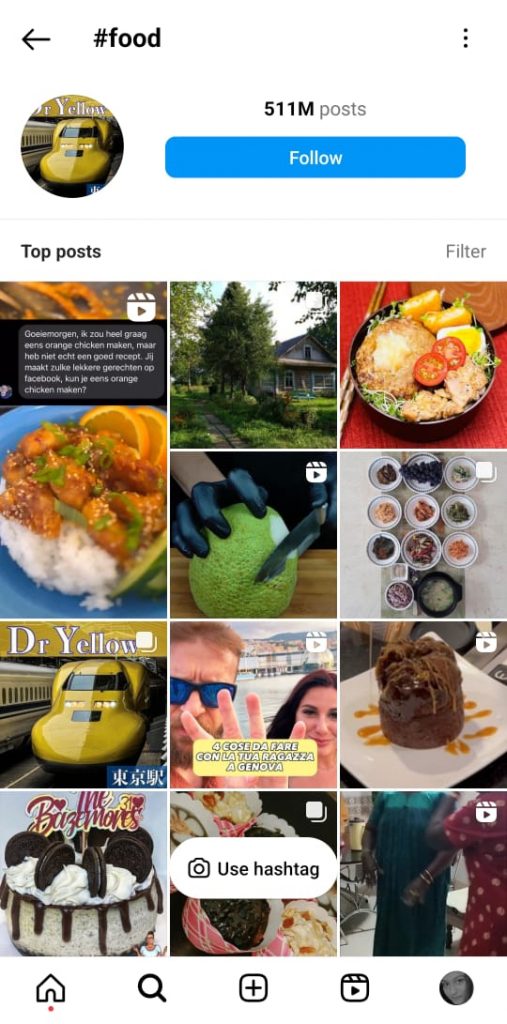 Community Engagement: Hashtags can also be used as a strategic tool to communicate your brand ethos. E.g., A travel agency can communicate using #WanderlustAdventures.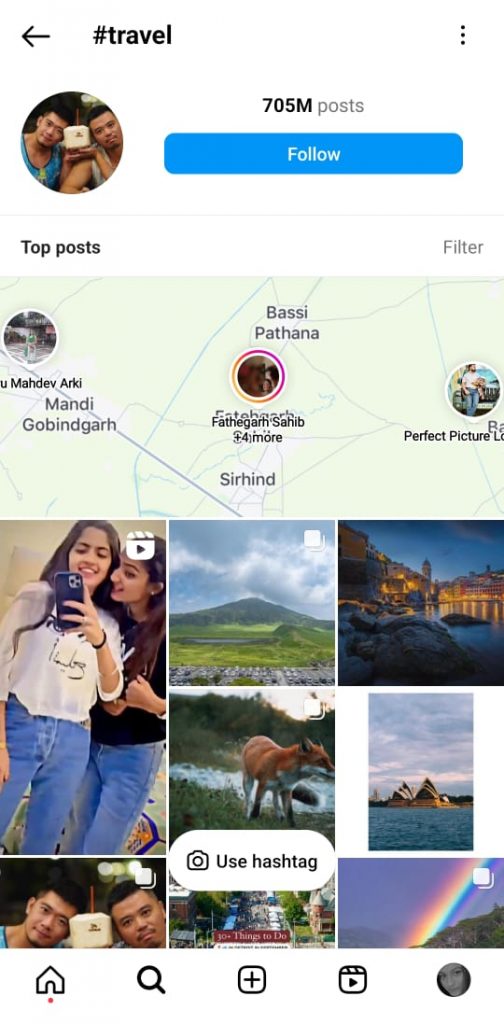 How to Find Top Hashtags for Instagram Reels for your Brand in 2023?
Finding the right hashtags for Instagram reels is important to reach your target audience. The wrong hashtags for Instagram reels could misguide your audience. Here is how to find the right insta hashtag reels:
Research your audience. Identify the hashtags they follow. Identify the sub-cultures relevant to your audience. Including these hashtags for Instagram reels into your strategy.
Research your competitors hashtags and their strategy with the help of Vaizle Instagram Hashtag Analyzer and Identify what Instagram reels hashtags are working for them.
Third-party tools: There are several third-party hashtag generators for Instagram reels available. For, e.g., "For Display Purposes Only," etc.
This seems a lot. Right? 
Well, you can use tools like Vaizle to make this process faster and easier. Vaizle is a social media and ad analytics tools that helps to provide actionable insights. It's single feature can provide you right hashtags for Facebook, Instagram, Linkedin, and Youtube.
Here are the simple steps through which you can find out top hashtags for your Instagram reel:
Log in to your Vaizle account. Once, logged in you will see the option "Competitive analysis" on the left side. 
When you pick "Competitive analysis," you'll see different options. Just click on "Instagram."
Next, click on the "Hashtags" option located on the left-hand side. This will allow you to identify the most frequently used hashtags by your competitors, along with the corresponding usage frequency.
Utilize this powerful feature to select the most fitting hashtags for your brand by conducting a comprehensive comparison with your competitors.
Furthermore,
Vaizle's dashboard offers an insightful overview of the leading hashtags associated with your brand. For more detailed information, simply click on "View More." This action will seamlessly redirect you to a page showcasing the most frequently employed hashtags, accompanied by a competitive analysis.