Guide To Create A Social Media Content Calendar That Works!
Name one thing that all successful social media marketers have in common: Planning! From brainstorming ideas, managing multiple social media accounts, and handling campaigns to creating, posting, collaborating, and measuring – social media marketers have a lot on their plate.
And to approach this without proper planning or strategy, you are simply preparing a recipe for burnout.
Use affordable and accurate tools like Vaizle to organize your scrambled social media posting activity into a concrete plan as it offers various features along with a content calendar such as Ad analysis or followers analysis. It serves as a framework that helps you plan what your business wants to share and promote across social marketing channels while maintaining a consistent brand voice and reputation.
What Is A Social Media Content Calendar?
A social media content calendar helps marketers create and schedule their social media posts in advance. It can be created in a spreadsheet, Google calendar, or an interactive dashboard to maintain a social media workflow, especially when you have multiple social media accounts to handle.
Managing, collaborating, scheduling, customizing, tracking – social media calendar plans help you do it – all in one place. In simple words, it gives you an overview of what to post, where to post, and when to post, aligning you with your long-term social goals.
It is the unsung hero that all talented social media marketers swear by!
Steps To Create A Productive Social Media Content Calendar
Social media is a massive landscape. To establish and maintain a social presence across various platforms, you must start with a plan in mind. Without it, you are shooting in the dark.
Before you jump-start planning a social media calendar, you need to start by auditing your existing social media accounts. Find out your top performing posts, KPIs by platforms, missed opportunities, areas of improvement, competitor's strategy – everything that will help you curate quality content for the long run.
With these findings, you get a clear picture of what strategies are working and what are not – and can tweak things accordingly.
Now that you have this ready, let's know how to plan a social media calendar:
Step1: Know What To Post
The biggest roadblock most social media managers struggle with is – knowing what to post. There will be days when you will have ideas overpouring left and right, and also, there will be days when you'll lack inspiration.
To get your content train moving, having an organized content schedule will dissolve the pressure of brainstorming ideas continuously. You'll have a good content mix and formats consistent with your brand voice.
Different content types that work on social media:
Images
Videos
GIF's
Static posts
Conversation starters
Promotional content
Events
Product launches
Announcements
Company news
Giveaways
Carousels
Success Stories/ Testimonials
Video Reels
Resharing evergreen content
Q&A's
Holiday topics
Behind-the-scenes content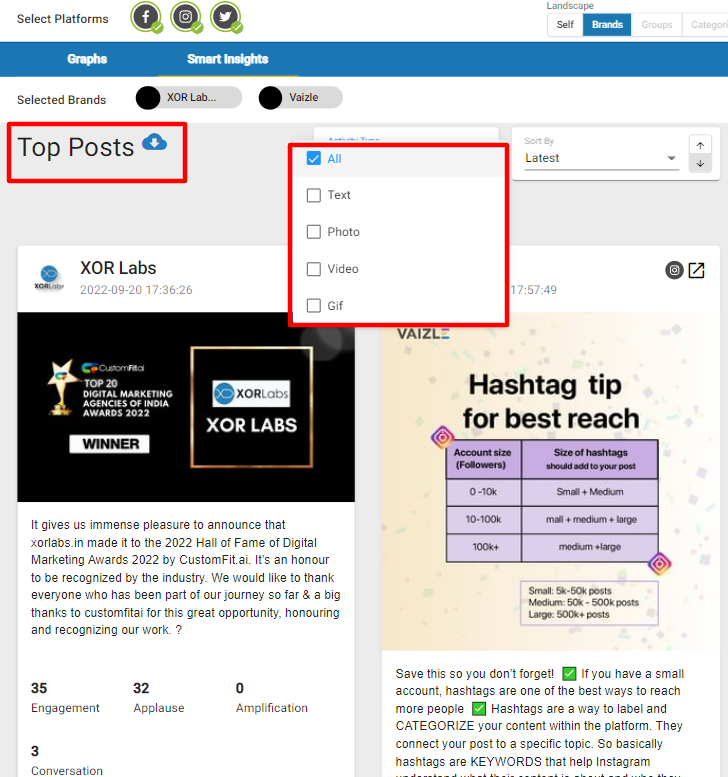 Tip: Using multiple formats helps engage users with different content consumption preferences.
Also, there are a few strategies that social media marketers leverage to never fall short on ideas and keep their social feeds flowing with quality content.
The 80/20 Rule
80 percent of your post should be engaging, entertaining, and educational.
20 percent of your posts should be promotional.
The 70/20/10 Rule
70 percent of your posts should provide value to your readers by entertaining, engaging and educating.
20 percent should be promotional.
10 percent posts are where you take chances and play with out-of-the-box content.
The Rule Of Thirds
One-third of your posts should aim to promote business and convert clients.
One-third of posts should be from industry leaders and insights.
One-third of posts should initiate conversations with your followers.
To craft a solid social media strategy, find out the posts your followers engage with the most. You can use Vaizle's Social Media Calendar tool to get exclusive insights into your top-performing posts that engage your audience. It gives you a visual representation of which content formats are performing the best across different social platforms, their engagement rate, conversions, amplification, and applause compared to competitors. And having this information can be useful for planning your content for the upcoming months, days and years.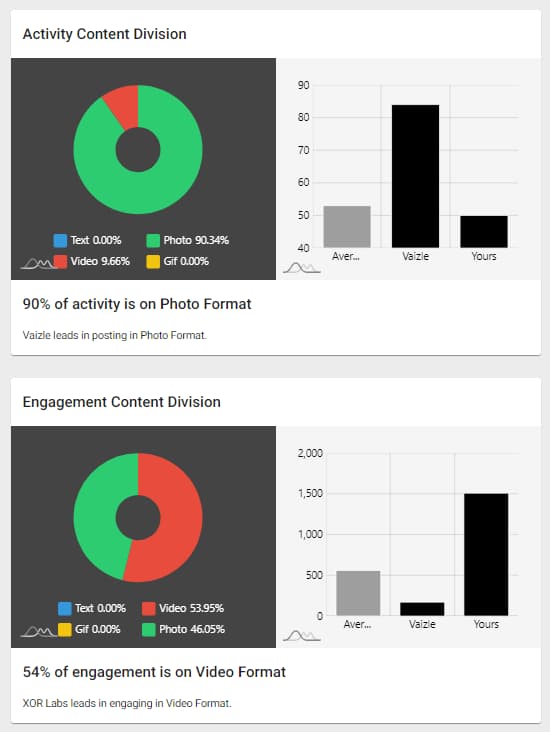 Step 2: Know Which Platform To Post
Every social media platform has a unique purpose and voice.
For instance, Facebook is more about engaging with texts and ideas, whereas Instagram, on the other hand, is more about visuals and reels.
To tap into these platforms and get the most out of your marketing efforts, you must know which platform aligns the best with your business purpose. To find this out, get a deep understanding of your business goals and resources. This will help you make decisions on which platform to leverage the most.
Vaizle Social Media Calendar tool can be convenient for getting such profound insights. The dashboard helps you know the engagement rate of each platform, channel share, competitive analysis, what people are talking about on platforms, and heaps of information that can be truly conducive to curating a perfect social media strategy that oozes real results.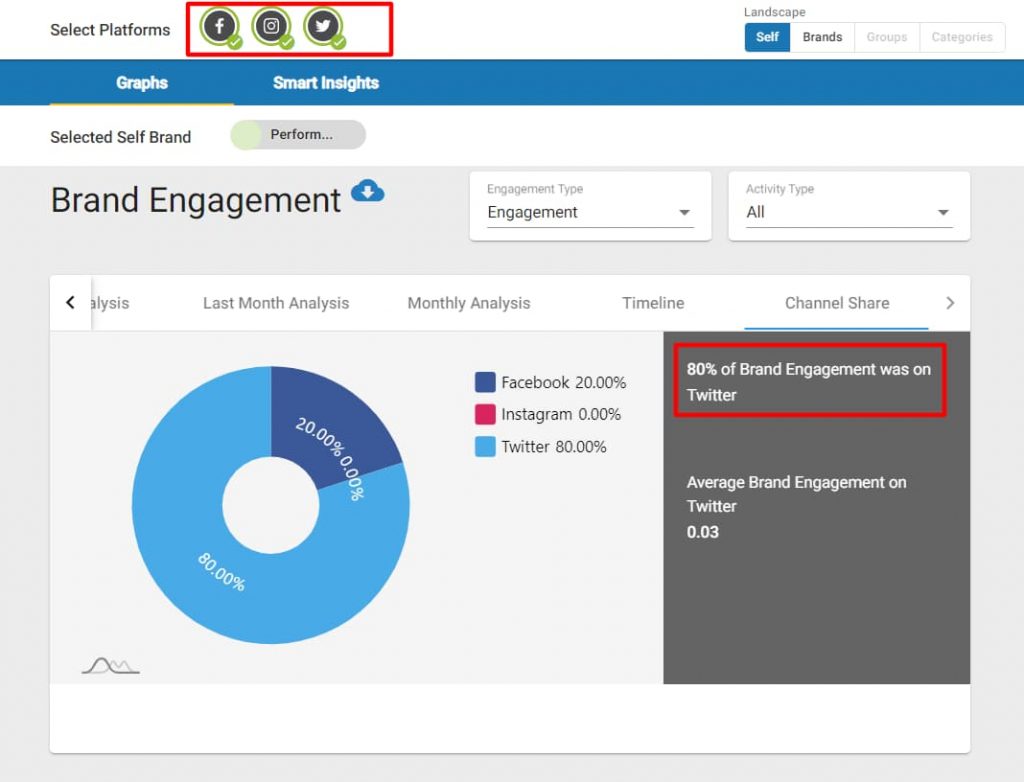 Spoiler: Don't pressure yourself to post on all social media platforms. This will only stretch you too thin with nothing to show for your efforts. Start with the most popular social media platforms and then branch out from there.
Once you know what to post and where to post, the next step of planning a social media calendar is knowing when to post or your posting schedule.
Some professionals may recommend posting daily, while others say post only if you have quality content – but YOUR posting schedule should be backed by your business goals, resources, and audience engagement patterns.
An overview of how often to post on social media to get maximum visibility:
This is just a general overview. The best time to post for your social media is solely based on your audience research, and Vaizle's social media calendar tools can be of great help. It helps you know the most engaging time around the day, and you can schedule your posts based on it.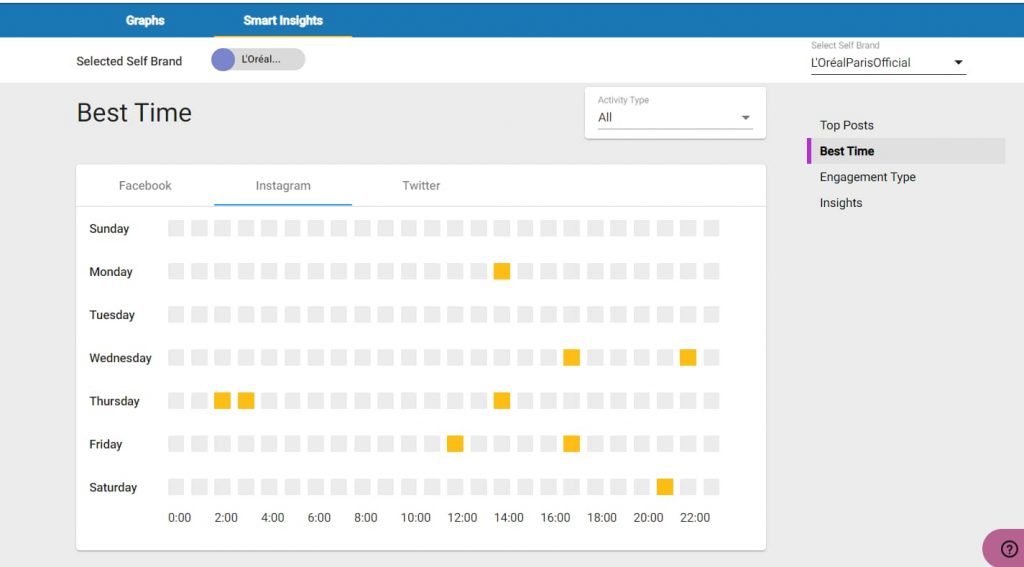 Word of the Wise: Don't take social media as a supplement to your other marketing efforts. It is an added advantage over your overall marketing agenda.
Once you have all these steps in place, the following step is to post, track and monitor your progress to know which posts are getting the most engagement and driving results.
Should Every Social Media Marketer Have A Social Media Content Calendar?
To find out the answer to this question, try to picture yourself scheduling appointments without having your calendar handy. That's hard, isn't it?
The same holds true for social media!
In the vast universe of social media, having an organized calendar takes you one step ahead in planning and strategizing your content. On top of that, it helps you visualize your content strategy over time, fill up spaces with relevant content and improve your marketing efforts.
Mentioned below are some of the benefits of a Social media content calendar
1. Gets You Organized And Saves Tons Of Time
Social media content planning takes time and focus. Having a social media content calendar helps you plan, develop a unified voice, avoid multitasking and have a place to save all your content ideas for later.
2. Maintains Consistency In Posting
Consistency is the secret to successful social media marketing. It is a clever move to keep audiences hooked and help your followers and fans know what to expect.
And with a social media content calendar, you get the liberty to post regularly, maintain a consistent content flow and schedule your posts in advance without running out of ideas.
3. Reduce Typos And Mistakes
A single typo or a mistake can impact a brand's image majorly. Planning posts ahead allow you time to check, edit and improve your content before sharing it with millions of people.
4. Generate High-Quality Content And Integrated Campaigns
If you want to put the best content for your followers, creating content on the fly is not a good idea. It puts you and your team in a tight position and doesn't help them showcase their best talents.
Having a social media content calendar keeps your team updated on what is coming next, and they can work in tandem at peace and bring out the best.
5. Finding Opportunities For Partnership And Collaboration
Planning your content ahead allows you window time to come up with ideas of collaboration with other brands, approach influencers to work together promoting your content or look for partnership opportunities.
6. Track, Measure And Improve
What you can't measure can't improve! Social media calendar aids you in studying analytics, absorbing the information, and aligning your findings to the upcoming content you've planned.
Final Thoughts
As a social media marketer, your time is too valuable to be wasted on thinking about what to post every single day. A well-planned social media content calendar helps you maintain consistency, focus on different aspects of marketing and take your social game to the next level. Once created, update your social calendar according to your needs and share it with your team. It will get everyone on the same page and you can create content consistently without losing your brand tonality.
So roll up your sleeves, and let's start creating!