A Complete Guide To Social Media KPIs: All 17 Metrics Explained
Compared to other marketing activities especially the traditional print and TV ads, social media marketing is still new. It also has a different dimension. There are efforts you can do for free. Your customers can respond to you…publicly. And it's your responsibility to respond to it in case you don't want to impact bad responses to hurt your brand.
At the same time, there are dozens of social platforms. Each social media has some of its unique nomenclature. Tweets and retweets on Twitter, checkins on Facebook,  +1s on Google+, and so on. There are multitudes of KPIs that involve social media activities across these channels.
To organize it and make sense of social media performance, we wanted to throw a light on social media KPIs. We've categorized social media KPIs in three parts:
Activity: Brand activity and average activity per day

Engagement

Applause: Likes, +1s

Conversation: Comments and replies

Amplification: Shares

Web engagement from social audience: Bounce rate and average session duration

Others: Follower growth, brand mentions, clicks, engagement per activity

RoI

Social: Reach and impressions

Business oriented KPIs: Traffic, leads, and conversion rate
Here's a brief introduction about these KPIs so that you can plan your next social media campaign better.
1. Activity
I would introduce this as one of the most ignored social media parameter. While people are talking about total engagement, especially in organic terms, it is equally important to understand its relation with brand activity. It's always wise to monitor your own activity on social media. But most importantly, it will help you calculate your consistency.
Brand activity: It's a measure of number of posts you shared on social media in a given period of time.
Average brand activity: It can be calculated as average number of posts shared in a day in a given period of time. It can be calculated weekly, monthly or early.
Average Brand activity = Total number of posts in a week/month/years / Time period
You can choose any one depending upon the nature of your business and how important social media in your context.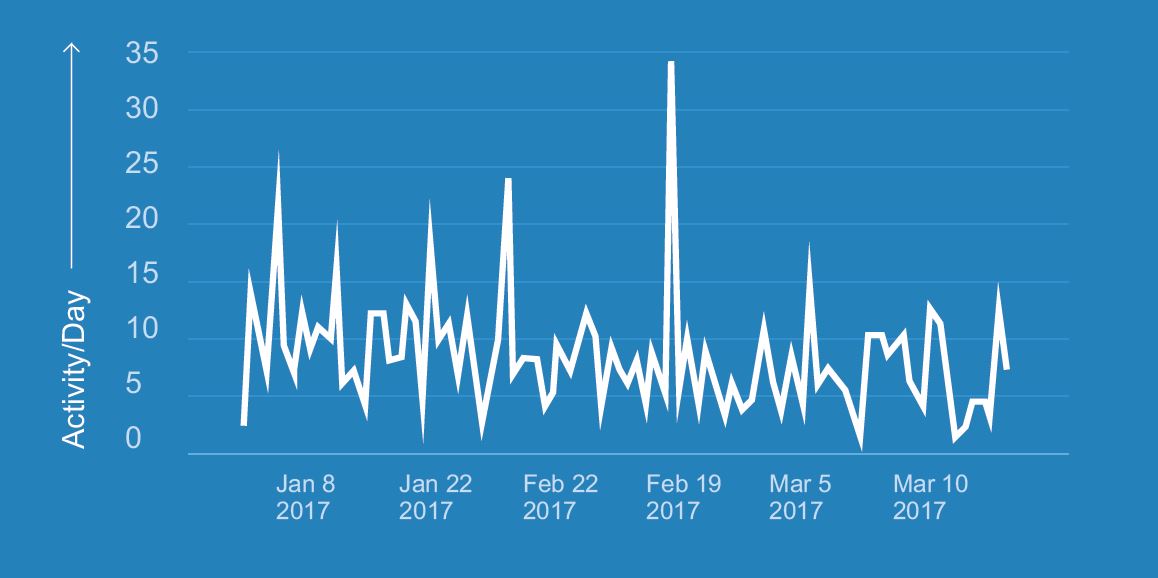 The best way to track this KPI is by looking at the timeline of brand activity graph. By calculating the standard deviation, you can calculate your consistency across a period.
2. Engagement
Engagement is a measure of number of times someone interacted with your social media activity. It is calculated as a sum of likes, shares, comments, and clicks on your posts.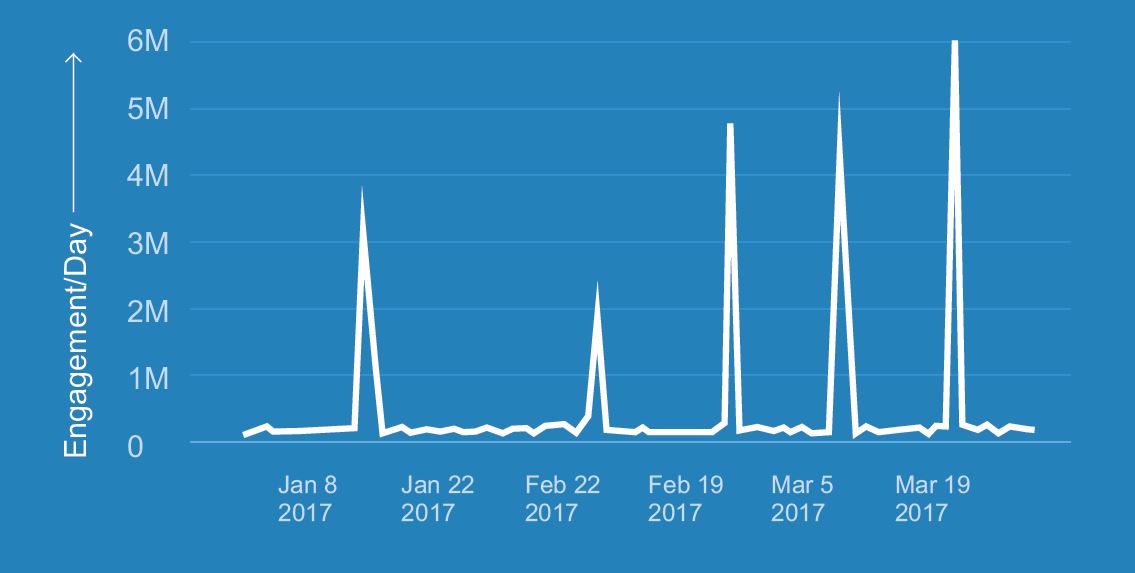 This is the most talked about and most looked at parameter among social media marketers. But it has so many facets. However, there is still a lot of consensus on how one looks at social media here. Social media engagement is divided into three major parts.
Applause
Applause is a measure of how many times your brand activity was applauded on social media. It is calculated as a sum of likes (for Facebook, Twitter, LinkedIn, Instagram) and +1s (for Google+).
It's was earlier the most sought after social media metric. But over the years, applause has turned into a vanity metric. But for content based websites and media companies, likes is still a great measure of their content's performance. It is also the KPI to monitor when you're running a brand awareness campaigns.
Conversation
Conversation is the measure of how many times someone engaged with your brand activity by commenting on it.
It is also a great parameter to judge your content's performance. This is one of the most popular KPI for brands because they want people to talk about their brand. The more people talk about your post the more its organic reach will be.
Conversation has also one more aspect: how many times did you respond to your own audience? We have defined this parameter as brand response.
Brand response is the measure of the number of times you responded to the comments and people via your social media channels.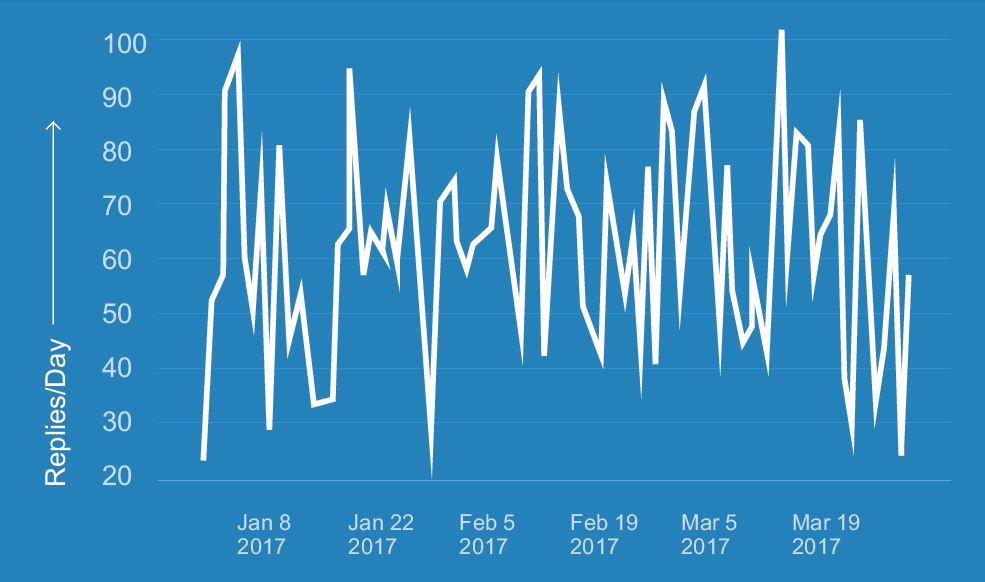 While people are commenting on your posts, it's always a good practice to reply to them whenever required. This parameter was earlier important across Twitter only because the number of people who responded to brands were more active on Twitter. However, it has become more pervasive across all social channels. You have to respond to your customer queries.
Amplification
Amplification is the measure of number of times your brand activity was shared on social media channels by your audience.
This can give an enormous boost to your social media efforts. There are number of brands who have built amazing traction without spending a dime on ads because their content was so engaging and shareable, it was made viral by your social media audience.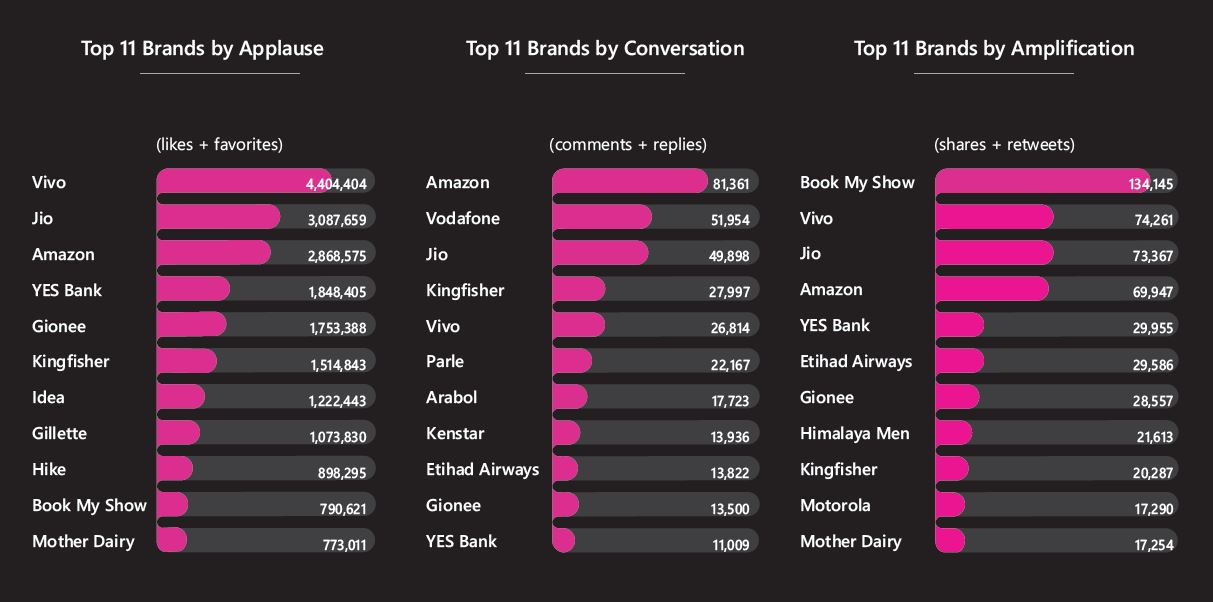 Web engagement from social audience
Although it can be tracked in several manner, the simplest manner to do so is by tracking bounce rate and average session duration by a social media traffic.
Bounce rate is the measure of number of people who left your website after engaging with it only for a few seconds or by visiting only a single page.
This helps you to understand if your social media audience is right for you. You can use Google Analytics to track this data.
Average Session Duration (from social traffic) is the measure of average time spent by people on your website.
This helps to understand whether the traffic you're attracting from social media is right or not.
RoI driving parameters
These are the parameters which influence your engagement parameters as well as RoI parameters.
Clicks is a measure of the number of times people clicked on your brand activity. This is calculated as a sum of all types of clicks on a social media post including link clicks, image clicks, and engagement clicks.

Brand mentions is the measure of number of times someone on social media mentioned your brand name by tagging you. This excludes all the mentions where the brand is not tagged
Engagement per activity is the measure of number of engagements (applause, conversation, amplification) you received per post in a specific period of time.
This KPI tells more about your social media content rather than your social media performance. The higher your engagement per activity is the better your content is. You can track this parameter every week to measure your content weekly and optimize your content.
3. RoI
RoI in social media sense doesn't always mean dollar value returned on your social media efforts. But there are other KPIs you should always be tracking to understand how and how much social media can contribute to your social media performance.
Reach is the measure of number of people who saw your social media brand activity.

Impression is the measure of the total number of times your social media brand activity was seen.
So if your post reach is, let's say, 1,000 and received 1,500 impressions, it means your post was seen by 1,000 people who saw your post 1,500 times.
Here are three major other social media KPIs that you need to track.
Social traffic is the measure of number of times your social media activity sent a person to your website. Social leads is the measure of number of leads that were generated from your social media efforts. Social conversion rate is the percentage of social media traffic that turned into a customer.
You can represent it in two forms to make this data more valuable. Social media leads to conversion ratio and social media traffic to conversion ratio. You can also breakdown the data and check conversions for each social media channel. This will help you understand whether Facebook is giving you customers more efficiently or Twitter or Quora.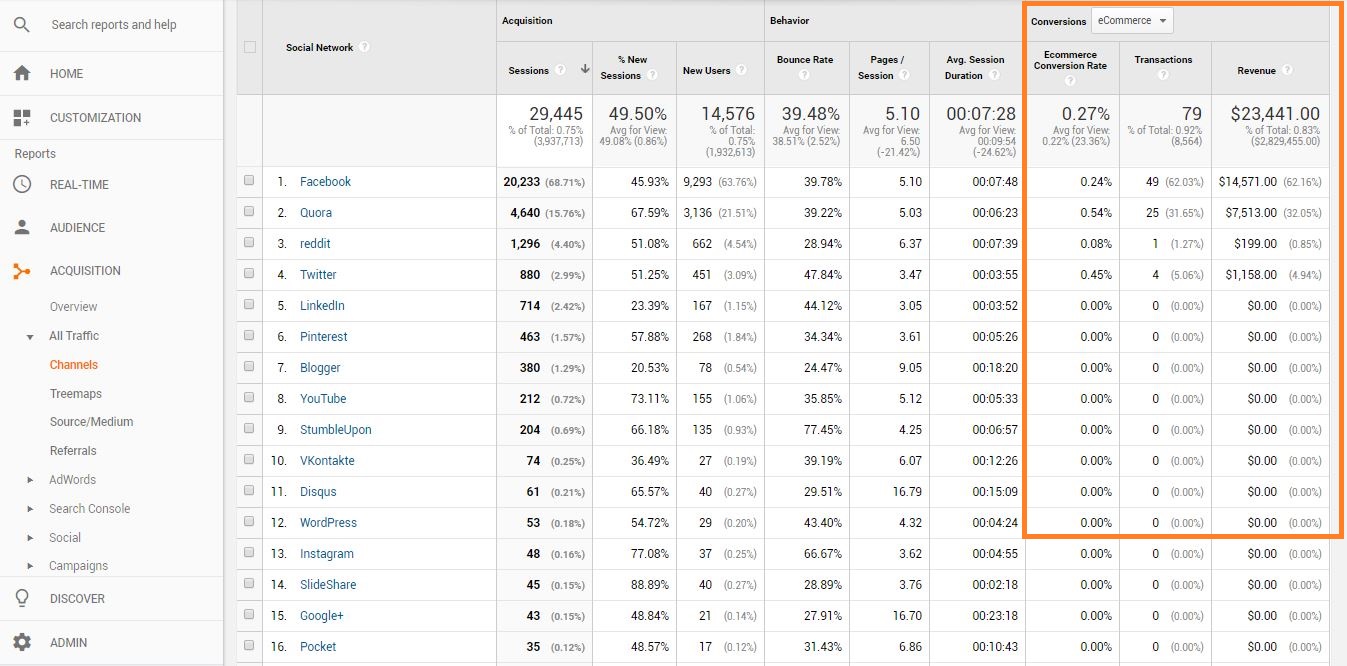 If you have ecommerce conversion goals setup in Google Analytics, you can check this data directly in Google Analytics.
Conclusions
There are other metrics too. Check-ins. Rating. Reviews. Understanding these parameters is important to understand how your social media is contributing to your business. By jumbling and understanding which KPI is most relevant for your objective, you can track your social media performance better.