Quick Facebook Page Audit for improved performance with Vaizle
When was the last time you checked the settings on your Facebook Page? Was it a month ago? A year? Or when you originally created your Page?
Facebook is continuously updating business-related features. A Facebook account audit will ensure that you stay on brand despite all of the platform's changes. An audit will also reveal any branding flaws and give you a good sense of what elements of your Facebook marketing plan need to be improved.
Let's jump right into the audit.
Why Should You Audit Your Facebook Business Page?
An audit of your Facebook page may seem time-consuming, but it's essential to the long-term effectiveness of your paid advertising plan. More importantly, it can assist in the reduction of ad waste.
The audit's purpose is to find areas where performance can be improved and areas where things are going well. The findings of this analysis will remove the guesswork from your Facebook campaigns and offer you confidence in your sponsored social strategy management.
You'll be able to dig deeper and stay organized if you break down your audit into essential components like account structure, Audience targeting, creatives, and Strategy. All of these factors have a role in determining the success of your efforts.
The Facebook audit is broken down into four sections:
Prepare for the audit by opening your Facebook Page.
1. Facebook profile and branding audit
We'll look over your profile in this section. When someone lands on your Page for the very first time, you want them to be able to locate all of the information they need quickly. It's all about making a good first impression when it comes to your profile and branding.
Profile completion
The first stage in the audit is to see your profile page as if you were a guest. Observe this in a private browser window and while logged into Facebook. Because Facebook's looks and functions change frequently, you'll want to be sure you're seeing the profile from all angles.
When you're logged in to Facebook and see your profile, you'll notice a toggle to the right that allows you to select which account to engage with. Choosing your personal profile gives logged-in Facebook users a look of your profile.
Go to the Settings section after you've approved your profile. Working your way down the page, click on each setting menu tab to make sure all of the required areas are filled out.
Custom username, CTA button, and links
Return to your profile page and look for the CTA button in the lower right corner of your cover photo. Check that the CTA is still correct and has a working link, or modify it to a different action like quick access to messenger.
Now go to your About tab and double-check that all of the links and contact information are still correct. Customers look at the About tab to discover more about your business and to see what hours you're open.
Update the most recent information to avoid the dreaded "But your Facebook Page says you were open at this time!" issue.
Checking and verifying SEO
If you believe that what you post on your Page is unimportant, you are mistaken. See what comes up when you Google a brand name.
Using Dietician Mac as an example, the first page of search results for their brand name includes their social media profiles from their Instagram and Facebook accounts.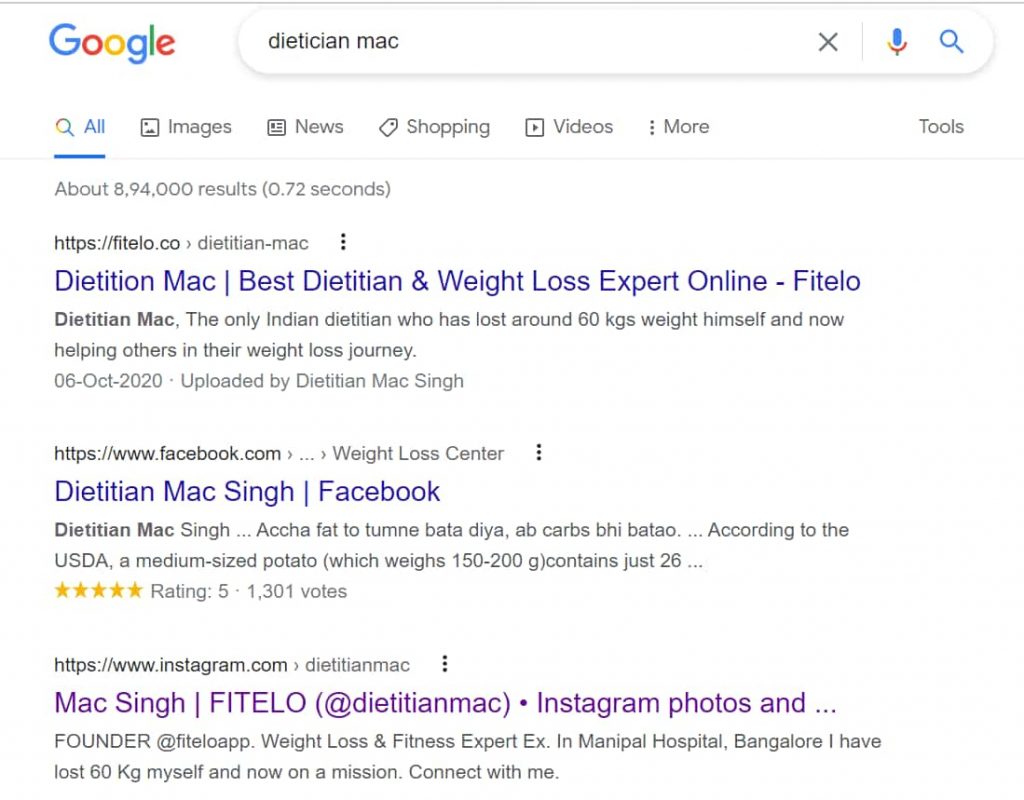 Complete the verification process in Business Manager to obtain a blue checkmark next to your profile name and tell clients that they're on the right brand Page and not a copycat.
Photo for the cover and for the profile
It's critical to put your best branding foot forward in the two areas where the content appears prominently on your profile. Your logo is normally placed in the profile photo. Better to go with a simple version that can be recognized across all platforms.
It's not necessary for your cover photo to be static. Videos are a fun and eye-catching method to present your brand. The image must be at least 400 x 150 pixels in size. These proportions differ between desktop and mobile displays, so double-check that both look good.
The logo is the profile photo on its Facebook page of Arcadium, and the cover photo is on-brand.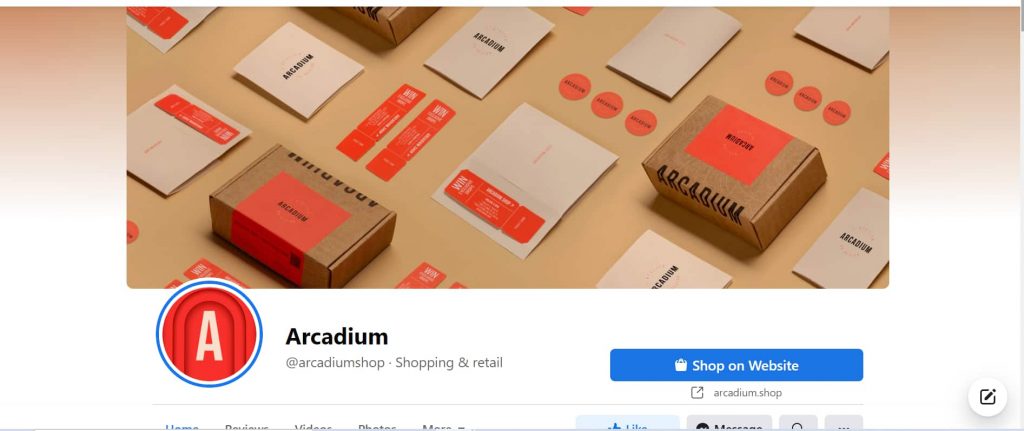 Facebook and Customer service
When 80% of customers want businesses to communicate with them on social media, it's vital to set up customer service tools that they'll appreciate.
Messaging Settings can be found under the Page settings menu. This is where you may customize your welcome and Messenger URL.
Go to your Business Suite Inbox to set up automated responses and Away messages if you want to dig deeper.
Tips
A Facebook business page is a must to attract customers
Understand the importance of SEO in social media.
Use the optimal size and file types for your Facebook cover photo.
2. Audit of Facebook content and audience
We'll look at your general information in this second section of the Facebook audit to see if it's servicing the correct audience for you. For the most thorough audit, look at all of Facebook's services, such as Stories and Live.
Image optimization and sizing
We talked about retouching your cover photo before. It's now time to scrutinize your posts. When you optimize your photographs for Facebook, they will look great on any device your audience is using. For the most up-to-date Facebook specifications, consult their latest guidelines.
Serving the proper demographic
You may examine demographic information about your audience in Facebook Insights. Knowing who makes up your audience might assist you to determine if it corresponds to your target demographic. Sometimes the two aren't the same. There's a problem if your marketing approach is aimed at one target group yet your Facebook Insights data is different.
Captions
Let's get started on the written part of your posts. What you write in the initial few sentences is what draws the attention of your audience. You can use a variety of post ideas to keep your audience interested and engaged.
Arcadium keeps the caption simple but effective in this post. The image may capture your eye at first, but the description prompts you to pause and look for the product. Well, who isn't looking to upgrade their phone?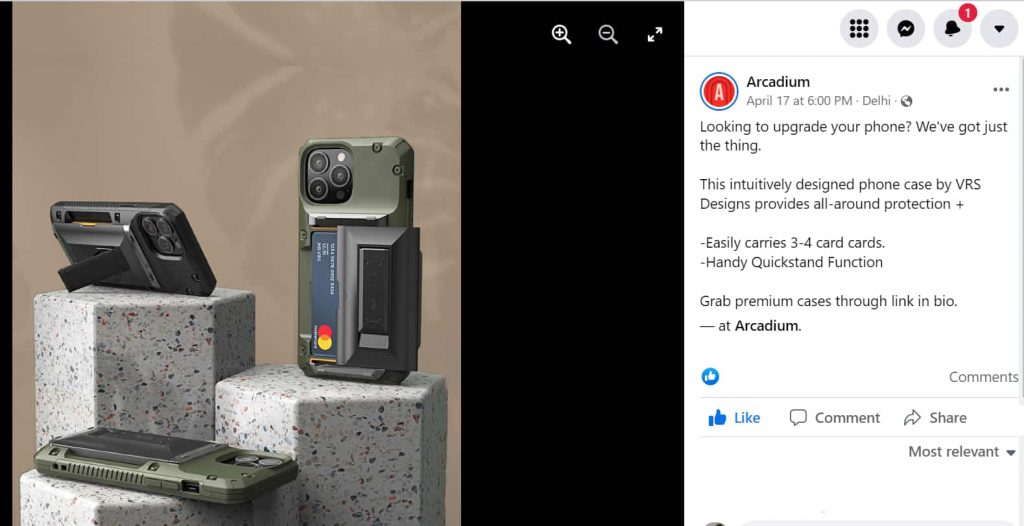 Hashtags and Tagging
Hashtags and tagging are two terms that are used interchangeably.
Review your posts once more, this time paying special attention to your use of Facebook hashtags and tagged Pages. The hashtags should be minimal and relevant. Nobody wants to read a post in which #every #single #word #is #hashtagged.
Also, if you're discussing other brands, tag them in the post so they can see it and interact with them. It fosters brand loyalty through social media and encourages post-engagement.
Check for visual brand consistency in your profile.
Don't limit yourself to merely posting on social media. Utilize the various post types and functionalities that Facebook has to offer.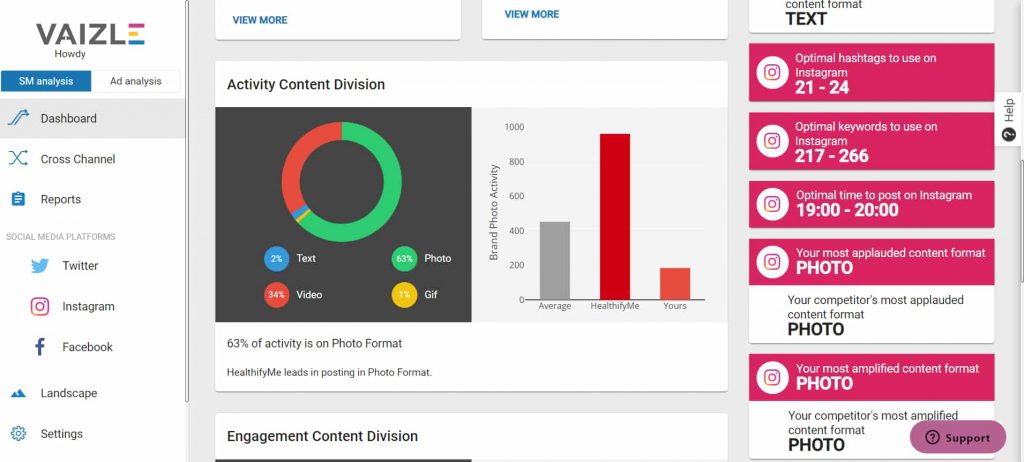 3. Facebook ads audit
It's easy to become overwhelmed when it comes to running Facebook ads. Examine how your ads are performing in general during this audit session.
Examining your performance
Your industry and campaign goal will determine how you benchmark your Facebook ad success. These figures can be used to calculate the cost and ROI for your Facebook advertising. Use Free Facebook Ads Analytics Tool by Vaizle to quickly see how your Ad campaigns are performing on Facebook.

In the Ad set Analysis section, search for your most recent advertising or use Vaizle's AdSet Journal. These can be compared to industry benchmarks to see how you stack up. Businesses seek to keep their costs as low as possible. You can assess if your advertising is performing well by looking at metrics like CPC and CPM.
Ad Campaign Objectives
The objectives section is another aspect of the campaign to consider. Are you applying the appropriate goals to meet your advertising objectives? If you don't discover the error early enough, choosing the wrong objectives might be costly.
Creatives
If you spend enough time on Facebook, you'll notice that you've seen the same ad from the same company several times. You might even take steps to block these advertisements.
Examine your present creatives during this audit. Take attention to ads that are running for an extended length of time, especially if the interaction is dropping month after month, indicating that users are losing interest. Customers become bored with repeated advertisements, resulting in greater advertising expenses.
While we're here, double-check that your ad sizes and specifications are appropriate for the placements you selected. An advertisement that cropped out your goods isn't going to be very effective.
Accurate Audience targeting
You want your advertising to reach the correct individuals if you've invested in the best creatives. Examine your targeting details to determine if the ad is being seen and interacted with by the intended audience.
You should understand how to use ad targeting if your ads aren't reaching the proper folks.
Different audiences help to promote brand awareness and prevent the same people from seeing the same commercials. The lookalike audience is what you're looking for if you want to identify customers who are similar to your current consumers.
4. Facebook Strategy Audit
We're nearing the end of the Facebook audit, and it's a big one. Your resources are being wasted if you don't have a good Facebook marketing strategy. This is when more specific metrics are useful.
Scheduling
According to Vaizle data analysis, the greatest times to post on Facebook is at mid-day Monday through Friday and early mornings on weekends. Because this is an aggregated data set, your best times may differ from those shown in the graph below. You can use Vaizle to check the prime time for social media posts.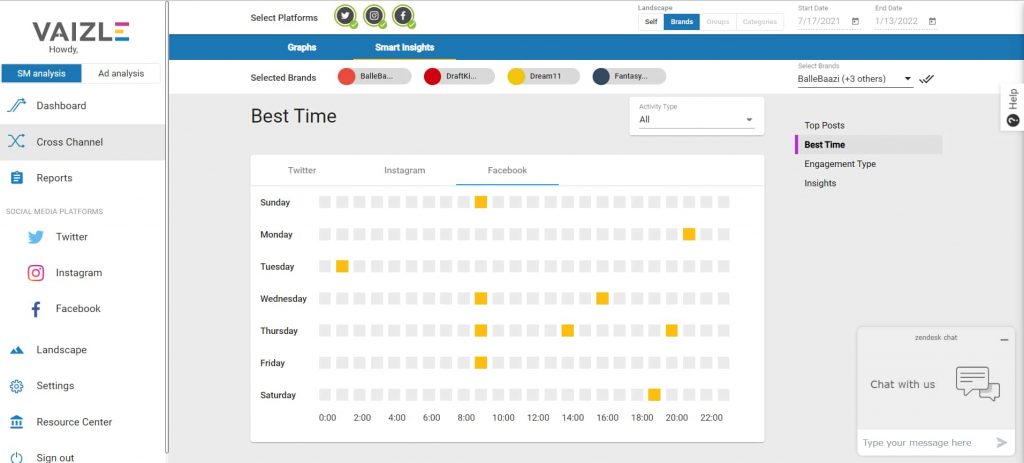 Examine your post-level data to determine if there are any days or periods of the week that generate higher engagement than others. If your existing timetable does not optimally match up, take note and plan the future posts accordingly.
The highest engagement rate comes from posting at the optimal time for your brand, which takes us to the next section of the Facebook audit.
Engagement
You'll need to analyze your engagement rate and how your target audience is engaged at the post level. It's possible that some posts receive more responses than others. Is there a link between your most popular pieces and the number of comments they receive? This is a sign that you should keep working on this aspect of the approach.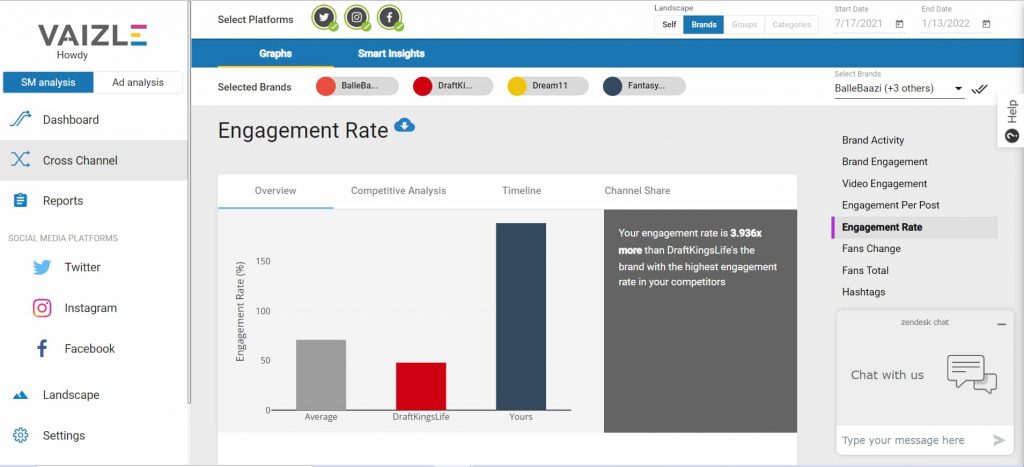 The Engagement tab of the Vaizle dashboard provides you with easy-to-read charts so you can see just how engaged your audience is.
The way you communicate with people is another aspect of engagement. Are you responding to queries in the comments section? Do you leave comments on other brands' social media posts?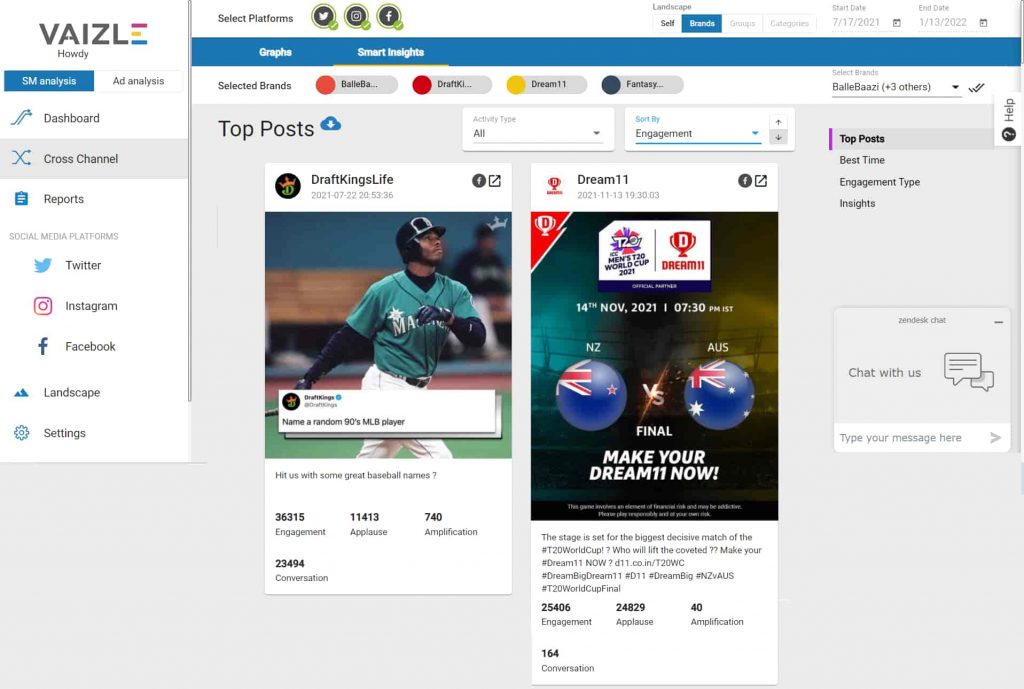 Alignment of objectives
Every strategy requires certain benchmarks against which it can be judged. Examine whether your existing Facebook approach aligns with your social media objectives in this final section of the audit. If your goal for the year is to raise brand awareness, your content and analytics should reflect this.
Takeaway
Conclusion
And that's all there is to it! You've completed your Facebook audit, which you should be proud of. Some flaws may have surfaced as a result of the audit. This is when you make a plan to make corrections or improve your strategy. At the very least, the four-part Facebook audit should be executed once a year.