How can I monitor my competitors' Facebook performance for free?
As a business owner, it's essential to stay ahead of the competition and anticipate changes in the market. Part of this is performing a competitor analysis, which can give insights into your rivals' strengths and weaknesses. There are several ways to go about conducting a Facebook competitor analysis. One is to keep tabs on their activity by following them on social media or subscribing to their email newsletters. Another approach is to perform a free competitor analysis online using the multiple tools available.
In addition to helping you understand your competitors better, a competitor analysis can also help you identify business opportunities. For example, notice that one of your competitors is struggling in a specific area. You may be able to capitalize on that by marketing your own business as being more potent in that area.
Table of content: 
Importance of Competitor Analysis and Content Analysis
Do you want to know how to do an analysis of your Facebook business page's competitors?
Is there a tool that provides free Facebook account competitive analysis?
What is the Importance of Competitor Analysis and Content Analysis for monitoring Facebook's Performance?
Importance of Competitor Analysis – 
Competitor analysis is a main aspect of any business strategy. It involves the process of identifying and evaluating the strengths and weaknesses of current and potential competitors in a particular market. Here are some reasons that show the importance of competitor analysis :
Identifying opportunities and threats: By conducting competitor analysis, businesses can identify potential opportunities in the market and potential threats to their business. This allows them to develop strategies to take advantage of opportunities and mitigate the risks of threats.
Understanding market trends: Competitor analysis allows businesses to keep up-to-date with market trends and changes in consumer behavior. This can help businesses to adjust their marketing and sales strategies to stay relevant and competitive.
Enhancing product development: Competitor analysis can provide insights into the strengths and weaknesses of products and services offered by competitors. This information can be used to develop better products and services that meet the needs of consumers.
Overall, competitor analysis is important because it allows businesses to stay informed about their market and competition, identify opportunities and threats, and develop strategies to gain a competitive advantage.
Importance of Competitor content analysis –
Competitor content analysis is crucial in developing an effective content marketing strategy. By analyzing the content of your competitors, you can identify gaps in the market and create content that fills those gaps. Additionally, analyzing the content of your competitors can provide insight into their strengths and weaknesses, allowing you to refine your own content to better compete in your industry. To conduct a thorough competitor content analysis, it's important to analyze your competitors' content at least twice to ensure accuracy and comprehensiveness.
How to do a competitive analysis for your Facebook business page?
Step 1: Find your competitors with a competitive analysis
Before creating a successful Facebook business page, you need to understand who your competition is and what they are doing right. A Facebook competitor analysis will help you identify their strengths and weaknesses, as well as what strategies they use to succeed on Facebook.
To begin, make a list of your top 10 competitors. Then, visit their Facebook pages and take note of the following:
· How often are they posting?
· What kind of content are they posting?
· How many likes, comments, and shares do their posts receive?
· What type of engagement do they have with their fans?
Step 2: Identify the weak points of other businesses
When businesses are looking to improve their Facebook presence, they often start by analyzing the competition. This can be a significant first step, but it's important not to stop there. Once you've identified what your competitors are doing well, it's time to look for areas where they could improve. To be successful with this approach, it's essential to research the specific pain points that your target market is facing. Once you've identified a few key areas, you can focus on checking whether you have a solution.
Step 3: Offer innovative and unique content
Social media users are attracted to creative and unique content. In order to produce such content, you'll need to understand your audience and what they want to see. This can be done through market research and surveys. Once you know what content your audience is interested in, you can begin creating it. Be sure to monitor your competition's content to stay ahead of the game.
What are the Free Tools for Competitive Analysis of Facebook accounts?
 There are several Free tools for competitor analysis that are widely available online, offering businesses and individuals valuable insights into their competitors' Facebook strategies. With the help of these tools, you can gain a better understanding of how your competitors use the platform and develop effective strategies to stay ahead of the competition. By analyzing your competitors' content, engagement rates, and other metrics, you can identify areas for improvement in your own Facebook marketing efforts and enhance your overall social media presence. These free tools for competitor analysis are an excellent resource for businesses seeking to succeed in the competitive world of Facebook marketing.
1. Vaizle
Vaizle provides detailed insights into their competitor's Facebook activity. It provides data on things like page likes, engagement, and more. This information can be extremely helpful in developing your own Facebook strategy. Here, you can put in the URLs that you are comparing and you get detailed results giving you a chance to improve the way your business is performing. Being one of the most sought-after tools that help out with Facebook competitor analysis free, you can trust Vaizle for the perfect competitor analysis.
Key features which Vaizle provides in their "Free Facebook competitive analysis" are –
Get an Overview of your activity
Vaizle's free competitor Facebook page analysis tool gives you an insight into how often have your posts been public as compared to your competitors. You get to know if there were more texts or if were there more photographs posted as compared to your competitors.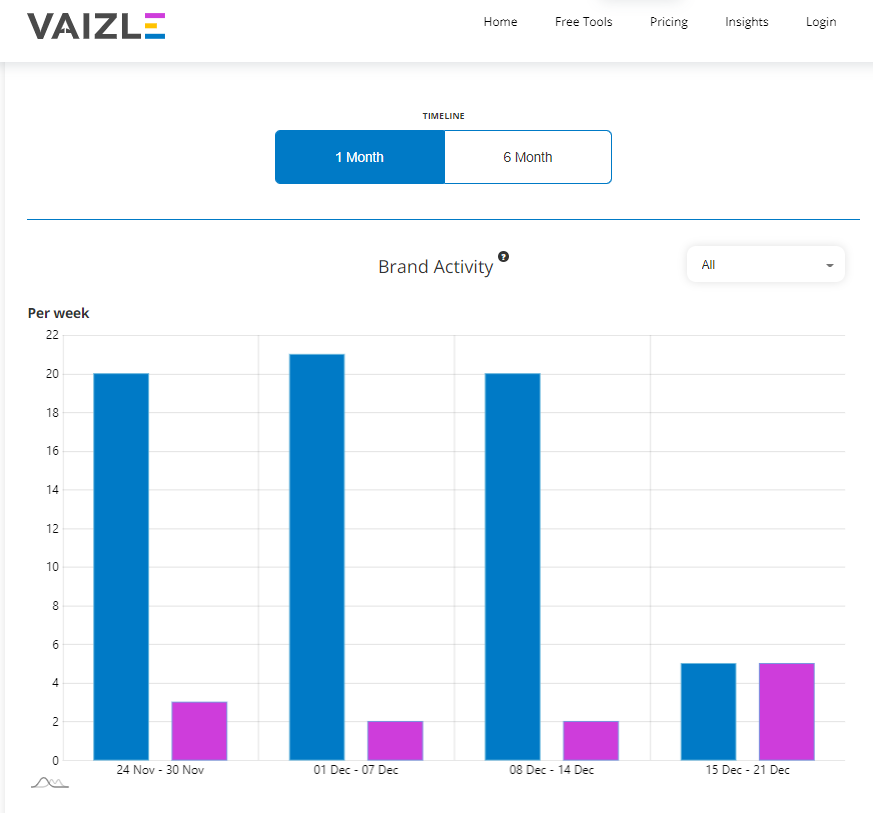 Know about the level of engagement for your posts
The free Facebook analysis tool gives you a report of the engagement our posts have received. Whether in the form of comments, likes, or shares, all of it is put down together for you to analyze. The report also has details of your competitors' engagements allowing you to compare and plan ahead.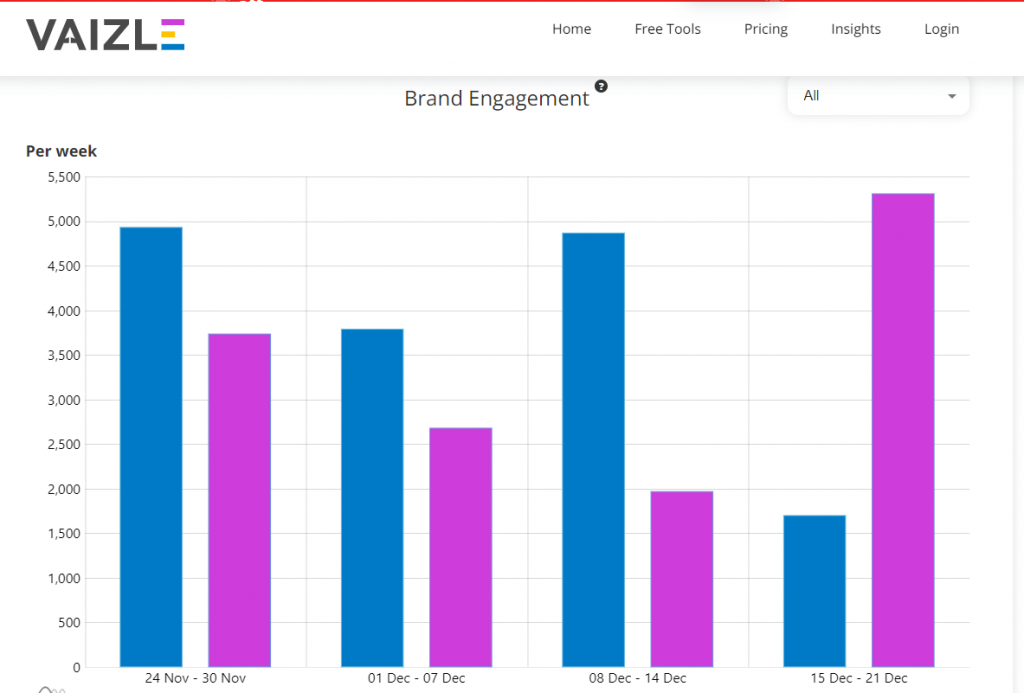 Receive a report on the top-performing content
When you use the competitor analysis tool, you get to know our top-performing content as well as your competitors. This gives you an idea of how to modify your existing and future ideas and make them engaging.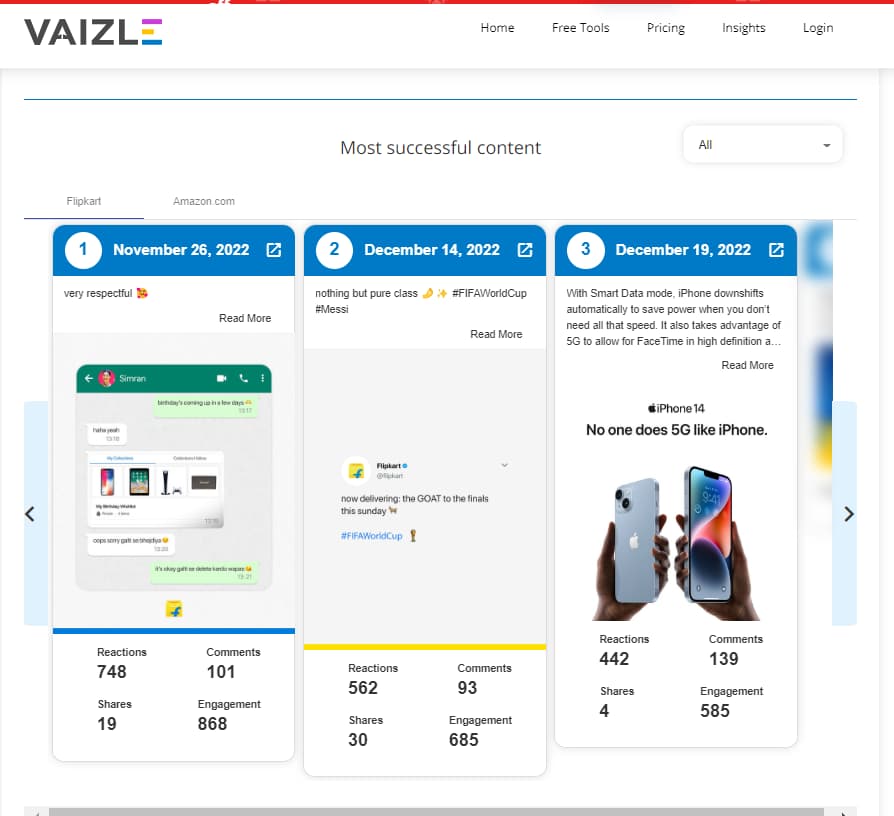 Plan for posts that will receive engagements
When you analyze all the insights from your competitor research, you get an idea of the popular posts that they have put up. You too can get an idea of how to go about receiving attention and making your engagement and connections strong. With this tool, you can also check the posts that have received the most accolades and accordingly make changes in your future posts.
2. Social Status
Social Status offers insights on ad campaigns and profile growth during their Facebook competitor analysis. It is helpful to see what content is performing well and what strategies are working to attract new followers. 
Key features include –
· Creating targets based on tagging in the comments section and the use of emojis
· Report on competitors' posts that includes engagement rate and impressions
· Facebook competitor analysis free to get an idea of the competitors' strategies
· You get to know the content formats that competitors use
3. Big Spy
Big Spy not only provides insights and data but also includes information on things like post frequency and average engagement rate in their Facebook competitor analysis. This can help you understand what kind of content is resonating with your audience and driving the most engagement.
Key features include –
· You get an insight into the daily ads that are trending
· You get to access filters like marketing objective, language, and engagement
· You get to know how old the ad is
· Advertisements can be sorted based on parameters
4. SocialPeta
SocialPeta lets you compare your page's engagement rate to your competitors. It provides detailed metrics on each competitor's page, including their fan growth rate and the number of posts per day. It not only shows you how you measure up against your Facebook analytics competition but also provides tips on how to improve your page.
Key Features Include –
· It helps you with data from millions of advertisers from around the world
· You get to determine benchmarks for your Facebook Ads
· You get information about your target audiences, like the gender and age
·         Detailed analysis of your competitors' ads
Using Competitor Research Tools for Effective Competitor Comparison on Facebook –
Competitor research tools can be incredibly useful for businesses looking to gain a competitive advantage. One of the most important ways these tools can be used is for competitor comparison. By analyzing your competitors' online activities and strategies, you can identify their strengths and weaknesses and use this information to improve your own Facebook marketing efforts.
This allows you to see how you measure up against the competition and make informed decisions to improve your marketing strategies on Facebook. By leveraging the power of competitor research tools for effective competitor comparison, businesses can gain a better understanding of their industry, attract more customers, and stay ahead of the competition.
Conclusion
As your business grows, keeping a close eye on your competition is essential. This analysis can help you anticipate their next move and make plans accordingly. It can also help you determine where your business stands in relation to others in your industry. Facebook analytics competition is an essential part of any social media plan. Without it, you risk making decisions based on incomplete information. This could lead to costly mistakes that could set your business back.
Please don't wait until it's too late to start Facebook competitor analysis free with these amazing tools. Instead, keep an eye on their social media presence and be prepared to adjust your plans accordingly. With a little effort, you can stay one step ahead and ensure that your business remains successful for years. You can also get assistance from the paid tools that Vaizle helps you with once you are acquainted with the free yet useful tools.