Best Time to Post on Instagram 2022: Complete Guide
Do you frequently ponder the ideal Instagram posting time? Well, social media usage continues to evolve. What could have worked in 2018 is unlikely to work in 2022? It should be no surprise that marketers have more options to reach their audience through Instagram, given that there are over two billion active users daily.
For users, the ideal Instagram posting period is crucial. Suppose you want to share your story with people on social media and have an Instagram account. However, you are unaware of the ideal Instagram posting timings and have no idea about what to post on Instagram to increase audience reach.
When it comes to knowing when is the best time to post on Instagram, several criteria decide the perfect moment for you. Furthermore, what works for one owner of a social network profile may not always work for the other. However, you may get good results from your Instagram postings with the right tactics. Relax; this article will give you complete instructions on the ideal time to publish on Instagram.
Table of Content:
What Is The Best Time to Post On Instagram in 2022?
If you are on this page, you must seek a precise time to publish content on Instagram, but it's more difficult. When publishing on Instagram, there are many factors to consider.
There are several studies on the good time to post on Instagram, and they all provide varied outcomes. However, most studies base their conclusions on CT (Central Time US). The following times and days are when you can publish your Instagram material because you presumably post on Instagram more than once a week.
The best time to post on Instagram in 2022 is at 11 AM on Wednesdays!
However, several variables, such as your niche, the music you select, the location of your intended audience, the day of the week, the purpose of your post, the style of the post, and more, might influence the outcome.
As a result, you may use a few workarounds to find the ideal posting time for your content. You'll find helpful advice on choosing Instagram posting time in the full instructions we've included further down in this article.
Related: Find out the best time to post on social media.
How To Find Your Best Time To Post On Instagram 2022
1. Use a Spreadsheet to Track Your Best Times to Post Manually
Use Excel or Google Sheets to make a spreadsheet to monitor and to find how to see the best time to post on Instagram and the interaction your posts are creating if you want to do this all on your own. Begin by selecting several times and days throughout the week. Then, keep track of the dates and times you posted each post and how many comments and likes it received.
The knowledge you need to select the ideal Instagram post timings will take you a few weeks, but you may utilize it further in your marketing efforts. For instance, you may pick several days and times to distribute posts intended for a certain network.
I know this is a time-consuming process, but instead of doing manually, you can use the Vaizle Content Planner tool. This tool will help you to find the best time to post on Instagram and also helps you to optimize your social media strategies while providing daily insights.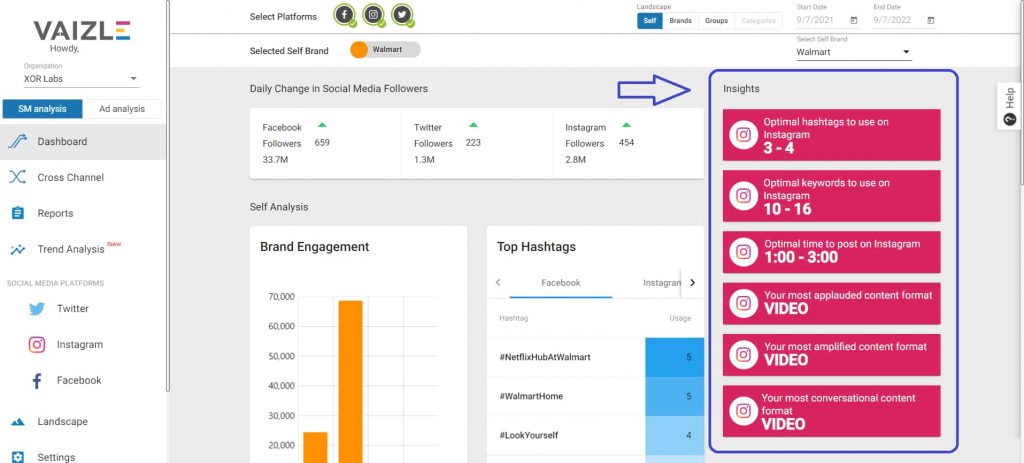 2. Use Instagram's Built-in Analytics to Know Your Followers
Utilizing Instagram's insights to learn when and where your audience is active is one technique to investigate the behaviors of your followers. You may use this information to help you decide when to publish on Instagram. You must create an Instagram business account or creator profile to access the IG data.
Still, once you do, you will get access to all the insights that Instagram has acquired based on the behavior of your followers. Furthermore, you could also take the help of Vaizle to help you find the best Instagram insights for you.
Why Does Instagram Posting Time Matter?
Consider the following scenario: You are headquartered in the US, and your target market is mostly on PST, CST, or EST. You hope for the best when you publish your material at 6 AM PST. Your post gets missed, never engaged with, and is generally not noticed by your audience, who may not even be using Instagram.
This situation is entirely preventable if you know the best times to publish on Instagram.
The "optimal" publishing time on the platform depends on several variables, which we'll discuss in more detail in the following sections.
High levels of interaction boost your chances of building a strong, encouraging Instagram community that may even become a clientele. They also increase the likelihood that your followers will share your material, tag others, and perhaps make it onto the coveted Explore page.
However, you should be aware that by utilizing the power of Instagram posting timings, you can ensure that your material appears in the feeds of your followers and target market, boosting the likelihood that they will engage with it immediately if you don't know how to find the ideal time to post, it's never too late to invest in an Instagram analytics tool like Vaizle.
Let's start with the best time to post on Instagram in 2022 by the day of the week.
Best Time to Post on Instagram by Day of the Week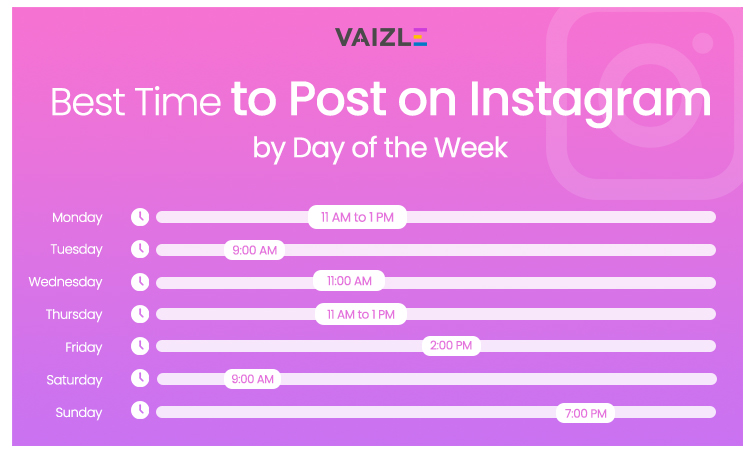 1. Best time to post on Instagram on Monday
Monday at noon is the ideal time to post on Instagram. It appears that most Instagram users enjoy getting their workweek started strong. By noon, they are seeking a break on their Instagram accounts.
2. Best time to post on Instagram on Tuesday
Tuesday at 9:00 AM is the time to post on Instagram. You can also post between 8-10 in the morning as engagement is usually high, but it peaks at 9:00.
3. Best time to post on Instagram on Wednesday
11:00 AM on Wednesday is the optimum time to post on Instagram. Additionally, accounts appear to receive the total engagement on Wednesday.
4. Best time to post on Instagram on Thursday
Thursday at noon is the ideal time to upload to Instagram. The period from 11:00 AM to 2:00 PM is perfect for maximum engagement on any weekday.
5. Best time to post on Instagram on Friday
The ideal time to post on Instagram on Friday is at 2:00 PM. From 7 AM to 2:00 PM on Friday, there is continuous interaction throughout the morning and lunch hour.
6. Best time to post on Instagram on Saturday
The ideal time to post on Instagram on Saturday is at 9:00 AM. Grab those eyes before folks start thinking about their weekend plans online!
7. Best time to post on Instagram on Sunday
Sunday at 7:00 PM is the greatest time to post on Instagram. On Sundays, activity is rather constant throughout the afternoon and evening. From 12:00 to 8:00, it doesn't change.
Helpful advice: Post new content regularly. (Like, every day.)
Why post new content regularly? Because most individuals between 18 and older frequently use Instagram to view fresh content and submit their own, according to a Cast from Clay survey. Maybe publish Instagram stories one day and in-feed photographs the next? Change things around to simplify your life and keep your following interested.
Instagram TV, Stories, and in-feed photographs and reels are all examples of content formats on Instagram. You do not need to use every function the social network provides you daily or frequently. However, continually producing content and utilizing all the tools at your disposal is a reliable method to get your plan off the ground, increase your follower count, and increase your engagement rate.
Conclusion: Best Time to Post on Instagram
Understanding the best times to post on Instagram is an important aspect of your Instagram process. You must ensure you can consistently publish your information at the appropriate moment.
Use the content planner tool, which can help you achieve this to simplify your process and guarantee that you never miss a post. You may save time and ensure your content is published on schedule so your fans won't be kept in the dark about what happened to you.
In the end, the quality of your content will determine whether users interact with it and if they choose to follow you on Instagram. You must know the optimal times to promote your content for maximum exposure. Create a consistent brand style on your Instagram page, keep inventing your Instagram post formats, and provide your followers with different content and strong captions that improve your brand.