6 Types of Tweets that Reap Maximum Engagement
Twitter provides you with a massive pool of potential clients to engage with and convert over time, with over 400 million monthly active users.
Even if well-thought-out tweets are a good start, they aren't enough to increase user interaction and attract new customers who can help your business grow.
Admittedly, Twitter describes its customers as "savvy buyers."
Twitter follows a 'three C's' method to tweet content for effective tweeting:
Concise
Clear
Conversational
Because you only have 280 characters, you must be brief, but you must also be clear and want to spark discussion from your readers.
As a result, in this article, you'll learn about the greatest types of tweets that will help you build your business quickly. There are samples for each form of a tweet, so you can get started making them for your brand right away.
It can be difficult for you as an internet business owner who wants to increase revenue through effective social media marketing. Particularly when it comes to developing new content to increase Twitter engagement.
We have what you need if you're a small business owner, marketer, or self-proclaimed data geek.
We've got you covered! 
What is Twitter engagement? 
Engagement on Twitter occurs when someone interacts with your content. Customers can interact with your content in a variety of ways, including:
Your tweet has been favorited
You have been retweeted 
In response to your tweet 
A separate tweet mentioning you 
Posting on Twitter to generate interest and engagement is, therefore, one of the major reasons for doing so.
Here are 6 different types of tweets that are sure to increase user engagement rate and sales for your company.
Ready? Let's get this party started.
What is the best kind of tweets for Twitter?
Video
Let's talk about the video content for a moment. On social media, it's a big deal, especially on Twitter.
Do you require proof? It's as follows:
Video content accounts for 66.2% of all mobile data worldwide.
On Twitter, 82% of users watch videos.
Users who saw a promoted video on Twitter were 28% more likely than typical web users to make a purchase.
Videos are 6 times more likely than images to be retweeted, and 3 times more likely than GIFs.
But how do you put that immense power to work for you?
Video is a great way to respond to tweets. It will just take a fraction of your time, but it will assist your audience give a face to your brand.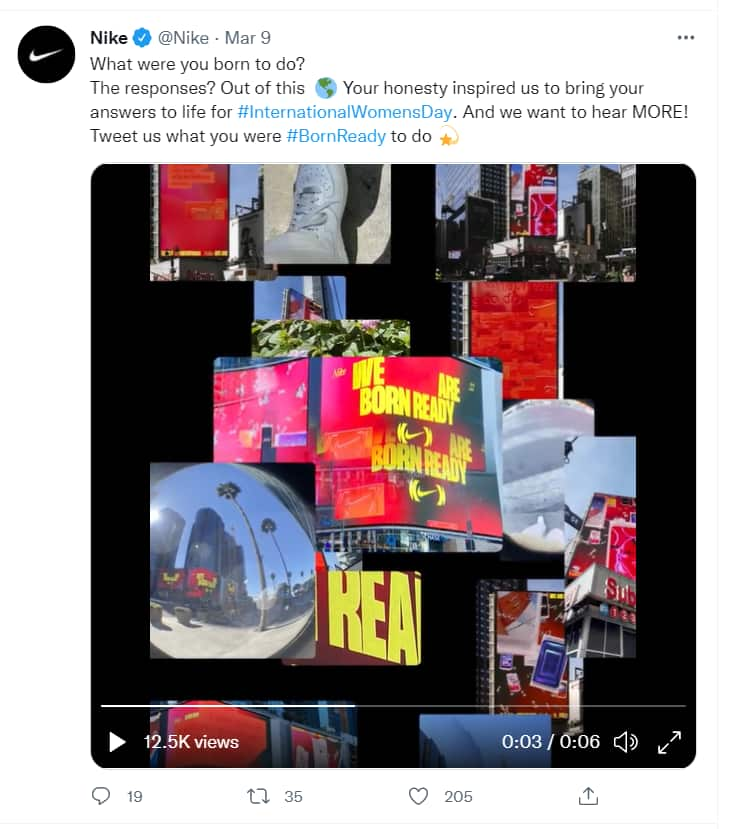 To share real-time events, go live on Twitter. Brand favorability rises by 63% when a video is shared around a live event.
Create a how-to video. Share films that are instructive or instructional and provide actual value to your audience.
Text
A text tweet is short and sweet. They should be confined to a maximum of 140 characters to allow for sharing via RTs, @replies, and @mentions.
On Twitter, 92% of retweets are due to interesting content. The following are some of the more notable text RTs:
fascinating data
advice on living a healthy lifestyle
motivational quotes
requests of RT's
Similarly, in form of text content, lists, and how-tos are popular among Twitter users.
After all, why wouldn't they? Lists and how-tos provide value in a straightforward and precise manner.
Unsurprisingly, they receive 3 times as many retweets as other simple contextual content.
Share useful knowledge that establishes you as an authority and a trustworthy source.
Teach someone how to do something using your product or service.
Images/Photos
We can't discuss the types of content you should be publishing without mentioning photos or visuals.
Especially because:
Tweets with images are 34% more likely than tweets without images to be retweeted.
Stuff with relevant images receives 94% more views than content that does not.
People are 80 percent more likely to read a text if it is colored.
As a result, make sure to produce and share some eye-catching and visually appealing photographs.
Make it stand out, whether it's a standalone visual like an inspirational phrase or an image that goes along with a promotional tweet.
However, that image must have the "grab factor."
That break will be created by images that catch someone's attention as they scroll through.
Lay emphasis on overall aesthetics. Colors that appeal to the eye without being distracting are essential. The fonts are important because they complement the message.
For example, this tweet by Dove has an all-inclusive image. Just scrolling past the idea makes you stop and at least look at what are they trying to say. Especially the color palette matches the company logo and they have maintained the overall brand aesthetics.
Links
Twitter feeds are filled with links. It gives consumers an excellent opportunity to learn about any topic they desire.
Follow these guidelines when posting links:
Keep it brief
Utilize hashtags that are relevant
Make the call to action as explicit as possible.
Also, if you add a link to a tweet at the end of your message and your website supports Twitter cards, it will automatically generate a link preview and remove the link text from your tweet, providing you a larger link click area in your message.
It's worth mentioning, though, that it may be a particularly effective venue for promoting new blog entries.
Even with Twitter's character limit, you may just need to produce a quick tweet to persuade your audience to read your piece. This not only gives you some exposure but also generates backlinks.
Another thing to keep in mind is to maintain consistency throughout your link tweets like adding the links at the end of each Tweet.
Relevant GIFs
GIFs aren't only for the Buzzfeed checklist, make no mistake. They can increase engagement and help you form stronger bonds with your Twitter followers if used effectively.
Do you want to experiment with GIFs on Twitter?
Write your Tweet, then click the "GIF" square beneath the text box:
You can also make your own GIFs to send on Twitter using Giphy or a similar site. An example of a fun GIF uploaded by Myntra is shown below.
Sharing something like this is a wonderful approach to capturing the attention of your target customers, especially if you're releasing a new product and want to generate buzz.
Consider making a GIF that features you if you're attempting to create your personal brand on Twitter.
Interactive Content
What is the most effective method for getting your Twitter followers to respond to your tweet?
Pose a question to them!
Twitter users enjoy answering questions, especially those that are simple and quick to respond to, as well as those that seek their opinion.
The words "should," "would," and "which" receive the greatest feedback.
You may have noticed that content marketing is increasingly more about the experience you create rather than the message you publish.
Perhaps this is why Twitter works so well with interactive content:
Interactive content is used by 53% of content marketers.
Assessments, calculators, contests, quizzes, and interactive infographics are the top five types of interactive material employed by marketers.
This form of material engages the user and encourages them to participate.
You can share the following sorts of interactive content:
Assessments
Calculators
Quizzes
Contests
All of this combines to create a one-of-a-kind experience that will not be forgotten by the user. As a result, I strongly advise you to include interactive content Twitter marketing approach to increase Twitter engagement. 
Twitter is all about having a good time. Interacting with your audience, demonstrating your brand's personality, and gathering feedback may all be accomplished through asking questions. Get feedback on new items, pose a fun topic, or let your followers be the tiebreaker on a decision.
How to put Twitter to work for your business
You may use a social media analytics tool to evaluate how your material worked, adapt accordingly, and try it again or make it a regular component of your Twitter strategy as long as you have one.
You can get the best shot to get things right but keep a close look at what your competitors are posting. Our competitor analysis tool, Vaizle, provides actionable insights while also benchmarking the industry standards.
You can have a clear picture of what type of content is accumulating the best engagement for you and even for your competitors.
The following steps should be considered if you want your Twitter account to stand out and make waves to increase Twitter engagement.
Long-form content can be turned into mini-campaigns.
Make use of Twitter polls and queries.
Exploit your other content to go cross-channel.
Incorporate Infographics into your Tweets.
Create a series of themed campaigns.
More on creating a content series for which you can add new content over time by connecting many tweets with a common subject.
Here are a few examples:
Retweet customer stories to Highlight your customers
Sharing interesting facts about your industry
Inspire your followers with leaders in your industry
Employee introductions
Practical how-to tips for your niche
Highlighting historical events in your business or events relevant to your products or services
What is the best time to Tweet?
You may also take advantage of the best times to tweet and optimize your post for increased interaction.
These timings are based on Twitter's overall activity; your specific audience may be more engaged at various times. You may learn what times are best for you and change your publishing schedule accordingly by using analytics to track your performance.
You may utilize social media monitoring tools like Vaizle to see when is the best time to post for your business niche and use that information to determine when to post, based on the number of updates you want to give.
Based on this data you may prepare your own scheduling calendar. Plan ahead for your campaigns and special day references. It allows you to better manage your time on social media and keep on top of your content calendar. As a result, you'll never miss a crucial tweet because you forgot about it due to a late afternoon meeting.
A word of caution: you'll never be able to schedule 100% of your tweets. You must continue to respond to mentions and participate in real-time dialogues.
Wrap Up:
As you can see, there are a variety of content types that do well on Twitter.
It's up to you to put them to the test and determine which types of material your audience responds to the most.
 And, thankfully, it's a fun platform to play with. 
Whether you want to experiment with more videos or test out a new feature, make sure to track your progress after implementing any of these Twitter best practices to increase Twitter engagement.
So, take into account Twitter for business methods as well as the marketing tips and tricks described above, and start publishing content on Twitter now to help you build your brand.