7 Free Facebook Ads Tools That Will Save You Hours Everyday
The time between prospecting and getting the Facebook Ads live is the most demanding of all the engagement with your client. Auditing Facebook Ads, Understanding their business, audience research, creating messaging, ad creatives, copies, setting up pixels, and of course, audits if the ad account has a past history.
Well, yes, that's time consuming. And if you're like the most, exhausting.
But did you know you can free so much of your time by using free Facebook Ads tools?
There are many out there and if you care to look, maybe you can find more.
I bring you just seven…in fact, seven of the most powerful free Facebook Ads tools that I personally use.
Use cases: Performance overview, Facebook Ads audit, and reporting
Started in January 2020, this tool has already become popular. Yes, yes, I know it's my own company's, but anyways, you will love it once you use it. I also run a performance marketing agency and am already using it to do quick audits.
It offers you a performance breakdown of a Facebook ads account by lifetime, last month, the running month, and today. Then it also shows you a campaign level performance and choose a KPI that suits you the most.
You can even add your own notes and comments and then download the report in a PDF format.

Use case: Check competitor ads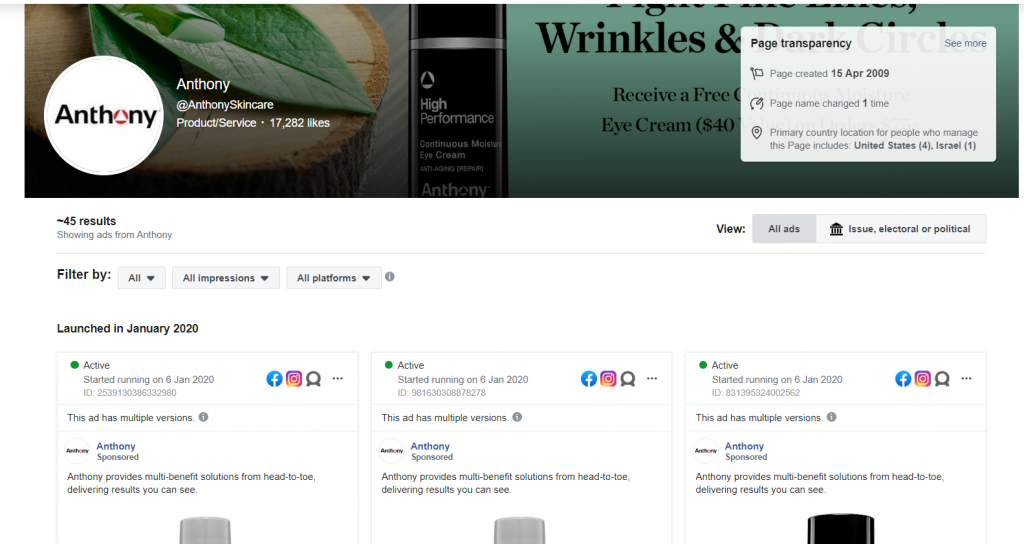 Facebook allows you to see the ads of any Facebook page or brand across the world. Just enter the name of the Facebook page or its URL and you will be shown all the ads running under that page across the world.
You can filter the ads by country, impressions (yesterday, last 7 days, last 30 days, and last 90 days), and platforms.
Use case: Check if text percentage in ad creative is less than 20%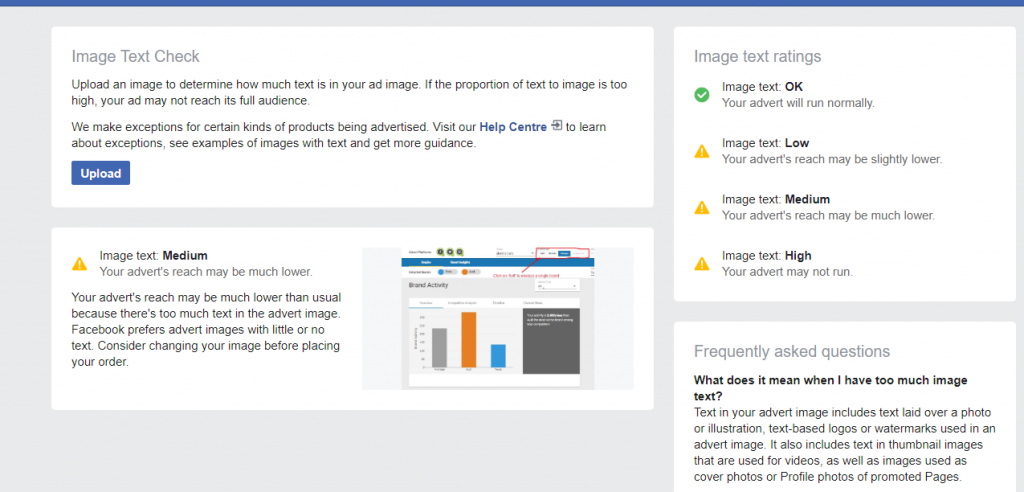 In case you didn't know, Facebook doesn't allow you to use an image in the ad that has text covering more than 20% of the image area.
This tool helps you verify that your ad creative complies with the 20% text rule. All you have to do is upload the image and wait for the results.
Use case: Reporting and benchmarking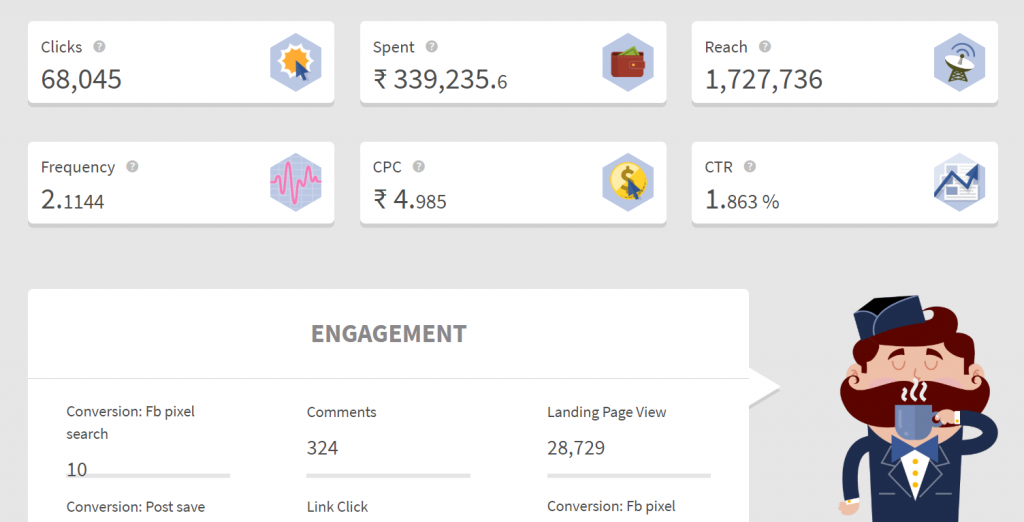 Like Vaizle's free Facebook Ads tool, Facebook Ads Compass allows you to do a quick audit of your Facebook ad account.
The report shows you a breakdown analysis of ads performance based on age, countries, gender, placement, and devices. The one problem is that it creates reports for only one campaign at a time. So if you're looking to audit a complete ad account, this might not be a great solution for you.
Although you cannot add your own comments and notes in the report, you can measure your performance against the industry benchmarks.
Use case: Audience research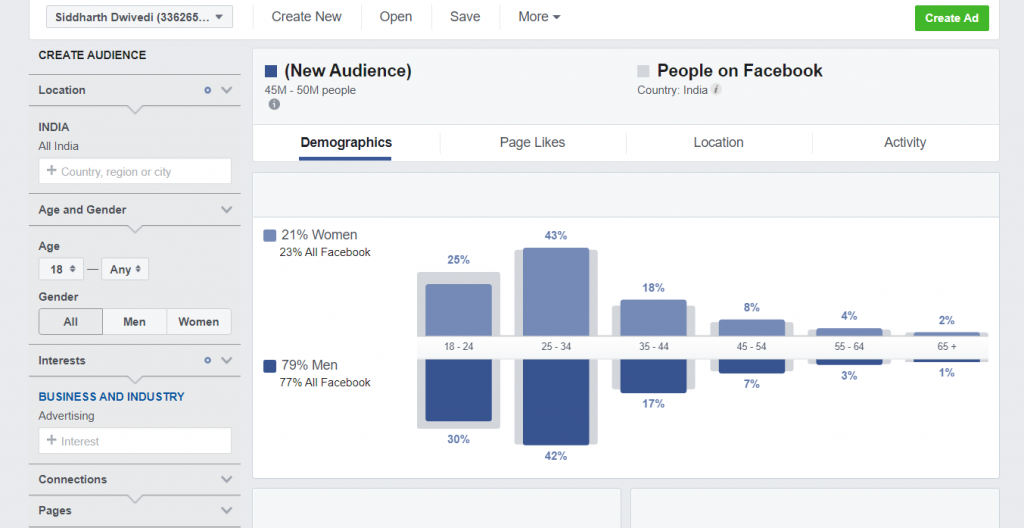 Use this tool to do audience research before you start creating a Facebook ads campaign. You can understand the demographics of your followers. Or use interests available on Facebook to understand people.
You can then even save this audience in one of your ad accounts for use in your ad campaigns.
Use case: Finding interests and keywords you can target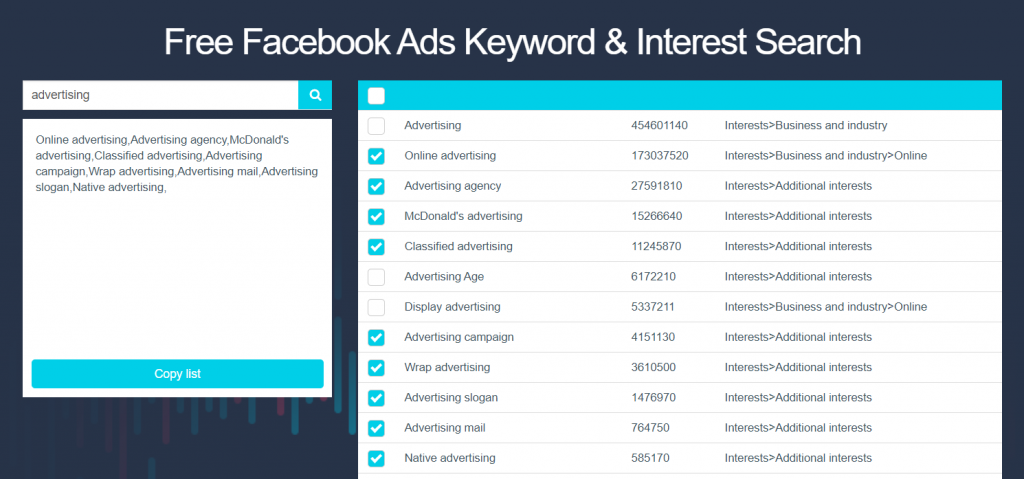 Unlike Facebook's audience research tool, with this tool you can find interests and keywords you can target. It asks you to enter a keyword and then shows you all the keywords similar to it.
You can then select and copy those interests for targeting in Facebook Ads. Simple yet powerful. And of course, saves you so much time.
Use case: Estimate revenue and return on ad spend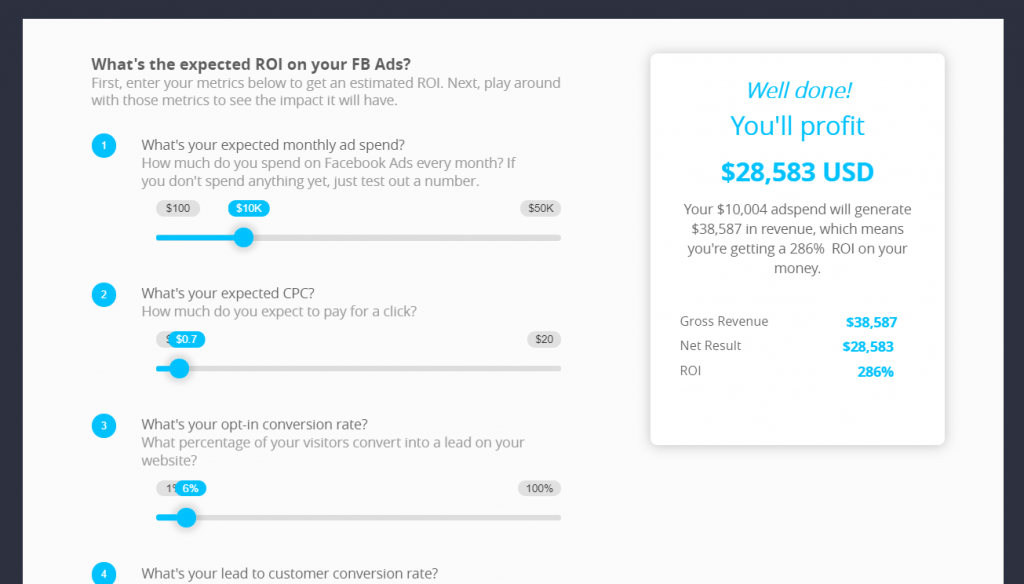 This is probably the one Facebook Ads tool you would not want to miss. It helps you calculate expected ROI. You have to answer the following questions and the result will be available to you in real-time.
What's your expected monthly ad spend?
What's your expected CPC?
What's your opt-in conversion rate?
What's your lead to customer conversion rate?
What's the average sale price?
Although some of these questions will be based on estimates, a ballpark number will help you in getting the right benchmark to begin with.
Conclusion
I am sure there are many other cool and free Facebook ads tools I must be missing. If you feel there's any please feel to write it down in the comments.
Anyways, which one is your favorite?